Conversation with a Food Blogger: Amy Sheree
In this column, we're interviewing the tastemakers, foodies and chefs that are dominating the web. This week: Amy Sheree
Heading out the door? Read this article on the new Outside+ app available now on iOS devices for members! Download the app.
Recipe developer, food stylist, photographer. Amy does it all for the beautiful site with her namesake, Amy Sheree. Excelling in the clean eating business requires special talent: you need to be able to make paleo "fried rice" without rice, cookies without sugar and pudding without dairy. Amy has accomplished all three, without compromising on flavor. The Chicago dweller launched her blog at the end of 2014 to share her love and passion for food, but delicious recipes aren't the only things you'll find on her site and in her downloadable holiday dessert ebook. Amy also shares DIY beauty recipes like her Gingerbread Brownie Body Scrub to help you live a clean lifestyle both in and out of the kitchen.
If you could describe your blog in three words what would they be?
Healthy, creative and fresh.
What inspired your blog name?
My blog used to be called Beautifully Paleo, but I changed it to my name so that I could focus on a wider range of foods and diets.
What are the biggest challenges and greatest rewards of being a food blogger?
By far the greatest is being able to connect with my readers. I love helping people in their journey and giving them encouragement to stick to a healthy lifestyle. The greatest challenges are having a hot dinner, and eating regularly. Sometimes I get so caught up in a recipe I'm creating that I forget to eat. I also like to take all of my photos in natural light, so I'll make dinner in the morning to get the best photo and by the time dinner rolls around I don't always want to reheat it.
Why are you so passionate about eating healthy?
I have gone though numerous ways of eating, and I used to have an unhealthy way of looking at food and my body. Over time I've learned to love food and what it can do for your body.
What is your favorite meal of the day?
Breakfast! I love everything breakfast related. I actually just finished my second breakfast (lunch) of the day. Ha ha!
One ingredient that you just can't live without?
I would probably say avocados. I use avocados in everything and eat a whole avocado almost every day. They're loaded with healthy fat and can be added to so many recipes to create a creamy texture.
In your opinion, what's the most overrated ingredient right now?
Probably pumpkin, but I'm on the bandwagon! I love everything pumpkin so I'm guilty of adding it to a lot of things I make.
This year I am going to try and eat more…?
A wider variety of vegetables. I want to experiment more with foods that I'm not used to.
I think everything tastes better with…?
Butter! Grass fed butter is so good and makes everything rich and delicious. I've always been a big butter lover. When I was little I used to get caught eating just butter. I don't eat it out of containers anymore, but I do love it on everything!
What's one piece of cooking advice you'd like to share with our readers?
Have fun with food. Experiment and don't be afraid to try something new. That's what makes cooking exciting. Cook with friends or make a date night out of it. Even if it doesn't turn out perfectly, don't stress. It will just make a good story!
Do you have any recipes that stand out for being epic fails?
Yes! Like when I tried to make tortillas, and they somehow ended up super crumbly. Or when I tried making gluten-free, grain-free and egg-free cinnamon rolls, but they wouldn't roll so they turned into pop tarts. Lots of fails but that's what teaches you about food.
What's your favorite kitchen gadget?
My Vitamix! It can make anything from smoothies to batters to hot soup. It's quick and I use it daily!
One cookbook that you just can't live without?
That's a hard one. I love cookbooks and have an entire bookshelf of them. I honestly can't pick just one!
Are there any food blogs that YOU follow?
Yes! I love foodie blogs! Right now I love Sassy Kitchen and Two Red Bowls. Their photography and artistry of food is amazing! I get sucked into good writing and how they see food. I think it's important to support other food bloggers in the community.
Who would you consider a culinary icon?
Julia Child is a pretty typical answer, and she is without a doubt amazing and fearless with food, but I also love Giada De Laurentiis. She has such a lightness about her personality and can make anyone want to try a something new.
Favorite late-night snack?
Chocolate!! Sometimes popcorn, sometimes both. I'm a sucker for chocolate and have a massive jar in my kitchen that somehow always disappears way faster than any other food. Frozen chocolate is the best. I just found a chocolate bar I put in the freezer that fell under something a few months ago, and I was one happy girl.
Sweet or salty?
I like the combo. If I eat too much salt I need more sugar, and vice versa, which can turn into a serious vicious cycle. So combining the two is perfect.
What's next in your career?
I just released my Holiday Dessert ebook in November, which you can find on my blog! I would love to grow to a larger scale and eventually write a published cookbook.
Finally, can you share one of your favorite recipes?
One of my favorites on the blog is my Honey Garlic Chicken!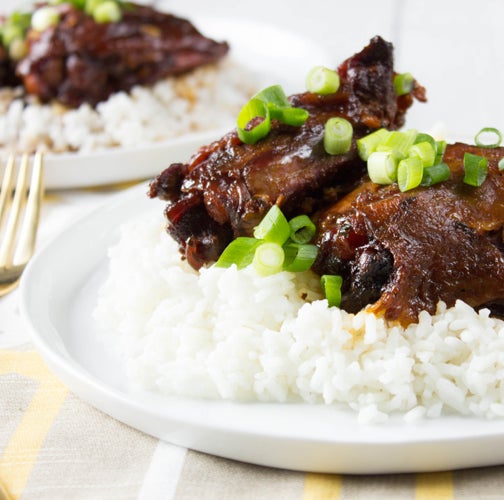 Honey Garlic Crockpot Chicken (Gluten-Free, Paleo)
INGREDIENTS:
8 chicken thighs
1 tbsp sriracha
1/2 cup of honey
1/3 cup water
1/3 cup tamari (soy sauce)
1/2 tbsp paprika
1/2 tsp salt
1/2 tsp pepper
5 garlic cloves, minced
2 1/2 tbsp fresh parsley
INSTRUCTIONS:
Mix together all the ingredients besides chicken thighs.
Turn on your crockpot and then add the chicken thighs, toss chicken in sauce to coat.
Cook on high for 4-5 hours or on low for 7-8 hours.
—
Check out Alexis Nilsen's blog Cow Crumbs where she is proving one recipe at a time that gluten-free can be so much more than rice flour and tapioca starch.