Conversation with a Food Blogger: Living Healthy with Chocolate
In this column, we're interviewing the tastemakers, foodies and chefs that are dominating the web. This week: Adriana Harlan of Living Healthy with Chocolate.
Heading out the door? Read this article on the new Outside+ app available now on iOS devices for members! Download the app.
Just one more cookie, and the next thing you know the entire box is gone. Sound familiar? Like so many of us, Adriana Harlan struggled with sugar cravings that were almost impossible to control. But through careful research and experimenting in the kitchen, Adriana figured out the secret to reaching and maintaining her optimal weight and living inflammation-free. Living Healthy with Chocolate is the fruit of her labor. By providing decadent alternatives to classic desserts that are sure to satisfy the biggest sweet tooth, she helps others indulge healthfully. She creates masterpieces with chocolate, but all of her recipes exclude refined foods and processed sugar. Adriana's blog will show you how simple and how easy it is to create delicious, decadent, wholesome treats without compromising on flavor. She answered our questions via email from her home on the big island of Hawaii.
If you could describe your blog in three words what would they be?
Inspiring, motivating and decadent.
Why are you so passionate about eating a clean diet?
When I first eliminated certain foods from my diet my health improved dramatically. The pain in my joints went away and I no longer suffered from those debilitating stomach pains that I had for so many years.
What is your favorite meal of the day?
Breakfast is my favorite meal because it sets the tone for the rest of my day. Scrambled eggs cooked in coconut oil, mushrooms sautéed with garlic, and a big salad of mixed greens and herbs.
What's an ingredient that you just can't live without?
If I had to pick just one I would have to say eggs. I love them for both taste and nutritional content. Second to eggs, I would say dark chocolate or a good quality pastured raw cheese. I also can't live without almond flour for all my baking.
This year I plan on eating more?
Every week I go above and beyond to ensure that I'm eating a large variety of vegetables, herbs and meats. But, this year, I want to eat more fermented foods like sauerkraut. I have never been a big fan, but I am starting to become one.
If you were stranded on a deserted island what two spices would you want to have with you?
I really love oregano and basil. I add both to most all my meals.
Where is your favorite place to shop for ingredients?
I shop for most of my ingredients online with Amazon.com, but some things I get from Whole Foods or my local health food store. But because I live in Hawaii, everything is very expensive and hard to find.
What is your favorite kitchen gadget?
It's hard to pick just one since I use so many, but my food processor probably tops my list.
You're a popular food blogger with thousands of followers. Is there a food blog that YOU follow?
I follow so many, I love Danielle Walker's blog Against All Grain and Sonia Lacasse's blog The Healthy Foodie.
As a health conscious food blogger, do you still treat yourself to guilty pleasures?
Once I stopped eating processed foods and things my body couldn't tolerate I also stopped feeling the need to "treat" myself. The key for me was discovering what made my body sick and then eliminating it. When I want to have a pizza, I make a delicious crust using cauliflower, or when I want to have pasta, I make noodles with zucchini. Eating real food has become so easy and it keeps me satisfied without feeling like I need to "treat" myself with the guilty pleasures.
What is your favorite late-night snack?
Truthfully I'm not much of a late-night snacker. I don't like going to bed feeling full so I usually have dinner no later than 7pm.
What are the biggest challenges and greatest rewards of being a food blogger?
I think my biggest challenge so far has been trying to reach as many people as possible. I want to get to know my audience as best as I can so that I can give them what they need and want. The greatest reward is knowing that my recipes are helping people stick to a healthy diet and lifestyle. There's nothing more fulfilling than reading a messages from a reader telling me how I have helped them–to me, that is the most amazing reward.
What's one piece of cooking advice you'd like to share with our readers?
When making anything with almond flour, ensure your flour is ground to fine powder and is blanched, unless otherwise noted. Also, don't try to substitute coconut flour for almond flour in a recipe. They have such different properties, and it just won't work.
Do you have any recipes that stand out for being epic fails?
I have been very fortunate and have never had an epic fail yet. When I begin writing a recipe, I give it a lot of thought. Sometimes it takes me 3 to 4 hours to come up with a plan.
What's next in your career?
I just recently quit my full-time job as an Oceanographer so I can work on my blog full-time. This month, my first print cookbook will be published: "Paleo Desserts for Dummies" containing more than 120 Paleo desserts. I also plan on making a ton of instructional videos for YouTube, teaching people how to make healthy desserts.
Finally, can you share one of your favorite recipes?
This Paleo Chocolate Cake is a fan favorite on my blog. It's chocolaty, soft and really moist without being overly sweet.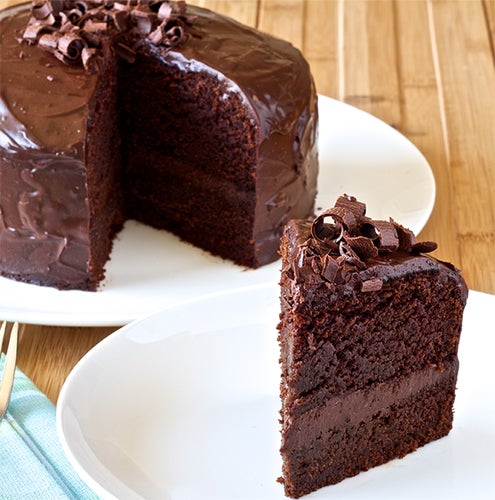 Paleo Chocolate Cake (Grain Free, Gluten Free, Dairy Free)
Serves: 10
INGREDIENTS:
Chocolate Cake
3 cups blanched almond flour
1/4 cup coconut flour
3/4 cup raw cacao powder
1/2 cup raw coconut palm sugar
2 tsp. baking soda
1 tsp. salt
1/2 cup coconut oil, melted
1 cup coconut milk, full fat
3 large eggs, room temperature
2 tsp. vanilla extract
2 tbsp. raw honey
Middle Layer Chocolate Ganache (prepare in advance)
1 can (13.5 ounces) full fat coconut milk
2 tbsp. raw honey
4 tablespoons raw cacao powder
1/2 tsp. vanilla extract
Chocolate Frosting
6 tbsp. coconut milk, full fat
3/4 cup dark chocolate chips
INSTRUCTIONS:
Chocolate Cake
Preheat oven at 350°F
Grease the bottom and sides of a 7-inch springform pan with coconut oil and line the bottom with parchment paper
In a large bowl mix together the almond flour, coconut flour, raw cacao powder, raw coconut palm sugar, baking soda and salt
In a separate bowl whisk together the coconut oil, coconut milk, eggs, vanilla and honey
Using a rubber spatula, gently mix dry ingredients into wet ingredients to form a batter. Do not over mix.
Pour batter into prepared pan and bake until a toothpick inserted into the center comes out clean, approximately 45-50 minutes. If you feel you need to cook it longer, cover cake with aluminum foil to prevent burning the top and lower the heat to 325°F. Cook until toothpick comes out clean.
Let cake cool completely then cut horizontally in the middle
Spread the chocolate ganache over the bottom half of the cake and refrigerate for 30 minutes
Top with other half of cake, then spread the chocolate frosting over the top and sides of the cake
Sprinkle top with shaved dark chocolate if desired
Middle Layer Chocolate Ganache:
In a medium saucepan, bring the coconut milk and honey to a light boil
Simmer on low heat for two hours, stirring occasionally. Do not cover the pan. You will know you cooked it long enough when the coconut milk is reduced to half and has a thicker consistency and darker color, similar to sweetened condensed milk.
Mix in the raw cacao powder and vanilla extract and stir until all is combined and smooth
Let it cool and refrigerate until cake is ready
Chocolate Frosting:
Melt the chocolate chips in a bowl over simmering water (double boiler)
Mix coconut milk with melted chocolate until all is combined and smooth
Let cool for 5 minutes before icing the cake
Themiddle layer takes a long time to make so please plan ahead and have this ready before you start this recipe.
—
Alexis Nilsen has a blog called Cow Crumbs and is proving one recipe at a time that gluten-free can be so much more than rice flour and tapioca starch.