Conversation with a Food Blogger: Detoxinista
In this column, we're interviewing the tastemakers, foodies and chefs that are dominating the web. Here are just a few of our favorite food bloggers. This week: Megan Gilmore of Detoxinista.
Heading out the door? Read this article on the new Outside+ app available now on iOS devices for members! Download the app.
Detoxinista is filled with gluten-free, raw vegan, and paleo-friendly recipes that are also free from refined sugars. Despite her blog name, Megan does not promote detoxing as a quick fix for what ails you. She loves creating healthy meals, and all of her recipes are made with natural ingredients. Megan is here to prove that real food can taste good and be good for you. She believes that by eliminating processed foods you can gently rid your body of toxins without taking drastic measures. It's what you do over the long haul that really counts! Once you take your first bite of her healthiest cookie ever, you are going to wonder why you didn't start detoxing years ago. Based out of New York City Megan is a Certified Holistic Practioner and loves that her education has equipped her with a deep knowledge of nutrition and preventive health care. Megan's new cookbook Everyday Detox: 100 Easy Recipes to Remove Toxins, Promote Gut Health, and Lose Weight Naturally will hit bookshelves early next year. It's jammed packed with options for vegans, vegetarians, and meat eaters alike.
What is your favorite meal of the day?
My favorite meal is dinner, because it tends to be the only meal of the day that I'll take the time to prepare something nice for my family. Lately, we've been enjoying this Easy Coconut Curry over a bed of protein-rich quinoa.
What's an ingredient that you just can't live without?
Lemons! I use lemons daily, whether it's in my fresh vegetable juice, in a salad dressing, or as a refreshing addition to my drinking water.
If you were stranded on a deserted island what two spices would you want to have with you?
Pink Himalayan Salt and garlic. I use them both all the time!
Where is your favorite place to shop for ingredients?
I usually shop around locally to find the best prices on fresh produce, but I love using Amazon for buying dry ingredients, like chia seeds and cacao powder, in bulk.
You're a popular food blogger with thousands of followers. Is there a food blog that YOU follow?
Oh She Glows. I've been reading Angela's blog for years, and even though I don't personally follow a vegan diet, I'm always inspired by her creative plant-based recipes!
As a health conscious food blogger, do you still treat yourself to guilty pleasures?
There's a restaurant in Hollywood that makes the BEST peanut butter cookies I've ever tasted. They're the size of your head, and my husband and I are still never willing to share them with each other!
What is your favorite late-night snack?
Dark chocolate. I love Endangered Species Dark Chocolate with Forest Mint— it reminds me of a Thin Mint Girl Scout cookie!
What are the biggest challenges and greatest rewards of being a food blogger?
I'd say the biggest challenge is having a recipe not turn out the way you intend it on the first try, and then having to make it over and over again until you get it just right. I'd hate to post a recipe that isn't perfect and have my readers waste their ingredients, so, sometimes, that means tweaking a recipe until I'm sick of it! My greatest reward is being able to share recipes that really do change people's misconceptions about healthy eating. Once you've tried my Vegan Mac n' Cheese or Almond Butter Pancakes you'll know that healthier food doesn't have to taste bad!
Do you have any recipes that stand out for being epic fails?
Oh, where do I start?! My kitchen has seen many recipe flops, but the worst offenders usually involve trying to make something out of wet almond pulp (the stuff leftover from making homemade almond milk). I've created a couple of successful recipes using it, but most of my attempts taste like sawdust.
What's next in your career?
I have a cookbook coming out next year, called Everyday Detox: 100 Easy Recipes to Remove Toxins, Promote Gut Health, and Lose Weight Naturally. It shares a gentle approach to detoxing by eating whole, unprocessed foods year-round, rather than taking any drastic measures, and it includes 100 easy recipes and a sample meal plan to help you get started. With options for vegans, vegetarians, and meat eaters alike, there's something in it for everyone!
Finally, can you share one of your favorite recipes?
My Healthiest Cookies EVER with no flour, no added oil and no added sugar. They really are the healthiest cookies I've ever made! They remind me of my childhood favorite: "Soft Batch" cookies.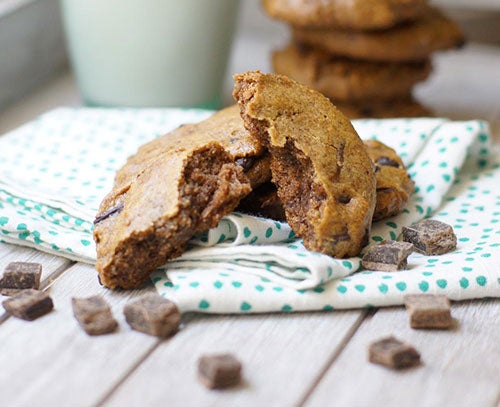 The Healthiest Cookies EVER (Gluten Free, Paleo, Vegan)
Makes 12 cookies
Hands-on Time: 10 minutes
Total Time: 22 minutes
INGREDIENTS:
1 1/2 cups raw walnut halves
1 cup medjool dates, pitted (about 12)
1/4 teaspoon salt
1/2 teaspoon baking soda
1 teaspoon vanilla extract
1 flax egg (1 tablespoon ground flax or chia seeds + 3 tablespoons water) (or substitute 1 chicken egg)
1/2 cup dark chocolate chips (optional– see sugar-free options in the notes below)
Instructions:
Preheat the oven to 350F and line a baking sheet with parchment paper or a silpat. In the bowl of a food processor fitted with an "S" blade, process the dates and walnuts together until a crumbly texture is formed. Add in the salt, baking soda, vanilla and flax egg and process again until the batter is relatively smooth. Add in the chocolate chips and briefly pulse, just to combine.
Spoon the batter onto a lined baking sheet, and use your hands to gently flatten the cookie dough. (Tip: Wet your hands with water to prevent sticking!) Bake at 350F for 12 minutes, or until the edges are slightly golden. Allow to cool on the pan for 10 minutes, then transfer the cookies to a wire rack to cool completely.
Serve immediately, and store the leftovers in a sealed container in the fridge or freezer for best shelf life. These cookies should last a week in the fridge, and a month or more in the freezer.
*Optional add-ins that are free of added sugar include: cacao nibs, raisins, shredded coconut, chopped nuts
Nutrients per cookie: Calories: 205, Total Fat: 9 g, Protein: 3 g