Conversation with a Food Blogger: Real + Vibrant
We talk to the blogger behind Real + Vibrant about her health journey and the joy of cooking simply.
Heading out the door? Read this article on the new Outside+ app available now on iOS devices for members! Download the app.
Seattle-based blogger, Sapana Chandra (pronounced "Sup-na Chun-dhra") is the proud voice behind Real + Vibrant. Like many food bloggers, Chandra struggled with her health for many years, before trading her daily takeout addiction for a whole-food lifestyle. But the change didn't happen overnight. Chandra transformed her previously unused kitchen into a training ground, where she taught herself basic cooking techniques and how to prepare easy, homemade meals with just a handful of nutritious, easy-to-find ingredients. Chandra's motto is simple: when you eat real food and live well, you feel vibrant! And her dedicated, 60,000-strong Instagram audience seems to agree.
If you could describe your blog in three words what would they be?
Simple, healthy and refreshing.
What inspired your blog name?
When I started eating real food, I noticed my health transform in ways I'd never imagined before. I felt vibrant and alive. I finally started to witness the power of real food and the impact of making healthy lifestyle choices in my own life. When I was picking out a name for my new blog, it came down to my own personal motto: "eat real, live well, and feel vibrant" and thus, Real + Vibrant.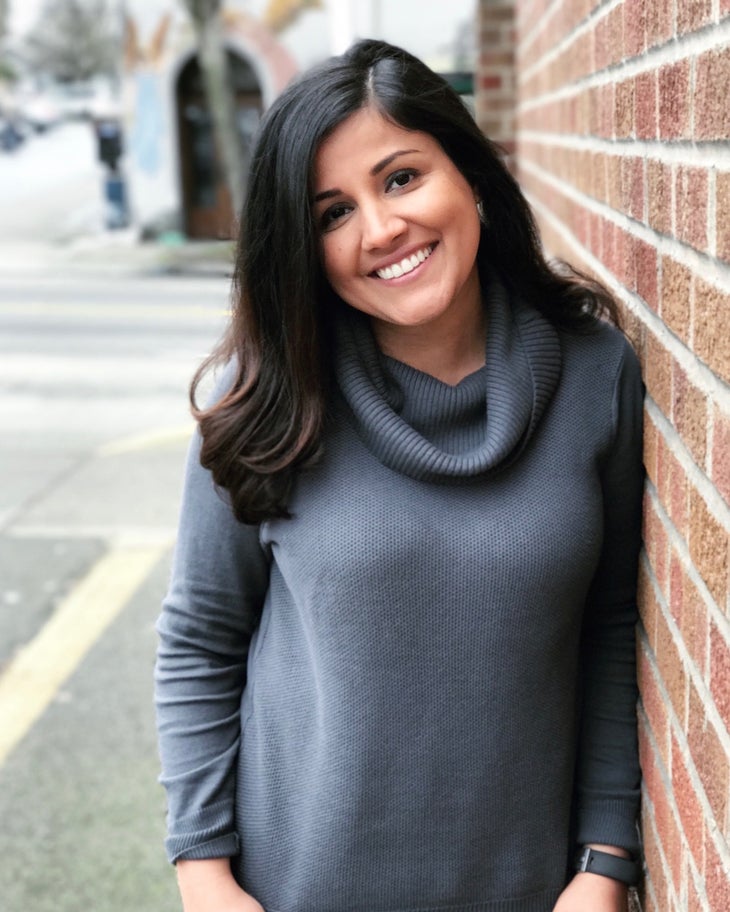 What are the biggest challenges and greatest rewards of being a food blogger?
The greatest reward has been the opportunity to connect and serve others, to be inspired by their own journeys and stories. It's made me a much more compassionate and open-minded human being. It's so easy to get caught up in our own "bubble" when we're surrounded by people just like us, but when we take a step outside and connect with individuals with different upbringings and beliefs, we learn so much from each other. While we may have so many differences, we all share many of the same fundamental problems and struggles.
The biggest challenge has been focusing on a few things and doing them the best I can without not falling into the trap of perfection, which I think is just another form of fear that holds us back. There is so much I want to learn and contribute and I'm only getting started, but picking a few things at a time and dedicating my focus towards them will continue to be a priority.
Why are you so passionate about food and creating recipes?
I believe that better health and wellness should be accessible to everyone and a big step towards that is eating real food. I saw first-handed what it did to my own health and those closest to me. I used to be intimidated by the kitchen at one point because I had gotten so used to eating most of my meals at restaurants. That changed when I started following and creating simple everyday recipes.
What is your favorite meal of the day?
Breakfast – there are so many possibilities! While I spend the least amount of time making breakfast, I treat breakfast as the ultimate time to fuel myself for the rest of the day. When I have a good breakfast, I feel great and energized for the rest of the day.
One ingredient that you just can't live without?
Definitely spinach. It's so good for you, versatile, and a great go-to green leafy vegetable. I've always loved spinach (especially in Indian food), but now I use it to make everyday dishes – everything from smoothies and juices to soups, salads, and main dishes.
In your opinion, what was the most overrated ingredient of the past year?
"Gluten-free" processed food. Gluten-free has become the big buzzword we see slapped on a ton of food labels these days. Eating a box of cookies packed with sugar or a bag of deep fried chips isn't healthy just because it's gluten-free.
This year I want to try and eat more?
A greater variety of fresh produce. It's easy for all of us to get comfortable and stick to the familiar fruits and vegetables. I had my very first dragon fruit a couple months ago. I plan on trying out more greens (think dandelion greens, which are great in smoothies and juices) and adding them to my kitchen on regular rotation.
I think everything tastes better with?
Pink Himalayan salt! I can't emphasize how important it is to season food properly. It can literally take a dish from tasting okay to delicious and flavorful.
What's one piece of cooking advice you'd like to share with our readers?
Start simple with small achievable goals. When I first started cooking at home again, my goal was to master a couple of recipes per month. So I'd picked two simple recipes that I felt confident I could make and enjoy eating. I made each of the recipes as many times as I could during the month, enough to get comfortable and feel confident. Soon I had a repertoire of recipes that I felt great about and naturally started creating my own.
Do you have any recipes that stand out for being epic fails, and care to share the story that goes along with it?
I've had a ton of baking fails, but I never post those recipes to my blog. Baking more is one of my goals for the upcoming year!
My favorite kitchen gadget is?
That's easy – my high-speed blender. It saves me so much time and is probably the most convenient gadget I've ever owned. It's helped me become much more comfortable making simple everyday dishes, everything from quick smoothies to soups, dressings, sauces, batters.
One cookbook that you just can't live without?
How to Cook Everything Vegetarian by Mark Bittman. Many years ago, way before I got into blogging, a good friend gave me this cookbook for my birthday. It sat on the shelf and traveled from one apartment to another over the years, but today it's a great resource for inspiration.
You're a popular food blogger with thousands of followers. Are there any food blogs that you follow?
I follow a lot of other food bloggers, but a few of my favorites include: Deliciously Ella, Pinch of Yum and Love & Lemons.
Who would you consider a culinary icon?
Chloe Coscarelli. She won the show Cupcake Wars along with being the first plant-based chef to ever win a Food Network Competition. I love how her recipes are so delicious, healthy and easy to make! It's always so inspiring to see someone so passionate and accomplished who is also following her dreams. I can't wait to try out her restaurant by CHLOE. in New York City or LA.
Favorite late-night snack?
Nut Butter. It always hits the spot!
Sweet or salty?
Always savory with a little sweetness.
What's next in your career?
As a certified holistic health coach. I look forward to working with more individuals who've been diagnosed with pre-diabetes. Type 2 Diabetes is a serious epidemic in this country right now. However, it's a chronic condition that can be delayed or possibly prevented if steps are taken before it begins, especially upon the onset of pre-diabetes.
Finally, can you share one of your favorite recipes?
Cauliflower is one of my favorite vegetables, and I've been quite fond of it for as long as I can remember. This is a very simple dish my mom taught me how to make when I was growing up. It serves as a simple side in an Indian meal or can be enjoyed on its own!
Check out one of Chandra's favorite cauliflower recipes here.