Elevate Dinnertime: How to Create a Recipe & Menu Like a Pro
Get creative in the kitchen! Chef James Smith of the Clean Eating Academy discusses the art of creating a recipe and personalized menu.
Heading out the door? Read this article on the new Outside+ app available now on iOS devices for members! Download the app.
The art of creating a recipe and, as an extension, a menu takes some planning. It's important to understand who you are creating it for. As a professional chef, you have a responsibility to ensure a dish and menu can generate revenue, but, ultimately, as a cook preparing a meal for our family, friends or guests, your goal is to create a culinary experience to remember!
Selecting a Flavor Concept
First, you should determine the concept or main flavor. When I build a menu, my style of pairing and combining flavors becomes an underlying foundation to whatever I do. I like fresh, fruity flavors with big cooking methods like roasting or slow-cooking : for example, peaches with marinated roasted meat. We all have our strengths and favorite techniques such as knife work and sautéing. Some people enjoy taking their time to slice and dice for visual appeal, and some people care less about perfect knife skills and are more interested in the cooking process. Ultimately, the menu you create will be built on these foundations.
Designing a Menu: First, Second and Dessert Course
Next, I think of the overall menu: appetizer and main course. Then, if I'm serving dessert, I determine whether the main course demands a rich finish or light finale to help cut through rich first courses. I try to take the focus flavor and weave it through the appetizer and main course. For the most part, I build a menu around the main course. If I have a really big, bold flavor – like Indian or Thai curry – for an entree, a strong garlicky flavor, or a heavy sauce along with a protein, I will select an appetizer with a more intense flavor profile.
Tell a Story with Food
I view the menu as a journey or as an opera score that's telling a story. It could be your story of a trip, a favorite meal or a memory. I think of the menu like the verses in a song. Each course is like a verse telling each part of the story, and the chorus is a main flavor or theme that connects each verse, tying the story or menu items all together.
Translating an Experience into a Menu
When I returned from a trip to Italy in 2014, I had many food "stories" to tell. To create a menu inspired by my travels, I built a course around a each specific region in Italy, which, in turn, mirrored my travel route. Ultimately, I developed a dinner party menu for friends that was inspired by this trip to share my food travel story:
Antipasti: a selection of cheeses inspired by the Parmigiano region with chunks of Parmesan cheese, goat cheese, shaved prosciutto, and sliced salamis. Aged Modena balsamic vinegar and fine olive oil and lightly rubbed garlic crostini's.
Primi: Many layered lasagna Bolognese with shaved Parmesan cheese, baby arugula and fine olive oil drizzle with lemon
Secondi: Roasted Lamb leg rubbed and stuffed with garlic, lemon and rosemary with a light pan-juice reduction.
Contorni: Grilled marinated sweet peppers, zucchini, red onions and sweet potato.
Dolci: Moscato zabaglione with braised peaches and espresso-scented whipped cream.
The appetizer (primi) was the basis of this menu. My trip started in Rome, where I had an unforgettable, many-layered lasagna dish; it was one of the most memorable meals in my life! How can something so simple be so unforgettable? The pasta sheets were so tender that I could feel each velvety bite. The meat sauce was a fine ground-meat-based tomato sauce featuring wonderfully fresh, sweet roma tomatoes bursting with flavor. There was very little spice and just a hint of fresh basil and garlic, and it was topped with fresh grated Parmesan cheese. You usually think of lasagna as heavy, but not this one. I created an appetizer version of this paired with a simple salad to compose the plate.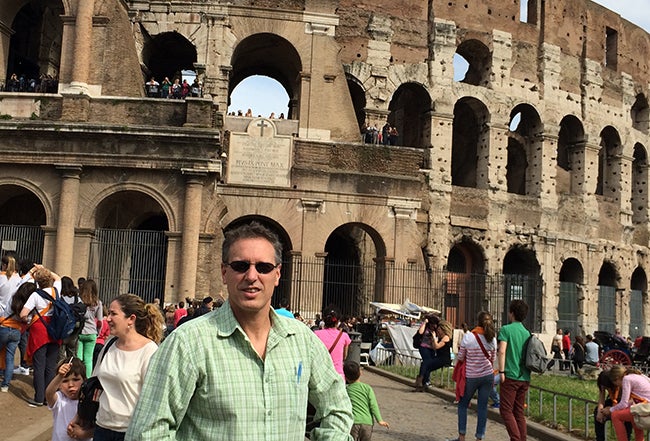 After Rome, I traveled to the Parma and Bologna regions where I discovered amazing cured meats and vegetables. During my trip, I had a wonderfully tender grilled leg of lamb dish marinated in lemon, garlic and rosemary. Building on the light garlic and fresh lemon from the first course, for my menu, I added a little more of these flavors and roasted the lamb instead and served it with tender crisp grilled vegetables for texture and sweet potato for color.
Finally, we have dessert. Because of the strong flavors of garlic, lemon and herbs in the first and second courses, I wanted a fresh clean finish with a little richness on top. Zabaglione, which I had tasted in Northern Italy, is a very light, whipped fluffy egg-based dessert; when done properly, it has a cotton candy texture, but it's not as sweet. The Moscato wine gives it a hint of acidity and sweetness. When served over tender poached peaches, the dish cleanses the palette. The zabaglione was also a symbolic finish to the meal, as Northern Italy was where I left the country to continue my travels through the mountains into Switzerland.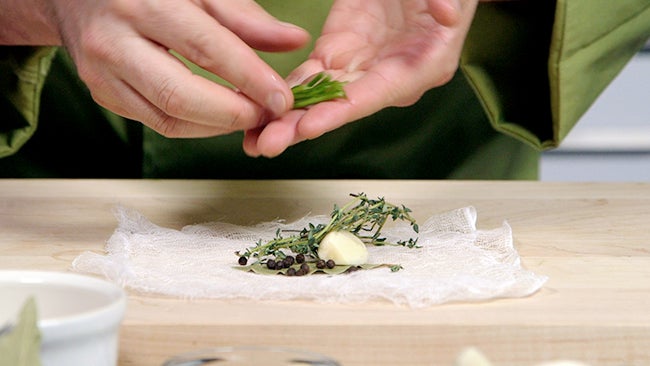 Tap into Your Creativity
My experience helped shape this menu, but you may have a series of recipes inspired by your childhood that you modify slightly to tie each course together and create your story. People today are more interested in the experience of cooking and eating rather than just the mechanical aspects getting dinner on the table and love the story behind food. Find the "talking point" in your recipe, such as 'I had this on my trip to Italy and wanted to make it for you' or 'I was traveling on a back road in Quebec and came across this maple syrup farm." When you link your recipe or menu to an experience or concept, it's easy to write your story one recipe at a time. Above all, have fun!