8 Must-Have Ingredients for Mediterranean Cooking
You don't need a lot of ingredients to cook Mediterranean – but you do need to stock your pantry right. Chef and television host Christopher Kimball reveals his must-have ingredients.
Photo: Patrycja Dlugosz / 500px/gettyimages.ca
Heading out the door? Read this article on the new Outside+ app available now on iOS devices for members! Download the app.
Mediterranean is one of the healthiest ways to cook – but it's also one of the most misunderstood according to Chef Christopher Kimball.
Kimball is the host and executive producer of America's Test Kitchen, founder of food-media company Milk Street and author of the newly released book, Milk Street: Tuesday Nights Mediterranean. While most people think of Mediterranean food as southern European, this gorgeous book goes further to include North African and Levantine dishes, each with their own unique culinary techniques and flavor profiles.
Defining Mediterranean cuisine
While the cuisine is touted for its heart-health and longevity benefits, Kimball argues that the movement towards this type of cuisine here in North America sometimes misses the point. "Healthy eating has nothing to do with a special diet," he explains. "It is about cooking with wholesome ingredients, focusing on vegetables, grains and legumes and using moderation."
But examining Mediterranean as a singular cuisine isn't so simple, Kimball acknowledges. "Trying to define Mediterranean cooking is like trying to define Indian or Chinese cooking, it can't be done," Kimball says. "There are underlying concepts that bring these foods together but one is dealing with different countries, different cultures, a long history of immigration, and places that are immensely diverse in the types of foods that grow there."
One thing that most Mediterranean cuisines do share, according to him, is "a simplicity and honesty to the food as well as an understanding of flavor as a driving force in thinking about food and cooking. The use of spices, big flavor pantry ingredients, the use of sour, briny, sweet and savory, and other combinations all inspire the imagination and the palate. You don't need more ingredients, you just need the right ones."
Top Mediterranean staples
We asked Kimball to reveal his top picks for pantry staples and spices to have on hand in order to bring Mediterranean flavors to your own table.
Pomegranate Molasses: With a concentrated, syrupy consistency, Kimball calls this sweet and sour condiment an all-purpose flavor enhancer that you can use on almost anything. Try it drizzled over a baba ghanoush. (Buy a brand without added sugar or make your own.)
Tahini: Made from ground sesame seeds and commonly used in hummus, Kimball suggests using in sweets as well such as in brownies.
Canned Chickpeas: Use these protein-rich legumes in salads, pasta dishes and soups.
Pimenton: Also known as smoked paprika, Kimball considers this the star of the spice cabinet. (He suggests making a simple soup with nothing more than pimenton, water, garlic and old bread – genius!).
Capers: Kimball calls these gems "big flavor in a small jar." Use it to add salty, briny flavor to soups, pastas and salads.
Whole Cumin and Coriander: Kimball calls these two spices, the "heart of Mediterranean cooking." He suggests buying them whole, toasting them in a skillet and then grinding fresh right before use.
Sumac: With a tart, citrusy flavor, these red berries are ground into a powder. Try sprinkling over a dip or mixing it into a lemony salad dressing.
Za'atar: Za'atar is a wild herb (also known as hyssop) that's usually blended with sumac and sesame seeds and used in Middle-Eastern cuisine. Kimball says za'atar is a must-have to add to anything from morning eggs and to flavor chicken.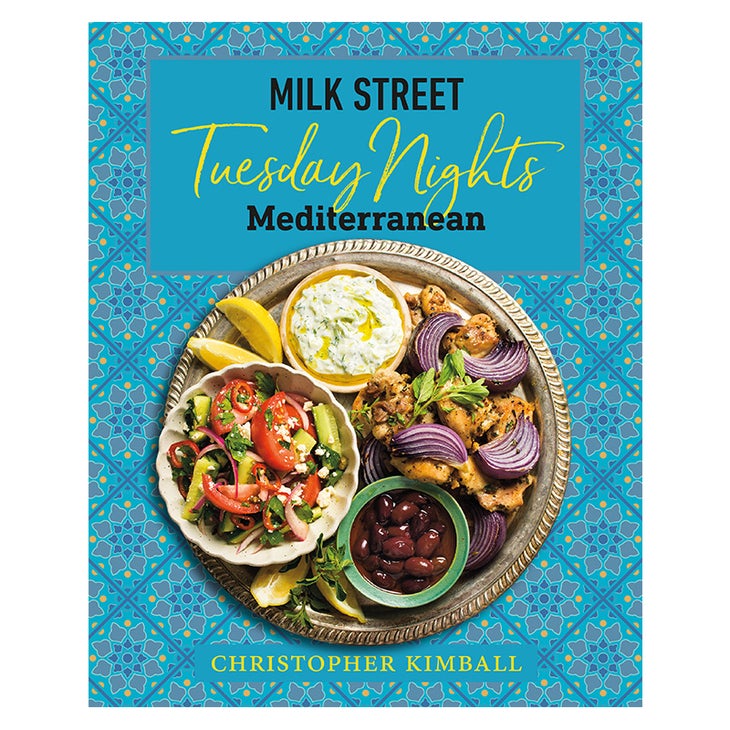 Kimball is also sharing a recipe from his book, Quick Hummus Masabacha, a version of hummus that is chunkier, using whole chickpeas and piled high with toppings like pine nuts and green onions.To see some of these ingredients in action, check out Milk Street: Tuesday Nights Mediterranean (Little, Brown and Company). From quick weeknight pastas to supper soups and salads, these recipes are simple to make, but get lots of mileage from Kimball's favorite big-flavor items.
For a week of healthy meals, try Eat Mediterranean For 1 Week. Or, learn about a new iteration of the Mediterranean diet in Why the Green Mediterranean Diet is Taking Off.