Cast Iron 2.0
With many of the same benefits as cast iron but without the maintenance, enameled cast iron should be the next addition to your cookware collection. Here's why.
Heading out the door? Read this article on the new Outside+ app available now on iOS devices for members! Download the app.
If you're familiar with cooking with cast iron, then you probably already know it holds heat like no other cookware for a perfect golden sear, goes seamlessly from stovetop to oven and has a nonstick surface once it's properly worn in. But there's a downside to cast iron: It needs to be seasoned to maintain its slick surface, and what's more, if you wash it with soap, you'll lose the precious seasoning you've built up.
Enter enameled cast iron cookware – quite simply, cast-iron cookware with an enamel coating over the cooking surface. You've probably seen them in their bright colors and shapes ranging from Dutch ovens to skillets and even lasagna pans. The enamel coating makes the cooking surface nonstick, no seasoning required. Like cast-iron, you can use it to sear, roast, simmer or boil, but when you're done, you can send your dirty pot to the sink to wash with soap. They tend to be a little pricier than their regular cast iron counterparts, but to us, the benefits make it worth having a piece in your collection. We've roasted, grilled, seared and simmered with enameled cast iron for weeks to bring you this roundup of our favorites.
THE DUTCH OVEN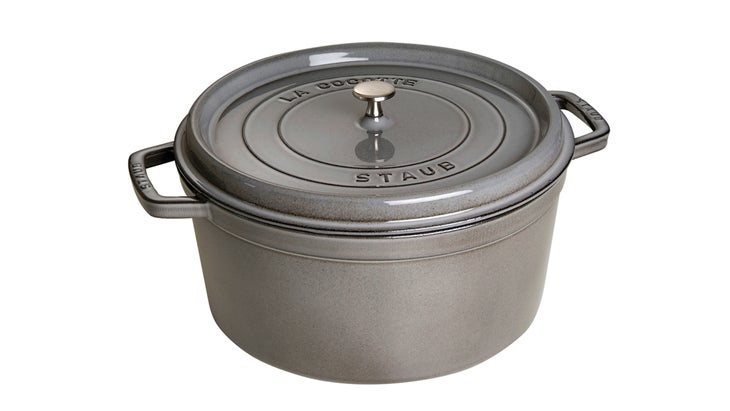 Staub Cast Iron 5.5-QT Round Cocotte
Hailing from France's Alsace region, and inspired by their cuisine that focuses on one-pot cooking, this company has been making these ovens since the 1970s. We've had our eye on this stylish graphite grey model for months, but it's the functionality that makes it worthy of the price tag: It's crafted to keep more humidity in during the cooking process, and the interior has a rough enamel texture that helps trap cooking juices to concentrate flavors. $260, amazon.com
THE GRILL PAN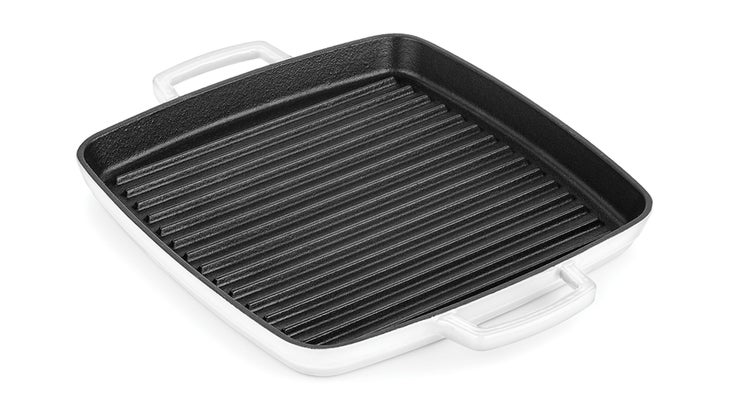 Martha Stewart Collection 11-Inch Enameled Cast Iron Grill Pan, Created For Macy's
For those who wish grilling season could last all year long, this pan is the answer. It has excellent heat retention and imparts gorgeous grill marks to proteins and vegtetables. We found it works best with less saucy items as those items made it slightly harder to clean. $100, macys.com
THE ROASTER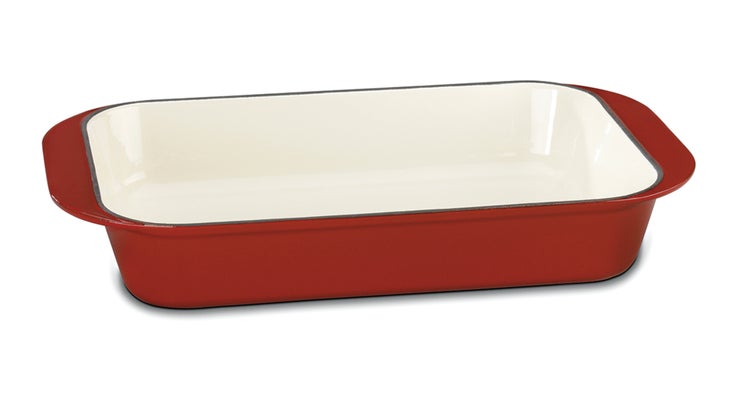 Cuisinart 14-Inch Roasting/Lasagna Pan
You might not think enameled cast iron is crucial in a roasting pan, but we beg to differ: Because it holds heat so well, it imparts a lovely, golden crust to your food. And don't even get us started on the importance of its nonstick properties in roasted dishes. Our creative director and resident potato-making expert, Stacy Jarvis, wowed her guests with the perfect scalloped potatoes. And since trying this model, she won't make potatoes in any other vessel. Plus, the price tag proves that you don't have to spend a fortune to add enameled cast iron to your collection. $60, amazon.com 
THE SKILLET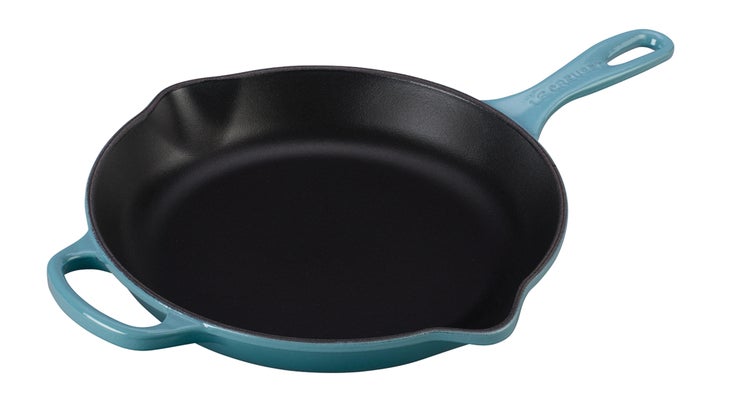 Le Creuset Signature Skillet, Size: 10¼ Inch
Prepare yourself for the sizzle you'd get from a regular cast iron pan, without having to go through the seasoning process. Our associate editor, Alexandra Emanuelli, has been touting the merits of this skillet for weeks, boasting that the heat retention elevated all her cooking, including perfectly seared proteins and fried eggs that slid out of the pan almost magically. We adore the Caribbean blue color, but this brand is known for its vibrant array of shades to choose from. $99, amazon.com
We independently source all of the products that we feature on cleaneating.com. If you buy from the links on our site, we may receive an affiliate commission, which in turn supports our work.