Tools of the Trade: How to Choose the Perfect Cutting Board
Even the simplest meal typically starts with pulling out a cutting board, but how much do you actually know about this kitchen workhorse? We're walking you through everything you need to know from selecting, cleaning and maintaining these essential tools.
Heading out the door? Read this article on the new Outside+ app available now on iOS devices for members! Download the app.
You probably have a few cutting boards rattling around your kitchen, of various ages, materials and conditions – maybe a favorite for cutting up meat, one you can shove in the dishwasher and a fancy one that looks good with cheese. You might favor one over another for practicality or aesthetics, but buying the right cutting board, using it correctly and cleaning it properly will keep your food safe, so you can focus on making it delicious. We're going to break down the various types on the market and how to keep them clean and germ-free.
Poly Boards
Cheap and easy to clean – it's no wonder that most kitchens have at least one plastic board around. Typically, plastic boards are made of polyethylene or polypropylene, which can go in the dishwasher, so cleaning it is a no-brainer. Why doesn't everyone just default to plastic, then? Because it's so hard, plastic can make your knives dull. Over time, your knives will cut grooves into the plastic where germs can lurk, no matter how well you clean it. Also, keep in mind that plastic ultimately ends up in a landfill, or in our oceans, so we always prefer wooden options.
Wood Boards
These pretty, sturdy cutting boards are typically made of hardwood, like maple or walnut, and can be one of two different varieties – edge-grain or end-grain – and it's easy to tell which is which. The grain runs parallel to your counter in an edge-grain board, and with an end-grain board, it runs perpendicular.
Edge-grain boards are easier to manufacture and are therefore cheaper, but they're also harder. "They're not hard on your knives, per se, but they will show cuts easily," says Paul Clark, founder of Clark's, a company that manufactures oils and waxes for cutting boards. Butcher blocks are traditionally made of end-grain wood because it helps knives stay sharper. Clark compared it to cutting into a bunch of straws standing vertically – the blade can just slide through the wood grain. However, it's a more specialized process to make these, so they can cost twice as much as edge-grain.
Related: How To Choose a Kitchen Knife
Either way, wooden boards are self-healing, meaning that even if your board gets grooves in it from cutting, the wood will swell ever so slightly and seal itself shut once you clean it with water, leaving no room for bacteria. To clean it, wash the board in hot, soapy water (preferably castile soap), and pat it dry or prop it upright to air dry.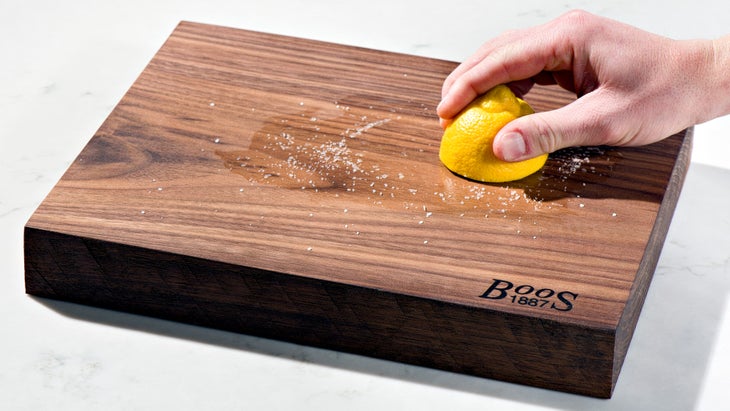 What's That Smell? Everybody hates it when unwanted flavors show up on your food (hello, garlicky watermelon), and your cutting board is often the culprit. To keep your aromatics well away from your fruit, use the lemon trick: Sprinkle your board in coarse salt, rub the cut side of a lemon all over the surface and then wash the board. This treatment will evict any off flavors.
Bamboo Boards
These boards may look like they belong in the wood category, but technically, bamboo is a type of grass, and it behaves differently than wood. Bamboo is actually harder than wood, which can make it harder on your knives. Also, almost all wooden and bamboo cutting boards are held together with glue, but bamboo is produced in thinner sheets than wood, so the cutting surface is more likely to come into contact with glue. For that reason, it's best to buy a board that is made with formaldehyde-free glue. Like wooden boards, clean them with hot water and soap, preferably a castile soap, which will dry it out less. Both types of boards also benefit from being oiled periodically to keep them from cracking and staining. "If you're using your board about once a day, you'll want to oil it about once a month," says Clark.
Wood and bamboo boards are more sustainable options than plastic, but it's still worth digging around before you make a selection. Most domestically grown wood is sustainable, and the Forest Stewardship Council (FSC) provides a certification for wooden and bamboo boards. However, since there is a cost to it, not all companies will get FSC certified, even if they are managed responsibly and using sustainable material. Ultimately, the onus is on the individual to look into a company's philosophy before making a purchase.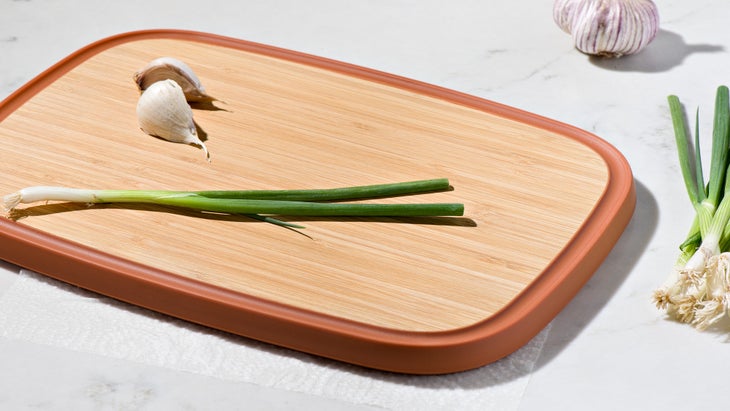 The Anchoring Effect: A sliding cutting board means your fingers are a moving target. Keep them safe by anchoring your cutting board: Simply dampen a paper towel and lay it flat under your board. For a reusable alternative, buy a nonslip silicone mat, trim it to size and pull it out whenever you need it.
But Is My Board Safe?
In one study conducted by NSF, a nonprofit organization devoted to public safety, 18% of the cutting boards in volunteers' homes had coliform bacteria, a family of nasty bugs that includes E. coli. Keep your family safe with these easy strategies:
Consider getting multiple boards: The FDA suggests having color-coded boards – one for meat, poultry and seafood and another for produce, bread and cheese.
Don't cross-contaminate: If you're using the same board to cut raw and cooked ingredients, clean it thoroughly between uses.
If you're using a plastic board to cut raw meat, toss it in the dishwasher after. That said, if you only have wooden or bamboo cutting boards (or don't have a dishwasher), it's perfectly safe to cut meat on wood. Hot water and soap will do the job.
Sanitize your boards periodically. It's easy to do: Mix 1 tablespoon of liquid bleach for every gallon of water, and flood the surface of your boards with it. Let it stand for a few minutes, then rinse and pat dry.
Even good boards must come to an end. Once a board is heavily grooved, get rid of it and get yourself a new one — or, if you have a wooden board, sand it down and start anew. "Start with a 60 to 80 grit," says Clark, "and work your way up to 220 grit to give yourself a nice smooth surface." You can pick up sandpaper at any hardware store.