Know Your Cookware
Up your game by choosing the right type of cookware for the job.
Heading out the door? Read this article on the new Outside+ app available now on iOS devices for members! Download the app.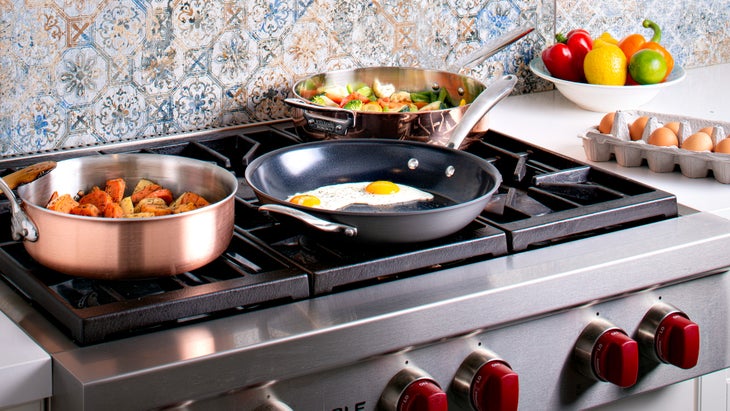 The selection of cookware at a kitchen store can feel dizzying — and the questions pile up quickly when browsing. Why are some pots and pans so much more expensive than others? What is the deal with cast iron? Are nonstick pans toxic? Luckily, the answers are close at hand. These are the most common varieties of cookware and why you'd choose one over another.
Nonstick
Lightweight, multipurpose and inexpensive, nonstick pans are popular for a reason. They're made from aluminum or stainless steel and covered in one of two types of nonstick coating, known as traditional (or Teflon) or ceramic. On a traditional nonstick pan, the coating is often made from a compound called polytetrafluoroethylene (PTFE). While most of the data suggests it's safe, it's unwise to heat a nonstick pan above 500°F, as it can emit gases that are toxic to birds (and unhealthy for humans). Don't leave your pan empty over a flame, as this can cause the temperature to go too high. Another chemical known as perfluorooctanoic acid (PFOA) is also used in the process of making Teflon. While PFOA is a carcinogen, virtually none of the chemical is left in the final product as it's burned off during manufacturing. In fact, the American Cancer Society does not consider it to be present in high enough quantities in pans to be harmful. However, PFOA and its salts do have damaging ecological effects, particularly on wildlife, so it's worth looking for pans made without it.
A "ceramic" nonstick pan is actually a misnomer — it's coated with silicon, not ceramic. (It got its name because silicon is made with sand, like ceramics, and the smooth surface resembles porcelain.) Unlike traditional nonstick pans, they are safe up to 800°F.
If you've started to notice your nonstick pan sticking, there might be a surprising culprit: Cooking spray. The propellants build up over time and can cause food to stick. (This is true for both traditional or ceramic nonstick pans.) The dishwasher is another common villain — the high heat can degrade the coating. Finally, don't use metal utensils, and if you see metal through the coating, it's time to toss the pan and replace it.
See Also How to Care For Your Cutting Board
Cast Iron
These pans are inexpensive and nearly indestructible — one can last for generations. In fact, passionate cooks seek out old pans at thrift stores because the metal was constructed in a slightly smoother manner, making a more even cooking surface. (The roughness you feel on modern cast iron is sand — it used to be removed during the production process.) They retain heat well, but they tend to heat unevenly, so move food around as you're cooking to make sure everything browns. They're also quite heavy.
A cast iron pan is only as good as its seasoning, which is a very thin layer of oil that bonds with the metal and gives it a glossy, stick- resistant surface. Katie Roberts, head of cookware at Williams-Sonoma, recommends buying a pre-seasoned one, but any cast iron will need to be reseasoned periodically once the surface looks dry or food starts to stick. To do so, scrub the pan in soapy water, dry it, then wipe a little bit of neutral oil (like vegetable) all over the cooking surface with a paper towel and place it over high heat on the stove. Heat the pan until it's smoking, wipe it one more time and let it cool.
Cast iron is not nearly as delicate as it's rumored to be. You can use metal utensils in it, and it's ok to use soap to clean it (though you may need to season it again if you do). Roberts has a tip for cleaning stuck-on food: "Just add a little water and reheat on the stove top — you'll easily be able to get the food off." Just don't let it soak or leave it wet, and don't use it to make long- cooking, acidic foods (like tomato sauce), as the iron can leach and give food a metallic taste.
Enameled Cast Iron
Made using a process invented in 1830, these colorful pans build on some of the qualities of cast iron (heat retention, durability) and add a few of their own. Essentially, enameled cast iron is glass fused onto a base of cast iron, so these pans won't rust and never need to be seasoned. Food is less likely to stick than with uncoated cast iron, and you can simmer acidic foods without worrying about leaching. "These have a reputation of being expensive," says Roberts, "but you can find ones at every price point." Just don't drop it — these pans can chip or crack if they're manhandled.
See Also Cast Iron 2.0
Most companies that make enamel cookware recommend using wooden, plastic or silicone utensils, but metal is okay as long as you're gentle. If food sticks to the inside, soak it for a few minutes before washing, and don't use abrasive scrubbing pads or harsh detergents.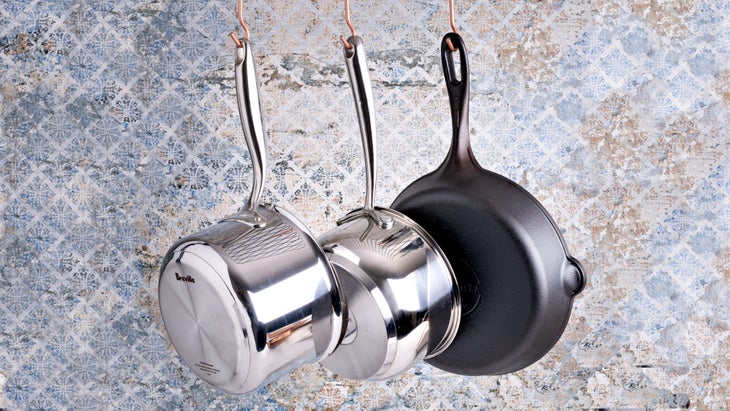 Stainless Steel
These durable pans are made of steel mixed with other metals, including at least 11% chromium — that's what makes them stainless. These pans are very common in home kitchens because they're pretty and versatile.
Many pans are layered with different metals, like aluminum or copper, to take advantage of their various virtues, and this is particularly true for stainless steel pans, because, on its own, stainless steel isn't a very good conductor of heat. The number and types of layers is indicated on the package as the "ply" or "cladding" (stainless steel can go anywhere from 2- to 7-ply), and the higher the number, the heavier, sturdier and more expensive the pan will be. For most home cooks, 3-ply is enough.
See Also How to Choose a Kitchen Knife
Copper
These gorgeous pieces are practical showstoppers. Copper is the most conductive metal of all, meaning it heats up evenly and cools down quickly, so it reacts quickly to whatever heat you set it to — but this feature will cost you. "Copper is an expensive material, and it is usually bonded with stainless and finished with a brass or cast iron handle," explains Roberts. These pans are always lined with tin or steel as copper can react to food.
You can tell the thickness of copper and other types of cookware by checking the gauge listed on the packaging. A higher number means a pan is thinner and typically less expensive. The cookware commonly used in restaurant kitchens is 22-gauge, and luxury cookware will go up to 10-gauge.
Because copper reacts to heat so quickly and completely, you might need to adjust the temperature downward while cooking. Before you buy a copper pan from a thrift store, check the inside — if it looks worn, the pan might need to be re-tinned to make it usable. Copper will pick up a patina over time, which you can easily remove with copper polish.
What About My Induction Stove?
Induction cooktops require magnetic pans. Typically, cast iron and stainless steel fit the bill, and some copper and nonstick pans will work. Be sure to check the packaging to confirm.
This handy downloadable reference chart should help when making decisions on what to buy.