Meet the Changemakers: Tambra Raye Stevenson
Meet Tambra Raye Stevenson, the woman on a mission to bring greater nutrition equity to underserved communities across the nation. CE sat down with Tambra to discuss her nonprofit Women Advancing Nutrition Dietetics and Agriculture (WANDA) and her long history working at the intersection of food and equality.
Heading out the door? Read this article on the new Outside+ app available now on iOS devices for members! Download the app.
This February, we're celebrating Black History Month with our Meet the Changemakers series. We'll be spotlighting examples of Black excellence in the food industry!
Championing Black and Brown women as key drivers in today and tomorrow's food economy and working to undo the colonial erasure of heritage foods, Tambra Raye Stevenson is fighting to solve America's dietary disparities. This nutrition and health communication expert with a long history of education, experience and accolades tackles systemic issues like lack of access to healthy food and nutrition education in underserved communities. Join CE as we learn more from Tambra about her life, her nonprofit organization WANDA and how she battles food inequality.
Clean Eating: Tell us a little bit about yourself. How did you come to dedicating your career to championing food equity?
Tambra Raye Stevenson: I try to channel or embody the spirit of women like Harriet Tubman, Fannie Loy Hamer and Barbara Jordan, civil rights icons. We weren't taught in our schools about these dynamic Black women. I remember reading Maya Angelou's poem "I Know Why the Caged Bird Sings," and today, in my own kitchen, I have a cage with a bird on top symbolizing the importance of knowing and living my truth.
That truth means elevating women and girls I see as hidden figures in the food system (which is what prompted me to create WANDA). It also means understanding that food and freedom are intrinsically tied. The importance of seeing ourselves on the front lines as food freedom fighters is not simply a notion that speaks to our health, but also to justice, civil rights and human rights in this country.
CE: What do you mean when you say food and freedom and intrinsically tied?
TRS: Harriet Tubman blazed a trail for freedom following the North Star from the American South towards Canada, the promised land. I think of food as an overlay on the Underground Railroad. We must free ourselves from the standard American diet and lead ourselves to our heritage foods as our medicine. The knowledge around our indigenous foodways and culture as healing modalities have been stripped from nutrition education. When we think about what healthy food access and education looks like, it should incorporate our identity because food is identity; food is community; food is medicine.
CE: Much of your career is influenced by your cultural roots. What is the link between your identity and your food heritage?
TRS: Part of deciding what freedom through food looks like for me was finding my African identity, which traces back to the Fulani people in Northern Nigeria, where I traveled to in 2016. Nutritious foods like millet are a custom in that community. One particular dish is Fura da Nono, millet balls in fermented milk, a highly nutritious food. When I went into the village, this was the first thing I was greeted with. Pearl millet, finger millet, fonio, they're all cousins.
Millet is one of the cheaper grains in the US, and you'll tend to find they just feed it to birds here.  This all goes back to the bastardization and demonization of African food, deemed forbidden food or food of the hungry. We must change that narrative and use the power of media to amplify these foods. If we see food as a form of diplomacy, what does it say if we're not able to have food from all people from the global South, to show that it has value just as much as its people do?
CE: You're currently working to use media to amplify heritage foods. Tell us about your nonprofit organization WANDA and how it seeks to do that.
TRS: WANDA stands for Women Advancing Nutrition Dietetics and Agriculture. We basically demonstrate the very thing we advocate for: bringing access to healthy food literacy, as well as creating a sisterhood of self-care and support through digital communities.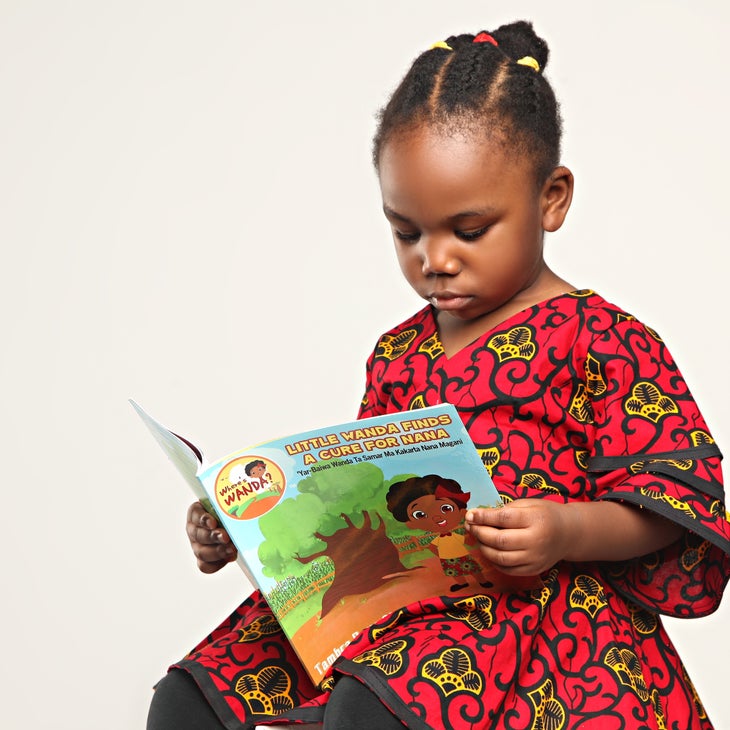 One of the first things we did was develop a bilingual children's book series called Little Wanda Finds a Cure for Nana. Our girl character who represents Brown and Black communities shows our culture through an empowered lens: our food is our superpower. Little Wanda uses millet and hibiscus to make indigenous foods and drinks to help heal her Nana. The creation of the storybook flowed into developing a puppet, we have a patent design for a talking doll and we're developing programming for children and families.
When COVID-19 began, we launched the online WANDA Academy connecting Brown and Black women to women producers, markets and farmers at the local level. Also last year, every week, we had a dietitian of Nigerian and Jamaican background to speak with authority around cultural nutrition, walking through live sessions where women could ask questions. We also have video content of cooking demonstrations and weekly self-care check-in sessions where we'd bring in other black women therapists to talk about grief and trauma, which we know runs rampant, and discuss the intricacies of using food to self-medicate. We're looking to scale these initiatives later this year, fingers crossed.
Now, through the pandemic, I'm thinking of how we can build bridges using food and women between Africa and the diaspora. That is the final frontier of creating unity in the community – bringing our women together to speak to how we'll heal communities through food.
CE: Let's talk about food inequality. What is your insight on nutrition discrepancies across American communities?
TRS: I can just point here to the nation's capital. I live in Anacostia, a community east of the Anacostia River in Washington DC Ward 8. Ward 7 and 8, both east of the river and predominantly African American, share just three full size grocery stores for 170,000 people. Compared to west of the river, they now have 22 grocery stores for a population just under 500,000. We also only have a handful of farmers' markets east of the river, and even when we have markets, we don't have enough vendors selling produce.
Part of why I now serve on our DC Food Policy Council is because we need to do a landscape assessment to show with data that we need more dollars invested to address obesogenic environments. It's a shame we have more liquor stores and corner stores than healthy food access, and this is by design.
This goes deeper, into the topic of nutrition education. How many educators do we have east of the river? The Academy of Dietetics has roughly 10% POC in the field, and under 2.7% are of African descent. If a child is not well fed, studies show that brain chemistry can go awry, resulting in lower academic performance and, even, higher levels of crime, and you have a decreased quality of life. Paradoxically, one of the things I've learned from being on the Food Policy Council is that many stores determine where they plant new branches based on the number of Masters degrees in an area. All this is really problematic because it feeds into the cycle of systemic racism.
Now, under the current Biden-Harris administration, it's a critical time for change. We have Rep. David Scott in the U.S. House Committee on Agriculture, and Dr. Jewel Bronaugh, the United States Deputy Secretary of Agriculture – Black leadership in the food space at a level that can have the propensity to create the degree of change we need to see.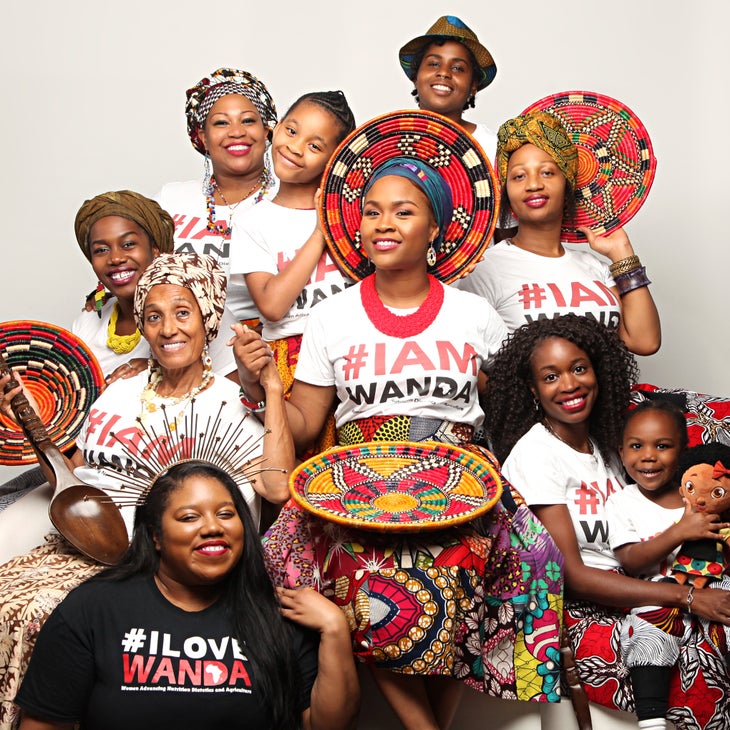 CE: What can CE readers do to be part of the change?
TRS: Understand that the idea of equity, inclusion and belonging gets a lot of lip service, but it needs actual metrics and performance reviews to measure successful change. Decolonizing our curriculums and policies is critical to creating that change that we need to see
My phrase is "Put your faith where your fork is." If you believe so strongly in whatever value system you have, if you value diversity, women, culture… how are you putting your faith – the things you value – where your fork is? This means the items that you purchase at the store, the markets that you go to and the people you tune into and invite to speak at your organizations.
We need reinvestment in the communities it's been divested from. That means finding organizations like WANDA to support and follow online, media outlets allowing us to speak to your audiences, partnering with people like us and being strategic but not extractive in those relationships.
Quick Facts about Tambra:
A graduate of Oklahoma State University and Tufts University School of Medicine, Tambra holds a B.S. in Human Nutrition and premedical with a minor in Spanish as well as a Master's in Health Communication. 

Her past work in advancing health and economic initiatives spans nearly a decade, including in the Office of the Secretary at the US Department of Health and Human Services, the US Department of Commerce, the DC Mayor's Office on Women's Policy and Initiatives and the University of the Distinct of Columbia's Center for Nutrition, Diet and Health. 

WANDA isn't Tambra's first foray into nonprofit. She also founded NativeSol Kitchen, a program that develops informative cultural programs on African foods and nutrition.