Your GF Game is Strong: A 1-Week Gluten-Free Meal Plan
Try a week of robust and tasty meals with this no-sweat gluten-free meal plan.
Heading out the door? Read this article on the new Outside+ app available now on iOS devices for members! Download the app.
Let's be honest: Giving up gluten and adopting a gluten-free lifestyle can come with a whole lot of challenges. But we've got your guide, and it's this easy-to-follow, totally delicious 1-week gluten-free meal plan that you'll want to turn to again and again.
You don't have to have celiac disease to give up gluten. Many people choose to go gluten-free because they have a gluten intolerance (which includes both celiac and non-celiac sensitivities), are sensitive to gluten or have a general wheat allergy. No matter the reasons you've giving up on gluten, you don't have to severely restrict your diet. And going gluten-free doesn't mean you have to give up on flavorful meals and a colorful array of ingredients.
There are so many different foods you can enjoy – and that's exactly what we're highlighting in this simple yet totally delicious meal plan. A good gluten-free approach is one that highlights whole foods and limits packaged products, enjoying them in moderation. So, we've created gluten-free recipes that are sure to impress, with a combination of plant-based, protein- and fiber-rich foods that don't include any gluten at all. In fact, you'll barely even notice that you've gotten rid of gluten when you try this week of impressive meals.
Oh, and did we mention that these meals are super easy to prepare? Every one of the recipes in this meal plan is ready to serve in an hour or less. And if you do a bit of chopping, baking and general prep over the weekend, you'll save even more time as you prepare them throughout the week.
Grab your reusable totes and get your shopping list below, because you're going to want to dive into this gluten-free meal plan as soon as you take a peek at the recipes below.
Section divider
The recipes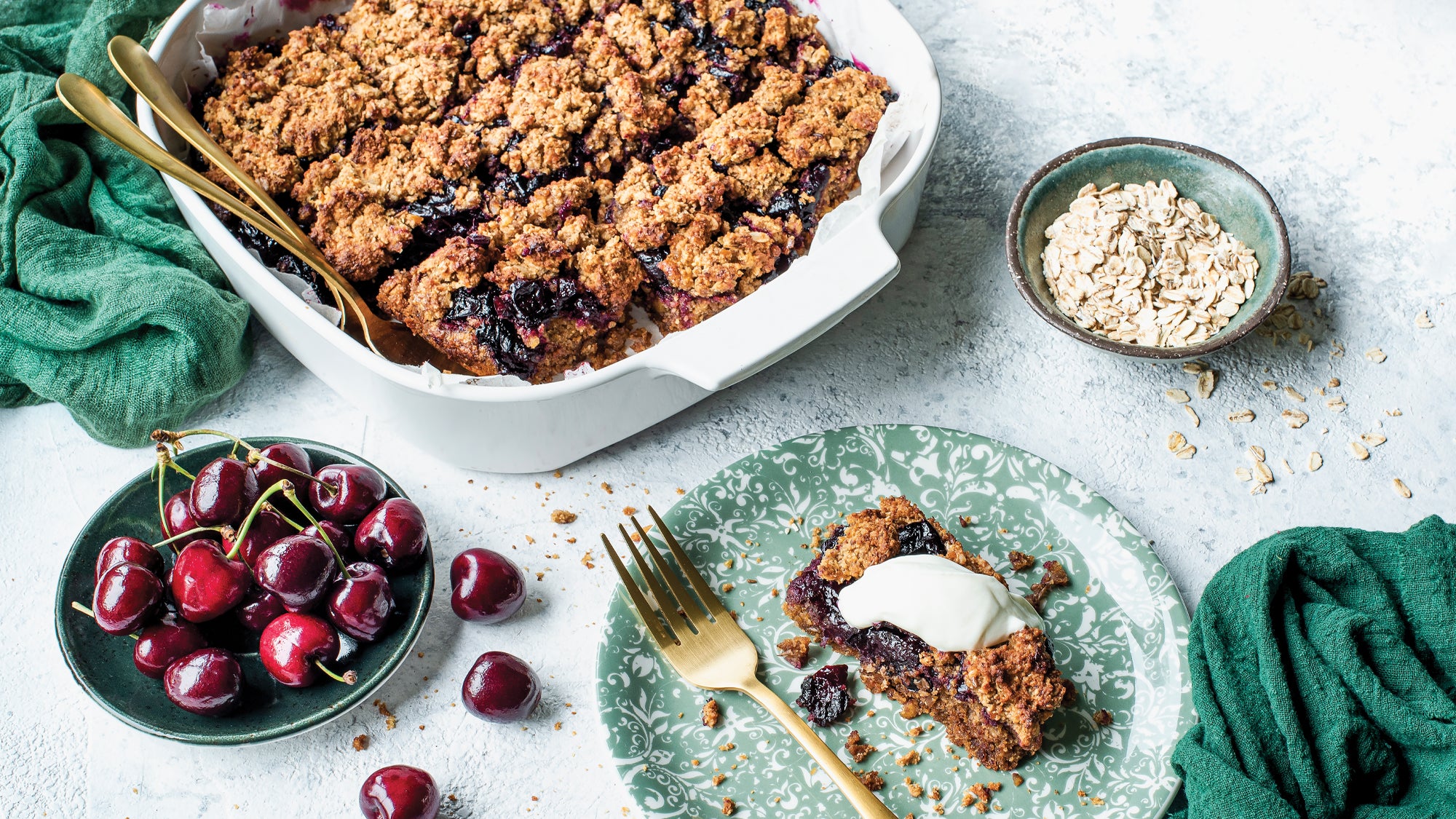 Thanks to a surprise ingredient – lentils – these bars are packed with fiber and protein. But don't worry, you can't taste them. Get the recipe here.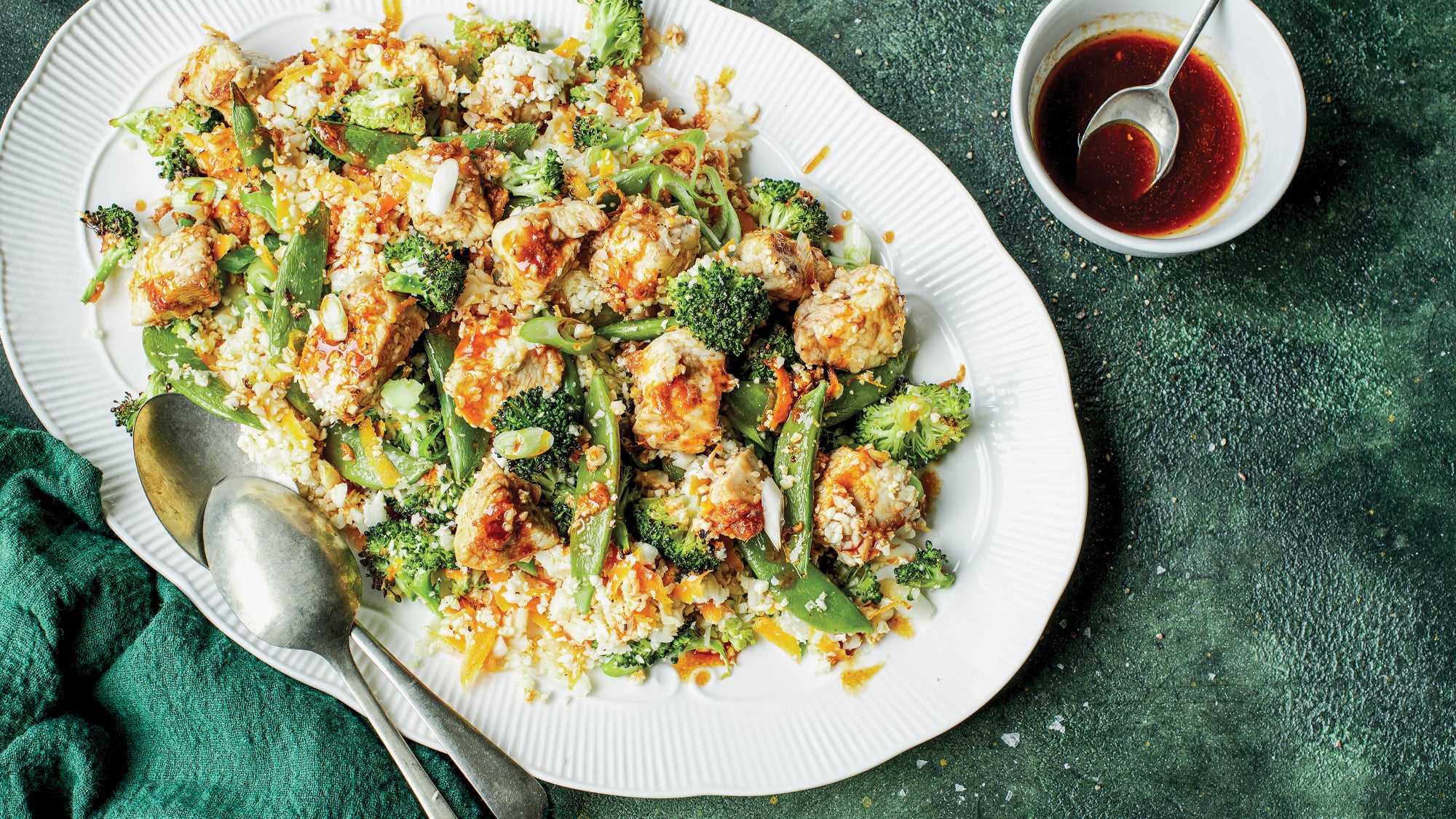 You're one pan and done! Nutritious cauliflower rice steps up to the plate in this scrumptious and colorful chicken and veg combo. Get the recipe here.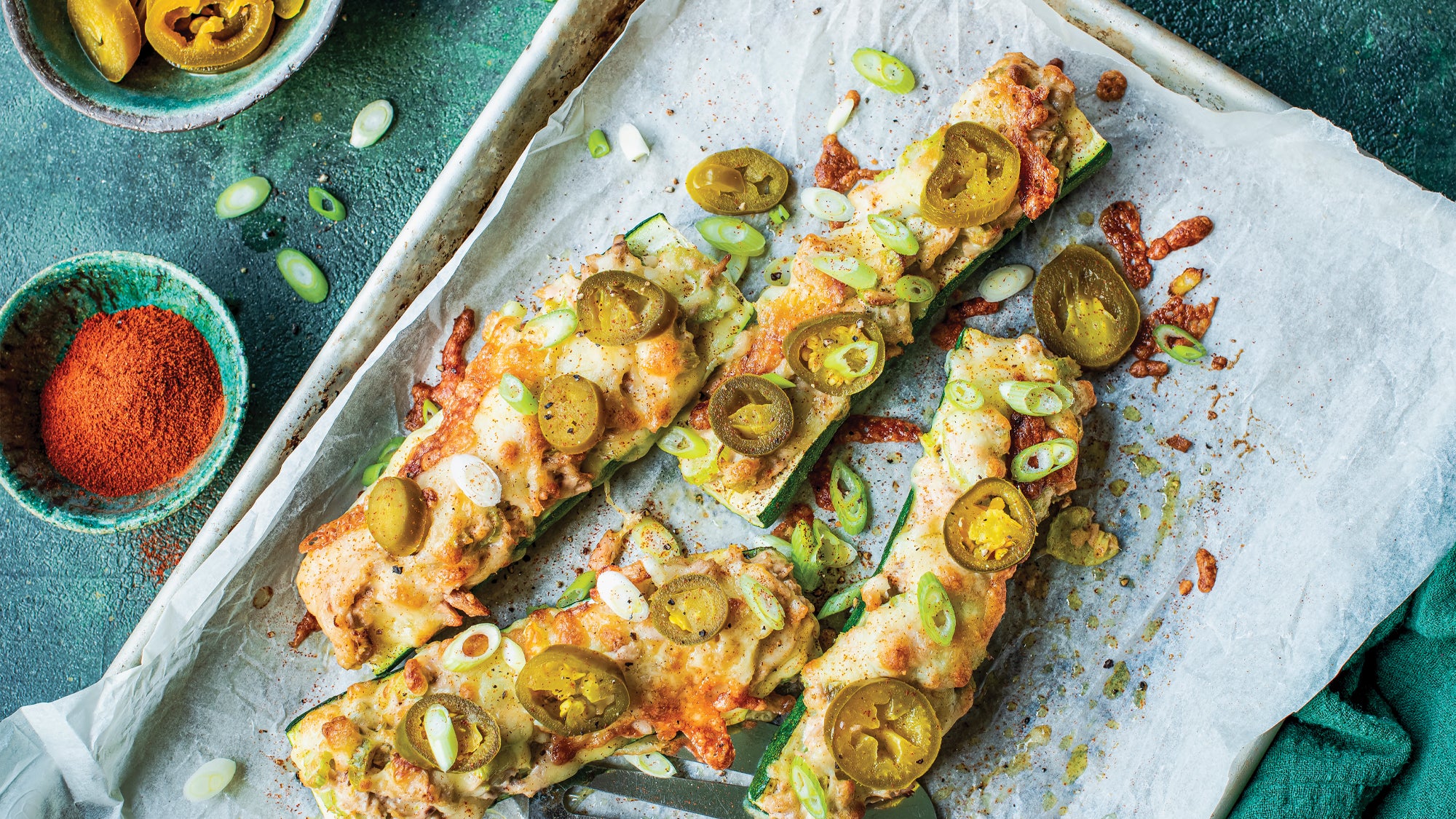 Gluten-free does not equate flavor-free, as this spicy and filling favorite clearly demonstrates. Get the recipe here.
Sweet, flavorful and satisfying, these meaty mushrooms topped with spinach, tomatoes and egg make an ideal first bite of the day. Get the recipe here.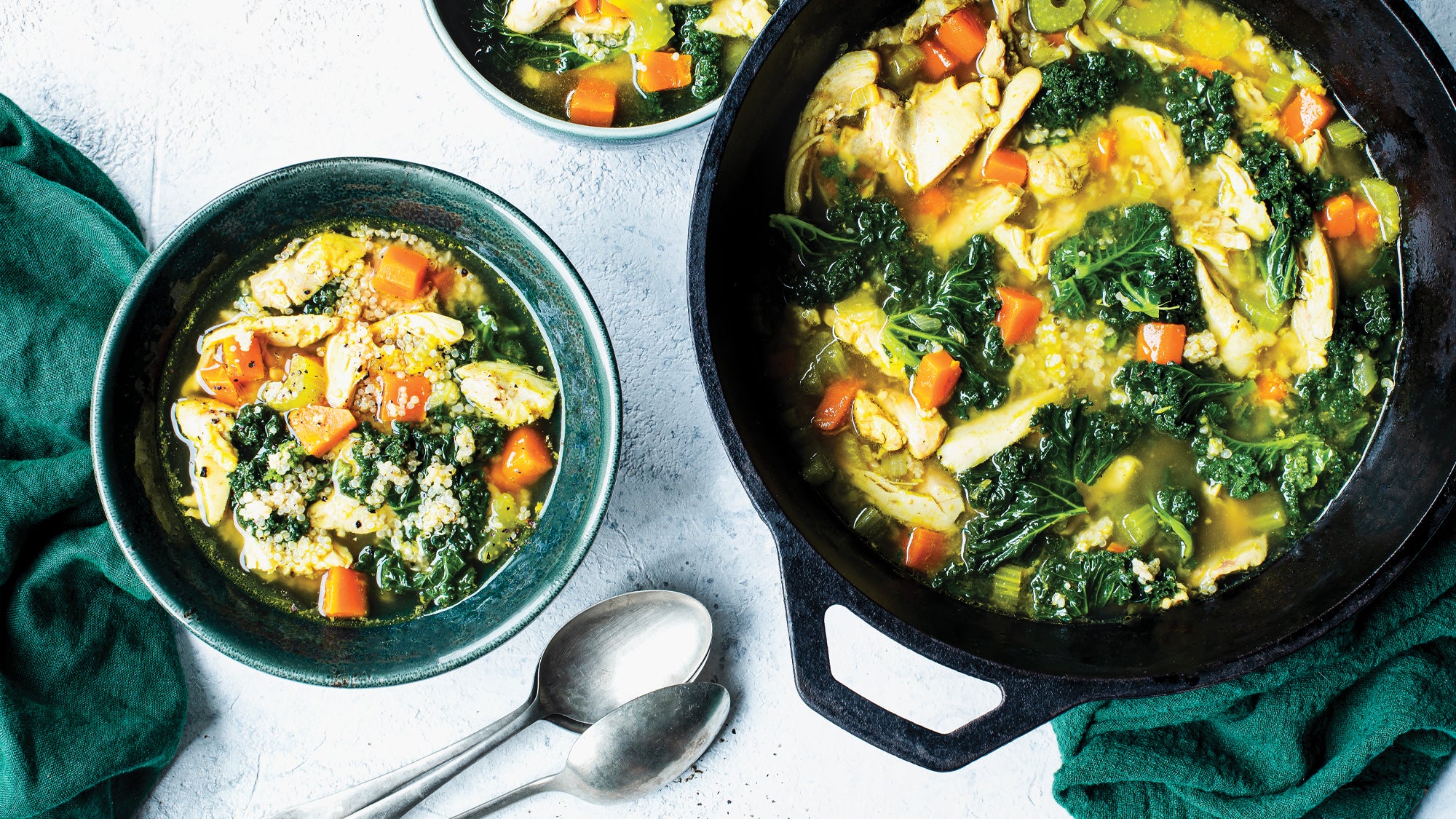 Garlic, onion, ginger and turmeric lend richness to this easy soup. Get the recipe here.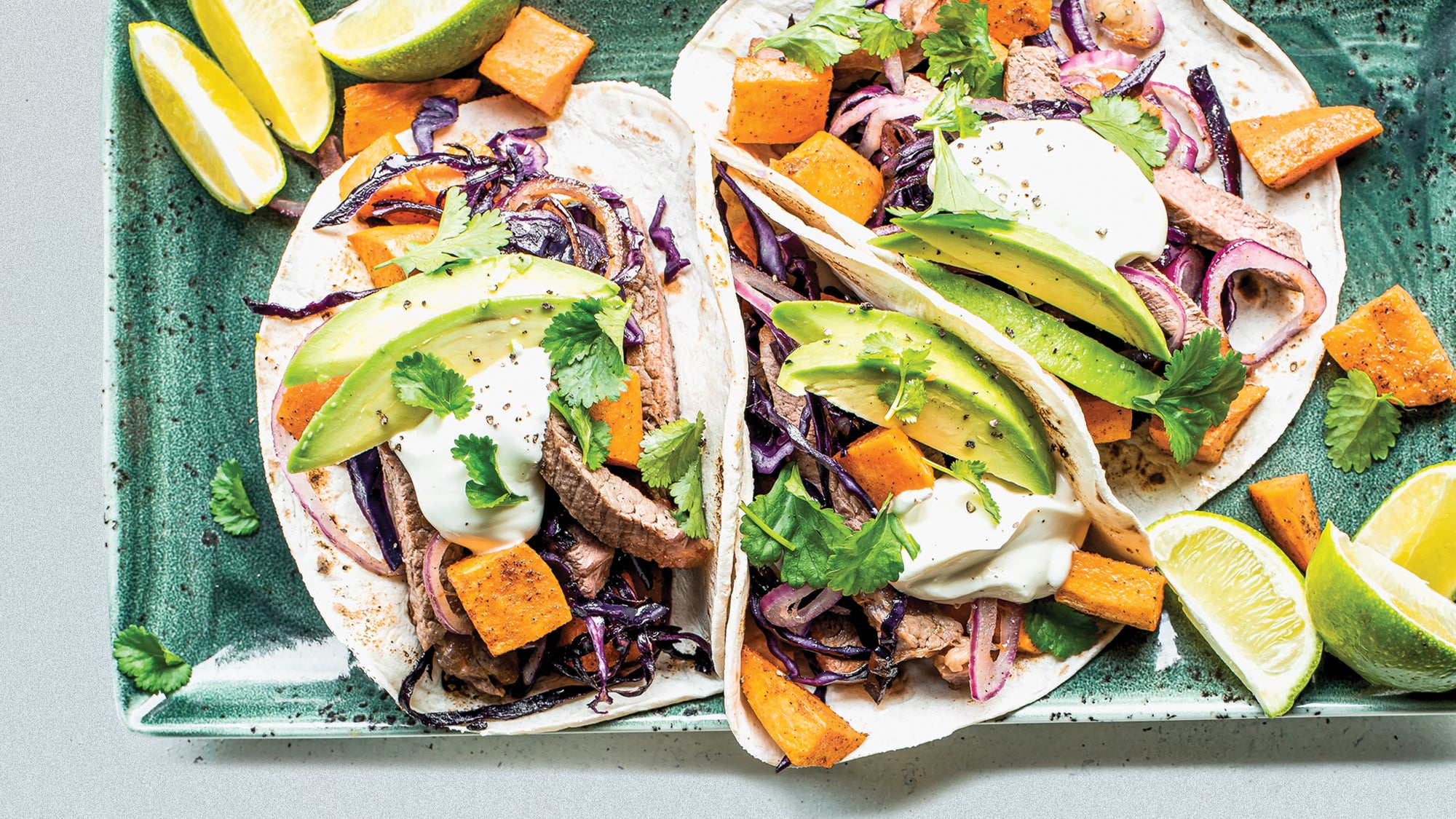 This southwestern-style dinner is filling, flavorful and fun. Get the recipe here.
Section divider
This week's meal plan
| | | | | |
| --- | --- | --- | --- | --- |
| | Breakfast | Lunch | Dinner | Nutrients |
| Monday | Secret-Ingredient Cherry Oatmeal Bake (save leftovers) | Spicy Tuna Melt Zucchini Boat (save leftovers) | Hearty Chicken Quinoa Soup with Kale (save leftovers) | Calories: 1,237 Fat: 72 g Sat. Fat: 21 g Carbs: 78 g Fiber: 12 g Sugars: 30 g Protein: 75 g Sodium: 1,716 mg Cholesterol: 224 mg |
| Tuesday | Balsamic Roasted Portobello with Fried Egg (save leftovers) | Spicy Tuna Melt Zucchini Boat (leftovers) | Sheet-Pan Chicken & Cauli-Fried Rice (save leftovers) | Calories: 1,001 Fat: 62 g Sat. Fat: 14 g Carbs: 40 g Fiber: 13 g Sugars: 23 g Protein: 76 g Sodium: 1,997 mg Cholesterol: 363 mg |
| Wednesday | Secret-Ingredient Cherry Oatmeal Bake (leftovers) | Hearty Chicken Quinoa Soup with Kale (leftovers) | Steak & Sweet Potato Tacos (save leftovers) | Calories: 1,239 Fat: 62 g Sat. Fat: 18 g Carbs: 85 g Fiber: 13 g Sugars: 63 g Protein: 73 g Sodium: 1,221 mg Cholesterol: 204 mg |
| Thursday | Balsamic Roasted Portobello with Fried Egg (leftovers) | Sheet-Pan Chicken & Cauli-Fried Rice (leftovers) | Steak & Sweet Potato Tacos (leftovers) | Calories: 1,003 Fat: 52 g Sat. Fat: 11 g Carbs: 47 g Fiber: 14 g Sugars: 56 g Protein: 74 g Sodium: 1,502 mg Cholesterol: 343 mg |
| Friday | Balsamic Roasted Portobello with Fried Egg (leftovers) | Steak & Sweet Potato Tacos (leftovers) | Sheet-Pan Chicken & Cauli-Fried Rice (leftovers) | Calories: 1,003 Fat: 49 g Sat. Fat: 11 g Carbs: 47 g Fiber: 14 g Sugars: 56 g Protein: 74 g Sodium: 1,502 mg Cholesterol: 343 mg |
| Saturday | Balsamic Roasted Portobello with Fried Egg (leftovers) | Hearty Chicken Quinoa Soup with Kale (leftovers) | Steak & Sweet Potato Tacos (leftovers) | Calories: 983 Fat: 49 g Sat. Fat: 11 g Carbs: 48 g Fiber: 10 g Sugars: 46 g Protein: 72 g Sodium: 1,381 mg Cholesterol: 367 mg |
| Sunday | Secret-Ingredient Cherry Oatmeal Bake (leftovers) | Hearty Chicken Quinoa Soup with Kale (leftovers) | Sheet-Pan Chicken & Cauli-Fried Rice (leftovers) | Calories: 1,045 Fat: 46 g Sat. Fat: 13 g Carbs: 90 g Fiber: 16 g Sugars: 38 g Protein: 74 g Sodium: 1,237 mg Cholesterol: 213 mg |
Shopping list
Proteins & dairy
5 large eggs
1 8-oz container full-fat yogurt
1 lb boneless, skinless chicken thighs
1 lb boneless, skinless chicken breast
2 8-oz striploin steaks
2 5-oz cans solid white tuna
1 block cheddar cheese
1 small container full-fat sour cream
Veggies & fruits
1 bag frozen pitted cherries
1 lemon
2 limes
1 yellow onion
1 red onion
1 3-inch piece ginger
1 head garlic
2 carrots
4 celery ribs
2 oz kale
2 zucchini
1 bunch green onions
24 oz cauliflower rice
6 oz broccoli florets
2 oz snap peas
4 portobello mushrooms
2 oz baby spinach
6-8 cocktail tomatoes
2 sweet potatoes
5 oz red cabbage
1 bunch basil
1 bunch fresh thyme
1 bunch fresh cilantro
1 avocado
Nuts, seeds & oils
1 jar coconut oil
1 bottle extra-virgin olive oil
1 bottle sesame oil
1 jar avocado mayonnaise
1 bag almond flour
1½ ounces raw almonds
1 jar sesame seeds
Pantry staples & extras
1 bag white quinoa
1 bag green lentils
1 carton low-sodium chicken broth
8 almond flour tortillas
1 jar Dijon mustard
1 jar pickled jalapeños
1 bottle reduced-sodium tamari
2 bottles coconut aminos
1 bottle sriracha sauce
1 jar honey
1 bottle balsamic
1 bag rolled oats
1 bag coconut sugar
1 bottle arrowroot
1 can baking powder
1 bottle ground cinnamon
1 bottle ground turmeric
1 bottle chipotle chile powder
1 bottle ground cumin
1 bottle Italian seasoning
1 bottle sea salt
1 bottle ground black pepper