Test Your Digestive Health with the #Bluepoopchallenge
Put your gut health to the test with the #bluepoopchallenge. Read on to learn more and try the challenge for yourself with our clean take on blue muffins.
Heading out the door? Read this article on the new Outside+ app available now on iOS devices for members! Download the app.
You might've seen it on Facebook, Twitter, Instagram or Tiktok so far. People are turning their poop blue! This is thanks to the #bluepoopchallenge, recently launched by health science firm ZOE. The idea is to track the transit time of your food — from entry to exit — for insights into your gut health. And all you need to do is eat a couple of blue muffins.
This challenge was launched as part of PREDICT, the largest in-depth nutrition study in the world. ZOE discovered they could measure people's gut transit time with the help of muffins colored with vibrant blue dye. This bold pigment remains intact through the digestion process, remaining unchanged when it exits. The result? Blue poop.
The #bluepoopchallenge brings awareness to the importance of gut health, encouraging more to think about the foods we eat and how they impact our physiology. Our gut can contribute to many health issues: Weight gain, high blood sugar, high cholesterol, obesity and more.
According to ZOE, unlike most other health factors, the human microbiome is unique to each individual. It is not predetermined by our genetics. Meaning, we personally have immense potential to improve the condition of our microbiome through our diet. This can, in turn, positively impact our overall health.
What does transit time have to do with anything?
"For the first time, we observed that gut transit time, measured using the blue dye method, strongly correlated with microbial alpha diversity and gut microbiome composition," said Fiana Tulip, a ZOE representative.
PREDICT researchers analyzed stool samples to assess the relationship between the gut microbiome, cardiometabolic health and diet. "Several bacterial species were shown to be clear drivers of the microbiome-transit time association."
The study found that gut transit time could explain variations in the gut microbiome. According to the researchers, shorter transit time is generally linked to better digestive health. Transit times were divided into three main categories:
Group 1: Less than 14 hours (fast gut transit time)
Group 2: Between 14 and 58 hours (normal gut transit time)
Group 3: Equal to or more than 59 hours (slow gut transit time)
According to Tulip, long transit times are associated with conditions like constipation. It is also linked to the production of compounds in the gut that may be having negative effects on our overall health. On the flipside, excessively fast transit time can suggest diarrhea, which is associated with a less healthy gut microbiome.
Whether too fast or too slow, the researchers have several recommendations for healthier transit times. Firstly, increase fiber intake and opt for larger forms of fibrous foods, e.g. whole large oats over finely ground. Secondly, consume foods in their original matrix, such as whole apples instead of apple juice. Lastly, increase your fluid intake.
Trying the #bluepoopchallenge
1. Make your blue muffins: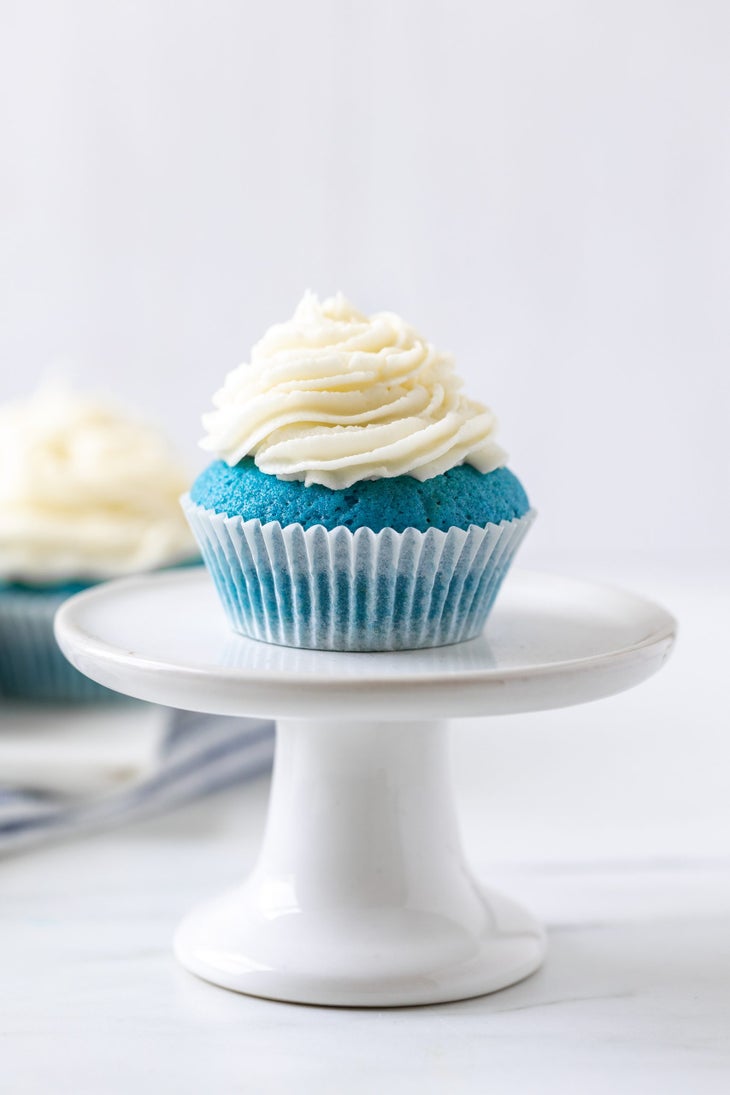 You can try ZOE's muffin recipe on their website, but note that the recipe does contain ingredients we at Clean Eating don't recommend consuming regularly. These include plain all-purpose flour, granulated sugar and vegetable oil. Thankfully, the experiment works just as well with our own clean Peanut Butter Maple Banana Muffins. Simply add enough blue food coloring where instructed in the steps below.
Keeping it all-natural? Substitute blue food coloring with beetroot juice. However, the researchers specifically rely on blue dye for the most unobstructed visualization. "Blue dye was selected over other colors due to, first, its vegetarian origin," said Tulip. "And, second, to limit participants misreporting visualization in the stool due to other staining foodstuffs of the same or similar color."
2. Track your transit time and fill out a questionnaire
After eating the muffins, record your transit time. This is time between eating the blue dye and seeing it exit your body. Then, simply visit bluepoopchallenge.com to fill out a detailed but easy questionnaire. It will ask questions about yourself such as your sex, gender, age and weight, and your dietary habits. Then, it will calculate what your transit time says about your gut health.
For even more finely personalized advice tailored to your biology, ZOE also provides an at-home test kit and personalized nutrition program. These tools can help you "retrain your body from the inside out," as ZOE representatives put it, thereby improving your gut health. The kit includes a ZOE muffin box, a gut health test kit with everything required to collect a stool sample, a test return box, and a finger prick blood test kit. If you opt into ZOE's PREDICT study, you will also receive a blood sugar sensor to track some of your favorite meals.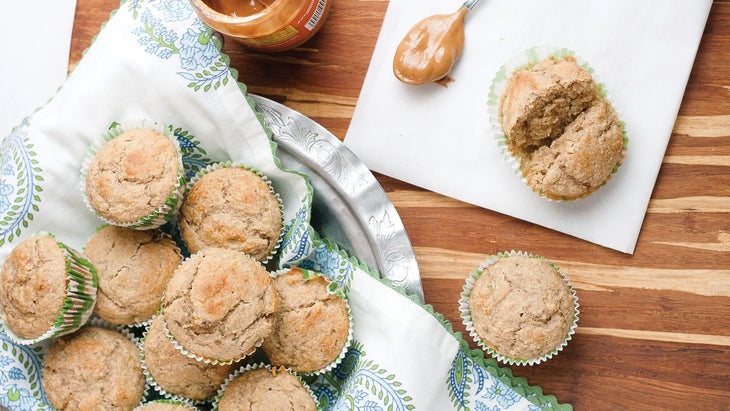 To try the #bluepoopchallenge Clean Eating—style, try adding blue dye to our simple Peanut Butter Banana Muffins. These nutritious treats can be made ahead and frozen for an easy, portable breakfast anytime.
Ingredients
2 cups oat flour
½ tsp baking powder
½ tsp baking soda
¼ tsp coarse sea salt
2 large eggs, divided
2 tsp safflower oil
1⁄2 cup plus 2 tbsp Greek yogurt, divided
1⁄4 cup pure maple syrup
1 tsp pure vanilla extract
3 bananas, divided
1 1⁄2 tsp royal blue food dye
2 tbsp natural unsalted crunchy peanut butter
Preparation
Preheat oven to 350°F.

Prepare batter: In a large bowl, mix flour, baking powder, baking soda and salt (if using). In a small bowl, whisk 1 egg with oil; stir in 1⁄2 cup yogurt, maple syrup and vanilla. Add egg mixture to flour mixture and stir until just combined. Mash 2 1⁄2 bananas and fold into mixture until just combined and no white streaks remain; mixture should still be lumpy. Add royal blue dye and whisk until well combined and batter is evenly pigmented.

Meanwhile, prepare filling: In a small bowl, mash remaining 1⁄2 banana; stir in remaining 1 egg, 2 tbsp yogurt and peanut butter until well combined.

Line 14 muffin cups with paper liners and fill one-third of each liner with batter. Dollop 1 tsp filling into each, then divide remaining batter among liners. Bake for 18 to 25 minutes, until a toothpick comes out clean when inserted in center. Let cool in tin for 5 minutes, then remove muffins from tin and let cool on wire racks.
TIP: Muffins are good for about 4 days so freeze any you won't use within that period.
---
Related reads: