Reconsider Tap Water: The Healthiest Water Options
We recommend drinking at least 2 liters of water a day as a part of eating clean. Here are some tips on testing you tap water and choosing the right water purification method for your home.
Heading out the door? Read this article on the new Outside+ app available now on iOS devices for members! Download the app.
Learn how to cook the way nature intended! Join the Clean Eating Academy online and get the nutrition information and culinary skills you need to master clean cooking in the comfort of your own kitchen. Be the first to know when the course launches! Sign up now.
Embracing the clean lifestyle goes beyond the food you eat. In fact, it's a holistic, health-promoting approach that includes strategies such as drinking at least two liters of water a day. (For more guidelines to eating clean, go to What is Clean Eating?)
Did you know that your body is made up of 60% water and that your brain is approximately 75% water? That's why it's crucial to drink enough water every day.
In this exclusive Clean Eating blog, you'll learn how to ensure that your drinking water is safe as well as replenishing and refreshing. You'll also find our consumer shopping tips for home water filters, bottled water and more. Finally, check out our two easy recipes at the end of this post to make reaching your daily water quota more enjoyable: A fruit-, herbs- and spices-infused Orange & Cinnamon Water and Pear & Lavender Water.
Become Water Wiser
Take a minute now to turn on your kitchen faucet. Chances are good that the water running out is clear, tasteless and odorless. But what contaminants are in that water that flows so abundantly?
Possible contaminants: These include arsenic, atrazine, lead, mercury, volatile organic compounds (VOCs), chlorination byproducts and chromium-6. Other possible contaminants include microorganisms, pesticides and nitrates, among others.
Potential health problems: Cancer, delays in physical or mental development of infants and children, hypertension, stomach discomfort, plus liver, kidney or central nervous system problems and other health conditions or diseases.
For a listing of contaminants and their potential health effects from exposure above the legally mandated Maximum Contaminant Levels (MCLs), visit the EPA's online resource, Drinking Water Contaminants at water.epa.gov/drink/contaminants/
What Exactly Is in Your Water?
Water is treated by the public water system in your community to remove pollutants. However, impurities can leach into your water supply as it travels from municipal pipes through household plumbing before flowing out of your faucet. To learn what's in your water:
Review your annual Water Quality Report: Your water supplier must include this document, also known as the Consumer Confidence Report (CCR), with your water bill by July 1 of each year. You'll find helpful report interpretation and possibly your report online at water.epa.gov/drink/local/.
Test your home's water: One budget-friendly approach is to buy a DIY home water-testing kit from your local hardware store. Your county health department may assist with testing for nitrates or bacteria. A state-certified laboratory can test a sample of your home's water supply. To find one in your area, call the Safe Drinking Water Hotline at 1-800-426-4791 or visit epa.gov/safewater/labs.
Consumer Tips: Filters, Bottled Water & More
Be a savvy shopper with our super-quick overview.
Home Water Filters
Once you've determined what contaminants you'd like to remove and what your budget is, you can evaluate filter options. Here's what to consider:
Filter styles: Pitcher, faucet-mounted, countertop or under-sink plumbing.
Filter technologies: Options include carbon, reverse osmosis, distillers and aeration, to name a few. According to the United States Environmental Protection Agency (EPA), anactivated carbon filter, commonly used in water pitchers, can improve the taste of your water while reducing lead and other contaminants – but not all disease-causing organisms. Although reverse osmosis units use about three times the amount of water that they treat, they can effectively eliminate all disease-causing organisms and most chemical contaminants.
Bottled Water
Your best choice is mineral water that comes in returnable or recyclable glass bottles. Check the label to learn if the mineral water contains calcium, magnesium or other vital nutrients, and whether it's low or no sodium. Other bottled water options include spring, artesian or mineral waters in glass bottles. (If you can't find glass bottles, opt for #1 PET or PETE plastic bottles, which indicates they are BPA-free.)
In-store Water Purification Machines
Your local natural products store or supermarket may sell purified water in easy-to-use dispensing machines. Purified water can be economically purchased for less than $1 per gallon. Buy reusable water storage containers in glass or BPA-free plastic in 1-, 3- and 5-gallon sizes – some with handy dispensers.
In-store machines use either one type of filter or a combination of filtering systems such as sediment filters, activated carbon filters, reverse osmosis and ultraviolet light. These machines typically remove chlorine, which municipalities add to disinfect the local water supply.
On-the-go Solutions
When away from home, you can maintain your clean lifestyle and hydrate properly by carrying water bottles and/or pitchers with built-in water filters. Another strategy: Bring your own home-filtered water in eco-friendly BPA- and BPS-free* canteens or bottles made with glass or stainless steel. These are available in a variety of sizes with sport, loop or flip caps.
*A recent study published in the Proceedings of the National Academy of Sciences found that a common BPA substitute called BPS is not as safe as previously thought. While BPA-free plastic is still the best choice for plastic water bottles, CE recommends opting for glass or stainless steel bottles and containers whenever possible, or opting for BPA- and BPS-free containers and canteens when available.
DIY Infused Waters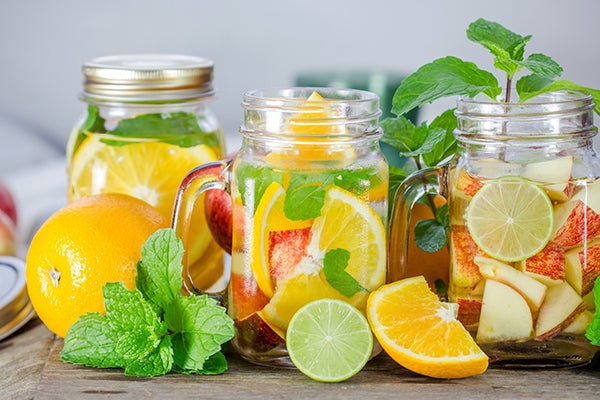 Sip and savor delicately flavored waters that you can prepare quickly. Free of preservatives, additives, artificial colorings and added sugars, you'll love staying hydrated with these flavorful waters .
Use water dispensers, canning jars or any clean glass jar with a secure lid. Another cool option: water pitchers with a slotted cylindrical insert that can hold fresh fruit and other ingredients.
Uplifting Orange & Cinnamon-Infused Water
Serves: 1 or more
Hands-on Time: 10 minutes
Total Time: 1 hour
INGREDIENTS:
1 orange or other citrus, preferably organic
1 or more cinnamon sticks, preferably organic
INSTRUCTIONS:
Using a sharp knife, cut orange horizontally (including peel) into 1 or more pinwheel-shaped slices. In a water container, place orange slices and cinnamon. Fill to the top with cold water and cover tightly. Shake gently and refrigerate for 1 hour or more to allow ingredients to slightly flavor the water.
Calming Pear & Lavender–Infused Water
Serves: 1 or more
Hands-on Time: 10 minutes
Total Time: 1 hour
INGREDIENTS:
1 pear, preferably organic
1 tsp dried lavender buds, preferably organic
INSTRUCTIONS: Using a sharp knife, cut pear (with or without peel) into thin slices. In a water container, place 4 or more pear slices and lavender. Fill to the top with cold water and cover tightly. Shake gently and refrigerate for 1 hour or more to allow ingredients to slightly flavor the water.
Letitia L. Star is a healthy living writer with published work in Mother Earth Living, Mother Earth News (special health editions), Amazing Wellness, The Herb Companion and CURE (web feature). She can be reached at LStarart@gmail.com.