3 Classic Curries from Across Asia
Developed with the help of chefs who specialize in the cuisine's respective regions, all three dishes are brimming with authentic flavor.
Heading out the door? Read this article on the new Outside+ app available now on iOS devices for members! Download the app.
From traditional Indian spices to the flavorful aromatics of Thailand to the contemporary comfort foods of Japan, we're covering multiple bases with this trio of curries.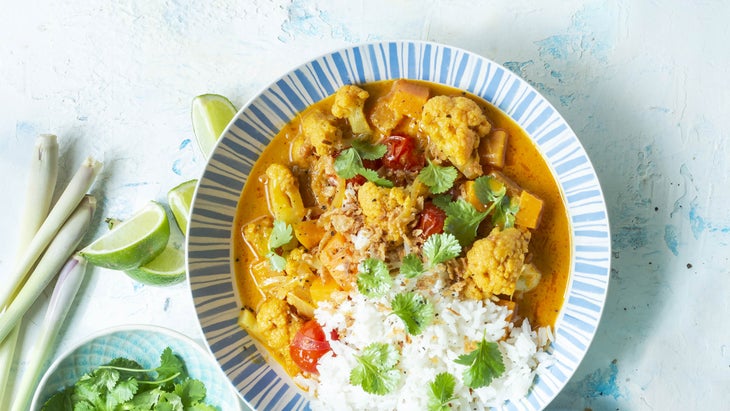 Of the three major Thai curries — red, yellow and green — yellow curry is the most popular worldwide, thanks to its milder, sweeter taste. Our veggie variation is by Thai chef Pailin Chongchitnant of the mega-popular YouTube channel "Pailin's Kitchen." For a more protein-rich meal, she recommends subbing half the veg for tofu or chicken.
What Sets Thailand Apart
Born and raised in Thailand and now based in Vancouver, Canada, Chef Pailin "Pai" Chongchitnant is one of the biggest names in Thai cooking on the internet. Just ask the whopping 1.35 million subscribers to her YouTube channel, Pailin's Kitchen. Her cooking videos balance education with fun and ease, making authentic Thai cuisine accessible to people of any experience level.
Clean Eating: What makes Thai cuisine special?
Pailin Chongchitnant: It treats all flavors — sweet, salty, sour and spicy — with equal importance. In any well-balanced Thai meal, all these flavors will make an appearance. We're also big on fresh herbs. Thai curries also have a light consistency, usually soupy or brothy, not rich and thick like Indian curries.
CE: How do you choose the spices used in your cooking?
PC: I always choose curry pastes made in Thailand. The ingredient list shouldn't have anything other than herbs, spices, salt and shrimp paste. If the name of the brand is Thai, that's even better.
CE: What are your top tips for building an authentically Thai curry?
PC: I've provided a delicious, authentic optional curry paste recipe, but don't stress too much over making curry paste from scratch — it's a lot of work, and most Thai cooks don't do it either. Make sure you buy a good paste, as per the tips above. If you do make it from scratch, get the right ingredients for the best flavors. If you have to make multiple substitutions or omissions from the paste recipe, it's probably better to buy it premade.
A lot of Thai curry recipes will ask you to sauté the curry paste in oil and then add coconut milk. But traditionally, we sauté the curry paste in reduced coconut milk, so no oil is used. Using reduced coconut milk adds so much more flavor and richness, and you're using a healthier fat than oil.
Try making Thai Yellow Curry yourself here.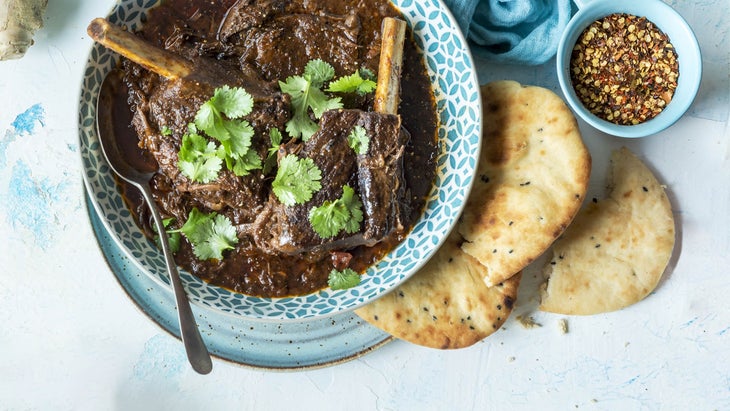 Depending on where you are in South Asia, the definition of nihari differs, with varying spices and some debate over how much meat versus how much bone goes into it. But this well-spiced meat-based stew is a warming delicacy found throughout the entirety of the Indian subcontinent. In this interpretation, Indian chef Miheer Shete uses braised beef short ribs and an array of spices including deggi mirch powder and biryani masala.
Dive into Indian Dining
Founder of Indian food delivery brand Curryish, the entrepreneurial Chef Miheer Shete is based in Toronto but was born and raised in Mumbai. While he spent much of his career in European kitchens, he now uses those techniques in Indian cooking.
Clean Eating: What sets Indian cooking apart from the rest?
Miheer Shete: The originality, diversity of dishes and, most importantly, the spices. The aromas created with spices is very addictive.
CE: What do you look for in curry mixes?
MS: The aromas should take over the room. I don't go for one brand; they're all good in their own way. See which works for your household, depending on the flavors your family likes.
CE: What are your top tips for building an authentically Indian curry?
MS: The most important part is to make a flavorful masala — a mixture of onion, ginger, garlic and spices, whole and ground. It's very important to caramelize the onion, ginger and garlic. It's also customary to toast seasonings.
Try making Niahri yourself here.
When you think of curries, it isn't usually East Asia that comes to mind. So you may be surprised to learn that this curry is one of the most popular dishes in Japan. Developed by Japanese Canadian food blogger Caroline Caron-Phelps, our version features all the ingredients that appear in a standard variation of cozy Japanese curry: butter, apple, chicken, carrots and green peas.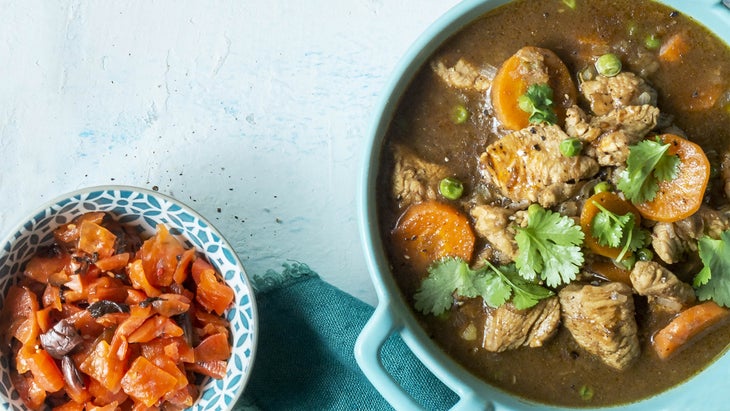 Let's Talk Japanese Eats
Brooklyn-based Japanese Canadian chef and food blogger Caroline Caron-Phelps specializes in Asian cuisine — particularly Japanese recipes. While some of her creations (such as this one) feature chicken, she is now focusing on creating a library of vegan dishes, coming soon to her blog.
Clean Eating: What makes Japanese cuisine unique?
Caroline Caron-Phelps: Every dish is made with a lot of thought and attention to detail. A sushi chef will spend his life improving his sushi rice and sweet rolled egg. A cafe owner will spend hours brewing the perfect cup of coffee and trying to come up with the absolute best egg salad sandwich. You'll never find an old wilted piece of lettuce in your sandwich. This unending mission towards perfection is why I love Japanese food so much.
CE: What makes Japanese curry so different from other curries?
CCP: I like to call it "curry for kids." It's sweet and not spicy at all — more like a demi-glace. The sauce can sometimes include a grated apple (which I love).
CE: What are your top tips for building an authentically Japanese curry?
CCP: At all times, I have boxes of premade Japanese curry roux in my pantry. If you don't, you can make a decent Japanese curry combining curry powder, garam masala, tomato paste, soy sauce, butter, an apple and some red wine or a little demi-glace sauce.
Try making Japanese Chicken Curry yourself here.