Weeknight Meals for a Steal
Perk up your Monday-through-Friday 
with five healthy seasonal meals that 
won't break the bank.
Heading out the door? Read this article on the new Outside+ app available now on iOS devices for members! Download the app.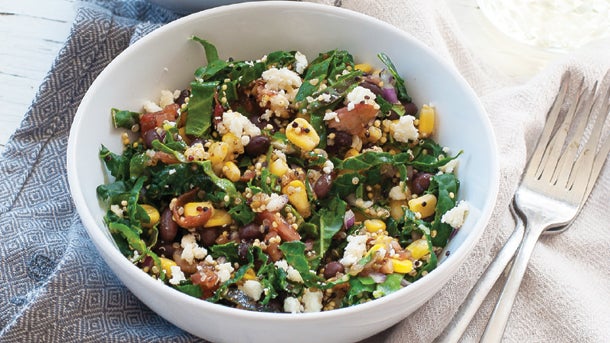 1. Monday
Millet has a mild, corn-like flavor and fluffy texture that's perfect for hearty grain bowls. The quick-cooking ancient grain is rich in iron, B-complex vitamins and calcium. If you can't find it, just double the quinoa. Tuscan kale is much more tender and sweet than common curly kale, which makes it a great candidate for enjoying raw.
COST PER PLATE: $3.46
TOTAL COST: $13.82
Get the recipe: Ancient Grain & Kale Salad with Heirloom Tomato Dressing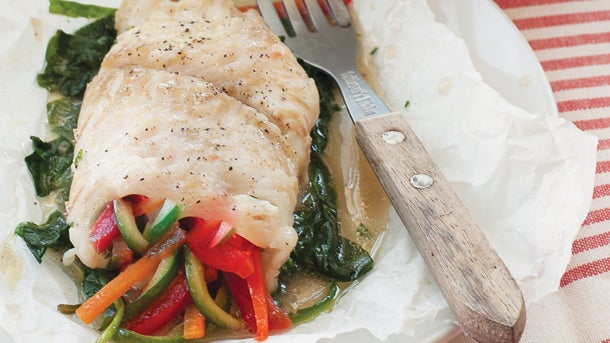 2. Tuesday
Cooking lean fish in parchment packets is a great way to keep the moisture (and flavor) in, so you can say goodbye to dry, overcooked fillets. Sole fillets are thin, flat and firm, which means they roll up easily into all-in-one bundles.
COST PER PLATE: $3.82
TOTAL COST: $15.26
Get the recipe: Sole & Summer Vegetable Parchment Packets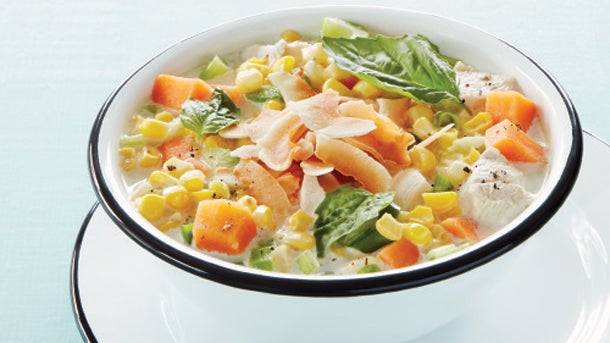 3. Wednesday
Coconut milk and fresh basil lend Thai-inspired taste to this all-American classic. Simmering the corn cobs with the broth after you remove the kernels is the secret for adding tons of flavor at no extra cost! To toast the coconut flakes, simply add them to a dry skillet on medium heat, stirring occasionally, until golden.
COST PER PLATE: $3.22
TOTAL COST: $12.86
Get the recipe: Coconut Chicken Corn Chowder
4. Thursday
Fresh plum might seem like an unusual addition to an Asian-inspired noodle salad, but it's a fresher alternative to the classic plum sauce commonly found in stir-fries and noodle bowls. Don't worry if some of the peas fall out of the pods as you slice them – just toss them into the salad, too.
COST PER PLATE: $3.58
TOTAL COST: $14.32
Get the recipe: Steak & Plum Noodle Salad with Ginger Peanut Dressing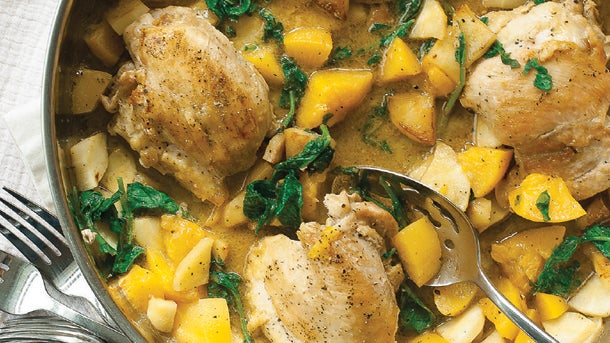 5. Friday
Juicy peach breaks down into a luscious sweet sauce for chicken thighs in this rustic dish. To easily peel the peach, score an X in the bottom of the fruit and blanch it in a saucepan of boiling water until the skin begins to loosen, about 30 seconds. Transfer the peach to a bowl of ice water to chill; use a paring knife to peel away skin.
COST PER PLATE: $2.37
TOTAL COST: $9.48
Get the recipe: Peach-Glazed Chicken Thighs with Mustard Greens
Download a free shopping list for these 5 budget meals now!