(Almost) Mom's Honey Cake
Robyn Youkilis didn't set out to remake her mom's classic honey cake. She shares how she stumbled upon the recipe by happy accident.
Heading out the door? Read this article on the new Outside+ app available now on iOS devices for members! Download the app.
Robyn Youkilis knows what it takes to keep your gut in tip-top shape. As a wellness expert and author of the best- selling book Go with Your Gut (Kyle Books, 2016) and Thin from Within (Kyle Books, 2018), Robyn has appeared on various shows including The View and The Today Show. So we weren't surprised by the gut-supportive ingredients in this healthier version of her mom's Passover cake with vegetables, almond flour and a small amount of raw honey for subtle sweetness. But your family will never know just how good for you this cake is because it's moist, delicious and perfect for your Mother's Day gathering.
Clean Eating: Tell us about the original recipe.
Robyn Youkilis: Honey cake is a Passover tradition, and our family recipe has been handed down from my grandma to my mom and now to me. The secret ingredient is the special honey that comes from Canada that's very dark in color and rich in flavor.
CE: How have you adapted the recipe to make it healthier?
RY: The funny story is that I didn't set out to "healthify" this recipe – it was a happy accident. I was attempting to make a sweet variation of a Paleo egg cup for my book, Thin from Within. When I tested them, I was blown away by how similar these tasted to my mom's honey cake. This recipe is healthier than the classic honey cake since it's packed with veggies. I also swapped white flour for a nutrient-dense almond flour.
CE: Do you have a Mother's Day tradition in your family?
RY: We don't really have a tradition, but anything that makes my mom (and now me!) feel appreciated. It can be something simple like brunch or a day at the museum together. It's more about spending time together than any specific activity.
CE: Do you and your mother (or grandmother) have a favorite food show that you watch together?
RY: My Grandmother's Ravioli with Mo Rocca is a favorite of all of ours!
CE: What's the best kitchen tip your mother taught you?
RY: Don't worry about the mess! My mom let me dig into the bowls, sit on the countertop and get dirty – all the fun stuff that makes kids want to be in the kitchen! I've practiced this same approach with my daughter, Navy, and she now loves to help me cook.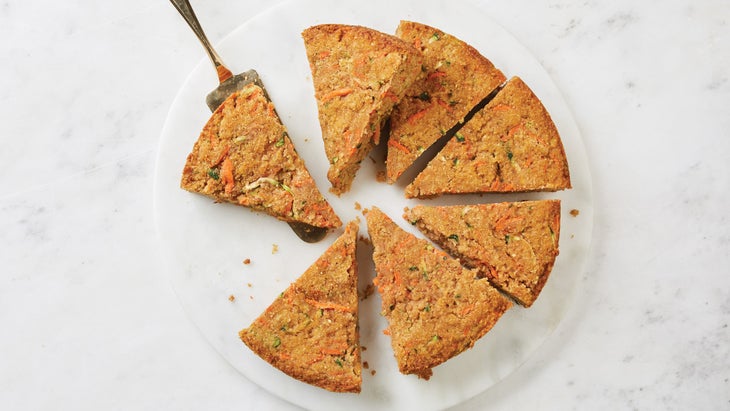 (Almost) Mom's Honey Cake
Serves 8 TO 10. 
Hands-on Time: 20 Minutes. Total Time: 45 Minutes.
1 cup grated zucchini
1 cup grated carrots
3 large eggs
2 tbsp coconut oil, melted
1/3 cup raw honey
1 tsp pure vanilla extract
1½ cups almond flour
1/3 cup coconut flour
1 tsp ground cinnamon
1 tsp each baking soda and baking powder
Pinch sea salt
1. Preheat oven to 350ºF. Grease an 8-inch cake pan with cooking spray.
2. In a large bowl, combine zucchini and carrots. Add eggs, oil, honey and vanilla and mix well.
3. In a medium bowl, mix together almond flour, coconut flour, cinnamon, baking soda, baking powder and salt. Slowly add flour mixture to veggie mixture and mix until combined.
4. Transfer batter to cake pan and bake for 25 to 30 minutes, until golden brown. Cool and then store in the fridge, loosely covered, for up to 5 days.
PER SERVING (1 slice): Calories: 251, Total Fat: 16.5 g, Sat. Fat: 5 g, Monounsaturated Fat: 8 g, Polyunsaturated Fat: 3 g, Carbs: 21 g, Fiber: 5 g, Sugars: 13.5 g, Protein: 8 g, Sodium: 284 mg, Cholesterol: 70 mg