Will It Spiral? Will It Rice?
We set out on a mission to find out just how many veg and fruits can be spiralized or riced — and it turns out the possibilities are endless. Learn how to master the technique and use these lower-carb substitutes seamlessly in your cooking.
Heading out the door? Read this article on the new Outside+ app available now on iOS devices for members! Download the app.
Chicken Burrito Bowls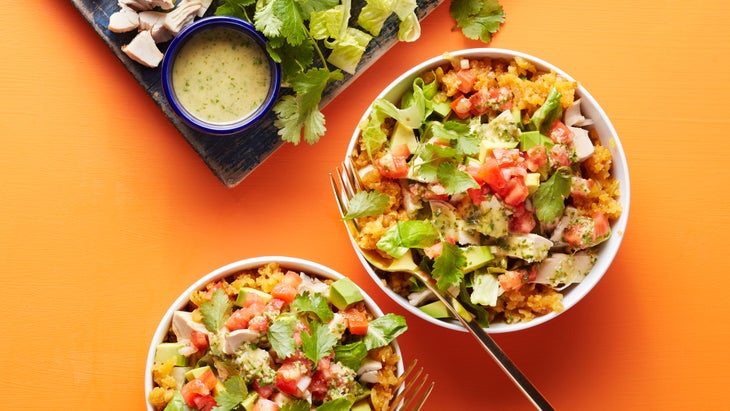 Get the recipe here.
Sesame Turnip Noodles with Broccoli & Mushrooms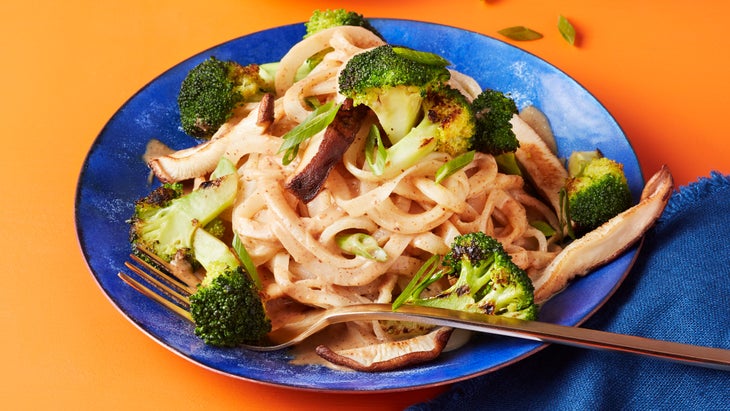 Get the recipe here.
Deconstructed Sushi Bowls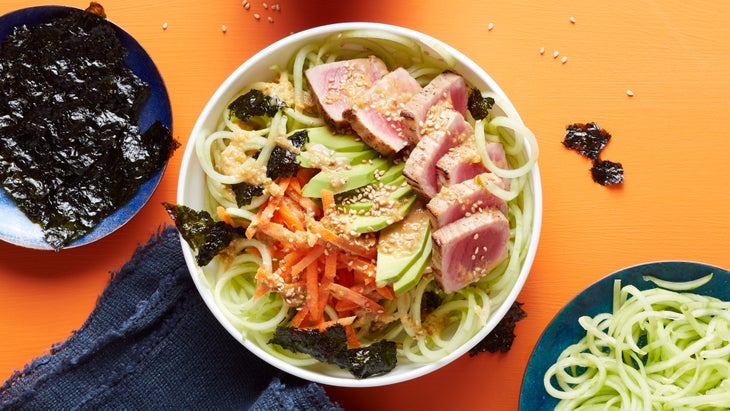 Get the recipe here.
Squash-Rice Paella with Mussels & Chorizo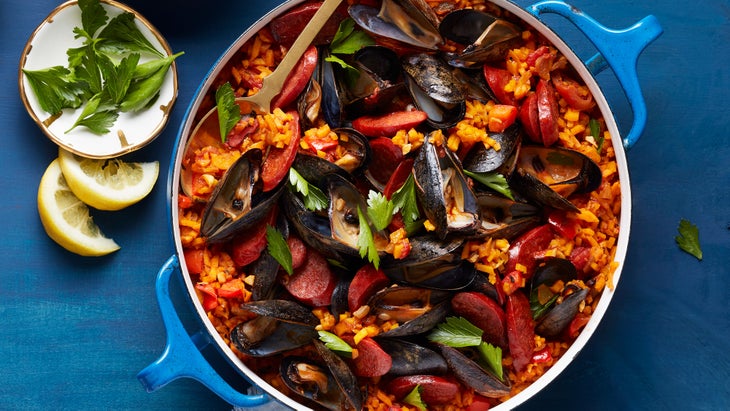 Get the recipe here.
If you're a longtime reader of Clean Eating, you might remember that it was nearly a decade ago when we introduced zucchini noodles as a fresh, hot trend. A few years later, cauliflower rice came onto the scene, and the low-carb substitute became all the rage (and still is!). What started as a niche trend has blossomed into an entire category of low-carb foods using an array of produce. Here at CE, a few of us editors were chatting — over a bowl of broccoli rice, of course — and we wondered, how many other veggies are out there that can be spiraled or riced?
We went on a mission to answer that very question, and it turns out you can spiralize and rice a surprising number of foods – more than 30 varieties. That's a lot of produce!
Both veg noodles and rice are available fresh from most supermarkets, and frozen options abound, too — although prepackaged offerings tend to be limited to the more common varieties like zucchini, cauliflower, beets and squash. To access the widest range of veg and fruits, you'll need a spiralizer and a food processor.
We reached out to spiralizer and ricing guru Ali Maffucci — she really is the expert on the topic — to help answer all your burning questions on the best techniques, optimal storage and more.
With health trends moving to higher-fat, lower-carb eating, it's not surprising that this movement is here to stay. Learn how to spiralize and rice vegetables like a pro and use them in whole new ways.
Spiral It
If pasta is your comfort food of choice, then you'll want to get familiar with vegetable noodles. Enjoy your favorite decadent sauces but with fewer carbs and added fiber. The technique varies slightly by model, but with most spiralizers, you simply secure the vegetable into the maker then turn the crank to create noodles. We've tried a lot of brands, but our favorite is the Inspiralizer, created by Ali Maffucci. If you don't have a spiral maker, you could use a vegetable peeler to peel long strands of noodles, although that takes more time. Also check your local supermarket for premade spiralized vegetables.
Rice It
If you typically serve meals over rice, then learning how to rice veggies could be a boon to your cooking. Both fresh and frozen premade options exist, but it's easy to make your own. There are a couple of techniques you can use: Roughly chop then pulse the veg in a food processor until it reaches rice-size pieces. (Always use raw veg; if you put cooked veg into a food processor, you're going to get a mash!) For an authentic rice shape, spiralize the veg first then process or cut into rice-size pieces. For firmer veg like beets, both techniques work. For softer veg, like zucchini, you should spiralize first and then chop by hand so it doesn't turn to mush.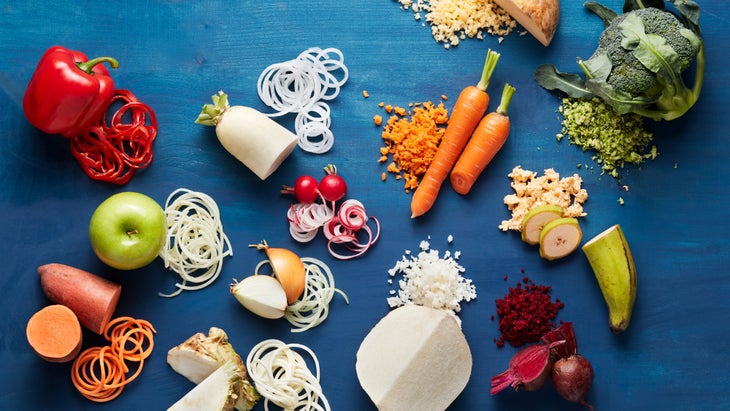 Bell pepper noodles make a colorful salad base.
Sweet potato noodles are a great base for pasta sauces and stir-fries.
Apple noodles make a gorgeous dessert – try drizzling dark chocolate over top then sprinkling with nuts or seeds.
Onion spirals add visual flair to any salad. Red onions work beautifully, too!
Try parsnip noodles with a creamy pasta sauce.
Radish spirals make a pretty garnish for salads and tacos.
Try tossing lightly sautéed celery root noodles with pesto for a flavorful side.
We use spiralized turnip in our Sesame Turnip Noodles (p. 84), but the rice can added to soups and stews to add flavor and texture.
Carrot rice provides sweetness to a dish – to balance it, try it with savory spices like cumin and chile powder.
Jicama rice has a wonderfully crunchy texture. Use it as a base for fried rice or in an Asian-style salad.
Both red and golden beets can be spiralized and made into rice – try it in our Chicken Burrito Bowls (p. 82).
Plantain rice works well in Tex-Mex dishes. Try plantain rice and beans!
Broccoli rice makes an ideal base for a bowl; just sauté it lightly in oil with salt and pepper.
Here is a handy cheat sheet on what to spiralize and what to rice.