How to Buy, Store & Use Chicory
When it comes to chicory, think outside the coffee cup. It's ripe and ready for your dinner plate, too. Learn more about this unique family of leafy greens that will leave a new taste in your mouth.
Heading out the door? Read this article on the new Outside+ app available now on iOS devices for members! Download the app.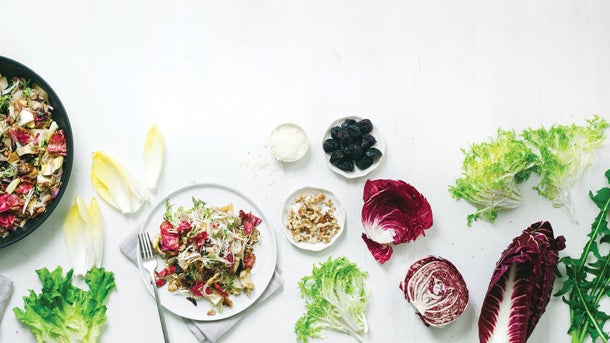 As a flavor, bitter often gets a bad rap. But bitterness is an important part of your sense of taste, helping to balance the sweet, salty and sour notes that are so prevalent in foods. One of nature's offerings of bitter comes in the form of chicory, a family of cultivated leafy greens (and purples) that are similar but distinct. The most common leaf chicories are radicchio, frisée (also called curly endive or simply chicory), Belgian endive and escarole. It's common to find chicories added to pre-chopped salad mixes as well as mixed baby greens, such as mesclun.
Chicory literally has it roots in a species closely related to but distinct from the leafy varieties listed above. In the Mediterranean, parts of Southeast Asia, South Africa and the southern United States, particularly New Orleans, it's common to find the baked and ground roots and bitter substitute for or addition to ground coffee. In the past, the roots, flowers and leaves of wild and cultivated chicory were used as folk medicine to treat ailments from gallstones to sinus problems. And today, inulin extracted from chicory root is used in food production as a soluble fiber food additive and natural sweetener. You likely won't find chicory root sold at your local market, but you can still enjoy the bitterness of its cousin in the leafy varieties.
Although available year-round in supermarkets, it is best when harvested in the late fall and winter when it's been exposed to less heat and light. Look for chicories that are crisp and untitled at the leafy end and with no browning at the cut root end. Since the leaves of chicories are tightly packed around a central core, it helps to separate the leaves one by one and wash them just before serving. Heating mutes the bitter flavor of chicories, making them a perfect candidate for a quick sauté in a hot skillet. This season, awaken your taste buds by serving a side of bright sautéed chicories to balance out any spread of rich, salty and sweet flavors.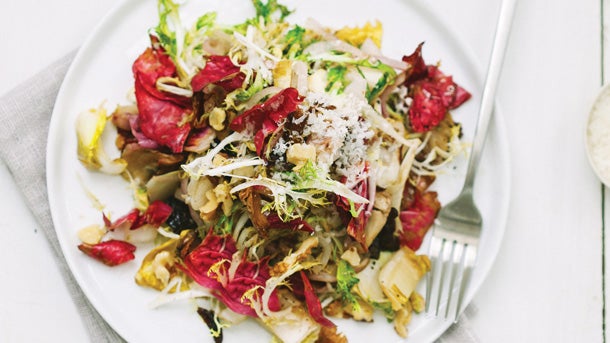 Sautéed Chicory Salad
Serves: 8
Hands-on Time: 35 minutes
Total Time: 35 minutes
INGREDIENTS:
2 heads Belgian endive
1 head radicchio (aka Chioggia or round variety)
1 head frisée (aka curly endive)
Distilled vinegar, as needed
2 tbsp olive oil
2 shallots or 1 small onion, sliced
2 tbsp minced garlic
1 cup chopped prunes (about 12)
1/3 cup chopped unsalted walnuts, toasted
1/4 tsp sea salt
1/4 tsp fresh ground black pepper or red pepper flakes (TRY: Simply Organic Crushed Red Pepper Flakes)
1 oz grated Parmigiano-Reggiano cheese (1/4 cup)
WHAT YOU'LL NEED:
Large bowl
Distilled white
vinegar
Kitchen towels
and paper towels
Salad spinner
Cutting board
Chef's knife
Large skillet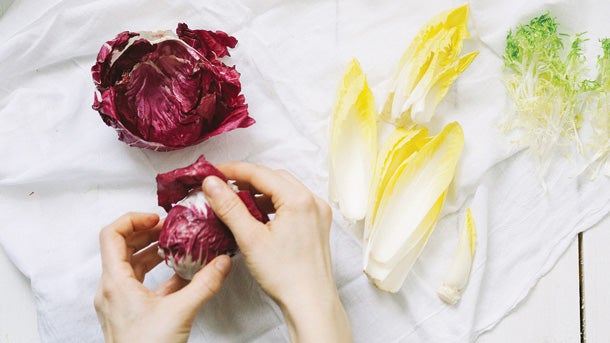 Remove and discard any wilted or browned outer leaves of endive, radicchio and frisée. Separate remaining leaves from core; discard cores. Wash leaves in a solution of 3 parts water to 1 part distilled vinegar; rinse with fresh water, then dry leaves by spreading on a kitchen towel and blotting with paper towels, or transfer to a salad spinner.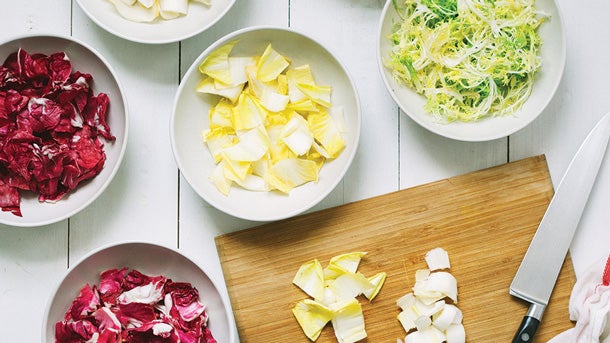 Chop leaves, separating denser white part of each leaf from the more tender and delicate colored part, forming several piles. (TIP: You should have about 8 cups total of loosely packed, chopped leaves.)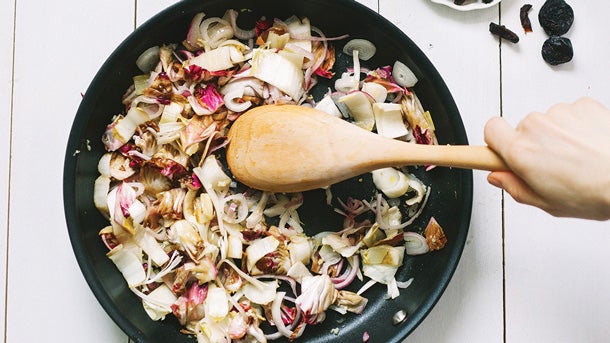 In a large skillet on medium-high, heat oil. Add shallots and garlic; sauté for 30 seconds. To skillet, add white parts of chicories and sauté until tender, about 5 minutes. Stir in prunes, then heat and stir for 1 minute.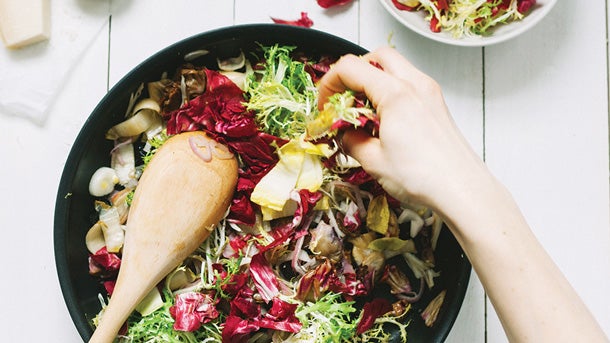 To skillet, add colored parts of chicories; heat and stir until colored leaves are heated and begin to wilt, about 1 minute. Remove from heat and top with walnuts, salt and pepper; fold gently to incorporate. Transfer to a serving dish.
Nutrients per serving (1/ cup): calories: 132, total fat: 6 g, sat. fat: 1 g, monounsaturated fat: 2, polyunsaturated fat: 2.5 g, carbs: 18.5 g, fiber:3.5 g, sugars: 9 g, protein: 3.5 g, sodium: 124 mg, cholesterol: 3 mg
We independently source all of the products that we feature on cleaneatingmag.com. If you buy from the links on our site, we may receive an affiliate commission, which in turn supports our work.