Vegan Kale Caesar Salad with Garlic Roasted Chickpeas
Megan Gilmore shares with us her fondest food memory of her family and which celebrity chef both she and her mom are big fans of – you might be surprised by her pick!
Heading out the door? Read this article on the new Outside+ app available now on iOS devices for members! Download the app.
If you haven't come across Megan Gilmore's popular blog, detoxinista.com, then we suggest heading over there right now for some serious food inspo. A former yo-yo dieter turned nutritionist and author of No Excuses Detox (Ten Speed Press, 2017) and Everyday Detox (Ten Speed Press, 2015), Megan's philosophy is all about optimizing digestion, balanced eating and really, tasty food. We asked Megan for a recipe that reminds her most of her mom, and she pointed us to this kale Caesar salad reminiscent of a restaurant they used to frequent in Georgia. Megan's savory take on the day shows us that a Mother's Day spread doesn't have to be all about cookies, crepes and muffins. Here, she uses creamy tahini and zesty lemon as the base for this hearty salad. Oh, and did we mention she uses crispy roasted chickpeas instead of croutons? Genius!
Clean Eating: Where did the recipe come from?
Megan Gilmore: This salad was inspired by a Caesar salad served in a small café in Georgia, where they also have the best peach iced tea. I didn't eat many vegetables when I was younger, but for some reason I couldn't get enough of this salad, so my mom would take me there whenever she could!
CE: How did you change it to make it detoxinista-friendly?
MG: I swapped the traditional romaine for kale, which is high in iron, and made the dressing out of tahini, a plant-based source of calcium. Together, this salad is loaded with fiber, vitamins and minerals, and you won't miss out on any flavor from the original. Using chickpeas as the croutons adds extra plant-based protein, while also keeping the dish gluten-free.
CE: What's the best thing your mom taught you in life?
MG: My mom taught me patience, which has served me well in many situations. Even though I might not get something right on the first try (or even the eighth!), she taught me to stay calm and to keep trying, which I believe has helped me be a better mom, friend and entrepreneur.
CE: What's your favorite food memory?
MG: Decorating Christmas cookies with my family. My mom wouldn't let us eat the raw cookie dough, but she never stopped me from taste-testing as much icing as I wanted!
CE: Do you and your mom share a favorite chef that you both follow?
MG: We both love Ina Garten. Though her recipes are not always light and healthy, they are always packed with amazing flavor, so I use that as inspiration when I'm working on my own lightened-up recipes.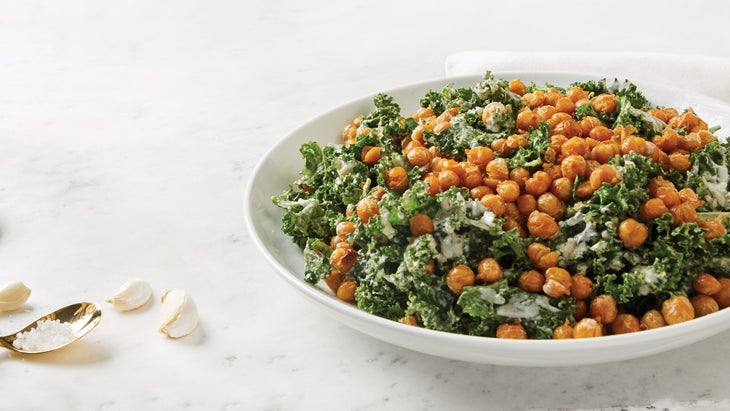 Vegan Kale Ceasar Salad with Garlic Roasted Chickpeas
Serves 4. 
Hands-on Time: 15 Minutes. Total Time: 1 HOUR.
ROASTED CHICKPEAS
1 1/2 cups cooked chickpeas (or 1 15-oz can, drained)
1 tbsp olive oil
1 clove garlic, minced
1/4 tsp sea salt
SALAD
1/4 cup raw tahini
3 tbsp fresh lemon juice
2 cloves garlic, minced 1/2 tsp dijon mustard 1/4 tsp sea salt
ground black pepper, to taste
1 large bunch kale
1. Prepare Roasted Chickpeas: Preheat oven to 400ºF. Toss chickpeas with oil, garlic and salt in a large bowl then transfer to a rimmed baking sheet. Arrange in a single layer and bake until crisp, about 45 minutes, tossing halfway. Let cool for 10 minutes.
2. Meanwhile, prepare dressing: Stir together tahini, lemon juice, ¼ cup water, garlic, mustard, salt and pepper. Stir until smooth and adjust any seasonings as you like.
3. Assemble salad: Remove tough stems from kale leaves and use your hands or a sharp knife to rip kale into small pieces. Toss leaves with dressing and let marinate in the fridge until chickpeas are done.
4. Sprinkle chickpeas generously over salad. Leftovers can be stored separately in an airtight container in the fridge for up to 4 days. (The chickpeas do soften with time, but you can toast them in the oven again to re-crisp.)
PER SERVING (1/4 of salad): Calories: 266, Total Fat: 14 g, Sat. Fat: 2 g, Monounsaturated Fat: 6 g, Polyunsaturated Fat: 5 g, Carbs: 29 g, Fiber: 8.5 g, Sugars: 5 g, Protein: 12 g, Sodium: 296 mg, Cholesterol: 0 mg