15 Light & Healthy Fish Dishes
From Poached Halibut in a Coconut Curry Broth to Quinoa-Crusted Fish with Plum Chutney, here our are best fish dishes that taste as great as they make you feel.
Heading out the door? Read this article on the new Outside+ app available now on iOS devices for members! Download the app.
High in protein and low in calories, white-fleshed fish, like halibut, catfish and cod, contains a wide spectrum of health benefits. These fish are rich in omega-3 fatty acids, the "good" fats your body can't produce. Omega-3s bolster cardiovascular health, prenatal and postnatal neurological development and lessen inflammation.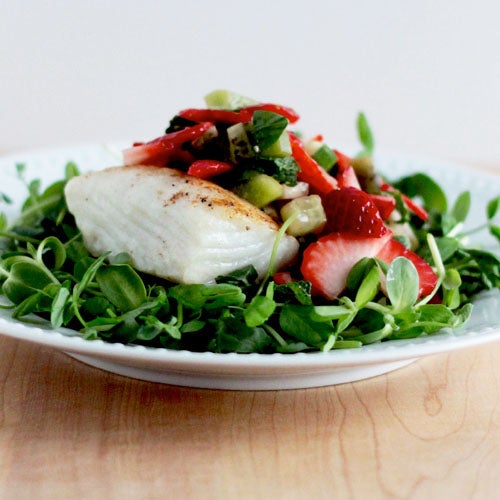 1. Seared Halibut with Microgreens and Berries Salad
Take your spice-rubbed halibut and delicate, fruit-laced salad out on the patio for a gorgeous summer meal that's ready in just 25 minutes.
Get the recipe.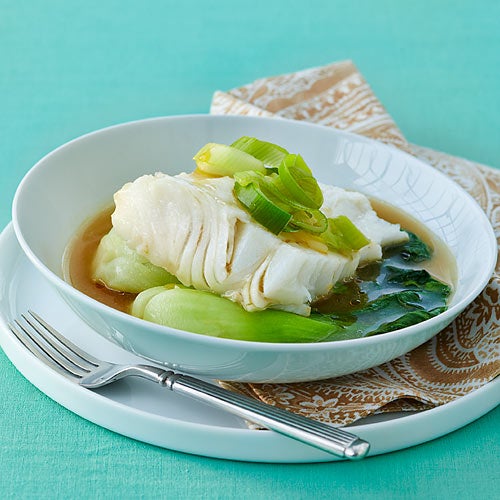 2. Shallow-Poached Fish in Leek Broth
Chef Jo's onion-inspired striped bass recipe uses a quick and simple cooking method: shallow-poaching. The delicate dish goes great with soba noodles or rice vermicelli.
Get the recipe.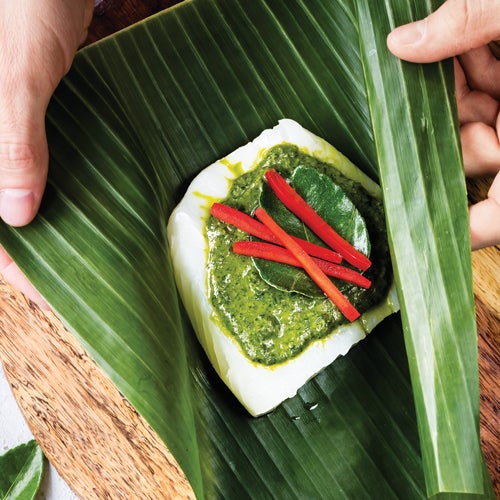 3. Banana Leaf-Wrapped Green Curry Fish
Steaming halibut in banana leaves imparts the delicate filets with a subtle herby flavor. Plus, we can't get enough of this light, creamy, and down-right addictive green curry sauce!
Get the recipe.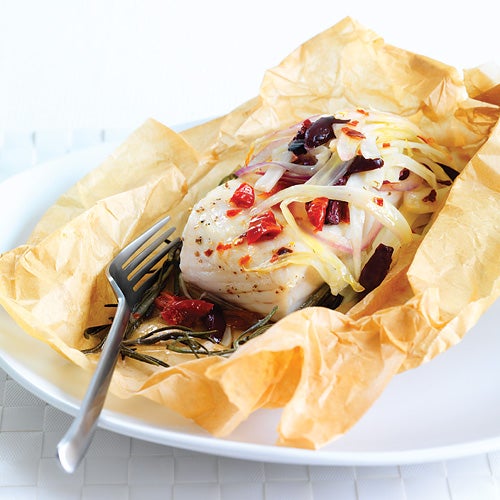 4. Parchment-Baked Halibut with Fennel, Red Onions & Olives
Baking in parchment keeps fish moist and makes cleanup practically effortless. Try substituting Pacific cod for similar results at a reduced cost, and reserve the second half of your fennel bulb for use in a salad: Try it with radicchio, toasted walnuts, cubes of pear and crumbled goat cheese.
Get the recipe.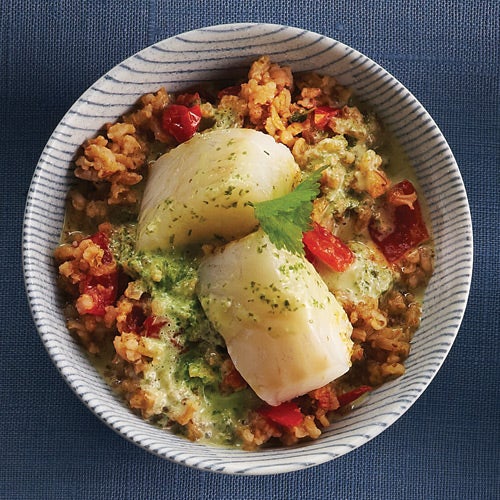 5. Brazilian Fish Stew
Light and full of complex flavor, this stew is sure to become a regular in your home. Coconut, coriander and jalapeño give this stew an authentic Latin-American flair, while black cod adds a punch of protein.
Get the recipe.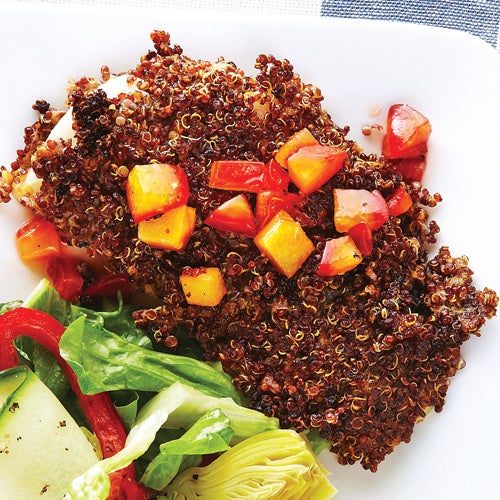 6. Quinoa-Crusted Fish with Plum Chutney
You'll adore this crispy fish, lightly coated in gorgeous red quinoa and kissed with plum chutney.
Get the recipe.
7. Greek Fish Florentine
Basa is a type of catfish, mild in flavor with a moist texture. Pair it with Greek accents for a protein-powered, 22-minute meal that's sure to satisfy!
Get the recipe.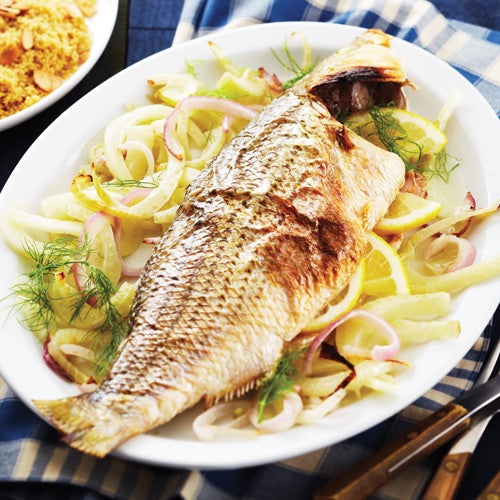 8. Oven-Roasted Whole Fish with Couscous
An amazingly easy-to-prepare, delightfully sweet whole stripped bass (or your favorite fish) is paired with mild roasted fennel and onions, plus couscous – a complete meal with just 8 grams of fat.
Get the recipe.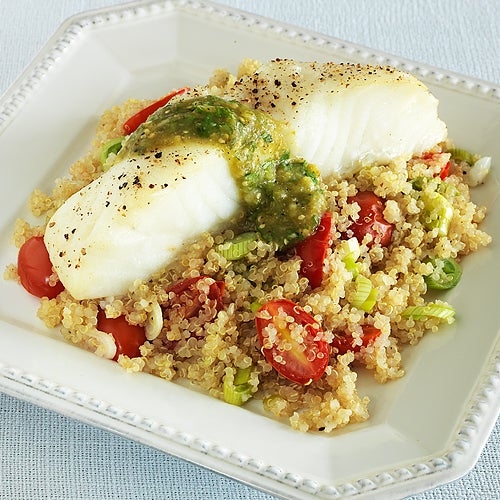 9. Striped Bass with Tomatillo Sauce
Tart, green tomatillos are a key ingredient in Latin American sauces, such as the one in this recipe. While delicious roasted, they may also be eaten raw or added to soups.
Get the recipe.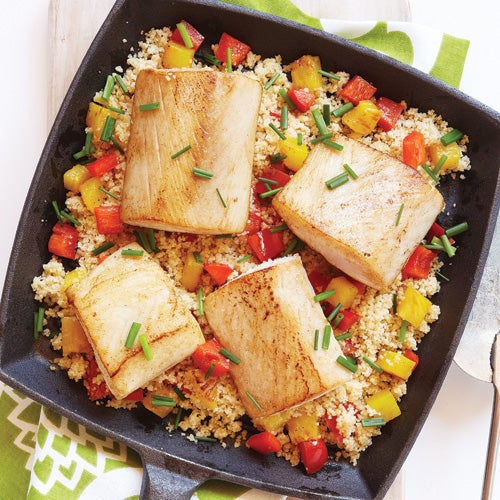 10. Mahi Mahi with Pineapple & Red Peppers
A hearty, white-fleshed fish, mahi mahi stands up well to the bold flavors of pineapple and red bell pepper.
Get the recipe.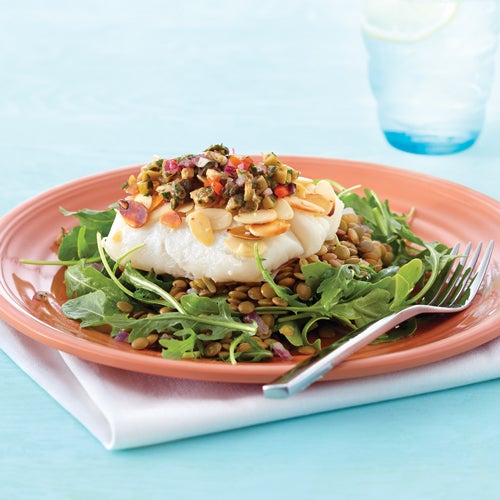 11. Almond-Crusted Cod with Green Olive Salsa
Mild-tasting cod is served over nutty arugula, earthy lentils and topped off with a piquant salsa. The textures and flavors in this easy dish play off each other beautifully.
Get the recipe.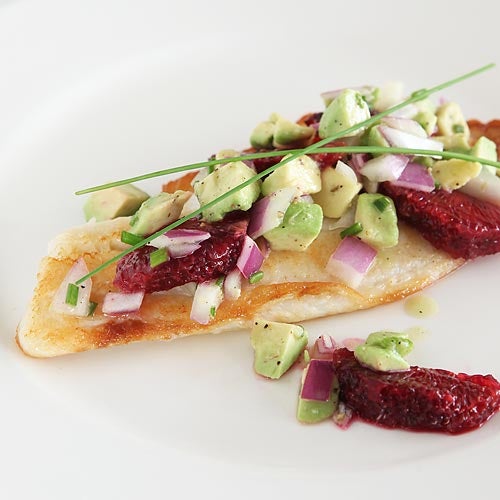 12. Pan-Seared Tilapia with Avocado Citrus Salsa
Using a back-to-basics approach, Kelsey Nixon combines zesty, tropical flavors to complement the taste of this mild white fish.
Get the recipe.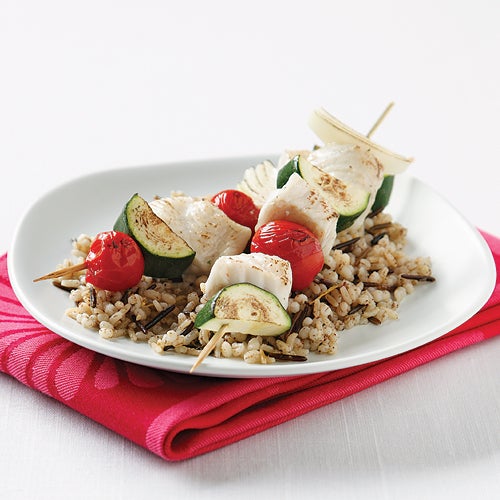 13. Lemony Catfish Kebobs on Wild Rice
We use Za'atar, an addictive Middle Eastern spice blend, to season the nutritious grains that form the foundation of this flavorful fish dish.
Get the recipe.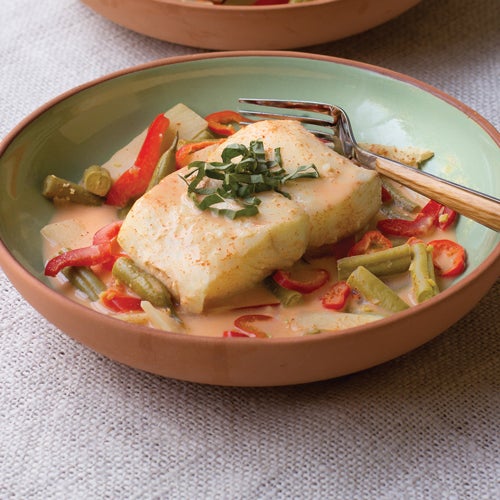 14. Poached Halibut in a Coconut Curry Broth
This Thai-style coconut red curry is packed with veggies like green beans and bell peppers. Serve on its own, as shown here, or over brown rice.
Get the recipe.
15. Sesame Coconut-Crusted Halibut with Shitaki Vegetable Stir-Fry
Shirataki is a low-carbohydrate noodle made from konjac root. If you can't find shirataki, try kelp noodles or add an organic medium-firm tofu, crumbled or diced, to the stir-fry instead.
Get the recipe.