Canned Versus Fresh Produce: Which Should You Use When Cooking?
There are many factors to consider: availability of fresh produce, time on hand, and the quality of the canned produce in the market, among others. Here's how to make the right choice.
Heading out the door? Read this article on the new Outside+ app available now on iOS devices for members! Download the app.
When deciding whether to use fresh or preserved produce, there are many factors to consider, like availability of fresh produce and how much time you have to cook. One of the principles of clean eating is to eat seasonally. So, do a little research to find out what it available in grocery stores or at the farmers' market.
Although in most of North America, there is produce available in the grocery stores year round, it is important to consider where it's from and how far it has traveled. You might want to find out when the produce was harvested, whether it was ripened on the bush, tree or in the ground naturally or picked early and ripened in a controlled sterile environment before you buy.
Learn how to cook the way nature intended at the Clean Eating Academy. Register now!
What You Should Know about Store-Bought Canned Produce
At the end of the day, there are benefits to both fresh and canned or jarred produce. But, it's important to know what goes into them. We can ultimately control what we put into homemade preserved foods, however, many processed canned products contain high amounts of sodium, sugars and even preservatives to extend shelf life.
Canned foods can also contain BPA (Bisphenol A) in the lining of the cans. BPA can leach into foods during the high heat canning process and have an adverse impact on health. There are companies that are moving to BPA-free cans such as Eden Foods, which are great options. But, be careful to read labels for added sodium and sugar.
There are also other factors also that can impact your decision. Tomato sauces for instance, are known to be higher in the antioxidant compound lycopene that occurs during the high heat canning process. Lycopene, which is responsible for producing the red color of tomatoes, has been shown to reduce inflammation and reduce bad LDL cholesterol while boosting the body's immunity. You would need to consume many pounds of fresh tomatoes to get the same lycopene intake that a cup of canned or jarred tomatoes delivers. But, read your labels. If the product is high in sugar or sodium or contains artificial colors or preservatives, it's still not that good for you!
I like to buy my tomatoes processed in glass. Other products like legumes, I buy in cans. Outside of cooking them from scratch yourself, they are mostly only available in cans. Again look for companies like Eden Foods that use PBA-free lined cans and are low-sodium or sodium-free.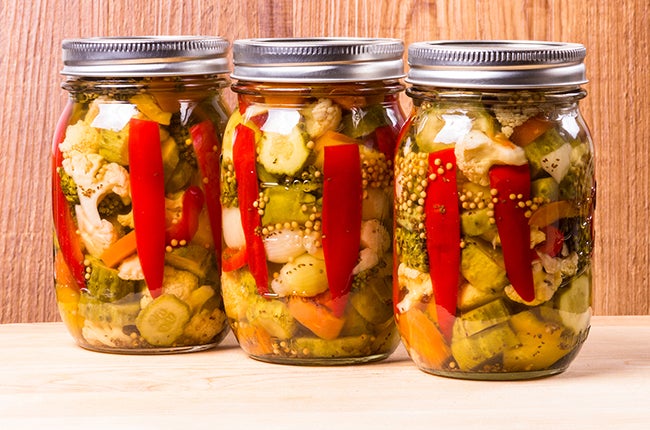 DIY Canning
I love to can and jar produce. It's a very soothing and therapeutic project for me. I learned about canning from my mother growing up in Australia. Although many people think that produce is harvested year round down under, in my region on the Southeast coast, the growing season lasts 7 to 8 months. In the summer, my mother preserved the vegetables from our garden for the winter. She experimented with homemade tomato sauces (similar to ketchup in North America). I don't think I tried a store-bought ketchup until I came to Canada. I exaggerate, but my mum's ketchup was so good, I even spread it on toast!
For me all of this is really about your commitment, the time you have available as well as what produce is easy to find in your community. Planning is key, but it can be a great exercise and project for your family to start canning veggies.
See also How to Can Lacto-Fermented Veggies.
Canning may also inspire you to grow something in your own backyard. I don't have a lot of free time, but I choose one crop in my backyard each year. This year it's cherry tomatoes. I'm watching them grow and nurturing them – after I harvest them I will enjoy them so much more!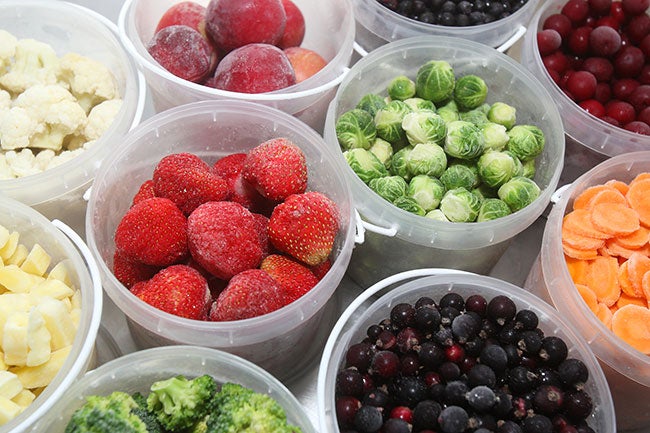 What About Frozen Fruits and Vegetables?
Many say that fresh frozen is a great option, and I agree. In most cases, frozen produce has the same nutrients as fresh. You can even freeze produce yourself with a little preparation.
Whether canned, jarred, frozen or fresh, produce has a place in our daily diet. Ultimately, it comes down to reading the label to ensure that the nutrients in our produce aren't neutralized by sugar or sodium and fit your criteria for local, sustainable, clean and organic.
Try to have some fun and buy some local produce or learn how to can or jar your family's favorite foods.
Above all, remember to have fun in your kitchen!
Join Chef James at the Clean Eating Academy! Find out more information about his course: Intro to Clean Cooking & Nutrition.