Meet Clean Eating Academy Instructor James Smith
"My passion to teach students about an ingredient, where it comes from and how it's grown creates a real connection to food."
Heading out the door? Read this article on the new Outside+ app available now on iOS devices for members! Download the app.
Learn how to cook the way nature intended at the Clean Eating Academy. Register now to start cooking clean with confidence!
A pioneer of several health-based culinary programs in North America, Chef James Smith is determined to change the way cooks and next-generation chefs perceive and prepare food. Now, this clean-cooking, farm-to-fork proponent has joined forces with Clean Eating for the soon-to-launch Clean Eating Academy, an online cooking school with an unparalleled mission to get people eating and cooking cleaner than ever. Whether you're looking to expand existing skills or you're a motivated home cook with a passion for health food, this September, Chef James is rolling up his sleeves and getting his hands dirty to teach you everything you need to know about clean eating. Sound intriguing? Sign up now.
How did you wind up starting healthy culinary programs at so many schools?
I became very interested in nutrition and what goes into foods when I got my first non-restaurant job working on a Food Network Canada TV show. We began writing recipes, testing and looking at the nutrition data. I went on to write for Canadian Living, which was even more nutrition and analysis-based. Then finally, when I took a job at George Brown College as a research chef, I heard about a culinary program that would change my life and the lives of many chefs who are in a time when food, nutrition and health has grown to become one of the most important advances in our industry. I moved from training chefs the time-honored tradition of cooking to placing a focus on cooking for nutrition and good health. I helped shape the culinary nutrition program at George Brown College, leading and developing the program in areas of food science, food labeling and nutrition and then moved on to do the same at two other schools.
Why is influencing a cleaner food scene so important to you?
Clean cooking is important for so many reasons: To know what's in your food, to adjust recipes, but also how to create nutritious and tasty foods without the need for so much salt, sugar and fat. In this busy and fast-paced time, eating clean and remaining healthy are more important than ever to future chefs. Food can be tasty, delicious and healthy at once. We rely on medications to solve our health issues now, and while medications are important in some cases for healing purposes, moving to eating a clean, nutritious diet can proactively help us enjoy longer lives and rely less on medication and more on prevention via food.
What's your favorite dish to make for friends and family?
I love slow cooking. Inspired by my roots in Australia, where we pair a lot of fruit with meats and fish, I adapted a slow-braised short rib recipe with hoisin sauce (I make my own, but there are some good options in stores) and papaya along with other ingredients that are found in traditional braising liquids. It's sweet, fruity and lightly salted, and the meat is very tender and juicy. Once the ribs are done, I remove them, blend the sauce and serve it with the ribs. It's a recipe that can also be done in a slow cooker, which I enjoy using for convenience.
What can students get from the Clean Eating Academy they can't find anywhere else?
The CEA allows students to get skills and practice them from their own place of convenience. With this first course, students acquire basic culinary and knife skills as well as the theory behind eating clean and basic nutrition. This all from their own kitchens where they can be comfortable and take their time practicing the techniques.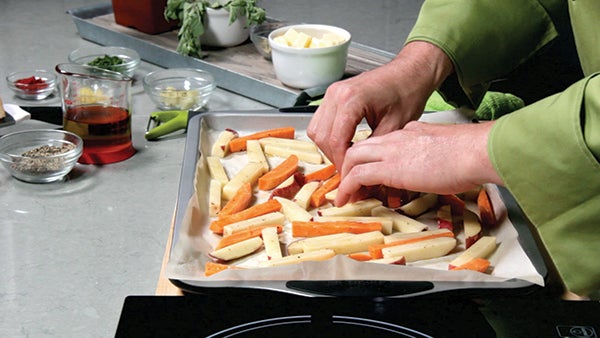 Describe your teaching style.
My style is more of that of a mentor. I like to guide students and show them the techniques, but after that, it's all about practice. Cooking is an art and a craft, and while talent varies, practice can lead to amazing meals that, over time, can build to be showstoppers. Allowing students to explore and try new things is key. My style also tends to create comfort. Food is about love and life. It should be treated as such.
What other food philosophies are you eager to share with CEA students?
I believe the need for us to get back to our roots and try to be more conscious of local and sustainable ways to feed our families is extremely important. Clean eating is not a fad or buzz phrase any more. This is a real need. My passion to teach students about an ingredient, where it comes from and how it's grown creates a real connection to food. Respecting clean, well-grown and nurtured ingredients has been a guide and path for me. While doing this 100% of the time for many is tough, I feel there is a leaning towards making a stronger connection to our food, farmers and communities, and it is wonderful. It's this philosophy that I share deeply with Clean Eating.
Why should more people reconsider the way they shop, cook and eat to be more clean in their approach to food?
Mass-produced and heavily processed foods have taken a lot of pleasure out of eating. Ingredients have become engineered and grown with the use of technology more than tradition. Finding ways to produce more in smaller areas and on the same piece of land has changed how our food tastes. It's more crucial than ever to find farmers that understand and value the land and the vegetables, fruits and animals they grow and raise. Knowing where your food comes from and how it was treated and nurtured is key to sustaining a healthy and balanced lifestyle. It definitely makes our quality of life so much better.
Is this course only for hopeful chefs?
Absolutely not. This program will change how anyone looks at and feels about food. They will think about foods before they cook them. They will begin to understand how to get the very best out of any ingredient to maximize nutrition benefits, and more importantly, how to make it taste amazing with the least amount of processing. They'll begin to explore how to combine flavors and how to taste foods as they truly taste. This course will take your skills to a whole new level. While you may not want to go on to working as a chef, you will know how to make delicious meals that will keep you both satisfied and healthy. If you do decide to go into a culinary profession, you will be ahead of the game!
Where's a fun place to get started with clean cooking? Try it one ingredient at a time. Place a local ingredient beside one that's not local and taste the difference. Not just in taste, but also in texture and how it makes you feel inside. After you do this several times with different fruits, vegetables and proteins that are local, organic and in season versus conventional, out-of-season food shipped from many thousands of miles away, you will begin to slowly change the way you eat and taste the subtle wonders of a clean and minimally processed ingredient and it will change your life!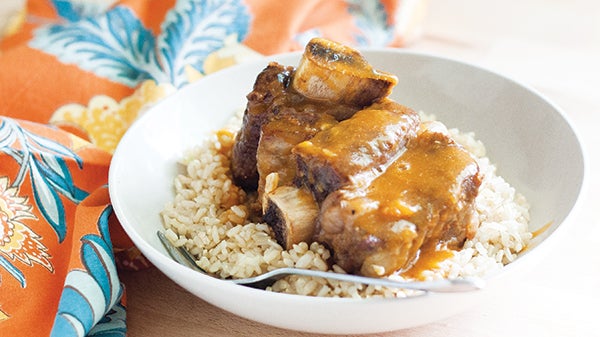 Papaya & Hoisin-Braised Short Ribs
Serves: 8
Hands-on Time: 30 minutes
Total Time: 2 hours, 45 minutes
INGREDIENTS:
HOISIN SAUCE
1 tbsp safflower oil
3 cloves garlic, minced
1 tbsp peeled and minced ginger
2 tsp five-spice powder
3/4 cup unsweetened applesauce
2/3 cup red miso paste
3 tbsp rice vinegar
RIBS
1 tbsp olive oil
2 to 2 1/4 lb short ribs (4-bone, 2-inch-thick portions)
1/2 tsp ground black pepper
1 onion, minced
4 cloves garlic, chopped
3 tbsp unsalted tomato paste
3 bay leaves
1 small papaya, peeled, seeded and cut into cubes
4 1/2 cups low-sodium chicken broth
1 tbsp reduced-sodium soy sauce
INSTRUCTIONS:
Prepare hoisin sauce: In a saucepan on medium, heat safflower oil. Add 3 cloves garlic, ginger and five-spice powder. Cook, stirring, until fragrant, about 45 seconds.
Add applesauce, miso, vinegar and 3 tbsp water. Bring to a boil and simmer until thickened, about 10 minutes. Let cool and store in a jar with a lid, refrigerated, until ready to use.
In a Dutch oven on medium-high, heat olive oil. Season ribs with pepper and sear, turning to brown all sides. Transfer ribs to a plate and set aside.
Reduce heat to medium, and to same pan, add onions; sauté until translucent and beginning to lightly brown. Add 4 cloves garlic and sautéfor 1 minute longer. Add tomato paste and sauté about 1 minute while mixing well.
Return ribs to pan and coat well with tomato paste mixture. Add bay leaves, papaya, broth and soy sauce to the pan along with 1/3 cup hoisin sauce and bring to a boil. Turn heat down to a simmer, then cover and braise for 2 hours, checking every so often to ensure the ribs are covered with liquid.
Check the ribs after 2 hours. When tender, remove ribs from liquid. Set ribs aside and cover with foil to keep warm.
Transfer mixture from pan to a blender and purée until smooth. Return to pan and simmer to reduce to desired consistency; check seasoning. If needed, add more hoisin sauce.
Cut ribs into 1-bone pieces and return to sauce to heat through.
Learn how to cook the way nature intended! Join the Clean Eating Academy online and get the nutrition information and culinary skills you need to master clean cooking in the comfort of your own kitchen.