Conversation with a Food Blogger: Deliciously Ella
In this column, we're interviewing the tastemakers, foodies and chefs that are dominating the web. This week: Ella Woodward of Deliciously Ella
Heading out the door? Read this article on the new Outside+ app available now on iOS devices for members! Download the app.
Deliciously Ella is a blog about embracing the foods that your body loves and creating something incredible with them. Above all, Ella strives to prove just how easy and delicious healthy food can be.
After she was diagnosed with a rare illness called Postural Tachycardia Syndrome in 2011, Ella experimented with transforming her diet to combat the severely debilitating symptoms. She switched to a whole food, plant-based diet without meat, dairy, sugar and gluten. Though her days of binging on ice cream and processed pasta are over, Ella still indulges in rich, decadent dishes. This is the woman that created a brownie from a sweet potato after all! Based out of London, England, Ella has just published and released her first cookbook–Deliciously Ella: Awesome Ingredients, Incredible Food That You and Your Body Will Love.
What is your favorite meal of the day?
Breakfast is my favourite meal. I'm totally obsessed with smoothies and creamy porridge, so I normally have both.
What's an ingredient that you just can't live without?
Avocados, sweet potatoes and dates. I eat all three every day!
If you were stranded on a deserted island what two spices would you want to have with you?
Cinnamon and chili flakes. They make every meal more delicious.
Where is your favorite place to shop for ingredients?
I love Borough Market for fresh produce and Planet Organic for a lot of my other ingredients.
You're a popular food blogger with thousands of followers. Is there a food blog that YOU follow?
I really love My New Roots and Green Kitchen Stories.
As a health conscious food blogger, do you still treat yourself to guilty pleasures?
I don't see my lifestyle as something that I would want to cheat on. I love eating this way!
What is your favorite late-night snack?
Medjool dates dipped into almond butter.
What are the biggest challenges and greatest rewards of being a food blogger?
Biggest reward? I love hearing from all my readers, it's the most amazing feeling when they say that I've made a difference in their life. It's also so cool to see their photos of my food! There are very few challenges really, maybe sometimes being too full after trying out too many recipes.
Do you have any recipes that stand out for being epic fails?
I haven't had any total disasters yet luckily, just a few cakes and desserts that come out a little soggy but still delicious!
What's next in your career?
My cookbook just came out, which I am so excited about!
Finally, can you share one of your favorite recipes?
My Sweet Potato Brownies. Everyone loves them, and I am so head over heels in love with this recipe.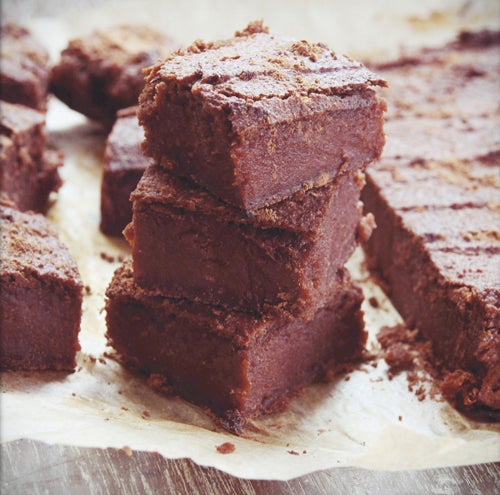 Sweet Potato Brownies (Gluten Free, Vegan)
Makes: 10 Brownies
Hands-on Time: 15 minutes
Total Time: 35 minutes
INGREDIENTS:
2 medium to large sweet potatoes
2/3 of a cup of ground almonds
1/2 cup of buckwheat or brown rice flour
14 medjool dates
4 tablespoons of raw cacao
3 tablespoons of pure maple syrup
a pinch of salt
INSTRUCTIONS:
Start by pre-heating the oven to 350°F, then peel the sweet potatoes. Cut them into chunks and place into a steamer for about twenty minutes, until they become really soft.
Once they are perfectly soft and beginning to fall apart remove them and add them to a food processor with the pitted dates – this will form one of the sweetest, creamiest, most delicious mixes ever!
Put the remaining ingredients into a bowl, before mixing in the sweet potato date combination. Stir well.
Place into a lined baking dish and cook for about twenty minutes, until you can pierce the brownie with a fork bringing it out dry. Remove the tray and allow it to cool for about ten minutes – this is really important as it needs this time to stick together! Remove the brownies from the tray, leaving it another few minutes before cutting them into squares – then dig in and enjoy!
—
Alexis Nilsen has a blog called Cow Crumbs.This princess is filling her paper bags with wholesome good-for-you ingredients, proving one recipe at a time that gluten-free can be so much more than rice flour and tapioca starch.