Conversation with a Food Blogger: Fork & Beans
In this column, we're interviewing the tastemakers, foodies and chefs that are dominating the web. This week: Cara Reed of Fork & Beans
Heading out the door? Read this article on the new Outside+ app available now on iOS devices for members! Download the app.
Whether you're vegetarian, vegan, gluten-free, or simply looking to add excitement to your diet, look no further than Fork & Beans. An allergen-free blog created by Cara Reed for those saddled with dietary restrictions, Fork & Beans is proof that allergy-free doesn't have to mean taste-free. Cara struggled with digestive issues all of her life until she decided to do something about it. After years of eating all the wrong things, she started listening to what her body really wanted. Even though she was initially clueless about how to bake without gluten, eggs, and dairy, she experimented and slowly figured it out–and her blog features the fruits of her labor. Based out of Southern California, Cara is on a mission to remake every processed treat known to mankind.
If you could describe your blog in three words what would they be?
Creative, allergen-friendly and welcoming.
Why are you so passionate about eating allergen-free?
I've not only witnessed in the lives of loved ones but have personally struggled with food allergies and digestive issues, so I know firsthand how difficult and overwhelming the diet change can be. I deeply want people to know who struggle that there is hope, food can still taste good, and being creative in the kitchen is a MUST.
What is your favorite meal of the day?
Oh that is easy: Breakfast. Some days I wish I could eat breakfast an hour later after I just ate it.
What's an ingredient that you just can't live without?
Sea salt.
This year i'll be eating more?
Vegetables. I'm always trying to incorporate more veggies into my diet.
If you were stranded on a deserted island what two spices would you want to have with you?
Onion and garlic powder. I'm notorious for putting them into almost everything.
Where is your favorite place to shop for ingredients?
Anywhere fresh food is sold, really. I love grocery stores; they are to me as toy stores are to kids.
What is your favorite kitchen gadget?
My knives. If you have a good knife, you are halfway there to becoming a great chef.
You're a popular food blogger with thousands of followers. Is there a food blog that YOU follow?
I love Beard and Bonnet. I have even been lucky enough to taste her food firsthand and that girl is legit.
Who would you consider a culinary icon?
My heart bleeds baking and anything that has a creative spin is what I live for, so I would have to say Martha Stewart.
As a health conscious food blogger, do you still treat yourself to guilty pleasures?
Absolutely! I believe deeply in balance.
What is your favorite late-night snack?
If I am still hungry at night, I grab a handful of dark chocolate chips. It's like my teeth just need to be calmed and tamed by a little bit of sugar.
What are the biggest challenges and greatest rewards of being a food blogger?
The biggest challenge is keeping up with the emails and making sure everyone's questions get answered. I want to be a resource to the food allergy community but it's getting harder to keep up. The biggest reward is getting an email from a mom whose child has food restrictions and has tried one of my recipes and says that brought normalcy back into their lives. That is hands-down the motivation that gets me doing what I do every day.
What's one piece of cooking advice you'd like to share with our readers?
I am such an advocate for experimentation. Due to health issues, I focus on allergen-friendly foods which can be really difficult to learn initially, so I am always encouraging my readers to keep trying. If you have patience and persistence you will be an expert of your own kitchen in no time!
Do you have any recipes that stand out for being epic fails?
Oh this happens all of the time! That is the beauty of experimenting, not everything comes out perfectly. Just the other day I was trying to master a grain and egg-free bagel recipe. Cue exploding bomb noise now.
What's next in your career?
I started culinary school in February, focusing on plant-based cooking. Now I can begin teaching and educating others on the benefits of eating and cooking with more veggies.
Finally, can you share one of your favorite recipes?
These Teddy Grahams are full of buckwheat flour, dark cocoa powder and a hint of maple syrup and coconut sugar, making these cookies slightly sweet. They're nothing like the processed version you find in a box, but they're still satisfying when you need a chocolate fix.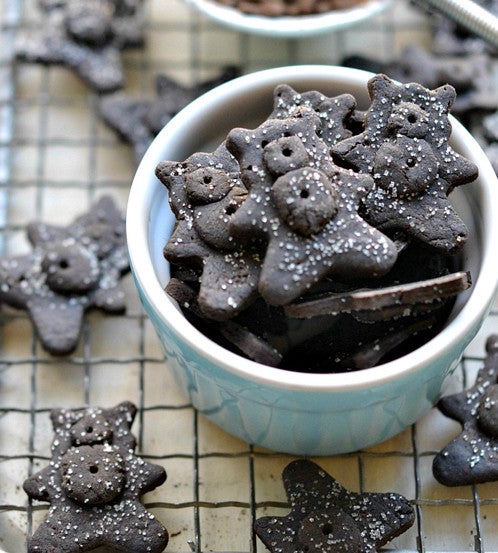 Healthy Chocolate Teddy Grahams (Gluten Free, Dairy Free, Egg Free)
Makes: 50 bears
INGREDIENTS:
1 cup buckwheat flour
2 tbsp dark cocoa powder
2 tbsp coconut sugar
pinch of sea salt
1/2 tsp baking powder
2 tbsp solid coconut oil
2 tbsp organic maple syrup
2-3 tbsp homemade non-dairy milk
INSTRUCTIONS:
Preheat your oven to 325 degrees. Line a baking sheet with a piece of parchment paper.
In a medium bowl whisk together the dry ingredients. Cut in the coconut oil until small lumps form in the flour.
Add the maple syrup and 2 Tbsp. of non-dairy milk and mix until a dough forms. If it is too clumpy still add another tablespoon of non-dairy milk. You might have to use your hands at this point to ensure that that the dough fully forms without having to add more liquid than necessary.
If the dough is sticky at this point, place in the fridge for 30 minutes to chill. Otherwise roll the dough out between two pieces of parchment paper until 1/8″ thick.
Using a mini teddy bear cookie cutter, cut into shapes. Use 2 small pieces of dough from the leftovers to make the nose and belly–one smaller than the other–and gently but firmly press down into the dough. With a toothpick make circles for the eyes, nose, and belly button.
Dust with coconut sugar and bake for 8 minutes. Allow to cool to firm up.
—
Alexis Nilsen has a blog called Cow Crumbs.This princess is filling her paper bags with wholesome good-for-you ingredients, proving one recipe at a time that gluten-free can be so much more than rice flour and tapioca starch.