Conversation with a Food Blogger: My Eclectic Kitchen
In this column, we're interviewing the tastemakers, foodies and chefs that are dominating the web. This week: Yvonne Ardestani of My Eclectic Kitchen,
Heading out the door? Read this article on the new Outside+ app available now on iOS devices for members! Download the app.
My Eclectic Kitchen is a blog that celebrates plant-based whole foods. Yvonne Ardestani has made it her mission to develop healthy alternatives to not-so-healthy foods using techniques she learned in culinary school and throughout her professional career. All of her recipes are vegan, gluten-, soy-, dairy- and refined sugar-free. Yvonne launched her blog in 2009 when she enrolled in culinary school in Pasadena, California. Since then, she's also developed a companion app available for download on iTunes and Google Play filled with delicious vegan and gluten-free recipes and helpful tips. The My Eclectic Kitchen app is not only for those with vegan and gluten-free diets, but for those who are looking to eat healthier without compromising on flavor.
What is your favorite meal of the day?
Breakfast. Sweet and simple. I drink 16 ounces of a glowing green smoothie every morning for breakfast. It fuels my morning, gives me so much energy and a nice glow, nourishes my body and keeps me satisfied until lunch.
What's an ingredient that you just can't live without?
Kale. I'm a self-professed kale addict. I have at least one massaged-kale salad a day. It's so delicious, energizing, and nourishing.
If you were stranded on a deserted island what two spices would you want to have with you?
I would choose healing spices that I consume every day: turmeric and cayenne pepper. Not only is turmeric anti-inflammatory, it also helps make the skin glow, and curcurmin, the primary active ingredient, is being evaluated in clinical trials for treating cancer. I love cayenne pepper for its spicy kick and how it boosts the metabolism. It also helps balance blood sugar levels, removes toxins from the blood and rebuilds blood cells.
Where is your favorite place to shop for ingredients?
I have 3 favorites: Vitacost.com, Trader Joe's, and local farmers markets. I love picking up seasonal produce from the local farmers market. Not only do I support local organic farmers, I get to know the farmers and learn where my food comes from and when it was picked. Some farmers I know pick the produce that same morning. Fresh picked fruit and vegetables are the best, and I gain so much seasonal inspiration from their harvest.
You're a popular food blogger with thousands of followers. Is there a food blog that YOU follow?
I love Vani Hari's blog, Food Babe. I learn so much about food safety and activism from Vani's posts. Vani helps people understand what is in their food and holds companies accountable.
As a health conscious food blogger, do you still treat yourself to guilty pleasures?
Absolutely. I treat myself more than just on occasion actually. Being a recipe developer, I'm always testing recipes. The "sweet" recipes are my guilty pleasure. I try to either give away to my taste testers, or my husband and I will enjoy a bit of sweetness after dinner, so I don't overindulge, and I usually freeze a big batch as well. And in the morning, I will defrost 2 servings for my husband and me to enjoy later. My recipes are all vegan, gluten-free, soy-free, and refined sugar-free, so I don't feel guilty if I just have one slice/piece…it's when I start on the second serving that the guilt sets in—and that happens about once a month.
What is your favorite late-night snack?
I always have an abundance of fruit in the house. If I'm looking for a late night snack, I usually reach for berries, grapes or a gala apple.
What are the biggest challenges and greatest rewards of being a food blogger?
My food photography looks best in natural light, so my biggest challenge is photographing dinner before sun down. Since I try to eat raw until 4 p.m., my cooked meals are dinners, and I find myself always rushing, at battle with the sun. The greatest reward is developing delicious recipes and sharing those recipes and my experiences with my readers.
Do you have any recipes that stand out for being epic fails?
Definitely. I must have tested the vegan French macaron about 8 times, and I still don't have it down. I also have yet to experience success with a vegan, gluten-free, soy-free marshmallow. It's unfortunate because I really want to make a few rocky road recipes, but the only vegan marshmallows on the market contain soy—something I don't consume.
What's next in your career?
It has always been my dream to have my own cookbook and storefront. Right now I'm working towards getting a book deal and possibly opening a little vegan sweet and savory shop.
Finally, can you share one of your favorite recipes?
I have so many favorites, but if I can share just one, it will have to be my Chocolate Truffle Cake.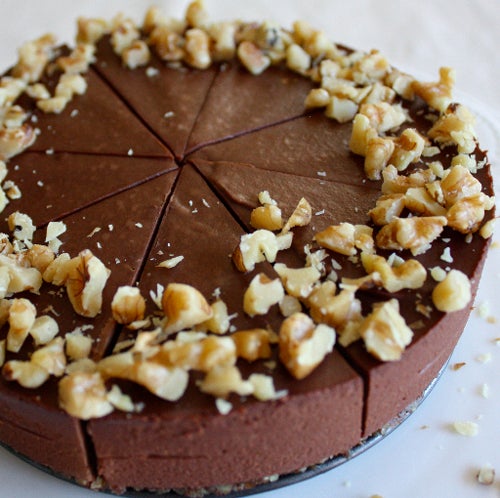 Chocolate Truffle Cake (Vegan, Gluten, Dairy, Soy-free, Raw)
Makes 8 slices
INGREDIENTS:
CRUST
1/2 cup raw pecans (almonds or walnuts will also work)
1/2 cup soft Medjool dates, pitted
1/4 tsp sea salt
FILLING
1 1/2 cup raw cashews, soaked in water overnight (keep in refrigerator) Rinsed and drained.
1 whole vanilla bean (or 1 ½ tsp vanilla extract)
1/3 cup raw coconut oil, melted
1/3 cup coconut nectar (or maple syrup)
1/3 cup filtered water
1/2 cup raw cacao powder
TOPPING
Handful of chopped walnuts or pecans
INSTRUCTIONS:
Place the nuts, dates and sea salt in the food processor and pulse. You will want a finer consistency. Test the crust by spooning out a small amount and rolling it in your hands. If it holds together, your crust is perfect. If it doesn't, try mixing with your hands until it comes together. Pour the crust into a 6-7" spring-form pan (if you don't have a spring-form pan, use a cake pan lined with plastic wrap) and press firmly, making sure that the edges are well packed and that the base is relatively even throughout.
Gently heat the coconut oil in a small saucepan on low heat until it melts.
Place all of the filling ingredients into the blender and blend on high until smooth (this may take a couple minutes). If you feel the filling needs a little more sweetness, add 1 – 2 tablespoons of coconut nectar, and blend.
Pour the filling into the crust and smooth out evenly with a spatula.
Place the cake in the freezer until solid, about 4 hours.
To serve, remove from the freezer 30 minutes prior to eating. Run a sharp knife under hot water and cut into slices. Serve when fully defrosted.
You can serve on its own, or the way I like it is topped with raw chopped walnuts or pecans. Enjoy and store leftovers in the freezer. Note: I use a 6" pan for this recipe. If you want to use an 8" pan, double the recipe.
—
Alexis Nilsen has a blog called Cow Crumbs.This princess is filling her paper bags with wholesome good-for-you ingredients, proving one recipe at a time that gluten-free can be so much more than rice flour and tapioca starch.