Garnishes as Superfoods: Parsley & Sorrel
Don't leave that garnish on the plate! It might be the most nutritious thing you eat today.
Heading out the door? Read this article on the new Outside+ app available now on iOS devices for members! Download the app.
Parsley
Herbs are often overlooked as green vegetables, but many of them have strong nutritional profiles, and parsley is off the charts nutritious. A couple sprigs of it contain about 200% of the RDA for Vitamin K, a vitamin that's especially important for women since it supports our brains as well as our bones as we age.
Most people eat parsley in smidges, but there's no reason not to use it in larger quantities, as you would any other leafy green. A typical bunch weighs 100 grams and supplies almost twice the amount of Vitamin C as a whole orange, half the Vitamin A of a cup of sweet potatoes and three times the iron as an equal amount of raw chard.
Years ago, a friend told me the story of her Italian grandmother, who had heart disease. Her doctor prescribed that she eat a traditional dip that she loved, heavy in parsley and garlic, anchovy and lemon. The name of the dish is lost to me now, but it is full of superfoods. This is my recreation of that dip. It's rich in antioxidants, minerals and vitamins from the parsley, antimicrobial compounds from the garlic and lemon, and high in Omega 3 fatty acids from the anchovies. Stir it into vegetables, scoop it onto crudité or crackers, or use a dollop atop meats.
See also How to Grow Your Own Herbs.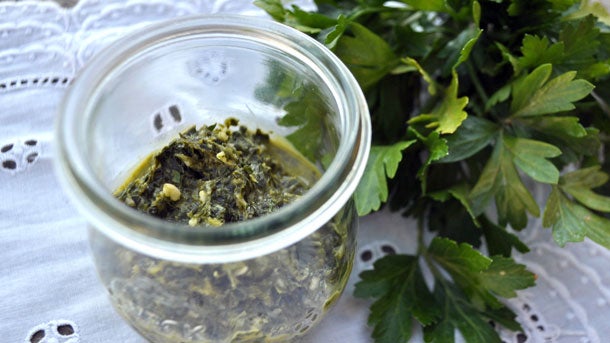 Parsley Sauce with Lemon and Anchovy
INGREDIENTS:
2 cloves garlic
4 anchovy filets
1 bunch Italian parsley
2 tablespoons lemon juice
1 tablespoon olive oil
Mince the garlic and anchovy and parsley, and stir in the lemon juice and oil.
INSTRUCTIONS:
Mince the garlic and anchovy and parsley, and stir in the lemon juice and oil.
See also Cauliflower & Clams in Parsley Broth.
Sorrel
Though probably less familiar, the lemony herb called sorrel is also extremely nutritious. High in minerals like magnesium and potassium and manganese, sorrel helps to regulate blood pressure and build bones, among many other important functions.
If you appreciate sorrel's fierce lemony tang, you'll love adding it to soups, salads, grain dishes, and stews. One thing to know about sorrel, though, is that it turns brown when cooked. To pep up the color of this soup, flavorful sorrel teams up with fellow supergreen chard for a healthier twist on a classic French soup.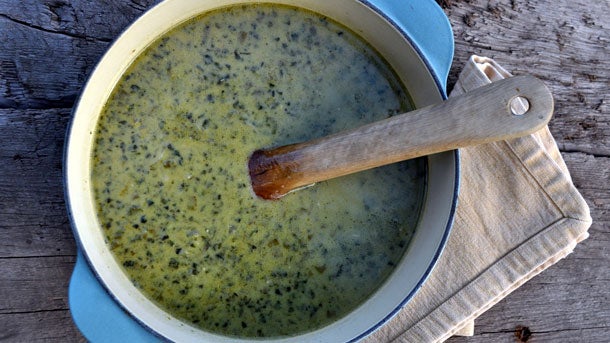 Sorrel and Chard Soup
INGREDIENTS:
1 bunch herb sorrel
1 bunch Swiss chard
1 quart chicken stock
1 onion
½ tsp salt
2 tablespoons butter
1 cup Greek yogurt
INSTRUCTIONS:
Mince the onions and sauté them with the butter and salt in a Dutch oven until translucent. Chop the chard and sorrel into large but manageable chunks and throw them into the pot, too. Add the chicken stock and heat until warmed through. Using an immersion blender, puree the greens, then stir in the yogurt. Top with an additional dollop of yogurt and some chopped fresh scallions.
See also Steamed Clams with Sorrel & Garlic Bread.