Outings Are Back, but Etiquette Is Rusty. Avoid These Bad Dinner Guest Habits
From the invitation to the day after, here are 33 bad dinner guest habits to avoid - and how to make a great impression so you're invited again.
Heading out the door? Read this article on the new Outside+ app available now on iOS devices for members! Download the app.
With backyard cookouts soon winding down and dinner parties ramping up, invites are starting to roll in again, but you might be a little out of practice when it comes to social events like dinner and cocktail parties. It's time to brush up on dinner guest etiquette with these 33 pointers….for not getting pointed towards the door.
CE sat down with Lizzie Post, author of Higher Etiquette, podcast co-host of Awesome Etiquette and the great-great-granddaughter of Emily Post – yep, that Emily Post – who wrote the book on etiquette titled Etiquette (Funk & Wagnalls, 1922) that still holds the #1 spot for etiquette tomes today with 19 editions to date. Don't worry, the Post family wisdom is totally up to date with modern-day guidance on things like social media etiquette, texting dos and don'ts and more need-to-knows for our ever-changing, tech-driven lives. 
So, what could possibly be worse than a guest who arrives late (one that arrives early!) brings an uninvited guest or needs to know who else is invited before RSVPing, "Yes"? When you commit one of the following 33 dinner guest crimes – and even worse, fail to even notice – landing you on the next party's "maybe not" invite list for your bad dinner guest habits. 
Read on for 33 bad dinner guest habits to avoid. If you're wondering about something specific, like how to sidestep "gross foods", use the sidebar to the right and skip to the etiquette rule on your mind. We'll set you straight.
Section divider
1. I forgot to RSVP, now what?
We've all been there, you get the invite and see the deadline but the next thing you know, you've missed it, and you really want to attend. Now what? Is it acceptable to ask for an exception after the deadline? According to etiquette expert Lizzie Post, a good host will track down the non replies the day after the deadline, so they will likely reach out to you. But if they don't, reach out with an apology, and kindly ask if there's still room. Leave it in the host's hands. A good host will probably easily accommodate and not punish you. 
Section divider
2. Should I share my unsolicited food allergy with the host?
"If it's necessary and unsafe if you don't, then yes absolutely let them know," says Post. "But if you can work easily around it, consider skipping." It should all come out during what Post calls the host-guest dance, the series of communications between the invite and the day of the event, which is typically the time the host will typically ask about dietary restrictions or allergies. In the event you are not asked, offer to bring a dish that suits your needs as a way of breaking the ice and bringing up your restriction.
Section divider
3. Should I ask about parking or fend for myself?
If the host knows it's tricky, a good host will let you know on the invite or at RSVP time where you can park. But for the most part you're usually on your own. As a guest, it's ok to ask in advance if you're looking for a driveway or street parking but definitely don't text them when you're five minutes away. You're unlikely to get an answer.
Section divider
4. Is it ever okay to come empty handed?
This one may surprise you. Yes, sometimes it's perfectly fine. "While the expectation tends to vary a little regionally or by social group, people often have a self-imposed commitment to always have something in hand. But you shouldn't feel like you always have to if these are people you regularly socialize with," says Post. Instances where you should definitely bring along a bottle of something or a thoughtful host gift is if you haven't seen someone in a long time or you're visiting them in a new home you haven't been to yet. The holidays are another time to bring a host gift.
Section divider
5. My shoes are part of my look. Do I have to remove them?
"This is so hotly debated!," says Post. "But there is no hard and fast rule except to follow the directions of the host's house you are going to." For anything more than casual friends coming over, unless it's a cultural thing, hosts don't typically ask guests to remove shoes. American culture tends to keep shoes on. If you're the host and you can't handle the idea of outside dirt in your home, request that your guests bring clean indoor shoes to wear inside. Sometimes hosts may not even think about whether there are some guests that physically need shoes for balance, or, some people have odorous feet and would prefer not to remove them for the sake of themselves and everybody else. "There could be all kinds of reasons why people may want – or need – to keep shoes on and I think working around them rather than standing hard against it is far more the polite and gracious thing to do as a host," says Post.
And if you're the guest and the rule hasn't been expressed, there are a few things you can do to navigate this elegantly. First, look around for a pile of shoes at the door. If there isn't one, you're good to keep them on. And when in doubt, either follow suit with the others you're entering with if your host isn't at the door and if she or he is available, simply ask. In any case, be prepared for any situation with clean, matching socks or stockings free of holes. 
Section divider
6. Any rules around meeting new people at an event?
Always start by introducing yourself and if you're with someone, introduce your partner or casually mention that your partner is "over there." Use all the wonderful tenets of small talk, which are called tier one conversation levels – the fluff stuff – like local news, the weather, hobbies and interests. "Try to avoid leading with, 'What do you do?'," says Post. "It's akin to saying, 'So how do you make your money?'". And a lot of people don't do traditional jobs but do a lot in their lives. 
Section divider
7. Is it rude to not offer a hand in the kitchen?
"It's not rude to not offer, but it is polite to offer," says Post. "But when at a formal dinner party where the host has hired servers, that's a really good indication to not offer to help. You just get to enjoy being pampered, you lucky thing, you!"
For more casual, informal gatherings where the host is doing everything, it's thoughtful to offer. But what's also thoughtful is to accept if your offer is declined. Don't force yourself to help, making yourself a self-imposed co-host. Go back and enjoy the party and respect the host's, "No, thank you." 
Section divider
8. I'm allergic to the cat. Now what?
If you're super allergic to cats or dogs, bring it up at the time of the RSVP. You can simply state how excited you are to attend and then say, "The one thing I always have to ask about is cats. Unfortunately I have a severe allergy that is so bad I can't be in homes with cats. Even vacuuming and putting them away doesn't help." If they do have cats, offer to have them to your place another time soon. 
Section divider
9. Is it polite to ask for a tour?
There's nothing wrong with asking for a tour, in fact it's very thoughtful! Just don't ask while the host is doing last-minute food prep. Wait for cocktail hour or hors d'oeuvres, then compliment them and ask for a mini tour. The second floor can be off limits but let your host lead and simply follow.
Section divider
10. Can I ask for something that isn't on the table, like another condiment or a different drink?
This one's dicey. "The more formal the occasion, the less I would recommend doing this. As for condiments, only use those that are out," says Post. The few exceptions to this rule are, unless it's salt and pepper or something that was obviously forgotten, like butter for corn on the cob or ketchup for fries. Don't go asking for it at full-volume though. Discreetly ask, "Is there butter for the corn by chance?" Nine times out of ten when it's something like this, the host will say, "Oh! I knew I'd forget that!
Section divider
11. When is it okay to begin eating? Do I have to wait for everyone to be served?
The golden rule here is that your host should invite guests on when to begin. If they say begin while it's hot, then go right ahead. If it's buffet style, they will most likely invite you to eat right away while others make their way to the buffer. But if it's not buffet-style, wait for the host to start. For small, intimate gatherings, always wait for the host to lift their fork. That is your signal to start," says Post.
Section divider
12. I don't like something on my plate, do I force myself to eat it?
This goes back to the buffet versus formal dinner. "In buffet situations, take what we call a "no thank you portion" which is about one to two forkfuls just so that you can try the dish," says Post. "It's a way of at least trying something. It honors the host's efforts as well as the possibility that you might like this particular dish. If you try a bite and it's not your thing, don't worry about eating the rest. 
In a formal situation, try it and if you really don't like it, leave it on your plate. If someone comments, find something positive to focus on. You can spin it by saying, "You know, typically tripe isn't my favorite dish but this is definitely the best tripe I've had!" Or, "Brussels sprouts and I have had a complicated relationship since I was a kid, but that steak was the best I've had!" 
And instead of waiting for your empty plate to signal that you're done, place your silverware, fork tines up and knife edge pointing in – somewhere between 10 and 4 o'clock positions – to indicate that you're finished.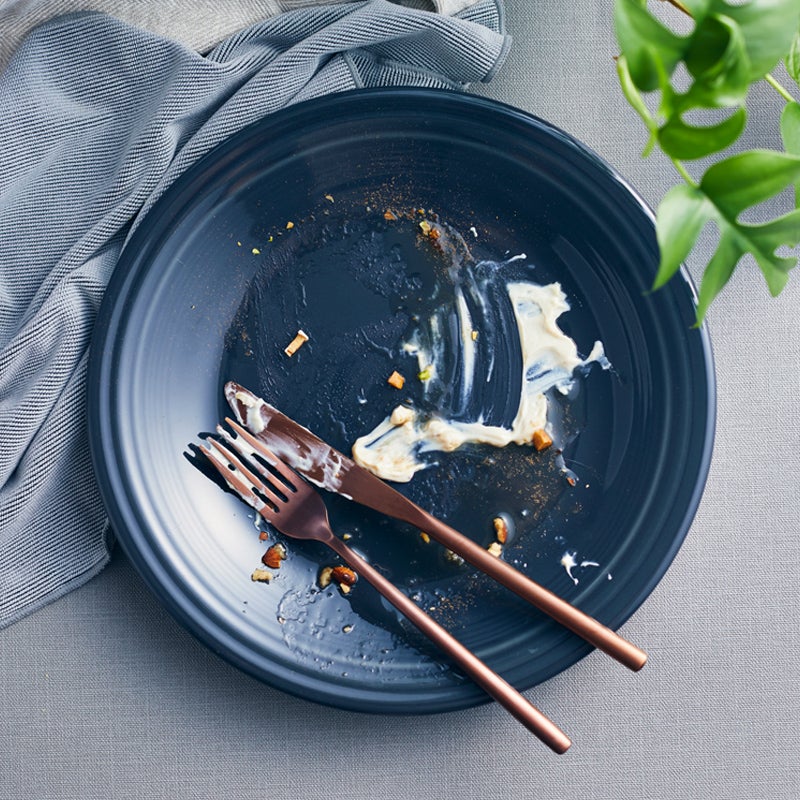 Section divider
13. I have a ferocious appetite, can I ask for seconds?
Typically the host will offer seconds if there is more. Even at an informal dinner, try to hold off until more food is offered. "There are four tiers of dinner gatherings: Casual, informal, semi-formal and formal", explains Post. For casual meals, it's more likely that it's perfectly fine to ask. But anything beyond casual, be inclined to wait until offered. Most hosts over prepare food portions, so don't worry about packing a secret snack. "To the hosts out there, offer seconds! There could be someone sitting there waiting at a formal dinner wishing they had just a little more," Post laughs.
Section divider
14. I like to savor every bite, can I lick my knife or fingers?
Under no circumstances, ever place your knife in your mouth. "Never spear anything with it and never use it to deliver food to your mouth," says Post. "Knives are only for cutting, slicing and pushing!" 
As for licking fingers, there are few exceptions when it's appropriate, like at your aunt's annual lobster boil and the table has a paper tablecloth over a picnic table that screams, "Dive in, dig in and get messy". The same goes for  things like ribs and fried chicken. But the environment is going to tell you that this is the thing to do. When you're at an elegant dinner and have been served lamb chops on the bone, use your fork and knife to get as close to the bone as you can, unless your host invites you to use your hands and mouth to get in there and not waste a morsel.
Section divider
15. What do I do with a bite I simply can't chew?
Whatever you do, never spit these inedible bits into your napkin. Instead, raise your napkin to your mouth with one hand and with the other hand, remove the item and discretely place it on the side of your plate. That's for things like olive or cherry pits. If it's an unsightly piece of fatty something that you can't swallow down and will look gross on your plate, excuse yourself to the washroom and throw it out there. "Never put it in your napkin," says Post. "Your host or server will be cleaning that up afterwards and they're just going to get a big ole wad of nasty!"
Section divider
16. Is it ever okay to be on my phone?
If it's during a very informal cocktail hour, you might be able to get away with it, but very minimally. At dinner, it's never appropriate. As the host, if you have Instagram happy friends, offer guests a moment to take a pic of the food or the table setting but then invite them to put their phones away. At casual dinners, if there's a debate to google, wait and enjoy guessing with the table a little while before pulling the phone out to settle the debate. But again, put it away once you're done.
Section divider
17. Are no elbows on the table an antiquated rule?
Elbows on the tables are appropriate in some circumstances but not in others. The rule of thumb is avoid using elbows when eating. If you're not eating, it's usually okay. For example, avoid eating with the left elbow propped on the table while eating with the right hand. But if you're using your elbows to lean in and engage with the person across the table, elbows are fine. 
Section divider
18. What do I do about a conversation monopolizer?
Every group has one, but how do you handle the conversation monopolizer that always finds a way to bring every discussion somehow back to them? If you're the host, sorry, but we're looking at you. "The host is in charge of the conversation, so it's ok to interject and guide the conversation in another direction," says Post. "[The host] is probably going to interject by saying something like, 'Wow Reese, that's so fascinating. Kelly, what do you think about that? You've had experience in X, Y, Z." or change the topic entirely and ask another guest about a recent trip or move into a new house to shift the focus. "You have to get confident with doing it, but it really works," says Post. 
But what if you are the monopolizer…and even worse, you don't even realize it? 
"If the people around you haven't spoken in a while, have tired expressions or are nodding a lot, there's a good chance you're talking too much," says Post. A good way to test this is to silence yourself for a moment and see how the vibe changes. And, if you catch yourself doing it, call yourself out! Say, "Oh my gosh, I've been talking too much. Jack, tell me, how was your trip to Greece?!" 
Section divider
19. Is it okay to eat and run if I'm tired or have to go?
If you just finish dinner and run for the door, it's not a good look. "You definitely want to stay through dinner and dessert and if there's an after-meal coffee or brandy," says Post. Once you're clear from the table, give it 30 to 45 minutes at the least – unless the host starts wrapping up first, which can happen. On the flip side, be cognizant to not overstay either. If you hear your host say, "Boy, I sure am getting tired" that's a really good sign that it's time to leave.
Section divider
20. What's the best way to follow up with a thank you?
You should always thank your host twice. Once at the door when you're saying goodnight and then again the next day. Follow up with a, "Thank you so much, that was so wonderful" call or text. "If you really want to make an impression or the evening was just that awesome, send that hand-written note because that note takes effort and is personalized in your own handwriting. It's special and different." says Post.
Section divider
21. If someone hosted me, am I expected to return the favor? What if my home isn't dinner-party friendly?
You do want to try and reciprocate invitations. It's a thoughtful thing to do. But don't worry, it's not an endless loop. It stops after the one reciprocation. "I'm hoping the cocktail party has a resurgence. The cocktail party is one of those parties where you can invite all of the people in the past month that have invited you over for dinner and cover all of your reciprocated invites," explains Post. 
As far as your space goes, if it's not dinner friendly, consider treating friends to dinner out or finding another alternative, such as a yard or garden event or using a borrowed space, if available. Standing room only for drinks works well too.
Section divider
22. Do I have to serve a surprise dish that someone brought?
If they show up with a dish or a bottle of wine that doesn't go with your menu, it's perfectly fine to thank them and say that you've got the menu set for tonight but that it'll be so wonderful to enjoy tomorrow. Where it gets dicey is if they bring something like a salad – as much as you might be surprised, try hard to fit it in. Even if it doesn't sync with your menu, the other guests will know what's going on – and that salad won't be good tomorrow – so it's polite to try and fit it in. If you're the guest and your surprise dish doesn't get served, whatever you do, do not pull a Frank Costanza from Seinfeld and steal the marble rye on your way out. 
Section divider
Lizzie Post's 5 Worst Guest Etiquette Offenders
Bring an unexpected guest

Show up without something you were asked to bring (think potluck)

Entering a party while on your phone

Show up late without letting the host know in advance. But in case you're wondering, "15 minutes is still the grace period," says Post.

Ask who else is invited. Asking who else was invited skips right over the host's generosity right into judgement zone. "A guest should trust that the host has their best interest in mind," says Post.  In other words, it's up to you as a guest to let that unfold and not make it seem as though the guest list is the deciding factor for whether or not you attend. (The exception here is a tightly knit group of your closest friends).
Section divider
"No. Never. Just Don't." Unequivocal Guest Faux Pas
Don't ask to move seats.

Trust your host has your best interest in mind and make the most of your table neighbors –  even if you wish you were seated with someone else.

Leave the table before everyone is done.

Unless it's a quick trip to the loo, it's never ok to dismiss yourself while other people are still at the table.

Tilt in your chair

. "Don't do it!," says Post. "Someone is going to fall over and hurt themselves, or you could break the chair and it would be so embarrassing!" 

Season and sauce your food before first tasting it.

"You

always

want to first take a bite, even just for practicality purposes. You could render your plate totally inedible if you go and add a bunch of salt or heat to something that already has a bunch of salt and heat," says Post.

Reach over people

. Just don't do it. Always ask for something to be passed to you instead (even if your table neighbor is enthralled in deep conversation). 

Underdress for the occasion.

The old adage, "Always overdress never underdress" still applies. "It's easier to strip away formal layers like a jacket and tie than walking into an event in jeans and a t-shirt and materialize the jacket and tie you need," says Post. 
Whether you're the guest or the host, we've got all of the inspiration you need for gatherings small and large: