8 Beauty Foods to Make you Glow From the Inside Out
Glowing skin and glossy hair don't just come from bottles or jars. The truth is, you have to nourish hair, nails and skin from within with a clean diet rich in beauty-supportive nutrients. Here, we uncover the very best beauty foods.
Heading out the door? Read this article on the new Outside+ app available now on iOS devices for members! Download the app.
Strawberries and Kale
Strawberries and kale are both high in vitamin C, a potent antioxidant that protects skin from oxidative damage. The vitamin also speeds up the healing of bruises and wounds. Other good sources of vitamin C include papaya, bell peppers, broccoli, Brussels sprouts and pineapple.

Try this: Toss strawberries with baby arugula, pistachios and raspberry vinaigrette; cut kale into thin strips, toss with coconut oil, smoked salt and smoked paprika, and bake until crispy; purée kale, garlic, olive oil and cashews into pesto.
Brown Seaweed
Brown seaweed is rich in a compound called fucoxanthin, which protects the skin from cellular damage and wrinkle formation and may prevent sun-induced skin cancer. Seaweed is also rich in minerals and vitamins that encourage hair growth and health. Fucoxanthin is found in seaweeds such as kombu, arame and wakame.

Try this: Add arame (soaked and drained according to package) and a handful of pumpkin seeds to brown rice; stir toasted wakame flakes into roasted butternut squash cubes; simmer beans and long-cooking stews with a strip of kombu.
See also 6 More Nutrients for Healthy Hair and Skin.
Almonds
Almonds are rich in biotin, a B-complex vitamin that helps prevent hair loss and keeps hair shiny and strong. Balancing intake of biotin with foods high in pantothenic acid (vitamin B5) is thought to be especially helpful for hair, skin and nails. Mushrooms, avocado, sweet potato, lentils and chicken are great sources of pantothenic acid.
Try this: Toss toasted slivered almonds with sweet potatoes and minced rosemary; combine chopped almonds, avocado cubes, diced yellow bell peppers and minced red onions and serve in lettuce cups.
Geen Tea
Green tea contains a compound called epigallocatechin gallate (EGCG), a powerful antioxidant that may prevent skin tumors, protect the skin from aging and potentially repair existing damage (especially if applied topically).

Try this: Poach salmon and sliced onions in brewed green tea; make a matcha (powdered green tea), spinach, coconut milk and ginger smoothie; cook rice noodles, vegetables and garlic in brewed green tea and tamari for a fast noodle bowl.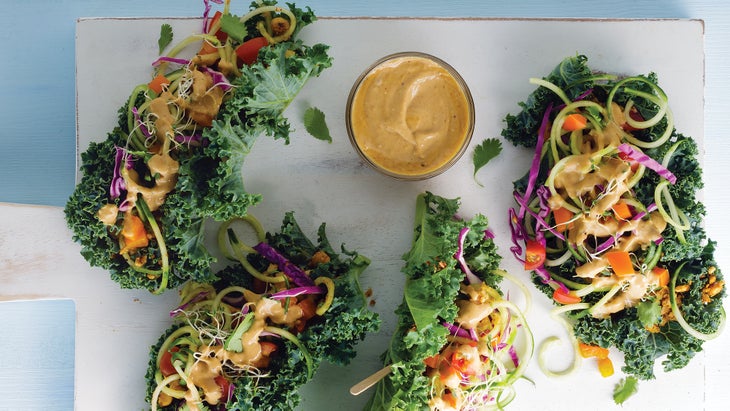 Pomegranates
Pomegranates are rich in polyphenol antioxidants including ellagic acid, which acts
as a free radical scavenger to ward off sun damage and slow skin aging, and it may help prevent skin cancer. These fruits also help to reduce inflammation and
speed wound healing. Other good sources of ellagic acid include strawberries, raspberries, blackberries, walnuts and pecans.

Try this: Add pomegranate seeds to a salad of fennel, pears, walnuts and orange segments; mix with diced avocado, mango and lime for an exotic salsa.
Parsley
Parsley is rich in chlorophyll, which has long been used to purify blood and heal skin conditions like eczema, rashes, wounds and acne. Other foods rich in chlorophyll include beet greens, spinach, bok choy, broccoli, green cabbage, collard greens and turnip greens.

Try this: Pulse parsley, onions, olives and capers in a food processor and spread on crackers; combine parsley, garlic, red pepper flakes, red wine vinegar and olive oil for a chimichurri-style topping or marinade.
Pumpkin Seeds
Pumpkin seeds, also called pepitas, are high in copper, a mineral that helps develop collagen and elastin to keep skin strong and supple; copper also promotes production of hyaluronic acid, a lubricating substance that makes skin look fuller and plumper. Other good sources of copper: sesame seeds, cashews, soybeans, mushrooms and tempeh.

Try this: Add toasted pepitas and minced dried figs to cooked brown rice; toss raw corn kernels, diced red bell pepper, minced scallions and pepitas with olive oil and lemon juice.