I Can't Stop Eating Dalci's Decadent, Clean and Gut-Healthy Brownies
Najwa Khan, founder of dalci, just might've perfected the brownie. Her line of sweet, indulgent treats are gut-friendly, free of additives and preservatives, and impressively nutritious – and you've got to try them.
Heading out the door? Read this article on the new Outside+ app available now on iOS devices for members! Download the app.
Everything you know about brownies is about to change. This classic chocolate-rich, cakey and moist treat may not be synonymous with healthy eating, but there's a new kind of brownie that's changing this perception. Dalci, a baked goods company with a focus on clean eating and additive-free foods, has created an incredibly indulgent brownie – and it's actually good for you and great for your gut.
I spoke with Najwa Khan, MPH, the brownie genius behind dalci, to learn just how special these gut-friendly treats are. Dalci brownies aren't just delicious baked goods; they're a nourishing food you'll want to enjoy again and again.
These brownies were created to better your health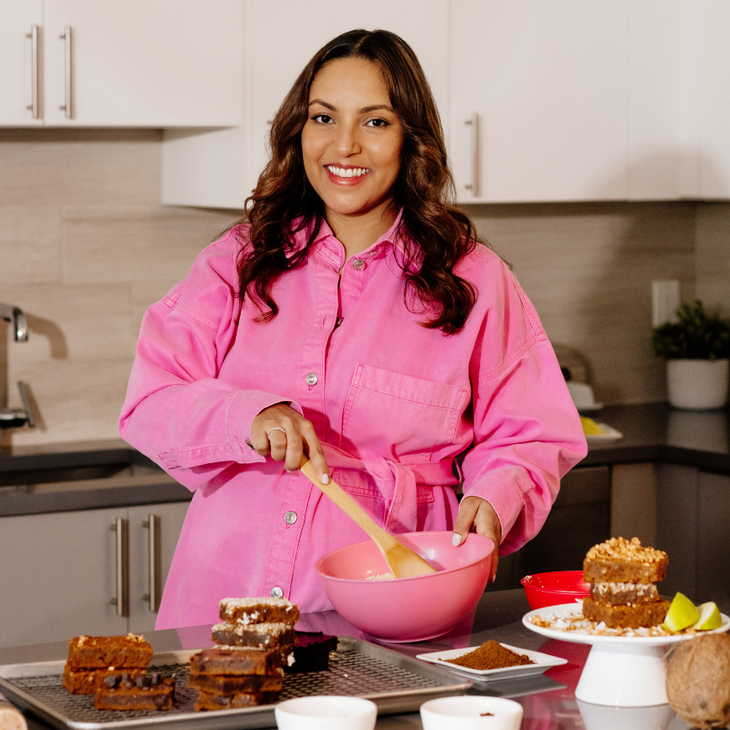 The dalci brownie got its start in Khan's very own kitchen. As a self-proclaimed foodie who doesn't want to miss a "treat yo self!" moment, she created a packaged brownie that was meant to be indulgent and guilt-free, letting you treat yourself while doing your health some good, too.
"To be honest, it was really a product I made for myself," Khan says. "I love food, I love living in the moment, treating yourself – I'm like Tom from Parks & Recreation! But this did create a lot of problems for me health-wise."
While Khan naturally ate clean as a child, she found herself leaning heavily on processed foods once she graduated from college and began working long hours in tech. As a result, she found herself facing an array of health woes.
"Over time, I started carrying Pepto with me," Khan explains. "I did what a lot of Americans do today: I had a pain, I tried to solve that symptom." As doctors began to diagnose her with varying health conditions, she decided to take a different approach and see a registered dietitian. And that's where dalci was born.
It turned out all that processed food had wreaked havoc on Khan's gut health. "I'd literally hurt my gut. It was a war zone in there," she says. 
So, Khan tried another tactic that many of us have tried ourselves: She took a hard look at what she was eating. 
"Instead of doing a diet – I hate diets – I went back to the basics. I looked at ingredients that were natural, and I decided, 'I'm going to have no sugar for two whole months.' It was really painful," Khan laughs. "But all of a sudden, my skin glowed. I woke up naturally in the morning. I started craving vegetables. However, I realized this wasn't sustainable." 
Khan sought out an eating approach that would allow her to enjoy all of her favorite foods while still eating clean. And she definitely didn't want to give up dessert!
"I couldn't find a packaged dessert. I would go through the aisles of Whole Foods and find brands that were all about clean eating, then flip the label over to find all of the sugar alcohols, gums and additives," Khan explains. "So, I decided to make a Najwa brownie."
Khan spent time developing her own clean, gut-friendly brownie that was free of all those additives at home – and it was a hit. "I would bring the brownies everywhere. People didn't even ask what was in them; they thought they were so good that they were fudgy, 'bad for you' brownies."
That led Khan to ask a key question: Why can't we indulge and still feel good?
Every dalci brownie is filled with clean, healthy ingredients
In addition to working to develop a totally indulgent, supremely delicious sweet that was suitable for her own health woes, Khan also set out to create a brownie that was good for everyone's health. 
"Everyone's unique. I may be triggered by legumes, but that doesn't mean you will be," she points out. But at the same time, Khan hopes to make clean eating healthier with a more inclusive and positive approach.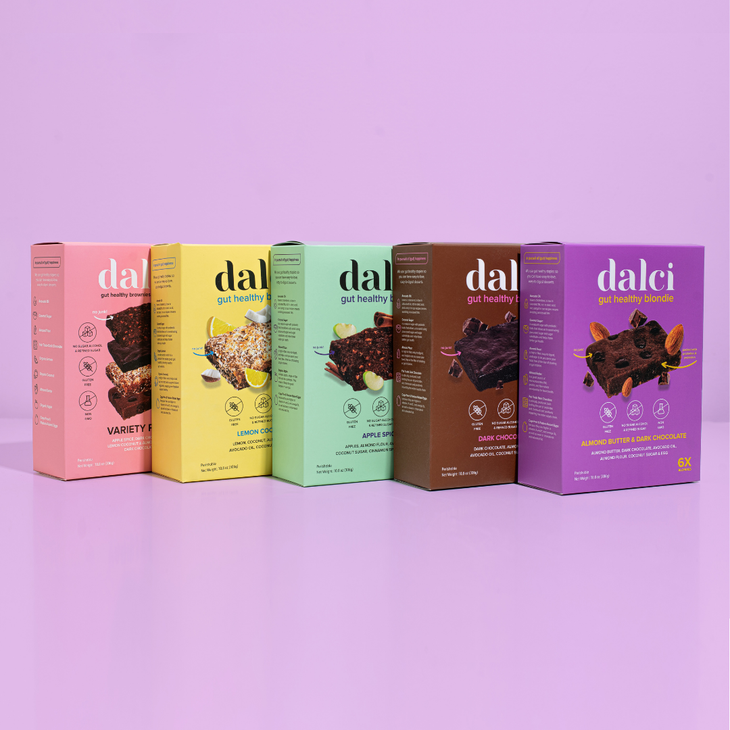 "When I think of clean eating, I think of quality," Khan explains. "I'm looking at food not just as energy, but for enjoyment – but also, what can it do for me? What's [the food] nourishing?" 
Of course, creating a clean brownie didn't come easily. Khan began churning out brownies and blondies in her home kitchen, adjusting and tweaking the recipes as needed to get the taste and the natural ingredients just right. 
"Just on the Lemon Coconut Blondie alone we went through 125 different iterations," Khan says. She tested every iteration in the midst of the COVID-19 pandemic, which led her to utilize some genius creative approaches. "I would go to the pier, sit 6 feet apart and throw my brownies to my friends to get as much feedback as possible."
So, what's inside these delicious brownies and blondies? When you take a bite, you're enjoying a gluten-free, dairy-free, grain-free, soy-free and preservative-free treat. These brownies are nutrient-dense and a great choice if you're looking for less bloating. They're made with foods that are friendly for IBS, SIBO, stomach cramps and even hormone problems. And, of course, there's no refined sugar, sugar alcohols, hydrogenated or refined oils, chemical alternatives or any gut-irritating gums and emulsifiers.
Every dalci treat features clean, non-inflammatory ingredients with naturally-occurring digestive enzymes. Here's a sample of what creates these unique snack foods:
Unrefined natural coconut sugar with prebiotics and probiotics

Avocado oil to aid digestion and heart health

Almond flour with plenty of fiber and healthy fats

Fair Trade dark chocolate, which offers antioxidants

Almond butter with gut-nourishing prebiotics

Lemon, which lowers inflammation and provides antioxidants

Apple for plenty of pectin, a bacteria-fostering prebiotic

Cinnamon to neutralize free radicals
Together, these ingredients bring you a brownie that's not just clean – it's also fun and full of flavor. 
Dalci is more than just a brownie
Woman-founded with a team that's completely immigrant-based, dalci is something totally different from your typical packaged snacks. Khan and her diverse team of artisan bakers, food scientists and other experts put transparency and diversity at the center of everything dalci stands for. 
"[The team] happened organically," says Khan. "During the pandemic, the people who came to us had lost their jobs. They were hungry and passionate, and what I learned from their backgrounds was a lot of unique expertise. Previously, they were on a line; dalci gives them the chance to have creativity."
But as a woman trying to get an innovative product off the ground, Khan didn't experience the same natural ease. 
"It was really hard to raise funds. Even though I came in with proof of concept, with real sales data, I got tons of pushback," she explains. "It kind of brought me down. As a female, I found myself having to prove more. It was interesting how there was a subgroup of people who didn't appreciate my own experience, my own knowledge, my own chronic pain."
And trying to get others on board with a clean, gut healthy brownie also proved difficult. "When I was talking about holistic eating, even though I came with statistics, it was 'It's a you problem.' That made me understand why only 3 percent of minority female founders get funding," Khan says.
So, Khan went a different route, seeking out like-minded individuals who were founders themselves to grow dalci. And she's just getting started.
"My dream is really to build a brand that people resonate with in their heart," Khan explains. "I want people to think about dalci and have that same connection as baking cookies with their moms, dads, friends. I hope to build a sustainable business so I can reach more people and really make a difference."
Go ahead, treat yourself to a dalci brownie for breakfast (seriously!)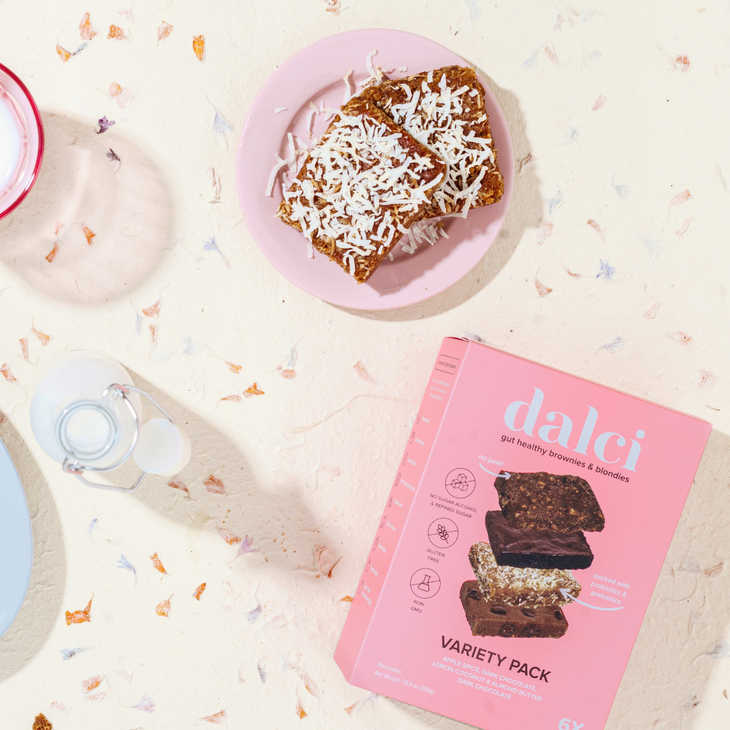 No matter how or when you're munching on one of dalci's brownies, you're getting a great, health-forward food. It's a tasty option when you want to nourish your body with good food and feel like you're totally treating yourself – a win when it comes to eating clean.
As Khan herself suggests, there's a dalci brownie for every purpose and kind of craving. "[My favorite variety] depends on my mood," she says. "If I'm having wine, I'm pairing it with the Dark Chocolate Brownie. If it's everyday for a midday pick-me-up, it's the Almond Butter Dark Chocolate Blondie. On sunny days, I go for Lemon Coconut."
Her best advice? Have a brownie first thing in the morning! "I'll eat them for breakfast as a frozen crumble," Khan shares. "They feel like little ice cream bites!" 
And to be totally honest, I can't stop snacking on dalci! My favorite flavor? It's so hard to choose – but when I found out that dalci offered a Lemon Coconut Blondie, I was over the moon. As a kid, my favorite sweet treat was a slice of lemon loaf, and the tart lemon blondie from dalci reminds me of those so perfectly. But when I'm craving a true brownie, dalci's classic Dark Chocolate Brownie can't be beat. Sinking your teeth into one of these fudgy, moist bars makes you feel like you're eating a traditional brownie. 
Of course, after I learned Khan's freezer trick, I'm also a brownie-for-breakfast girl. There's really no better way to make your mornings feel like a treat than to sprinkle brownie bits over your Greek yogurt or your smoothie bowl.
However you try dalci's uniquely delicious foods, the goal is to wholly enjoy them. As Khan says, "[Our brownies] should give you joy. When you're trying to navigate clean eating, which can be daunting, dalci is there so you don't have to eat a whole Duncan Hines."