Meet the Changemakers: Deborah Torres of Atlas Monroe
Meat alternative food brand Atlas Monroe has been making waves in vegan media. Join CE as we sit down with founder and CEO Deborah Torres to talk about her famous fried chick'n, her story to success and the obstacles along the way.
Heading out the door? Read this article on the new Outside+ app available now on iOS devices for members! Download the app.
This February, we're celebrating Black History Month with our Meet the Changemakers series. We'll be spotlighting examples of Black excellence in the food industry!
In 2019, vegan meat alternative delivery brand Atlas Monroe was featured on Shark Tank where they declined a million-dollar deal in favor of retaining full ownership of their company. In 2021, their tenacity has paid off, with the brand now owning a multimillion-dollar manufacturing facility and shipping out more orders than ever. Their menu is replete with plant-based dupes of ribs, turkey stuffing and their signature award-winning fried chick'n. Bragging rights include 2020's Best Plant-Based Fried Chick'n by Mother Cluckers and Best Fried Chicken at the National Fried Chicken Festival (a festival for real fried chicken). Fans include Lizzo, Jermaine Dupree, DJ Duffy, Shark Tank's Mark Cuban and vegan media queen Tabitha Brown.
CE sat down with Atlas Monroe's founder and CEO Deborah Torres to discuss the brand's trajectory, from their unlikely start at the 2017 Vegandale festival to garnering mass vegan media fame today. Read on for Deborah's inspiring story: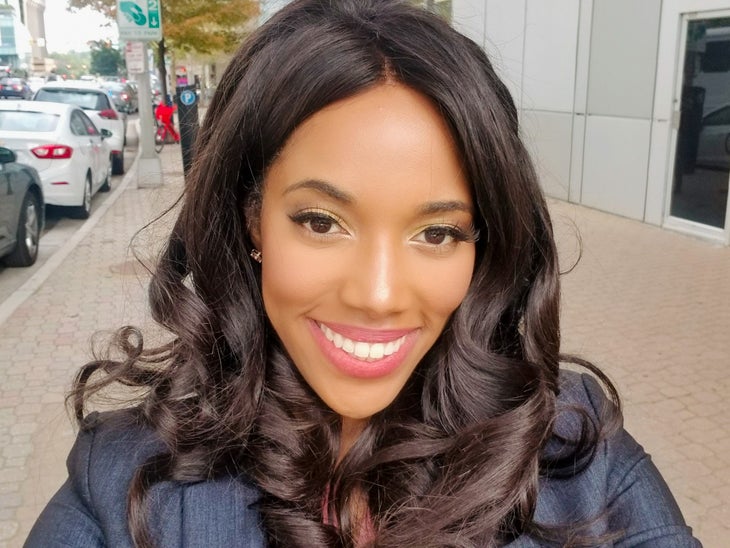 Clean Eating: Many people are getting familiar with your brand, so let's first get familiar with you. Tell us about yourself.
Deborah Torres: I largely grew up in the Silicon Valley, San Jose. Both of my parents were born outside of the United States – my mother is from England, my father is from Guyana, so we grew up eating delicious global cuisine. Both my grandmothers owned restaurants, so my parents are big foodies. I was spoiled by my parents and their cooking.
In my family, fried chicken is a big thing. The memory of my mom's fried chicken – real fried chicken – is better than what I have going on right now! Making vegan meat products that my family would eat and say, "This is actually very, very good," took a lot of trial and error.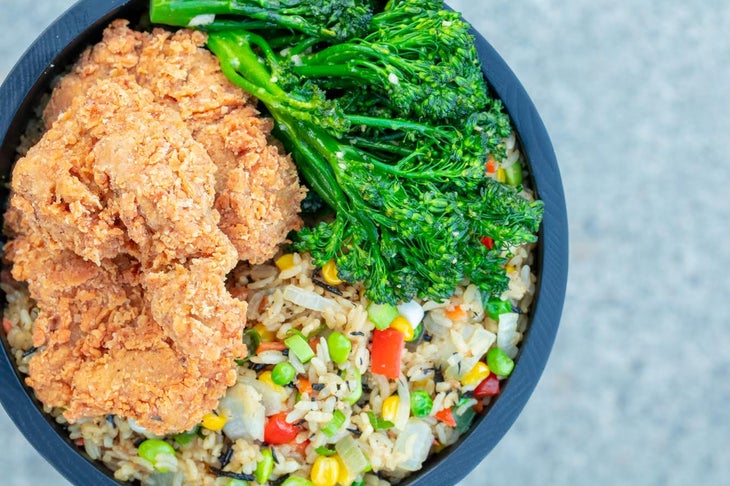 CE: What inspired the creation of Atlas Monroe, and your famous fried chick'n?
DT: I grew up eating meat with every meal. If it was missing, it felt weird. But a few years ago, my father was diagnosed with type 2 diabetes. I thought, "If I don't do anything, [my dad] is eventually not going to have a leg or an arm, or I'm going to have to see him shooting up insulin all the time."
Before the diagnosis, I'd seen a documentary, Simply Raw, where six individuals with diabetes-related complications were put on a raw vegan diet for 30 days and, at the end, saw a reduction in complications. This made me super adamant about my family trying this raw vegan diet, and we tried it for 90 days. I just dove into it. I got really good at making raw food that was very similar to the cooked food we were eating before. When you go on a raw diet, you're forced to get really creative, so I experimented with plant food textures and flavors. My food was really good because what was at stake was my father's health. There was no cheating this.
At the end of the 90 days, my dad went back to three different doctors who confirmed that he did not have diabetes, and to this day he still doesn't!
Atlas Monroe was birthed out of the raw vegan diet and that whole experimentation and introduction to plant-food textures and flavors. After we found out he no longer had diabetes, we went back to eating cooked food and my whole family became vegan from there on. I started thinking, "How can I make vegan meat?"
CE: What makes Atlas Monroe's fried chick'n special?
DT: The chick'n is derived from a vegan wheat protein base as opposed to soy protein isolate. A lot of vegan meat in the market right now is made with soy protein isolate. I wanted to stay away from that because soy protein isolate, a lot of the time, is genetically modified. After the raw diet, we didn't want to go back to eating genetically modified foods. So, I was thinking, "How can I make something that's all natural, plant-based, made with as many organic ingredients as possible and that my family is going to love?" That was my challenge initially and coming up with a recipe was very difficult. It took roughly two years until I was like, "I could sell this."
CE: Atlas Monroe was largely an overnight success. How did you get your start?
DT: My ex-husband Jonathan Torres and I had always talked about having our own business. I started making this website that nobody knew about, putting up pictures of our food. In 2017, I got an email saying, "Your food looks delicious. How about you guys come out to the Vegandale Chicago 2017 festival in Grant Park, Chicago?" I'm thinking this is spam because nobody knows who we are, and I didn't respond for two months! Then, I offhandedly mentioned it to my mom. She was like, "What if it's real?" She convinced me to email them back and I did on a whim… and, it was real! The festival was in two weeks and they told us we should still come.
The day of the festival, our line was longer than a football field. The owners had posted a photo from our website and by the end of the day, the whole festival – the DJs, the artists – were coming to our booth saying "Everybody's talking about this chick'n, we gotta try it!"
That's how it really started. From that point forward, we were invited to other festivals and events, and it kept evolving from word of mouth.
Today, we own a multimillion-dollar manufacturing facility. We're aiming to go into stores this year, in 2021. I normally don't say this just because things change and different deals are made, but I will say for sure that one of the stores will be Whole Foods.
Related: Black Foodfluencers Making Waves
CE: What are some challenges you faced along the way?
DT: We faced a host of challenges in 2019. My dad, for 20 years, had volunteered at the Gilroy Garlic Festival. 2019 was the year the mass shooting took place at the festival. My mom called and said "Your dad's under a table covering somebody with his body." It broke my heart because my dad is the most selfless person. After the shooting, he was different. My mom was saying he wasn't sleeping and was really quiet. About three weeks later, he had a heart attack. (He's made a full recovery since then).
The same day as his heart attack, vegan media star Tabitha Brown posted a video reviewing Atlas Monroe. I had all these new people from her following but couldn't even take on orders! For an entire year, we were completely backed up. As soon as our products were back in stock, within 3 to 4 hours, we sold out. At first, having a bigger demand than our supply was a huge issue.
Having our own manufacturing facility now, we've solved that, but don't want to overwhelm ourselves again as we go into grocery stores. In the grocery store space, you want to introduce one product at a time. A big thing I learned when we went on Shark Tank was to take one day at a time, one thing at a time.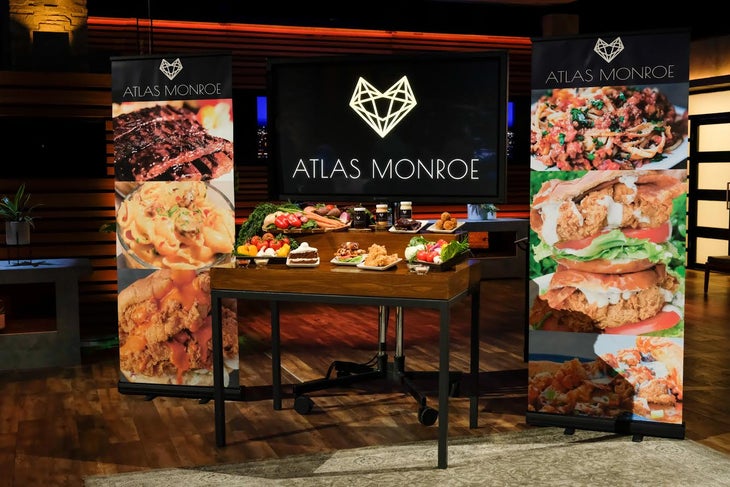 Atlas Monroe featured on Shark Tank in 2019.
Fun Facts about Deborah
Deborah skipped a grade and graduated high school at just 15, launching her into the work-force and cooking for herself at a young age.
No newcomer to fried chicken, Deborah worked at KFC & Popeyes while in high school. Though her chick'n recipe takes no inspiration from these joints, it would be an honor to partner with them, she says. "Atlas Monroe would be a perfect, epic marriage to Popeyes' existing chicken sandwich."
The name Atlas Monroe has a 2-part meaning: "Atlas" is a reference to the global influences of the spices used in her recipe, inspired by Deborah's parents, born in England and Guyana. "Monroe" is a Gaelic word, meaning, "pure, from the mouth of the river." Deborah believes that all food comes from water, water being the foundation for life.