Here's a 1-Week Mediterranean Meal Plan for Mental Sharpness and Deep Focus
Not only is the Mediterranean diet delicious but it also boasts many health benefits. Did you know that it even supports brain health as you age? Follow this one-week meal plan to help nourish your brain and support your overall health.
Heading out the door? Read this article on the new Outside+ app available now on iOS devices for members! Download the app.
Brightly colored plant-based foods, nuts, seeds and healthy fats are hallmarks of the Mediterranean diet. While there is no specific food list associated with Mediterranean eating (there are many countries surrounding the Mediterranean region, each with different eating patterns), generally it is a diet rich in antioxidants, phytochemicals and anti-inflammatory fats.
But the Mediterranean diet isn't just about what to include, it's also about what's excluded: excess sugar, refined carbohydrates, trans fats and fast food.
The Mediterranean style of eating is considered an anti-inflammatory diet, with brain benefits specifically. It has been connected to better cognitive function in people over the age of 65, as well as slower rates of cognitive decline. In fact, a 2021 research study looked at the impact of a Mediterranean diet on brain deposits and brain atrophy. Study participants who self-reported a healthy, Mediterranean-style of eating actually had less beta-amyloid and tau proteins in their brains, which can play a role in brain neuron death. (Read more about why the Mediterranean diet protects your brain here.)
We've put all the principles of the Mediterranean diet to work in this one-week meal plan with delicious recipes and a shopping list ready to make your meal planning extra easy.
Section divider
The recipes
Spanakopita Egg Casserole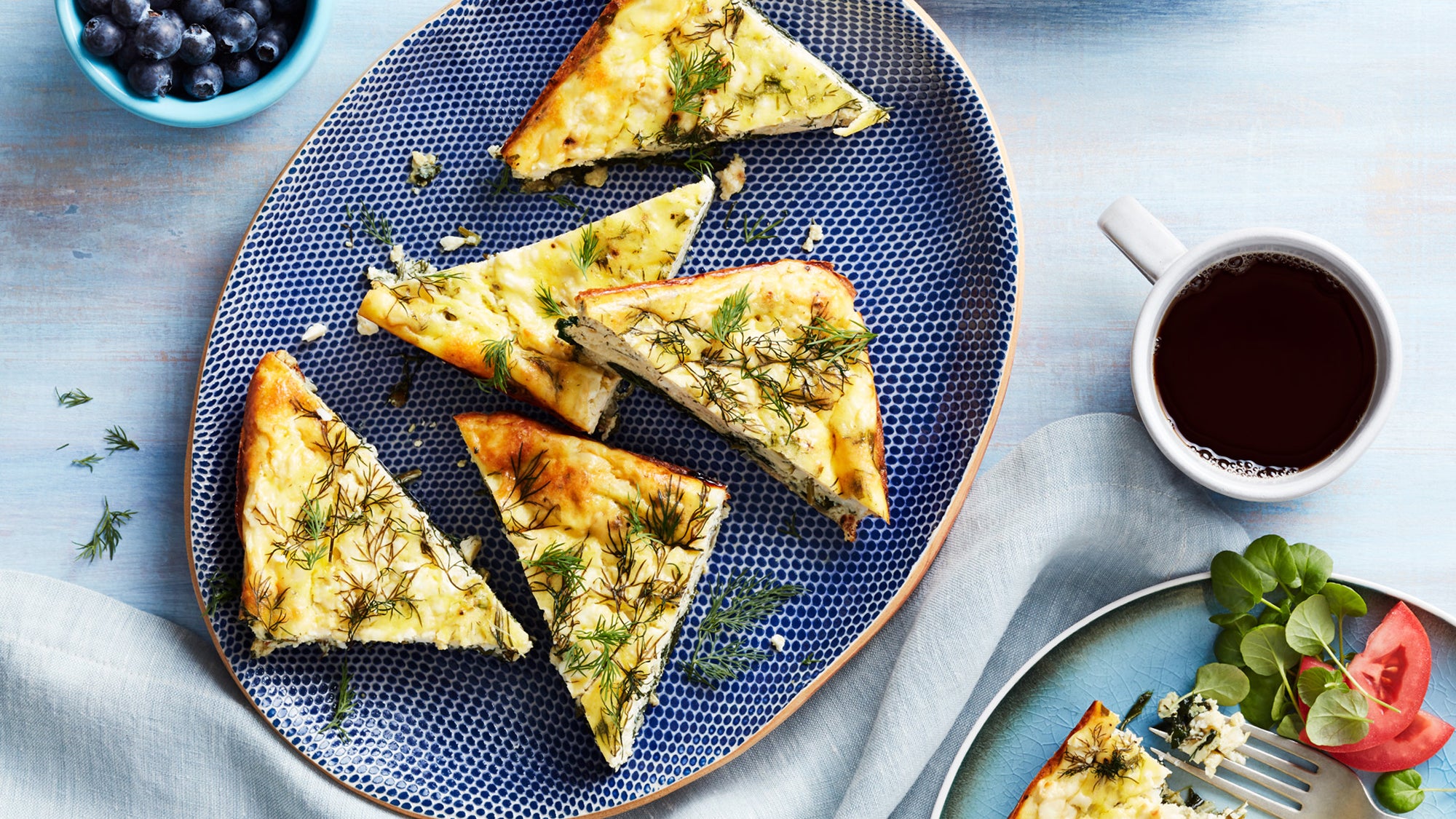 This breakfast take on a Greek favorite skips the heavy pastry and gives you a good dose of greens, along with heaps of feta and creamy ricotta for a satisfying start to the day. Get the recipe here.
Herby Chicken Kebabs with Olive-Studded Orzo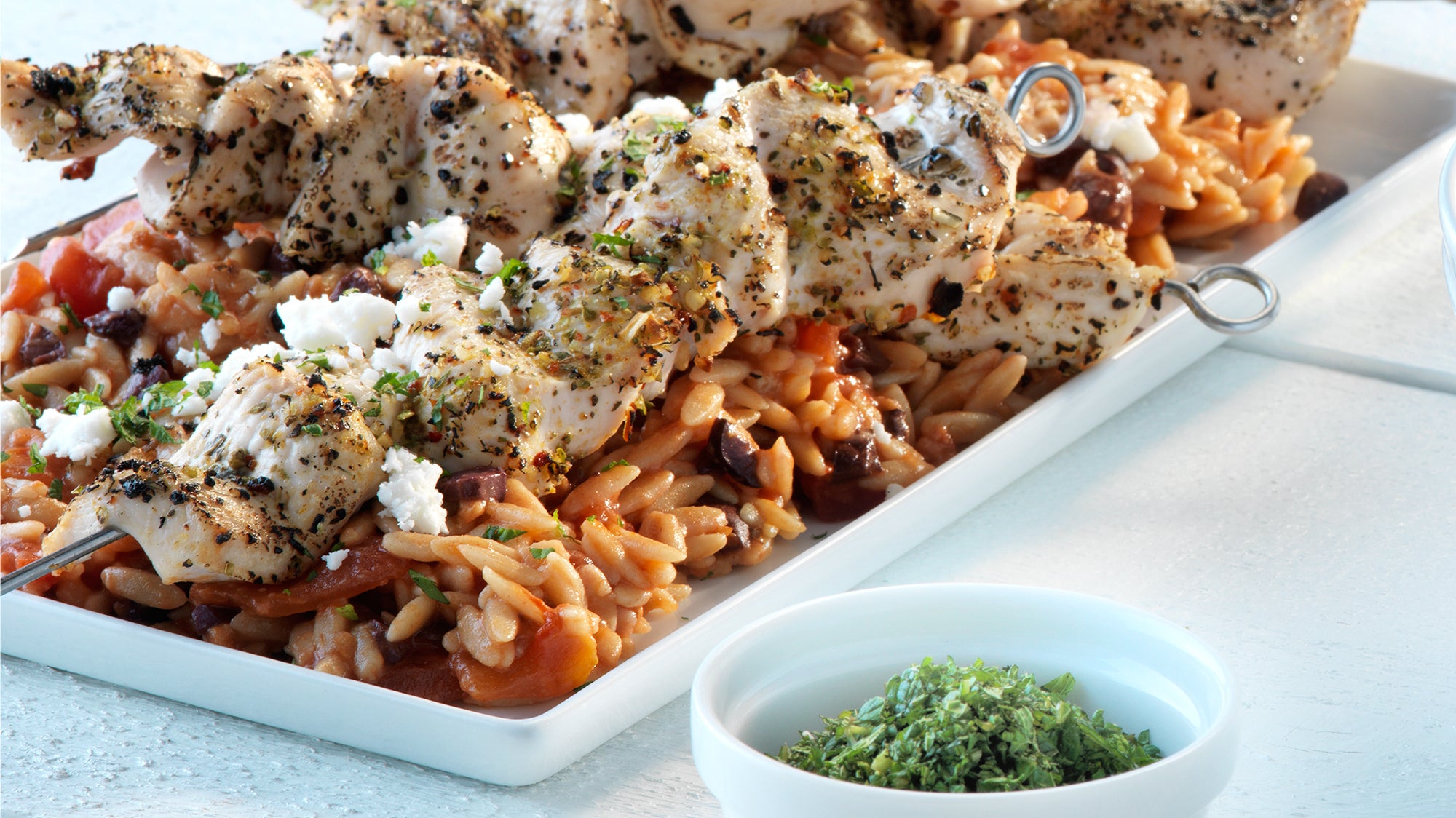 Bring a little taste of the Mediterranean home tonight with these easy herbed chicken skewers served with saucy, olive-studded orzo. Get the recipe here.
Spanish Chickpea & Red Bell Pepper Soup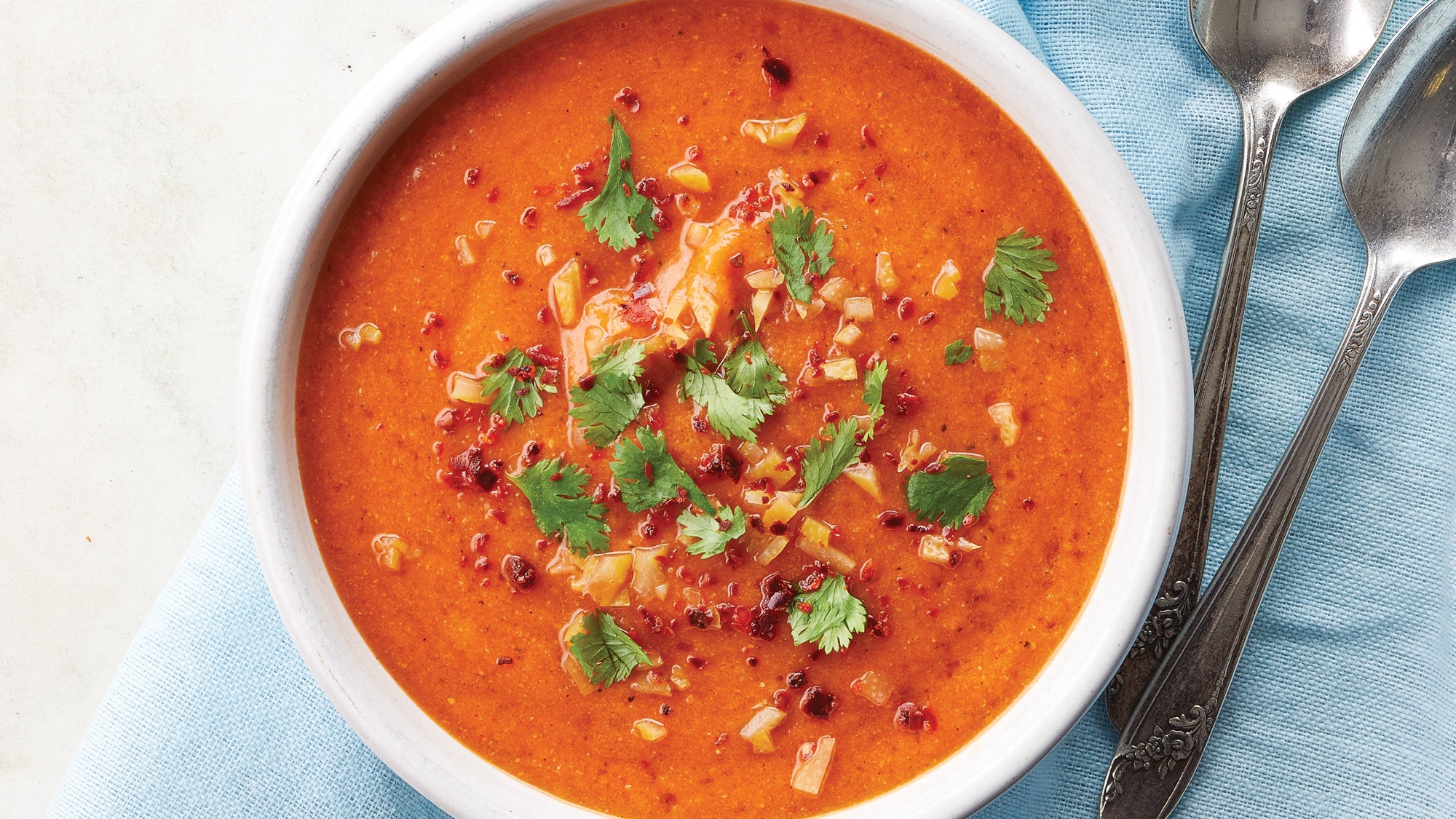 Using jarred red peppers is a clever shortcut to bring deep roasted flavors to this vibrant soup without taking the time to roast them yourself. Get the recipe here.
Mediterranean Lamb & Eggplant Bolognese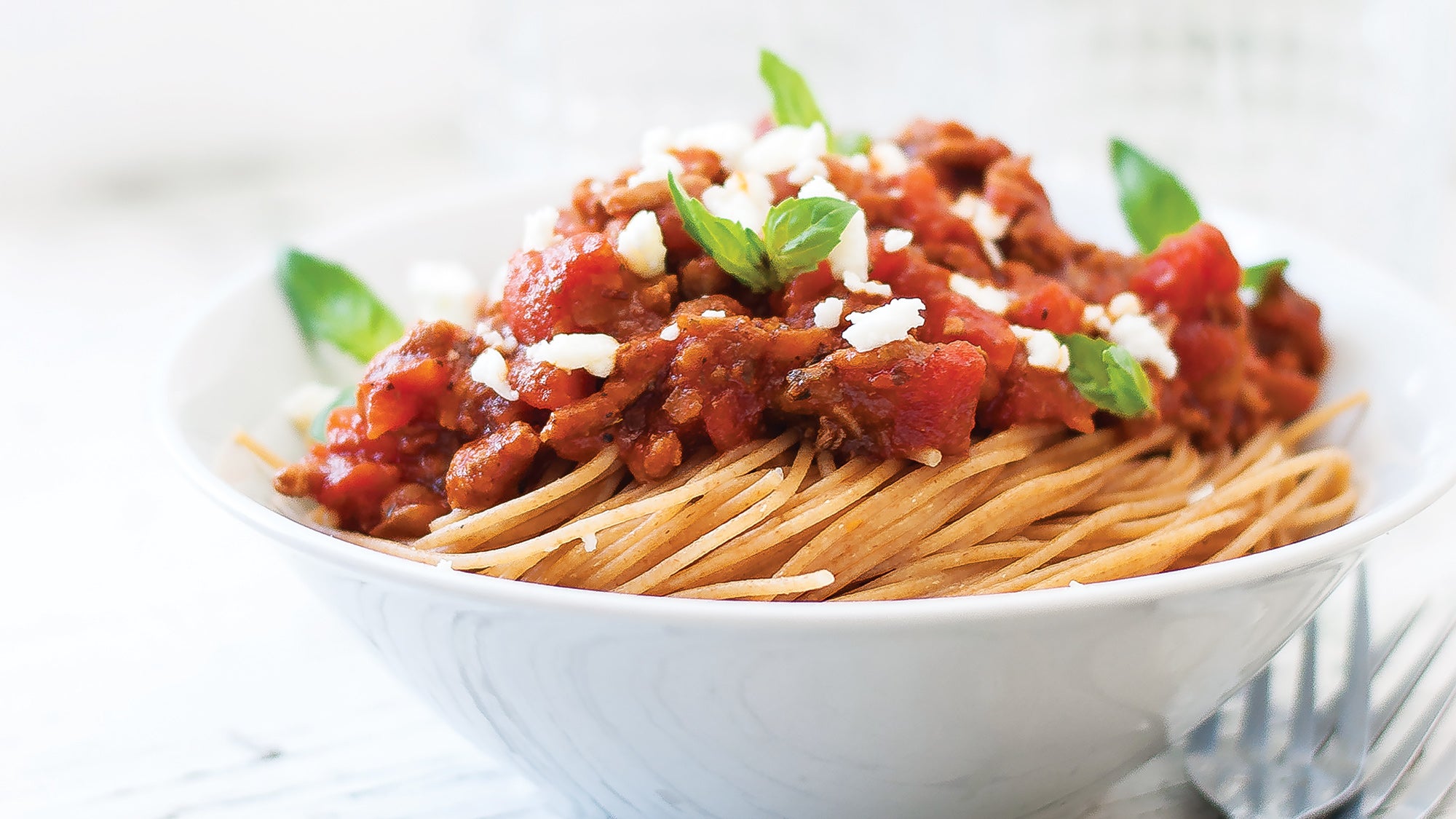 Bolognese is a traditional Italian tomato and meat sauce that simmers gently to thicken. Our lamb bolognese version features ground lamb and eggplant for rich and filling flavor. Get the recipe here.
Mediterranean Salad with Crispy Chickpeas & Herbed Vinaigrette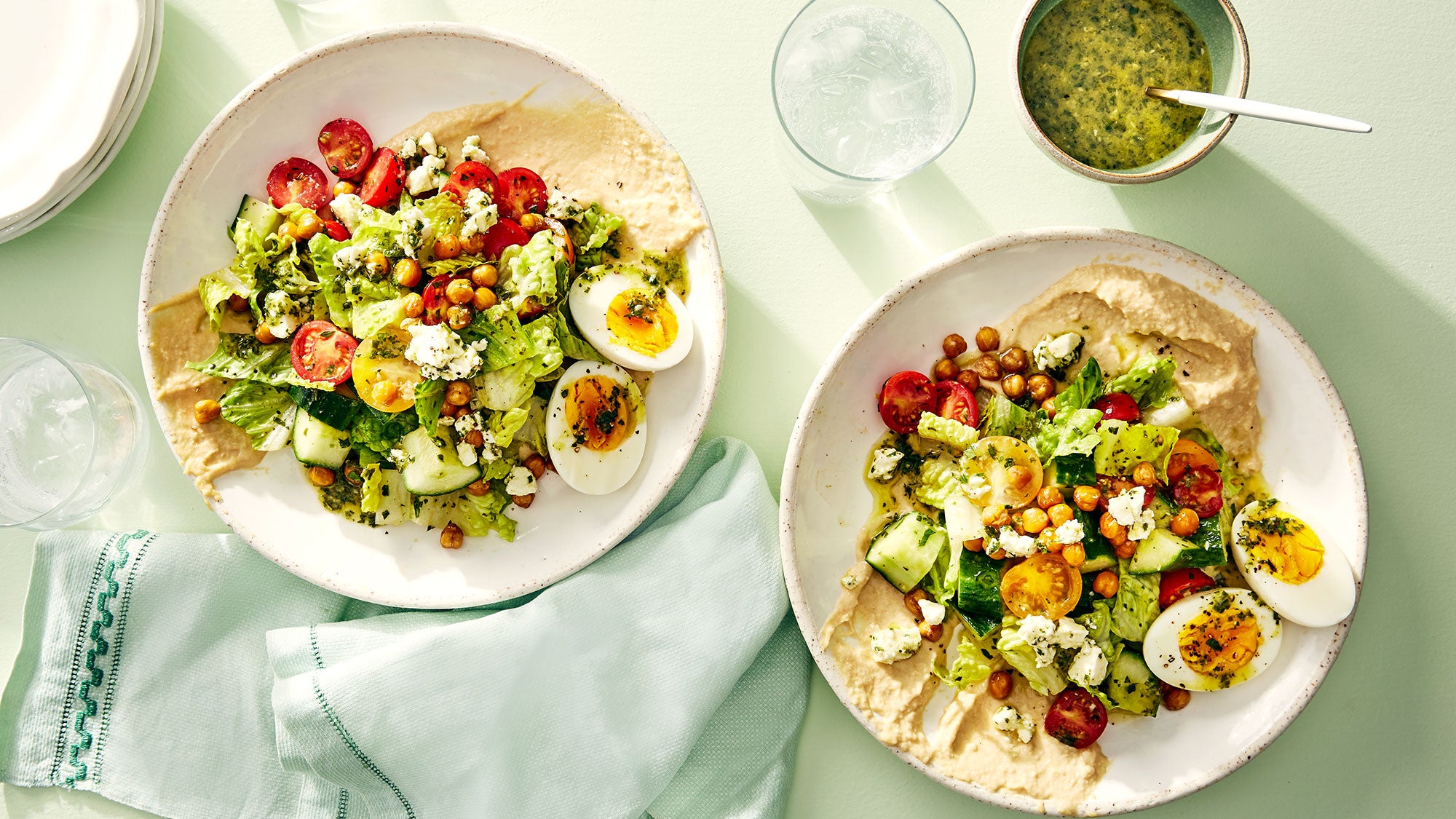 Call us chickpea obsessed, but this salad features the beloved legume in two ways – oven-baked to a crisp and then smeared under the salad in hummus form. Get the recipe here.
Grilled Eggplant Caprese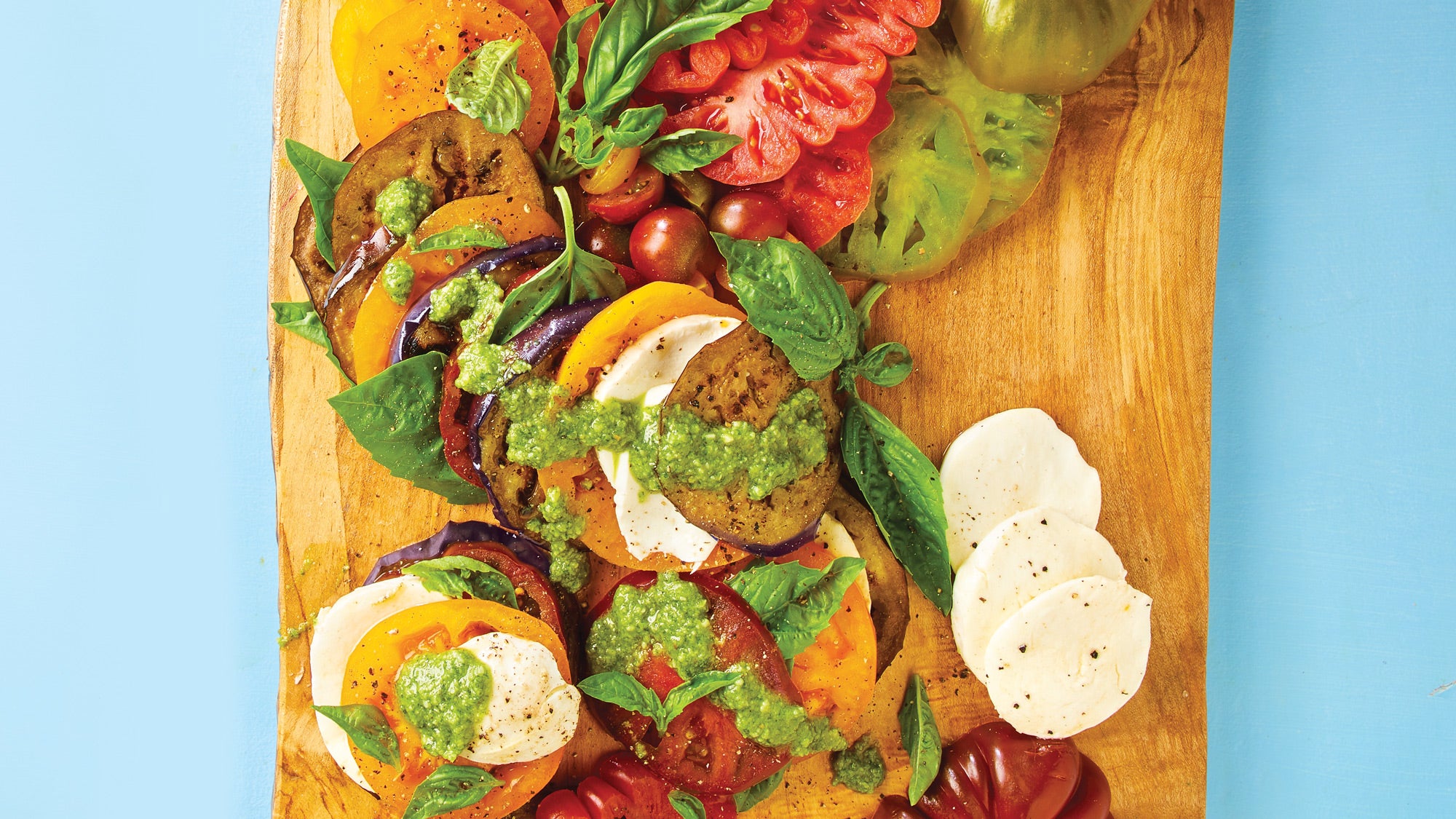 A twist on a typical Caprese salad, our version uses grilled eggplant slices that you can make ahead for easier prep. Get the recipe here.
Halibut with Olive Tapenade Crust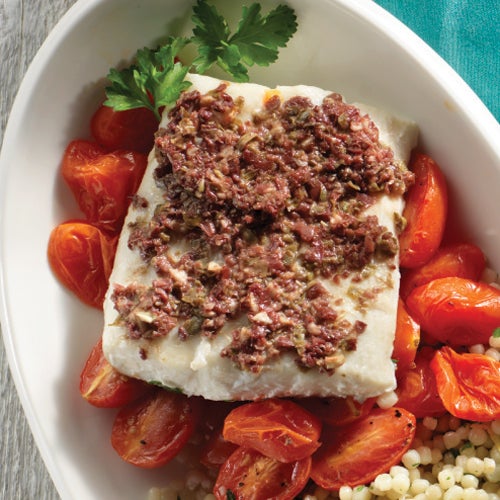 A quick olive, garlic and caper tapenade tops delicate halibut and is served with roasted grape tomatoes and lemon-scented couscous with fresh parsley. Get the recipe here.
Section divider
This week's menu
| | | | | |
| --- | --- | --- | --- | --- |
| | Breakfast | Lunch | Dinner | Total Nutrients |
| Monday | 2 servings Spanakopita Egg Casserole (save leftovers; freeze 2 servings) | 1 serving Herby Chicken Kebabs with Olive-Studded Orzo (save leftovers) | 1 serving Spanish Chickpea & Red Bell Pepper Soup (freeze leftovers) | Calories: 1,466 Fat: 70 g, Sat. Fat: 21 g, Carbs: 122 g, Fiber: 23 g, Sugars: 14 g, Protein: 86 g, Sodium: 2,000 mg Cholesterol: 95 mg |
| Tuesday | 2 servings Spanakopita Egg Casserole (leftovers) | 1 serving Mediterranean Lamb & Eggplant Bolognese (save leftovers; freeze 1 serving) | 1 serving Herby Chicken Kebabs with Olive-Studded Orzo (leftovers) | Calories: 1,430, Fat: 63 g, Sat. Fat: 26 g, Carbs: 118 g, Fiber: 21 g, Sugars: 22 g, Protein: 93 g, Sodium: 1,702 mg, Cholesterol: 149 mg |
| Wednesday | 1 serving Mediterranean Salad with Crispy Chickpeas & Herbed Vinaigrette (save leftovers) | 1 serving Herby Chicken Kebabs with Olive-Studded Orzo (leftovers) | 1 serving Mediterranean Lamb & Eggplant Bolognese (leftovers) | Calories: 1,522, Fat: 72 g, Sat. Fat: 20 g, Carbs: 133 g, Fiber: 28 g, Sugars: 28 g, Protein: 82 g, Sodium: 1,695 mg, Cholesterol: 344 mg |
| Thursday | 1 serving Mediterranean Salad with Crispy Chickpeas & Herbed Vinaigrette (leftovers) | 1 serving Grilled Eggplant Caprese (save leftovers); 1 serving Halibut with Olive Tapenade Crust (save leftovers) | 1 serving Herby Chicken Kebabs with Olive-Studded Orzo (leftovers) | Calories: 1,673, Fat: 86 g, Sat. Fat: 21 g, Carbs: 126 g, Fiber: 24 g, Sugars: 22 g, Protein: 105 g, Sodium: 1,974 mg, Cholesterol: 401 mg |
| Friday | 1 serving Mediterranean Salad with Crispy Chickpeas & Herbed Vinaigrette (leftovers) | 1 serving Mediterranean Lamb & Eggplant Bolognese (leftovers) | 1 serving Grilled Eggplant Caprese (save leftovers); 1 serving Halibut with Olive Tapenade Crust (save leftovers) | Calories: 1,617, Fat: 89 g, Sat. Fat: 25 g, Carbs: 114 g, Fiber: 29 g, Sugars: 26 g, Protein: 86 g, Sodium: 1,842 mg, Cholesterol: 364 mg |
| Saturday | 1 serving Mediterranean Salad with Crispy Chickpeas & Herbed Vinaigrette (leftovers) | 1 serving Spanish Chickpea & Red Bell Pepper Soup (leftovers) | 1 serving Grilled Eggplant Caprese (save leftovers); 1 serving Halibut with Olive Tapenade Crust (save leftovers) | Calories: 1,653, Fat: 96 g, Sat. Fat: 20 g, Carbs: 118 g, Fiber: 31 g, Sugars: 18 g, Protein: 79 g, Sodium: 2,140 mg, Cholesterol: 310 mg |
| Sunday | 2 servings Spanakopita Egg Casserole (thawed and heated) | 1 serving Mediterranean Lamb & Eggplant Bolognese (leftovers) | 1 serving Grilled Eggplant Caprese (save leftovers); 1 serving Halibut with Olive Tapenade Crust (save leftovers) | Calories: 1,525, Fat: 80 g, Sat. Fat: 31 g, Carbs: 99 g, Fiber: 22 g, Sugars: 20 g, Protein: 97 g, Sodium: 1,849 mg, Cholesterol: 169 mg |
Section divider
Shopping list