Support Your Weight Loss Goals with This 1-Week Meal Plan
We packed this delicious one-week meal plan with fiber-rich and anti-inflammatory meals to keep you satiated while helping you hit your weight loss goals.
Heading out the door? Read this article on the new Outside+ app available now on iOS devices for members! Download the app.
Moderate carb intake, lots of protein and fiber-rich fruits and veggies like carrots and beans help you to feel full without upping your calorie count. And since some research has linked chronic inflammation to weight gain, the dishes in this meal plan are packed with foods that possess anti-inflammatory properties, ranging from the omega-3 fatty acids in trout to the antioxidants in fruits and veggies like peppers and raspberries. 
This plan is also rich in fiber, containing at least 25 g per day, which helps feed good bacteria in your gut while helping you feel satiated.
Just because you're trying to lose weight, doesn't mean you have to sacrifice flavor. This meal plan is nutritious and delicious, and at less than 1400 calories a day it helps keep your weight loss on track. 
Section divider
The recipes
Smoky Sweet Potato Bowl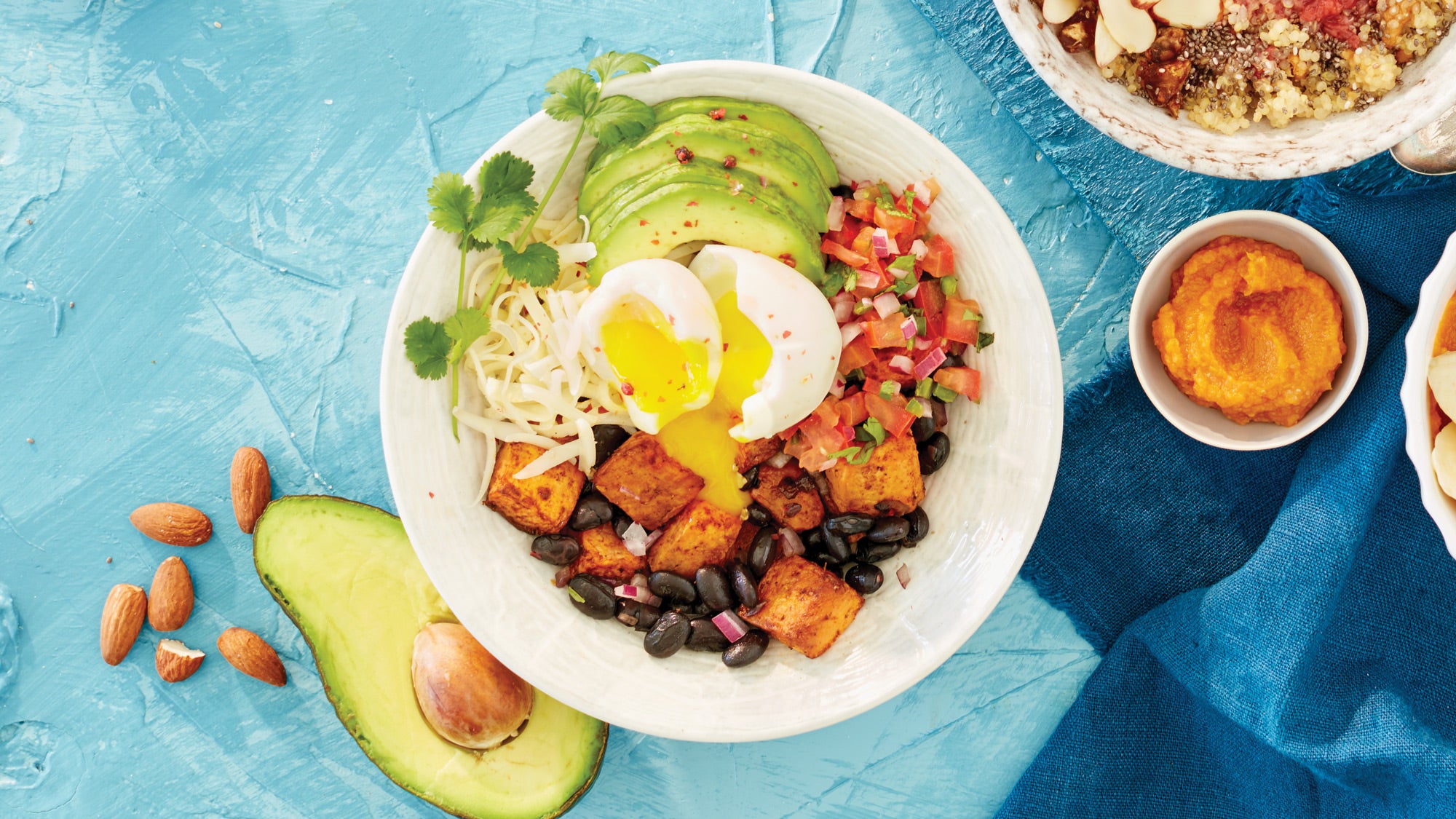 This creamy and spicy sweet potato breakfast bowl is a cozy alternative to oatmeal. Get the recipe here.
Mango Tofu Salad with Peanut Dressing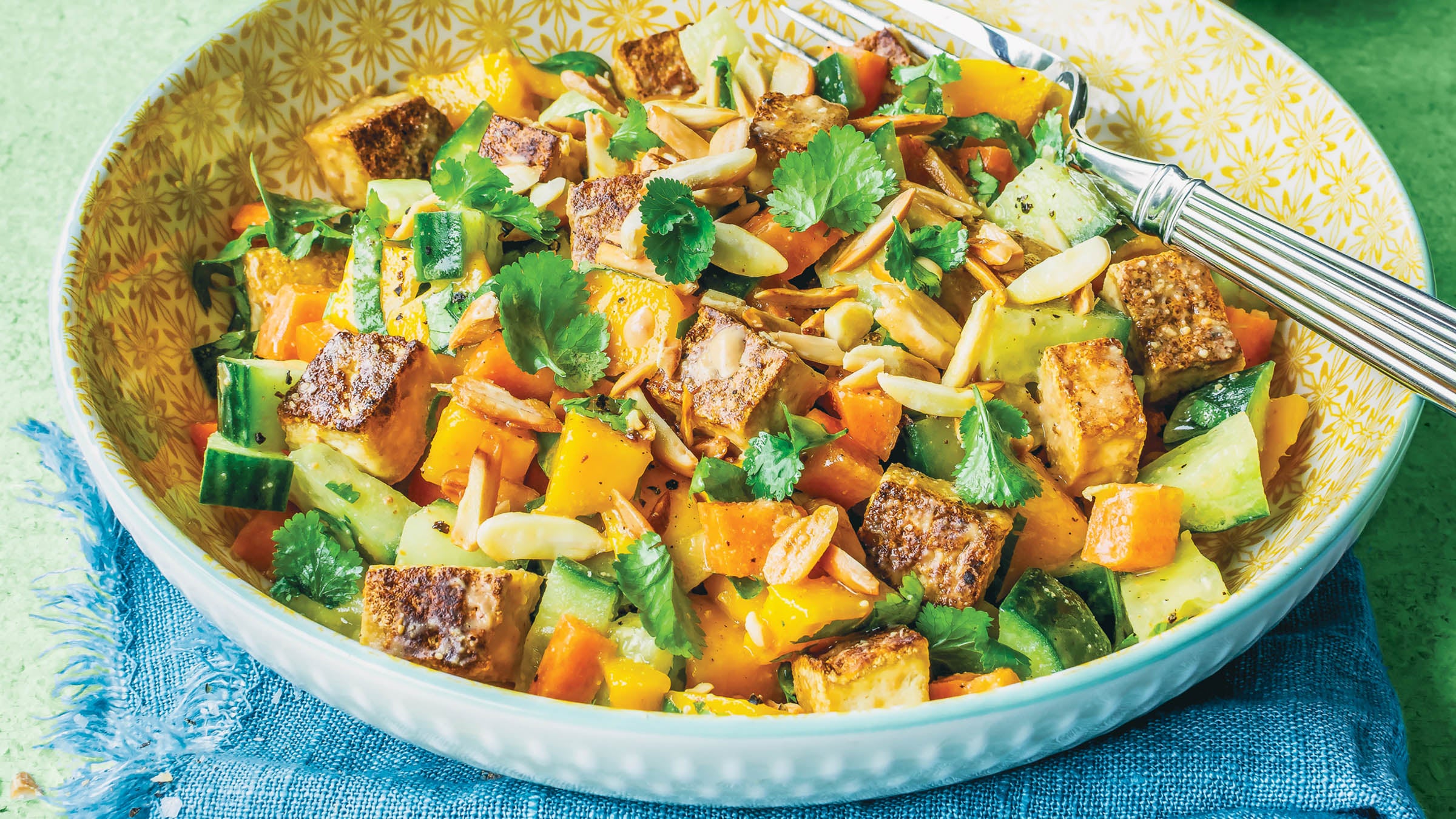 This four-ingredient dressing adds a nutty, sesame flavor to this colorful salad. If you prefer, you can easily substitute the peanut butter with almond or cashew butter. Get the recipe here.
Spanish Chickpea & Red Bell Pepper Soup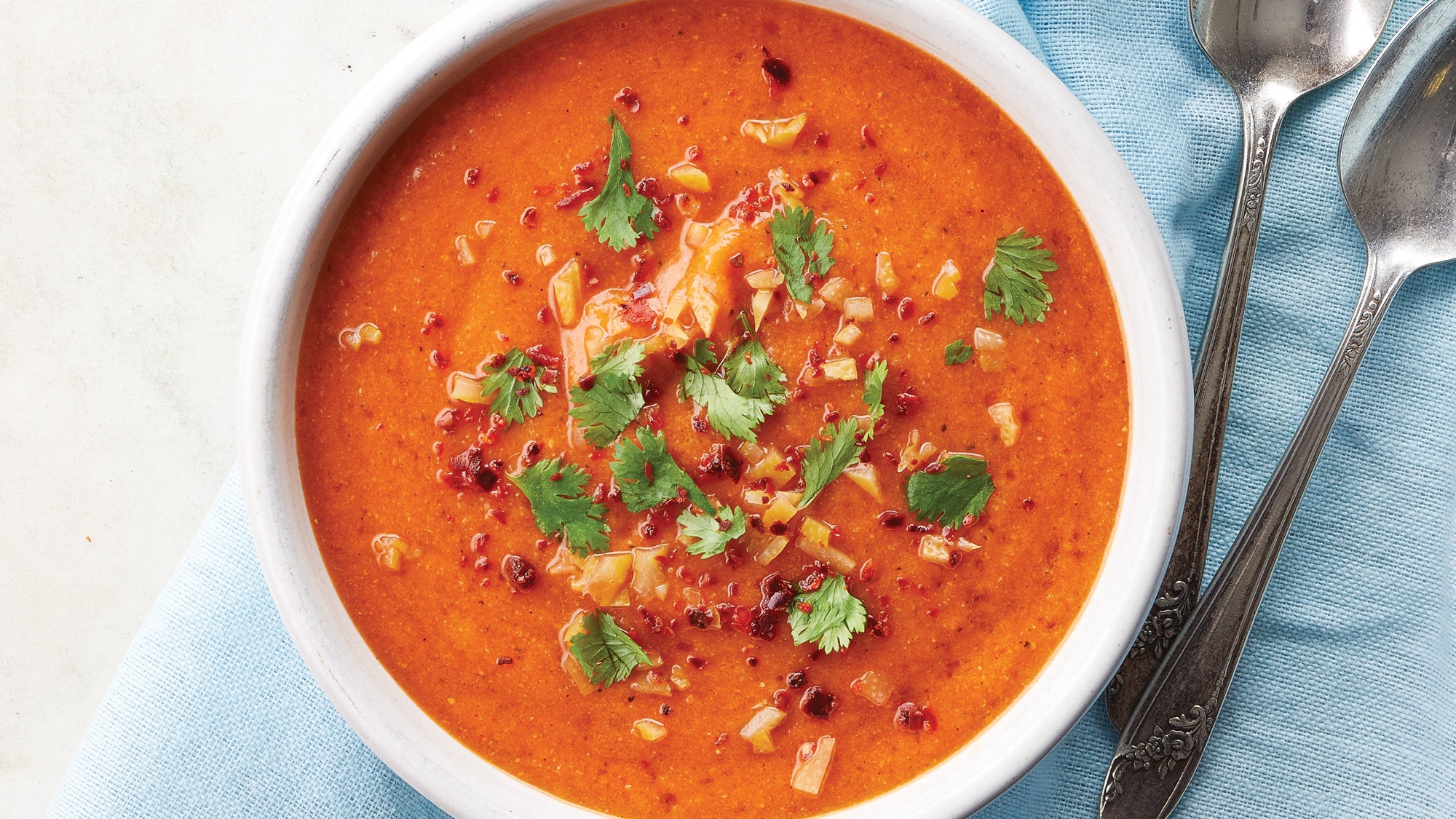 Using jarred red peppers is a clever shortcut to bring deep roasted flavors to this vibrant soup without taking the time to roast them yourself. Get the recipe here.
Mango Mojito Chicken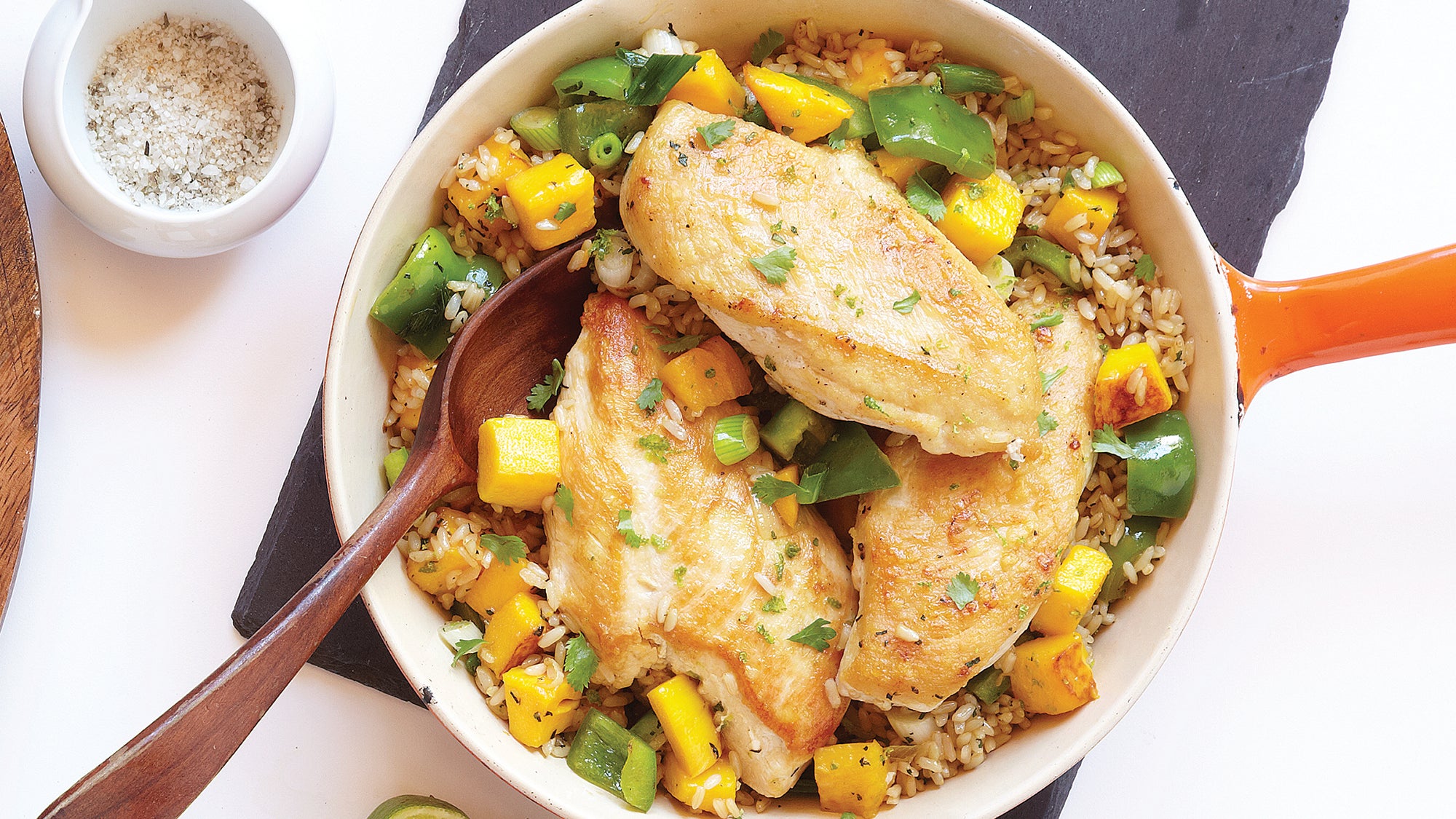 Bring the refreshing flavors of mango and mint to this satisfying and deceptively simple dinner. Get the recipe here.
No-Sugar Raspberry Almond Loaf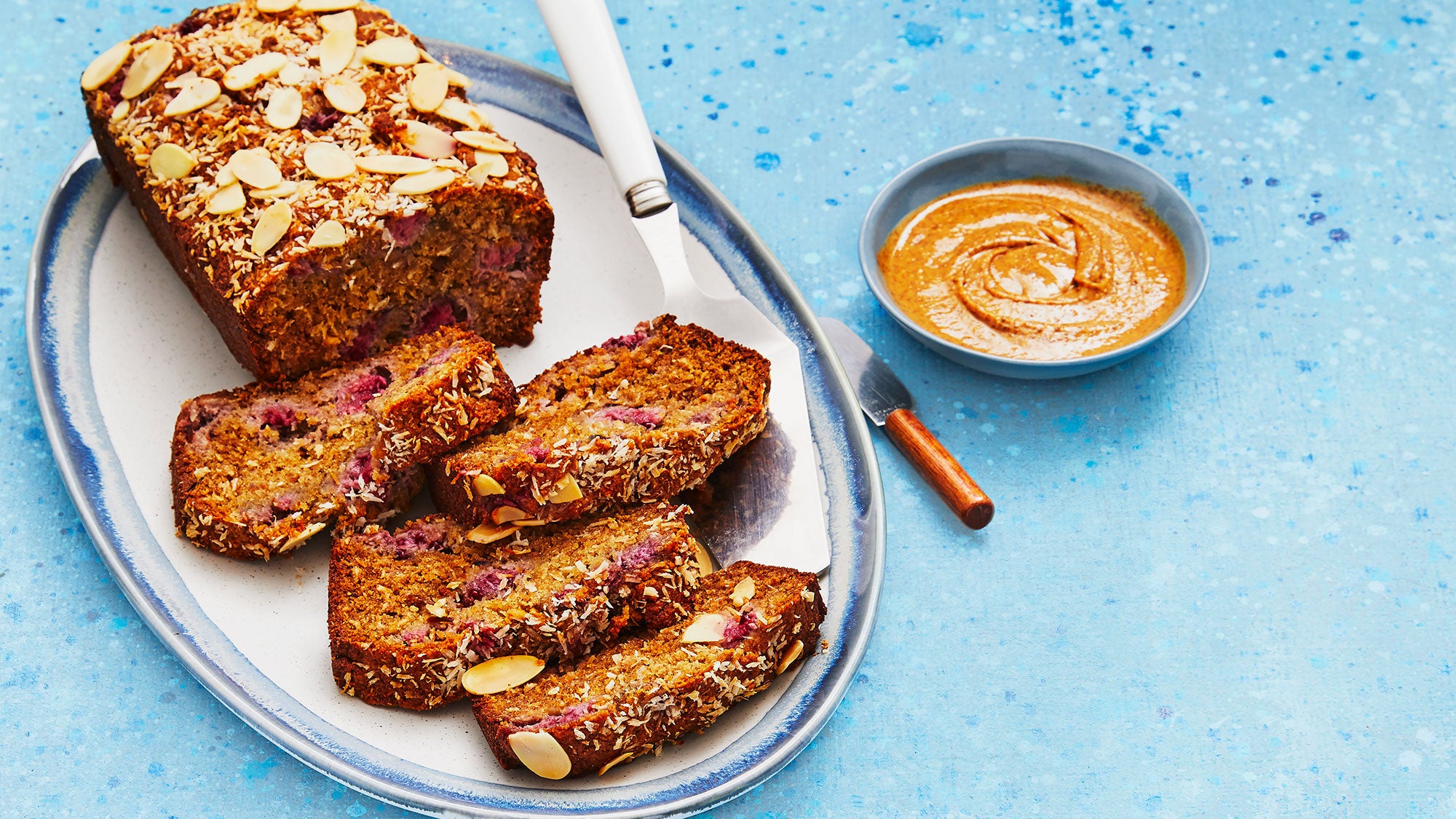 This flavorful loaf is sweetened with dates and granulated monk fruit, the latter of which is derived from a fruit native to Southeast Asia that's 100 times sweeter than granulated sugar. It's low-glycemic and works beautifully in baking recipes. Get the recipe here.
Trout with Green Bean Succotash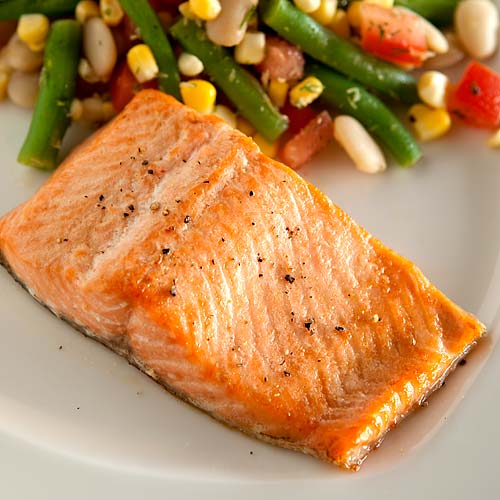 Succotash really came into its own during the Great Depression, thanks to its thrifty nature, and we think a clean version seasoned with dill, lemon juice and zest is the perfect accompaniment to our tender pink trout. Get the recipe here.
Section divider
This week's menu
| | | | | |
| --- | --- | --- | --- | --- |
| | Breakfast | Lunch | Dinner | Total Nutrients |
| Monday | 1 serving Smoky Sweet Potato Bowl (save leftovers) | 1 serving Mango Tofu Salad with Peanut Dressing (save leftovers) | 1 serving Spanish Chickpea & Red Bell Pepper Soup (freeze leftovers) | Calories: 1,323 Fat: 64 g Sat. Fat: 11 g Carbs: 138 g Fiber: 36 g Sugars: 33 g Protein: 51 g Sodium: 1,571 mg Cholesterol: 199 mg |
| Tuesday | 1 serving Smoky Sweet Potato Bowl (leftovers) | 1 serving Mango Mojito Chicken (save leftovers; freeze 2 servings) | 1 serving Mango Tofu Salad with Peanut Dressing (leftovers) | Calories: 1,161 Fat: 46 g Sat. Fat: 10 g Carbs: 131 g Fiber: 26 g Sugars: 32 g Protein: 62 g Sodium: 1,032 mg Cholesterol: 264 mg |
| Wednesday | 2 servings No-Sugar Raspberry Almond Loaf (save leftovers; freeze 4 servings) | 1 serving Mango Tofu Salad with Peanut Dressing (leftovers) | 1 serving Mango Mojito Chicken (leftovers) | Calories: 1,347 Fat: 74 g Sat. Fat: 28 g Carbs: 133 g Fiber: 25 g Sugars: 44 g Protein: 57 g Sodium: 1,123 mg Cholesterol: 159 mg |
| Thursday | 2 servings No-Sugar Raspberry Almond Loaf (leftovers) | 1 serving Trout with Green Bean Succotash (save leftovers) | 1 serving Mango Tofu Salad with Peanut Dressing (leftovers) | Calories: 1,382 Fat: 73 g Sat. Fat: 28 g Carbs: 121 g Fiber: 30 g Sugars: 45 g Protein: 62 g Sodium: 1,224 mg Cholesterol: 161 mg |
| Friday | 1 serving Smoky Sweet Potato Bowl (make a second time; save leftovers) | 1 serving Spanish Chickpea & Red Bell Pepper Soup (leftovers, thawed and heated) | 1 serving Trout with Green Bean Succotash (leftovers) | Calories: 1,375 Fat: 53 g Sat. Fat: 11 g Carbs: 139 g Fiber: 38 g Sugars: 16 g Protein: 69 g Sodium: 1,637 mg Cholesterol: 266 mg |
| Saturday | 1 serving Smoky Sweet Potato Bowl (leftovers) | 1 serving Trout with Green Bean Succotash (leftovers) | 1 serving Mango Mojito Chicken (leftovers, thawed and heated) | Calories: 1,213 Fat: 36 g Sat. Fat: 10 g Carbs: 132 g Fiber: 28 g Sugars: 15 g Protein: 80 g Sodium: 1,098 mg Cholesterol: 331 mg |
| Sunday | 2 servings No-Sugar Raspberry Almond Loaf (leftovers, thawed and heated) | 1 serving Mango Mojito Chicken (leftovers, thawed and heated) | 1 serving Trout with Green Bean Succotash (leftovers) | Calories: 1,399 Fat: 63 g Sat. Fat: 28 g Carbs: 134 g Fiber: 27 g Sugars: 27 g Protein: 75 g Sodium: 1,189 mg Cholesterol: 226 mg |
Section divider
Shopping list
Proteins & dairy
6 large eggs
1 15-oz BPA-free can black beans
1 15-oz BPA-free chickpeas
1 cup baby lima beans, fresh or frozen
8 ox extra-firm sprouted organic tofu
4 4oz boneless, skinless chicken breasts
4 4-oz trout fillets
1 small carton low-sodium chicken broth
2 oz Monterey Jack cheese, optional
Veggies & fruits
2 large sweet potatoes
2 large carrots
1 large English cucumber
2 Roma tomatoes
3 medium tomatoes
1 red onion
2 scallions/green onions
1 head garlic
1 jalapeno pepper
1 green bell pepper
1 lb fresh green beans
2 medium cobs of corn
1 bundle cilantro
1 bundle fresh mint
1 bundle fresh dill
3 limes
1 lemon
1 avocado
3 mangos
6 Medjool dates
1.5 cups frozen raspberries
1 12-oz jar roasted red peppers
1 jar preserved lemon
Whole grains
1 bag brown rice
1 bag whole-grain spelt flour
Nuts, seeds & oils
1 bottle olive oil
1 bottle toasted sesame oil
1 jar coconut oil
1 bag raw slivered almonds
1 bag almond flour
1 jar all-natural peanut butter
Pantry staples
1 bottle coconut aminos
1 bottle ground sea salt
1 bottle ground black pepper
1 bottle smoked paprika
1 bottle ground cumin
1 bottle vanilla extract
1 bag unsweetened desiccated coconut
1 bag granulated monk fruit sweetener
1 container baking powder
1 container baking soda
1 bottle unsweetened rice vinegar