Best Fondue
Most people think of fondue and think of either chocolate covered berries or cheese-dipped savories, but fondue can be so much more, and it can be done from the comfort of your home. At its essence, fondue is a dish that involves dipping small pieces of food into a hot cooking medium. What that food and medium are is entirely left up to the imagination. The food could be berries, chunks of cake, pieces of meat, or vegetables. The hot medium could be chocolate, cheese, oil, or broth. So if you're looking to expand your culinary pallet and enjoy the food sharing experience that is fondue, why not have your own fondue making set you can pull out of the pantry any time you have a party? Not sure where to start? We sorted through quite a few options and 'melted down' (see what we did there?) some of what we consider the best fondue sets.
Photo: Getty Images/iStockphoto
Heading out the door? Read this article on the new Outside+ app available now on iOS devices for members! Download the app.
Most User-Friendly
Cuisinart CFO-3SS Electric Fondue Maker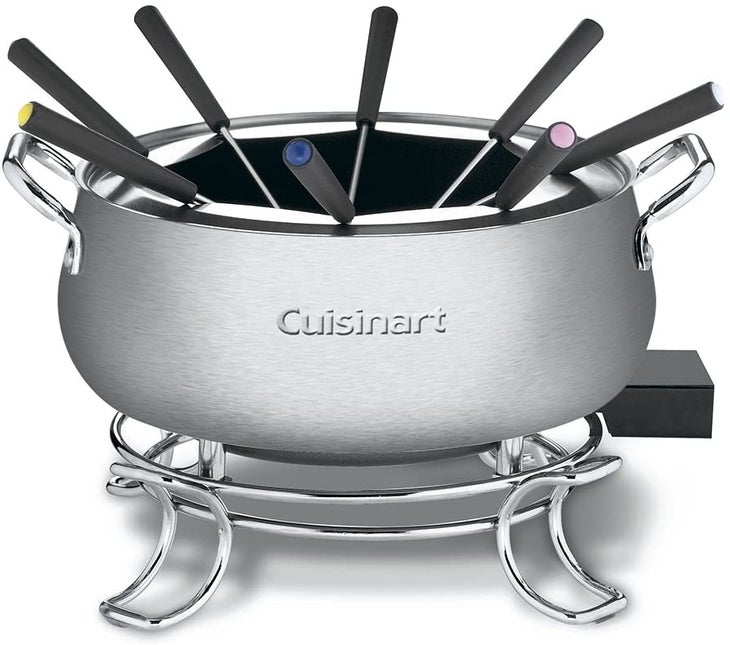 Easy To Use Fondue Anytime
This electric fondue maker from Cuisinart includes a base, bowl, temperature probe, 8 fondue forks, and fork rack that provides everything you need for at-home fondue making.
What We Liked
Chances are if you want to make fondue at home, you don't want to have to buy a dozen different pieces to complete your set. Thanks to Cuisinart, you won't have to! This electric fondue maker comes with everything you need to pull the device out of the cabinet, select your ingredients, and start enjoying restaurant-quality fondue in a matter of minutes. It features a brushed stainless steel 3-quart bowl with a nonstick interior for melting chocolates, cheeses, broths and oil, a base to keep the bowl elevated, 8 fondue forks and resting rack, and temperature probe. You can adjust the heat to your ingredients' desired temperature with a removable temperature dial on the plug and yield high-quality dips for all of your favorite foods. Get it here.
Most Stylish
Nostalgia CFF986 32-Ounce Stainless Steel Chocolate Fondue Fountain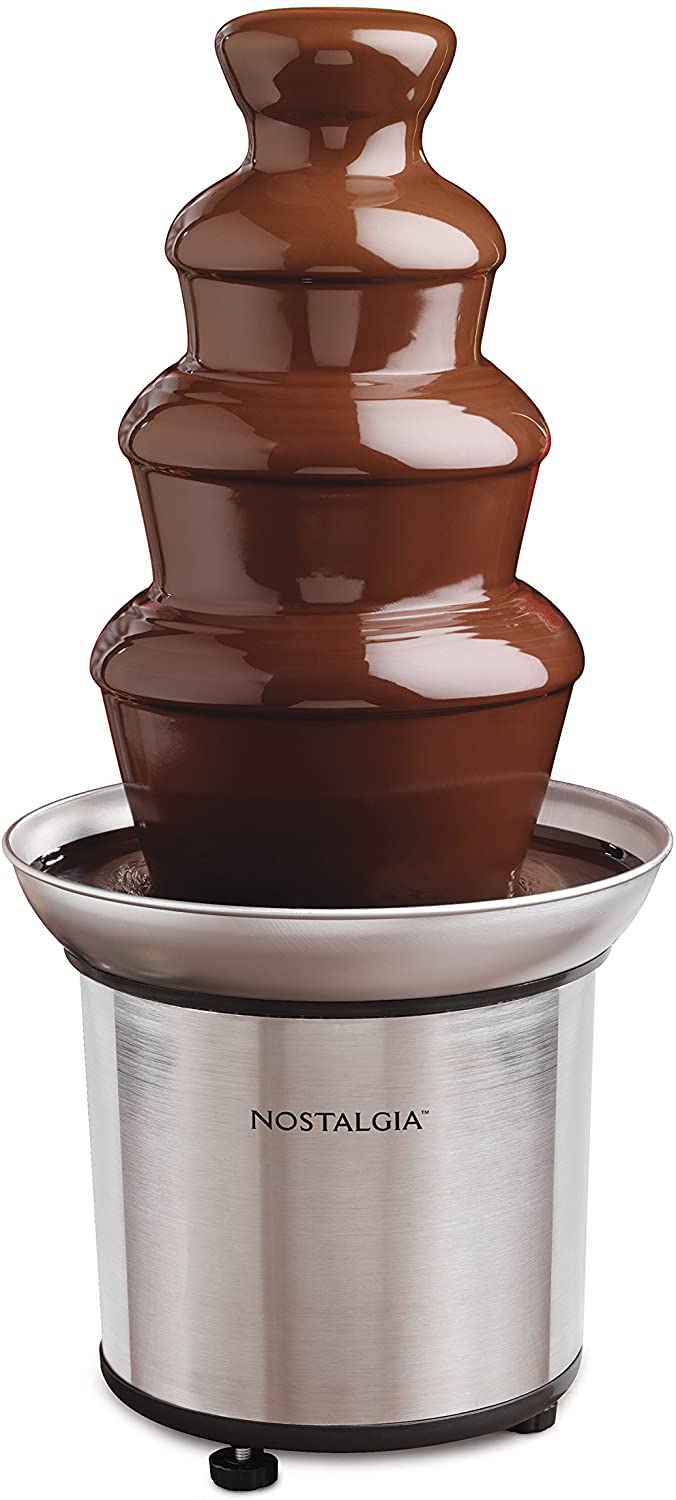 4-Tier Fountain Fondue
With it's 4-tier fountain, this Nostalgia vessel allows you to create crowd-pleasing displays of chocolate, cheese, sauces and liquors that your party guests can't help but interact with and enjoy.
What We Liked
What's better than fondue? A fondue fountain! This fondue device from Nostalgia uses an auger-style fountain to create a continuing cascade of your favorite melted dips via its 4-tiered design that's easy to set-up, disassemble, and clean. It's not only an eye-catching conversation starter, but also a functional way to coat your favorite foods with whatever sauces or dips you choose to melt in its stainless steel heating bowl. Buy it now.
Most Versatile
Nostalgia FPS200 6-Cup Stainless Steel Electric Fondue Pot with Temperature Control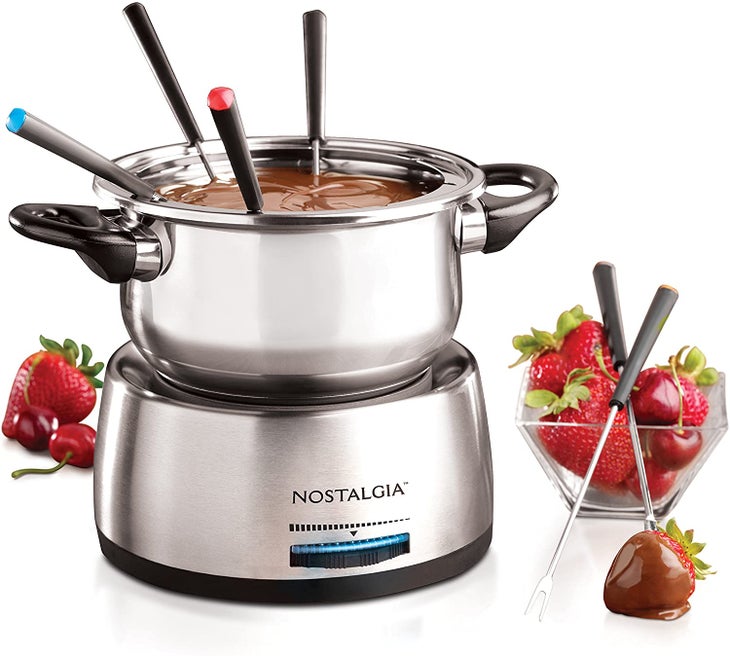 Makes 3-Pounds of Fondue
This 6-cup capacity stainless steel fondue pot makes up to 1.5 quarts of your favorite chocolate, cheese, broth, and oil fondues and includes all the accessories needed for an enjoyable fondue experience.
What We Liked
This electric fondue pot from Nostalgia comes with everything you need to create, share, and enjoy your favorite fondue recipes for any occasion. It has a 6-cup capacity pot for sharing with up to 6 friends thanks to the included color-coded forks. The bowl features notches in the rim for each fork to rest in place as they soak up the chocolaty or cheesy goodness inside. A built-in temperature control knob allows you to easily bring your sauces up to the ideal serving temperature and keep them there without burning or developing a crusty film on tip, and cool-touch handles make it easy to handle and move the pot for refilling and cleaning. Buy it here.
Most Durable
Oster Titanium Infused DuraCeramic Fondue Pot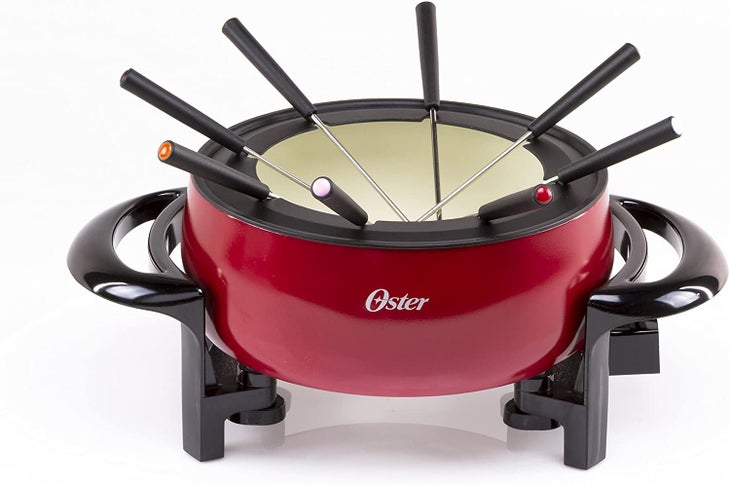 Safe, Convenient & Efficient
The Oster Titanium Infused DuraCeramic fondue pot has a nonstick coating that lasts up to 8-times longer than traditional nonstick coatings, allowing you to make, serve, and enjoy fondue on any occasion for years to come.
What We Liked
If you're looking for a fondue pot that will perform and last for years on end, rest assured you can end your search with this pot from Oster. Its long-lasting, titanium-infused nonstick coating melts a variety of dipping sauces efficiently and makes cleanup easier than ever. The pot comes with 8 fondue forks and a fork holding ring as well as a removable temperature control knob and magnetic breakaway cord that shuts the device off should someone stumble into it. After all, the last thing you want is to lose 3-quarts of delicious melted cheese or chocolate! Get it now.