Best Measuring Spoons
Any serious baker or individual who dabbles in the culinary arts knows that there are certain essentials that belong in any kitchen. A set of reliable measuring spoons is always going to be on that list. Accurate measurements are critical, whether you're trying out a new recipe or making an old favorite. Otherwise, you might be disappointed with the dish's flavor. With measuring spoons, you're looking for durability, as you don't want the spoons to break or warp. You want a complete set, one that covers all of the usual measurements that you'd find in the average recipe. You're also looking for easy storage capability, and for the spoons to be free of any design flaws. Once you've added a set of measuring spoons to your collection of cooking implements that checks all these boxes, there's no reason why you can't enjoy using them for years to come.
Photo: Getty Images/iStockphoto
Heading out the door? Read this article on the new Outside+ app available now on iOS devices for members! Download the app.
Award: Best Design
Spring Chef Magnetic Measuring Spoons Set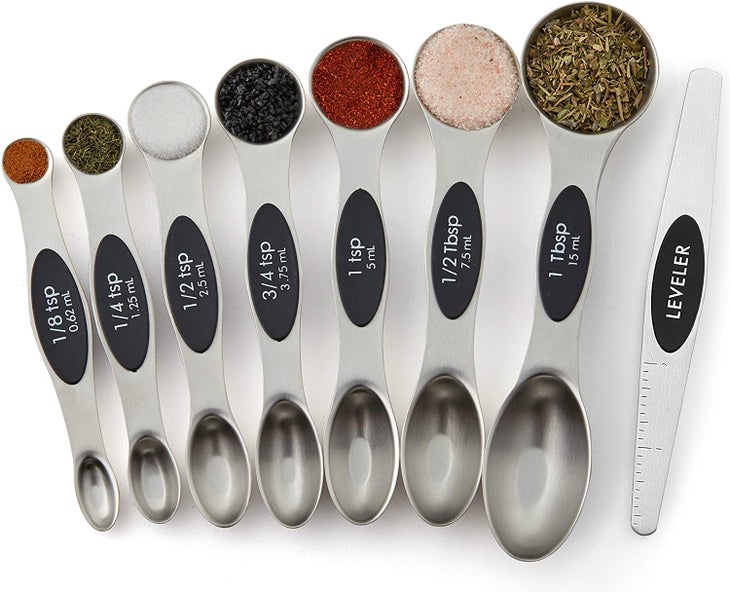 Reliable Spoon Set with Unique Design. This measuring spoon set is attractive, stylish, and features a dual-sided design that you'll quickly come to love.
What We Liked
The Magnetic Measuring Spoons Set by Spring Chef is a must-have if you love sleek modern designing your cooking implements. You get eight to a set, and they're highest-quality stainless steel, so you won't have to worry about bending or rusting. They're magnetic, too, which means they cling together without the need of a ring, and they have both metric and US measurements. You can also lay them flat on the counter, and they will not spill their contents. That's something that you can't say about most other measuring spoon sets. Perhaps their best quality, though is that they're dual-sided, with a rounded end and an elongated one. That means if you need to scoop out an ingredient from a narrow spice jar, you can. You won't have to shake out the spices, losing some and making a mess. Get it here.
Most Durable
Spring Chef Heavy Duty Stainless Steel Metal Measuring Spoons for Dry or Liquid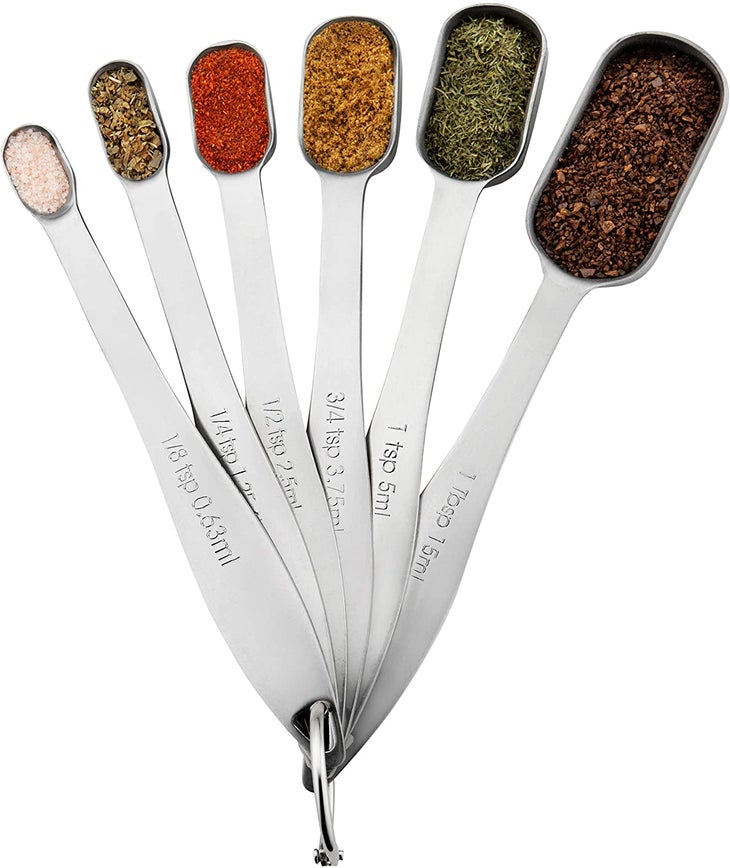 Spoons Built for Endurance. This set of measuring spoons would look right at home in a professional kitchen, but they make a classy addition to a home collection as well.
What We Liked
This set of measuring spoons by Spring Chef looks as though it comes from the collection of a serious-minded chef or baker. You get a set of six, each one emblazoned with both US and metric measurements. They have a special rectangular design, so they can fit into many spice jars. They come in all of the most commonly-used sizes, and they have extra-long, ergonomically-designed handles. They're easy to fill and level, regardless of whether you are measuring dry or wet ingredients. What you might find to be the most impressive about this set, though, is the high-quality stainless steel of which each spoon is composed. The spoons are aesthetically appealing, but they also look like they'll never have to be replaced. Longevity from your cooking implements is always something that you want. Get it now.
Best for Compact Storage
Heavy Duty Stainless Steel Measuring Spoons with Slim Design for Narrow Spice Jars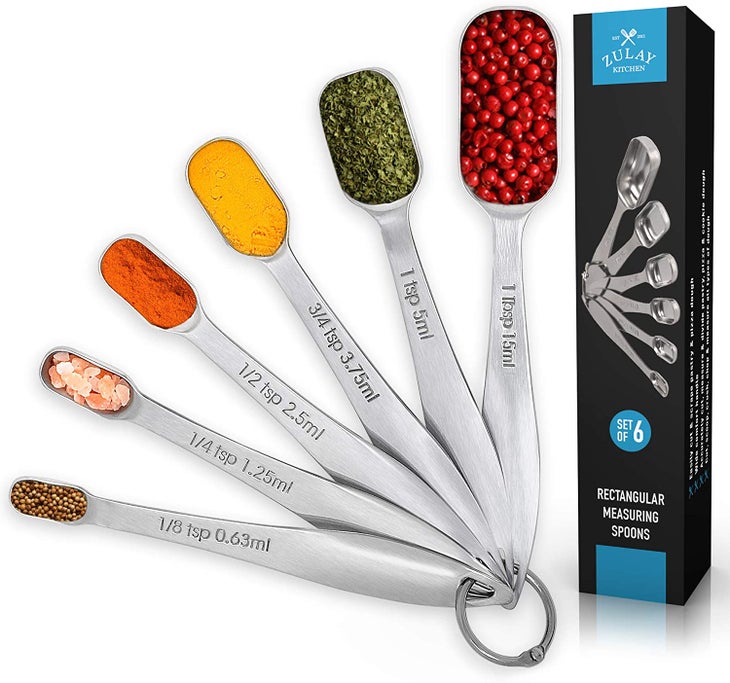 Spoons Fit Neatly Together. This measuring spoon set comes complete with a ring so they remain attached at all times, and you'll never have to worry about misplacing one.
What We Liked
This set of six measuring spoons is from Zulay, and each one is made of high-caliber stainless steel. They are suitable for measuring both wet and dry ingredients, and each spoon head has a slim shape, so you can easily get to ingredients in narrow jars with no chance of spillage. Each one has an intricate engraving of both the US and metric measurements. You can tell that there's no chance of those marks fading, even with heavy use. The set comes with all of the common measurements, so you should get plenty of use out of these, whether you're trying out a new recipe or going back to an old standby. What might be the best feature about this set, though, is the way they remain attached with a ring and they can nest inside of one another. They won't take up very much space in your drawer, leaving plenty of room for all your other go-to implements. Buy it here.
Best Grip
KitchenAid KE057OHAQA Classic Measuring Spoons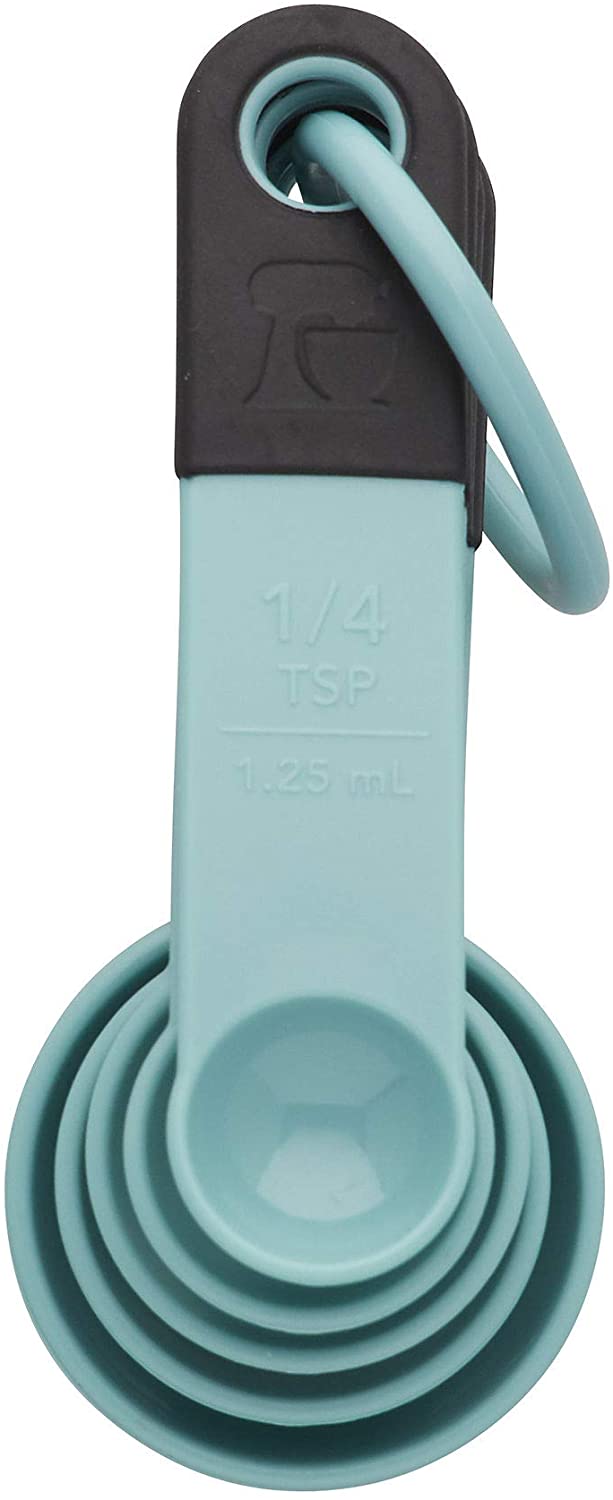 Reliable Set of Slip-Resistant Spoons. This attractive measuring spoon set comes with five pieces, each one featuring a soft black grip rendering spills unlikely.
What We Liked
This set of five measuring spoons comes from the well-known brand, KitchenAid. Suitable for both dry and wet ingredients, they're made of durable, BPA-free plastic. Each one comes with a matte exterior and a gloss interior, and they're entirely dishwasher safe. A thick plastic ring holds them together, so there's no chance of losing or misplacing one, and they nest snugly inside one another, so they won't take up valuable drawer space. The print on the handle informs you of both the US and metric measurement for each one. What is especially nice about this spoon set, though, is that each one comes with a soft, specially-designed black grip. If you're making a recipe and you're pressed for time, you don't want to worry about slippery implements. These textured grips allow you to add spices, liquids, or whatever else is called for with little chance that any of it will spill. Buy it now.