Best Soda Makers for the Home
There are hundreds of different sodas, sparkling waters, and other carbonated beverages that you can buy at the closest store, but where's the fun in that? Many individuals enjoy making their own soda at home, and to do so, you'll need a reliable soda maker. There are several different ones on the market. As you shop for the one that suits you best, give our favorites below a chance. The average setup comes with a sparkling water maker, to which you add the flavoring of your choice. In some cases, flavored syrups or powders come along with the soda maker. You might also look for a combination that boasts a reusable bottle for your concoctions, as well as other handy accessories.
Heading out the door? Read this article on the new Outside+ app available now on iOS devices for members! Download the app.
Best for Beginners
SodaStream Fizzi One Touch Sparkling Water Maker
Simple-to-Use Soda Maker. This soda-making combo comes with a sparkling water maker, and you also get a CO2 cylinder and a reusable bottle.
What We Liked:
The SodaStream Fizzi One Touch Sparkling Water Maker is one of the easiest on the market to use. With the touch of a button, you can make fresh sparkling water, to which you can add the flavored syrups or powders of your choice. You can also use this in the making of adult beverages. The set comes with the sparkling water maker, a 60L CO2 cylinder, and a 1-liter reusable carbonating bottle that is free of BPAs. It is electric-powered, and you can select from among three fizziness levels. The SodaStream company has several different carbonation bottles and flavors available, and the sparkling water you make is compatible with any of them. Purchase Now.
Best on a Budget
DrinkMate Sparkling Water and Soda Maker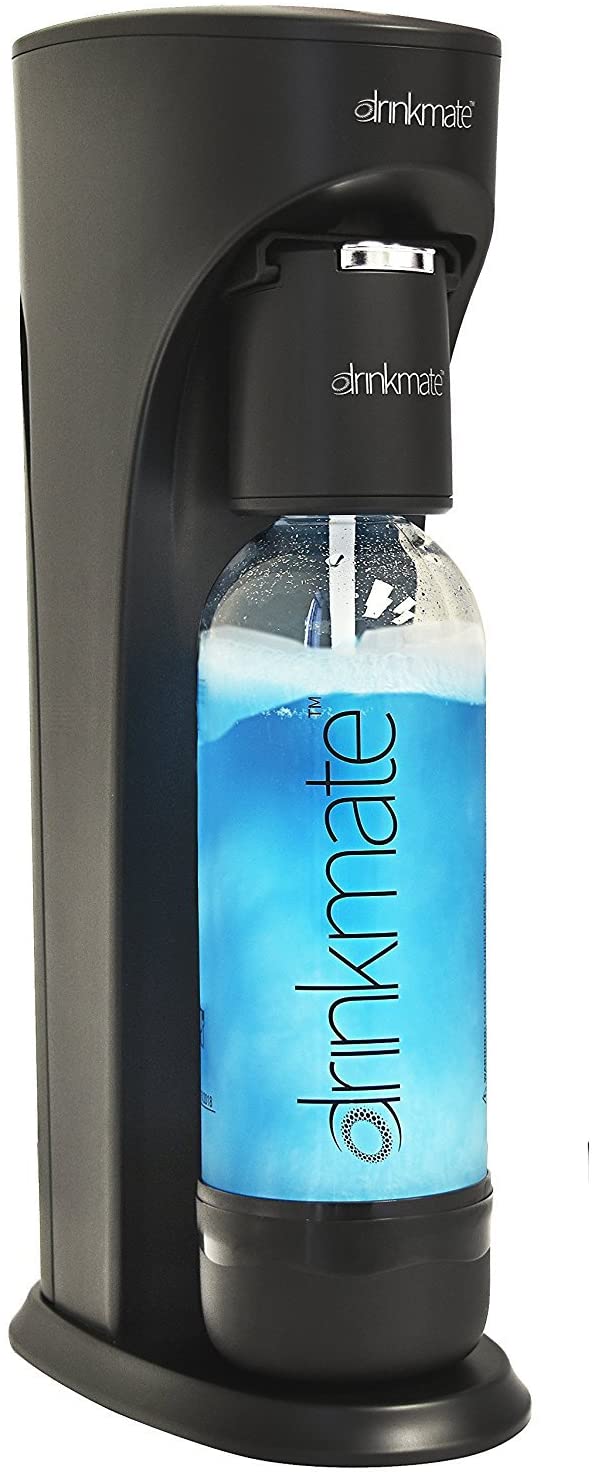 Versatile Soda Maker. Rather than only producing sparkling water, this soda maker can add carbonation to many different liquids for a multi-purpose experience. It's also the most affordable pick on this list.
What We Liked:
The average soda maker only creates carbonated water, but this one is capable of much more. You can use it to carbonate flat beer or soda, juices, wines, or cocktails. You'll have hours of fun experimenting with it and inventing your own drinks. It has simple, one-button operation, and no batteries or electricity are required. It uses standard 60L CO2 cylinders. This model does not come with a cylinder, so you'll need to pick one up separately. It is compact, which saves counter space, and it comes in three different finishes so it won't clash with any decor. Get Yours Today.
Runner Up
AARKE – CARBONATOR II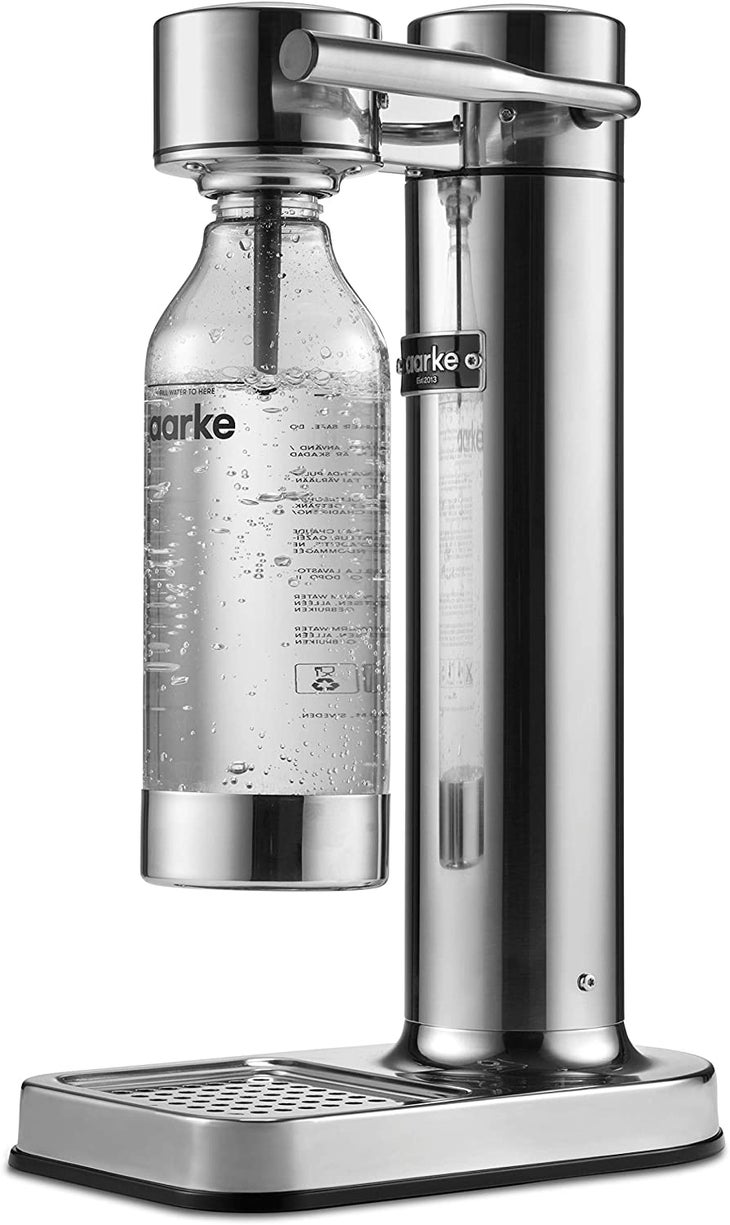 High-End Soda Maker. This is a designer soda maker that looks sleek and sophisticated, and it is sure to add some class to your kitchen setup.
What We Liked:
The AARKE – CARBONATOR II is bound to be a conversation starter when you display it in your kitchen. It features all stainless-steel components that shine with an eye-catching luster. This kit comes with the sparkling wine maker, one reusable PET bottle, and one user manual. You will need to purchase the gas cylinder separately. The bottle is made of nontoxic, high-quality plastic that's free of BPAs. This machine requires no batteries or electricity for its operation. It is compact and portable, so you can easily set it up in other parts of the house besides the kitchen when there's a party going on. Buy Now.
Best Overall
FIZZpod Soda Maker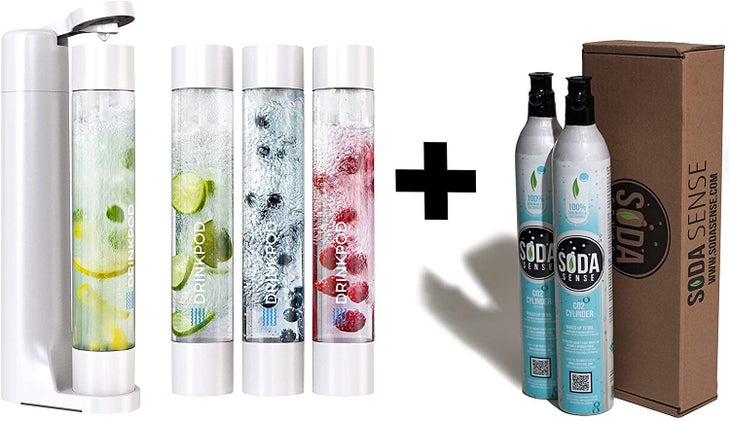 Soda Maker with Accessories. This soda maker from FIZZpod comes with several useful accessories, including three PET bottles and caps.
What We Liked:
This is a set that comes with one FIZZpod carbonator and a pair of CO2 cylinders. You also get three PET bottles, three fitted caps for them, a fizz infuser, and an operating manual. With this kit, you'll have everything you need to create a wide array of carbonated beverages. You can add fizz to flat beer, or make carbonated wine, juices, cocktails, or sparkling water to which you can then add flavored powders or syrups. You can even add fresh fruit to your cocktails and sodas. The entire setup is convenient and lightweight. You can have it operational in moments out of the box. Buy it for yourself, or it makes an excellent gift. Available On Amazon.