Soy-Braised Pork Tenderloin with Lime-Dressed Slaw
Traditionally defined as a cooking method in which meats are seared and then simmered in a closed pan to maximize flavor, braising can also be used to add taste and tenderness to vegetables.
Heading out the door? Read this article on the new Outside+ app available now on iOS devices for members! Download the app.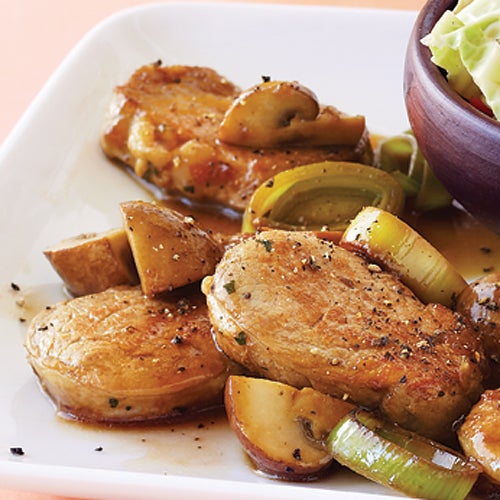 Ingredients
1 lb green cabbage, rinsed
1 carrot, peeled and grated
Juice 1 lime, divided
1 tbsp plus 1 tsp low-sodium soy sauce, divided
4 leeks
3 tsp extra-virgin olive oil, divided
16 oz mushrooms (white, button or cremini), cleaned and quartered
4 cloves garlic, chopped
1 tsp ground ginger
1 lb pork tenderloin, trimmed of visible fat and cut into 1-inch-thick medallions
Preparation
Prepare slaw by cutting cabbage into quarters. Using a large chef's knife, make a V-cut into the bottom of each quarter to remove stem. Then shave thin slices off of cabbage until you have 2 cups of shavings. In a large mixing bowl, add cabbage, carrot, half of lime juice and 1 tsp soy sauce and toss to combine; set aside.
To clean leeks, first pull off outermost layer. Insert tip of a sharp knife into the white head of each leek, about 1/2-inch away from the top. Hold leek in the air, letting leek hang down from the white head. Cut straight down, splitting leek in half. Fan layers apart and rinse well under cold running water. Trim away bottom two-thirds of leek and discard. Trim away top 1/2-inch of leek and discard. You will be left with 8 leek halves.
Heat 1 tsp oil in a large skillet on medium for 1 minute. Using heat-proof tongs, carefully place leeks, cut-sides-down, across the bottom of the hot pan. Cook undisturbed for 4 minutes, then flip over. Add mushrooms and remaining 1 tbsp soy sauce. Cover, reduce heat to medium-low and simmer for 5 minutes. Stir in garlic and ginger and continue to simmer for at least 5 more minutes. Remove from heat and set aside.
In another large skillet, heat remaining 2 tsp oil on medium for 1 minute. Using tongs, arrange pork in pan. Cook undisturbed for 1 minute before gently moving medallions around with tongs so pork doesn't stick. Cook for 1 more minute, then flip over each medallion and repeat. Medallions can be cooked in 2 batches, if necessary, using 1 tsp oil per batch.
Add medallions to mushroom mixture. Deglaze skillet used to cook pork by removing it from the heat and adding 1 tbsp water and remaining lime juice. Rub back of a spatula across bottom of pan several times to bring up the pork juices and add that liquid to mushroom mixture. Cook mushroom mixture, uncovered, for 2 minutes over medium heat.
Nutrition Information
Serving Size

4 oz tenderloin, 4 oz mushrooms, 2 leek halves, 1/2 c slaw

Calories

268

Carbohydrate Content

23 g

Cholesterol Content

73 mg

Fat Content

7 g

Fiber Content

4 g

Protein Content

30 g

Saturated Fat Content

1.5 g

Sodium Content

238 mg

Sugar Content

6 g

Monounsaturated Fat Content

0 g

Polyunsaturated Fat Content

1.5 g