The 6 Best Fermented Foods for Your Gut
We put a variety of store-bought fermented foods into the ring (technically, the lab) to see which one stacks up as the ultimate probiotic heavyweight.
Heading out the door? Read this article on the new Outside+ app available now on iOS devices for members! Download the app.
We know fermented foods are good for us — they contain beneficial bacteria that help support your microbiome, the collection of bacteria, yeast, viruses and fungi that live in your gut and on your skin. Your microbiome impacts your health fundamentally, affecting digestion, immunity, weight and mental health.
But, with all the fermented foods on the market claiming they contain live bacterial cultures, it's hard to know which are worth the spend and which are worth a pass. This month, we stepped out of the kitchen and into the lab to test a variety of store-bought fermented foods —and we're showing you how they measure up.
We reached out to Brendan Chapman, PhD, a professor in the department of Food Science Technology at Centennial College in Toronto. We tested six categories of store-bought products – kefir, yogurt, miso, sauerkraut, kimchi and kombucha — and three different brands of each. Thanks to Dr. Chapman and his assistants Rajwinder Gurm and Ruchi Sharma who tirelessly measured samples, labeled petri dishes and counted colonies for us, we were able to rate them from the most potent probiotic to the weakest. Here's how the foods stacked up:
Kefir: 27.7 billion CFU (Colony Forming Units) per 1 cup serving
Kimchi: 2.6 billion CFU per 1/2 cup serving
Yogurt: 3.6 billion CFU per 1 cup serving
Miso: 54.1 thousand CFU per 1 tbsp serving
Sauerkraut: 195.2 million CFU per 1/2 cup serving
Kombucha: 23.1 million CFU per 1 cup serving
The winner? Kefir, and by a long shot. It clocked in significantly higher than the rest with a whopping 27.7 billion CFU per 1 cup serving. Other heavyweights are yogurt and kimchi at 3.6 billion CFU per 1 cup serving and 2.6 billion CFU per ½ cup serving, respectively.
The Science Behind the Experiment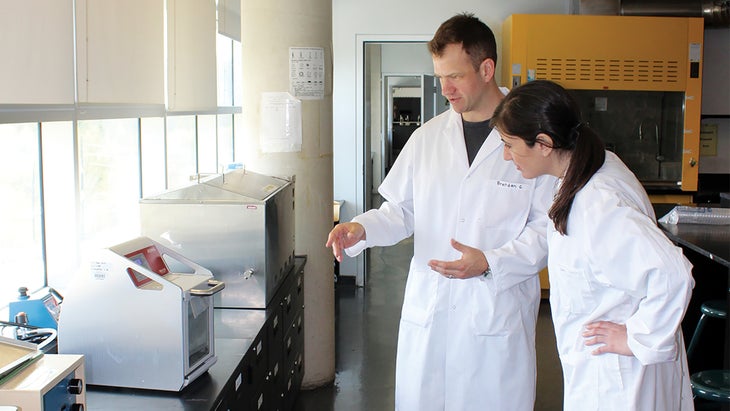 We tested 18 products, including three different brands of each kefir, yogurt, miso, sauerkraut, kimchi and kombucha. Dr. Chapman took 1 milliliter of each product and mixed it for 60 seconds with 9 milliliters of phosphate buffer saline. This homogenized the mixture to ensure that each sample was representative of the total.
Related: Diversify Your Diet For Better Gut Health
The solution was then placed in petri dishes with tomato juice agar, a selective medium for Lactobacilli species — that's technical speak for ensuring that only the bacteria we wanted to measure was isolated. The plates were then incubated anaerobically, or without oxygen, at 95°F for 48 hours. Then the number of colonies on each plate was counted. (Probiotics are measured in colony forming units, or CFU, which you may recognize from your probiotic supplement.)
We did the experiment twice, took two samples of each product in each experiment, and averaged the numbers for all products in a category. The caveat: We didn't get results for all products, and we only measured one species, Lactobacilli (we did not account for diversity of strains). We also can't speak to all brands of products beyond what we tested, as some brands may have more or less probiotics depending on their fermenting process. Having said that, according to Dr. Chapman, this is a pretty good measure of where each of these types of ferments stand.
To enable screen reader support, press ⌘+Option+Z To learn about keyboard shortcuts, press ⌘slash