How to Prep Snacks + Meals for the Entire Week
Use your Sunday yield to dream up snack and meal ideas that will last you the entire week. Find our list of favorite quick and easy meals.
Heading out the door? Read this article on the new Outside+ app available now on iOS devices for members! Download the app.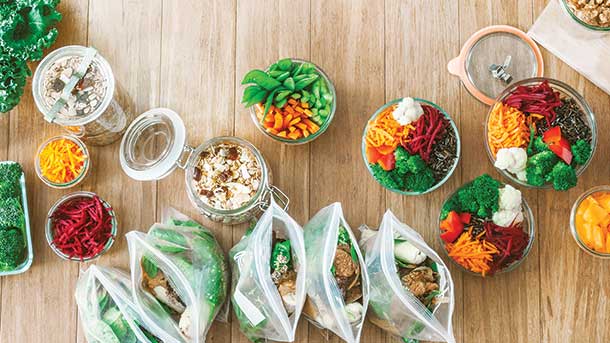 Quick and Easy Breakfasts
Smoothie Bowl
To a cereal bowl, add your favorite smoothie and top with toasted oats, fresh fruit, nuts and seeds.
See also Rainforest Acai Breakfast Jars.
Granola
Eat your premade granola straight up with milk or a milk alternative, or in a parfait with yogurt and heaps of fresh fruit.
See also Simple Sunflower Seed Granola.
Grain Porridge
Reheat your prepared grains with milk or a milk alternative, cinnamon and maple syrup and top with toasted nuts and fresh fruit.
See also Coconut & Quinoa Breakfast Porridge with Fresh Fruit.
Simple and Delicious Snacks
Bugs on a Log
Top celery sticks with 1 tbsp nut or seed butter and sprinkle with dried fruit such as raisins, currants or mulberries.
Veggies with Bean Dip: To a food processor, add 1 cup prepared beans with 1/2 cup water and juice of 1/2 lime; process until smooth. Serve with veggie sticks.
See also Roasted Cauliflower Tahini Dip.
Quick Salsa
Add 1 cup diced tomatoes, 1 diced avocado, 1/4 cup chopped cilantro and 1 minced green onion to 1 cup prepared beans. Mix together and serve with organic corn chips or toasted whole-grain pita chips.
See also 5 Homemade Salsas.
Green Chips
Preheat oven to 300°F and line a baking sheet with parchment paper. To a medium bowl, add 4 cups torn kale and/or Swiss chard. Toss in 2 tsp grape seed oil and seasoning of your choice. (Try 1 tsp smoked paprika and 1/4 cup nutritional yeast for a tasty combination.) Spread evenly on baking sheet without overlapping and bake for 25 minutes or until crispy. Rotate sheet in oven and toss halfway during cooking if necessary. Sprinkle with 1/8 tsp salt.
See also Spicy Parmesean Collard Chips.
Under 40 Minute Main Meals
Bean & Grain Bowl
Grains + beans + grated veggies + greens + seeds + nuts + avocado + your favorite dressing
See also Loaded Quinoa Bowl.
Cream of Cauliflower or Broccoli Soup with Sautéed Greens
To a large stock pot, add 2 cups thawed, steamed cauliflower or broccoli, 2 cups milk (avoid nonfat for this use), 2 cups vegetable stock, 1 cup white beans, 1 cup sautéed onions, 2 cloves garlic and 1/4 tsp salt; purée with an immersion blender. Heat on medium. Add 1 cup sautéed greens and serve with a piece of crusty whole-grain garlic toast.
See also Thai-Inspired Tomato Soup.
Refried Grains
In a large sauté pan over medium-high, heat 1 tsp grape seed oil. Add 2 cups prepared grains and sauté for 5 minutes. Add garlic, prepped veggies of your choice, greens and 1 tbsp low-sodium tamari. Sauté for another 5 minutes. Top with chopped fresh basil and a squirt of lemon juice. Serve with steamed edamame, marinated tempeh, toasted almonds or sesame seeds.
Green Bean Burrito:
Grains + grated veggies + greens + beans + avocado + hot sauce in a collard green or whole-grain wrap
See also Chicken Vegetable Pesto Wrap.
Green Goddess Salad
Greens + steamed broccoli + chopped celery + favorite leafy herbs + pumpkin seeds + avocado + edamame + your favorite dressing
Sesame & Peanut Ginger Stir-fry
In a large wok over medium-high, heat 2 tsp sesame oil. Add 1 tbsp puréed ginger, 1 tbsp puréed garlic and 1 minced red chile with 4 cups of your choice of prepped vegetables. Mix together 1/2 cup peanut butter with 1/2 cup water and 1 tbsp tamari and add to stir-fry; cook until heated through. Serve over reheated grains and top with sesame seeds, green onions and toasted peanuts.
See also Sweet & Sour Pineapple Pork Stir-Fry.
Sloppy Joe
In a large saucepan over medium-high, reheat beans (about 1 cup per sandwich), about 5 minutes. Serve on a whole-grain bun with green onions and your favorite dairy or non-dairy sour cream and cheddar cheese.