Our 15 Best Meatball Recipes
From traditional spaghetti and meatballs to Italian meatball sliders, here are some of our favorite recipes to make year-round.
Heading out the door? Read this article on the new Outside+ app available now on iOS devices for members! Download the app.
Herbed Meatballs in Tomato Sauce with Cauli-Rice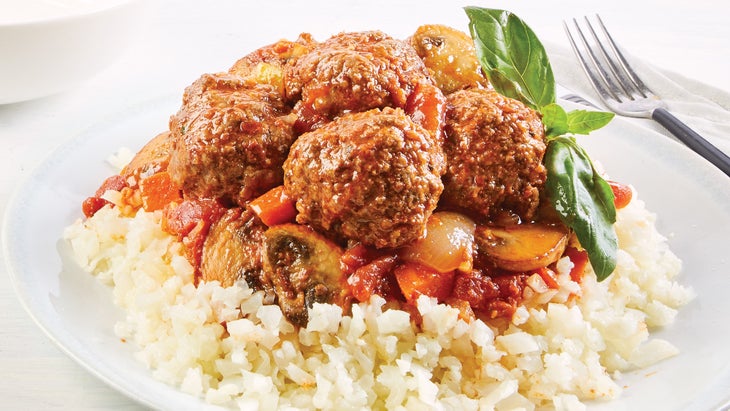 Homemade meatballs that use coconut flour as a binder get simmered in a hearty tomato sauce and served on a bed of cauliflower rice.
Get the
.
Basil Chicken Meatballs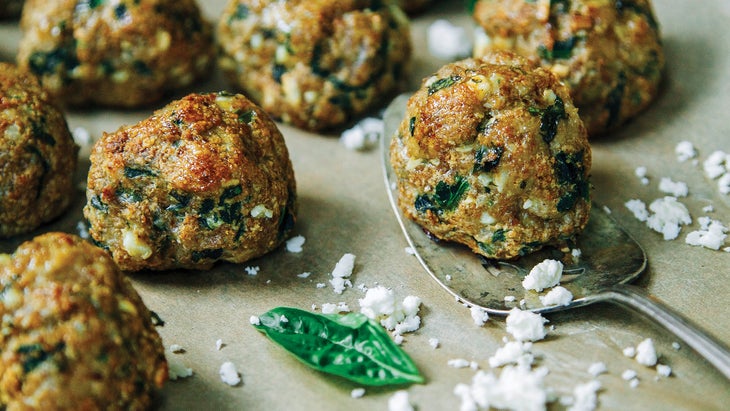 These Basil Chicken Meatballs are an excellent source of iron and one of the best dietary sources of choline.
Get the
.
Meatballs in Vodka Sauce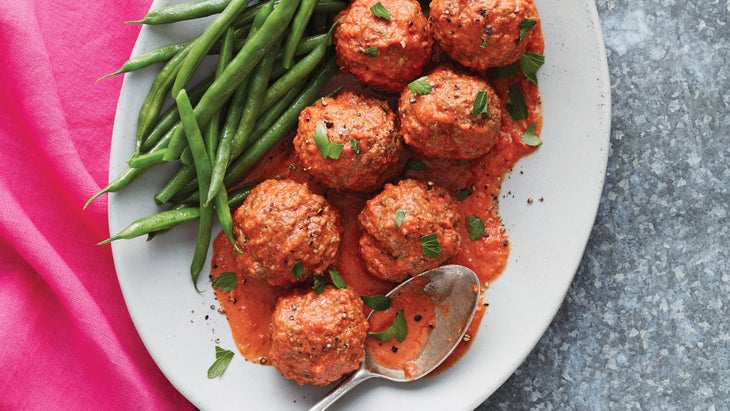 Bright tomato sauce with a splash of vodka gets simmered with juicy meatballs — and it can all be made in advance and ready to cook in the Instant Pot. We like to serve them with steamed green beans or broccoli, but you can also enjoy with crusty bread to soak up the sauce.
Get the recipe.
Southwest Meatball Skillet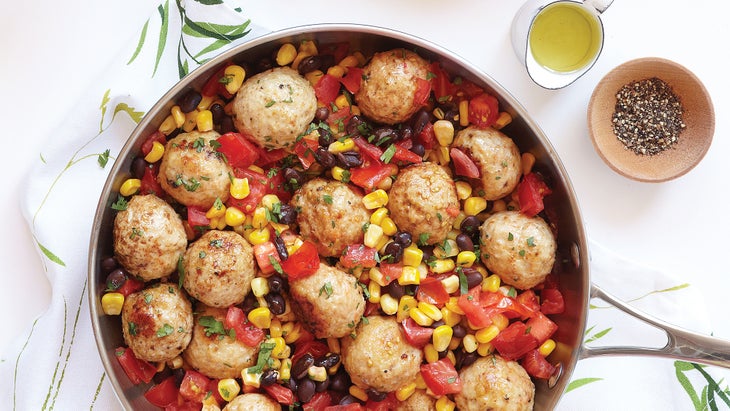 The colorful and hearty blend of black beans, corn, tomatoes, lime and cilantro enveloping the meatballs fills out this 20-minute dish.
Get the recipe.
Foil-Pack Meatball Subs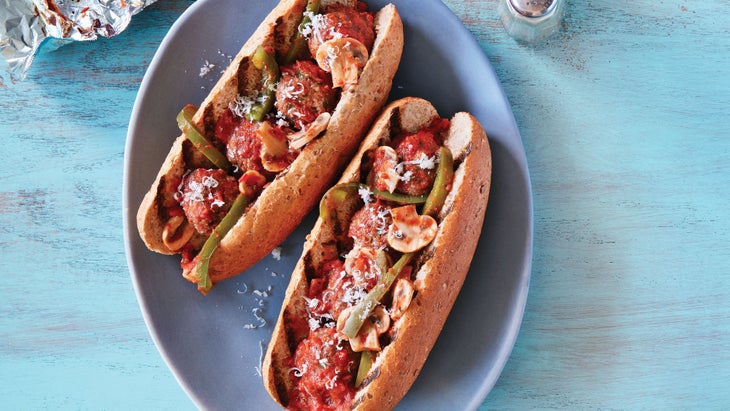 Jarred tomato sauce is a shortcut that helps get these meaty subs on the table fast. For evenly sized meatballs, divide mixture into thirds, then divide each third into 6 equal balls – this will ensure they cook through at the same time.
Get the recipe.
Garlic Lamb Meatballs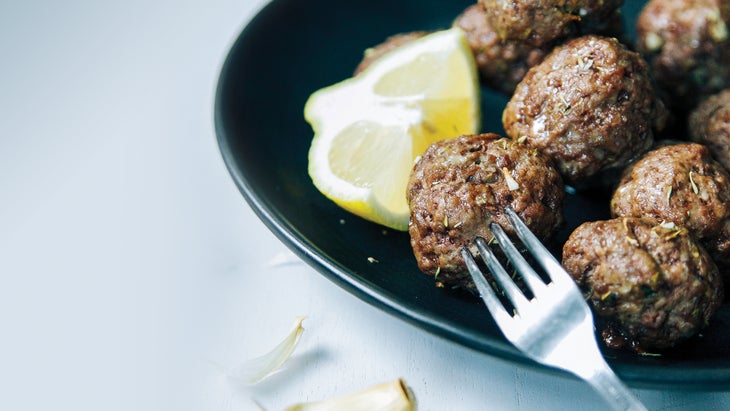 These Garlic lamb meatballs have antiviral properties and serve as an immunity booster.
Get the recipe.
Arame Chicken Meatballs with Sriracha Pineapple Dipping Sauce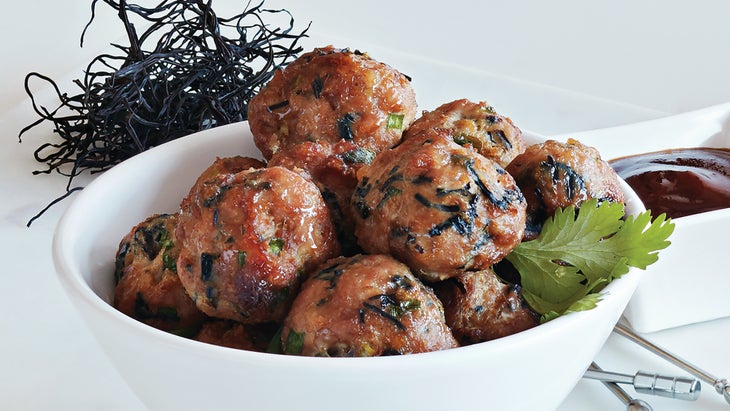 Arame seaweed adds a touch of sweetness to these Asian-style meatballs. Serve as an appetizer with the spicy-sweet sauce on the side, or wrap in lettuce leaves and drizzle with the sauce for a light main. Garnish with cilantro and arame for an extra-pretty presentation.
Get the recipe.
Sweet & Sour Meatballs with Sesame Vegetables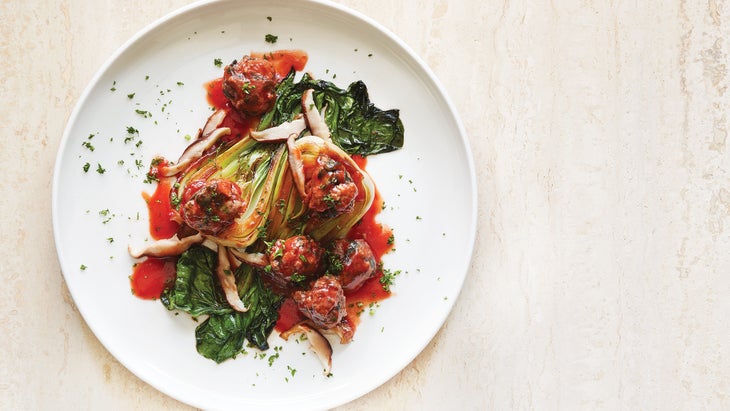 The meatballs are saucy, so you want to form the parchment into a bowl shape to keep the sauce from running onto the vegetables as they roast together in the same pan.
Get the recipe.
Spaghetti & Meatballs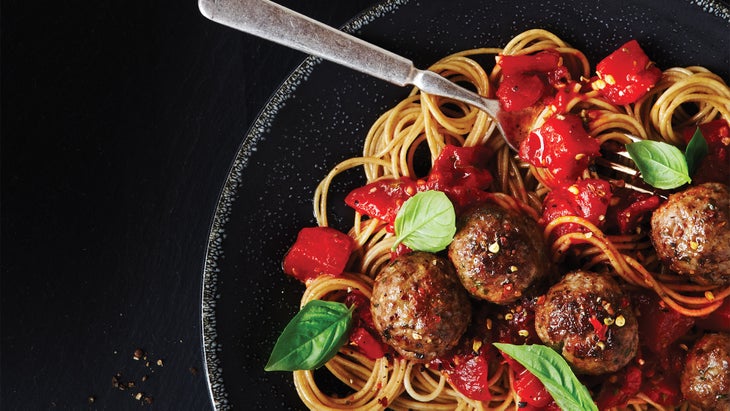 Our cleaned-up redo of this timeless classic conjures up memories of your favorite Italian restaurant meal, but with less fat!
Get the recipe.
Beef Quinoa Mini Meatballs with Spiced Pomegranate Sauce & Mashed Cauliflower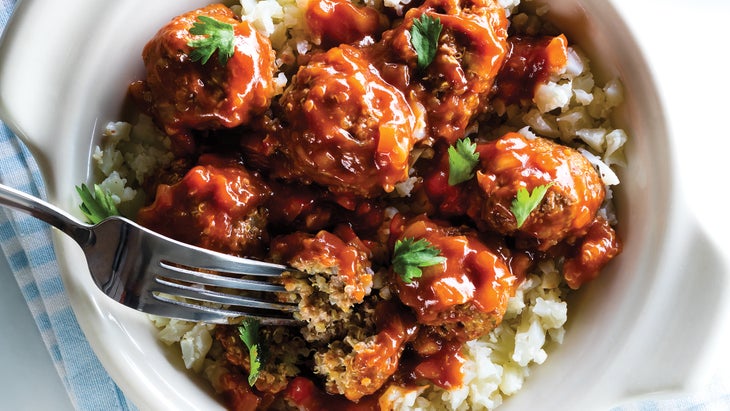 These lean beef meatballs get topped with an exotic-tasting tomato sauce that features pomegranate molasses for a subtle tang and depth of flavor. Puréed cauliflower is a lighter, less-starchy stand-in for mashed potatoes. Garnish with additional cilantro springs.
Get the recipe.
Moroccan Meatballs with Citrus-Glazed Carrots & Couscous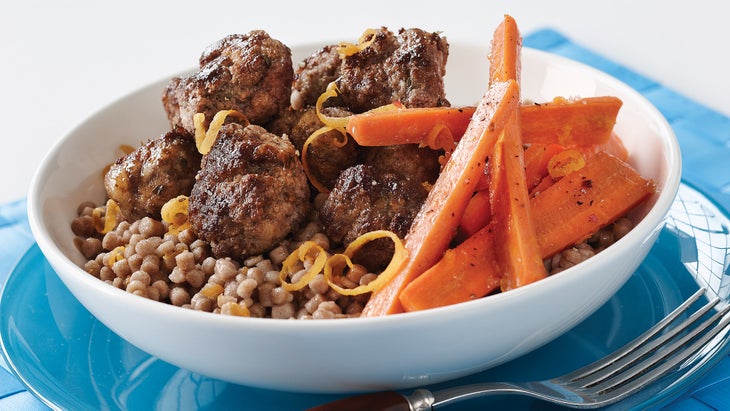 A marriage of savory and sweet is the hallmark of Moroccan cuisine, and we've brought the two taste sensations together with our bite-size meatballs, which boast a perfect blend of warm cumin and cinnamon and crisp mint and coriander.
Get the recipe.
Italian Wedding Soup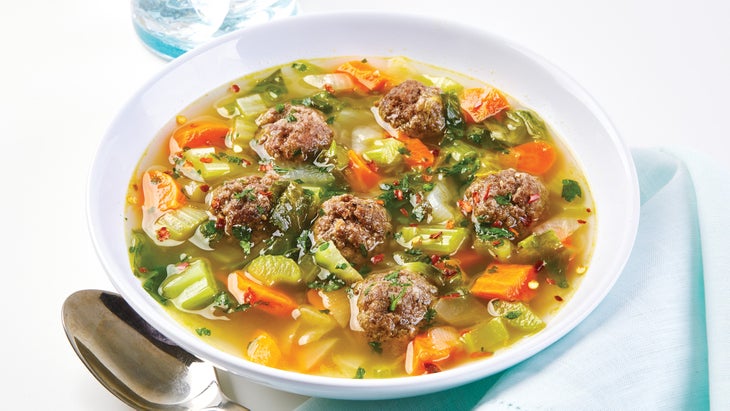 A high-quality bone broth in place of traditional broth not only makes this dish Whole30-compliant, but it also helps boost your immune system, treat leaky gut and improve joint health, thanks to the collagen it contains. This soup tastes even better the next day, so it makes a perfect weekday lunch.
Get the recipe.
Sesame Tamari Beef Meatballs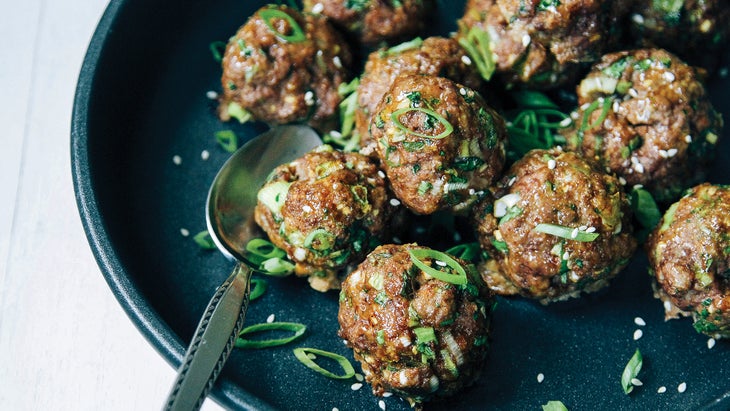 These Sesame Tamari Beef Meatballs are powerful anti-inflammatory foods, stimulates good digestion, detoxifies the body and is rich in vitamins A and K.
Get the recipe.
Herbed Chicken Meatball Marinara with Zoodles & Pesto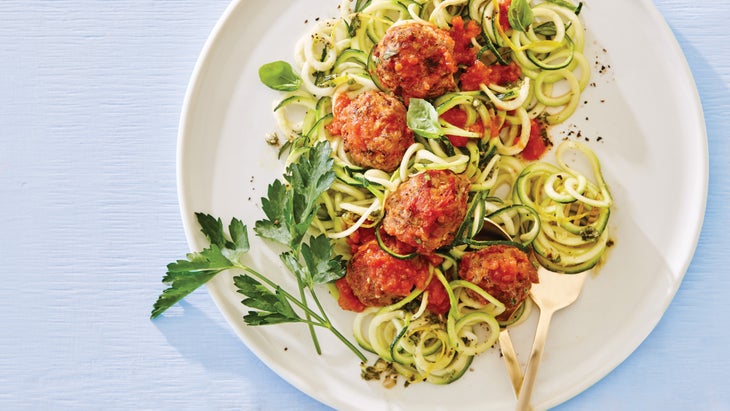 These oven-baked, flavor-packed chicken meatballs are the perfect pairing with zoodles and our homemade pesto.
Get the recipe.
Italian Meatball Sliders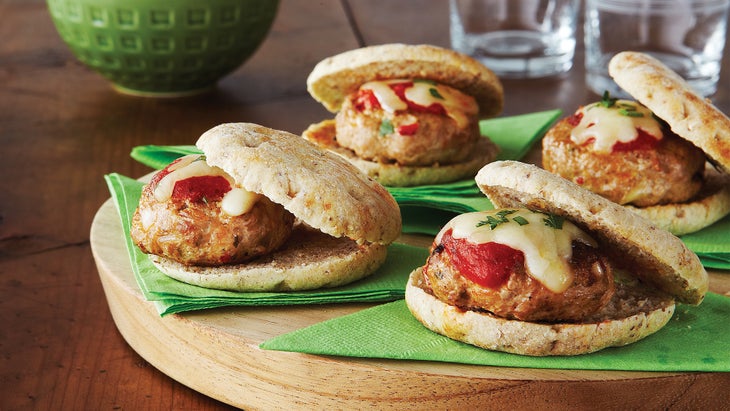 Smothered in marinara sauce and oozing with melted cheese, these sliders are a seriously indulgent snack food. Your male guests will happily chomp away on these meaty bites – but only you'll know that they're less than 225 calories per serving!
Get the recipe.