Your Gluten-Free Guests Will Give Thanks for These Thanksgiving Recipes
This Thanksgiving, those going gluten-free need not fear. We're arming you with decadent, Instagrammable dishes in this celiac-friendly holiday menu.
Heading out the door? Read this article on the new Outside+ app available now on iOS devices for members! Download the app.
The holidays can be a particularly challenging time for gluten-free eaters. And it can be even more challenging for the chefs who are putting together dinners for multiple dietary needs. Thanksgiving in particular features turkey stuffed with bread, meatballs made with breadcrumbs, cakes and pies made using flour and much more. This comes as bad news for those going gluten-free.
Celiac disease is on the rise. And even without the presence of celiac, more and more people are going gluten-free today. This Thanksgiving, if your guest list includes gluten-free eaters, don't panic! We've put together a collection of mouthwatering recipes for a full dinner menu that sacrifices nothing but gluten. Browse the below eats for a gluten-free take on the turkey, sides made with harvest favorites and wheat-free desserts.
Instagrammable Appetizers
Why do almost all classic appetizers have to feature gluten in some way or form? From meatballs bound with breadcrumbs to bruschetta on gluten-y toast to shareable flatbreads, finger foods are often bread-based. But not on this menu. Check out these adorable, innovative starters that your guests won't be able to stop taking pictures of. Beautiful, delicious, quick and easy to put together and, of course, gluten-free. What more could we ask for?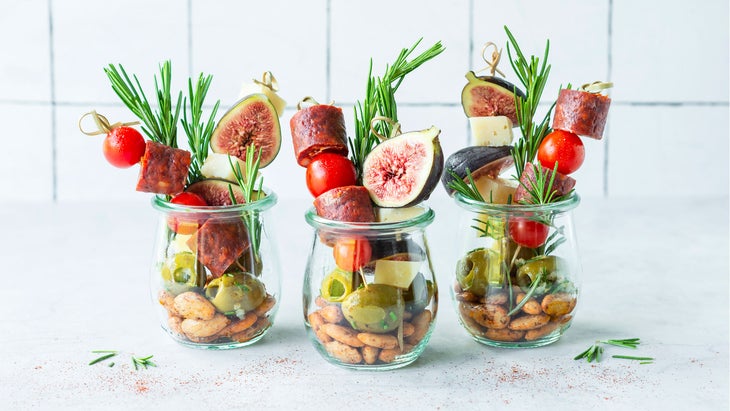 You've heard of charcuterie. Now get ready for jarcuterie. Essentially, these are your favorite charcuterie items made suitable for eating out of a jar. Our first recipe features a homemade tomato sauce with dippers like halloumi, meaty artichoke and fresh veg. The second is a Spanish-inspired medley of Manchego cheese, figs, chorizo and tomatoes. Once you've mastered these, get creative with your own combos. Be sure to post on social media and tag us, @cleaneatingmag!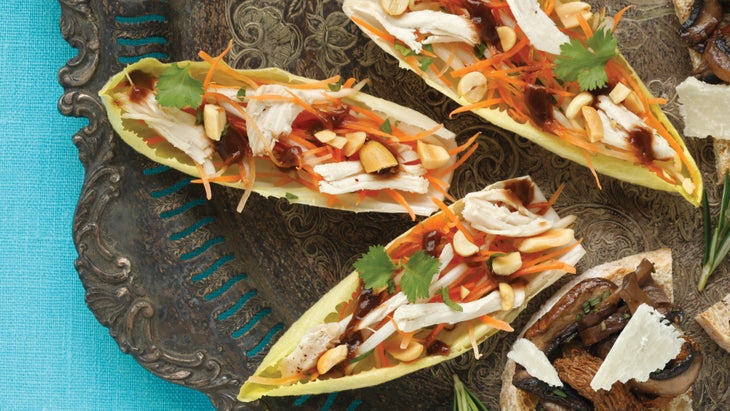 Crispy endives serve as classy vessels for flavorful bites of shredded chicken breast. We keep the chicken recipe simple — just salt and pepper — and spoon over some flavorful additions: A seasoned bean sprout, carrot and cilantro mix and a drizzle of creamy homemade peanut sauce.
Salads & Greens
Admittedly, gluten-free eaters don't struggle terribly in the greens department. Usually, you can just omit or swap a couple ingredients to transform a gluten-y dish. But we're shaking things up in this category with some never-before-seen dishes developed with gluten-intolerance in mind. That's how you know these are delicious exactly as they are, with no ingredient omissions or swaps.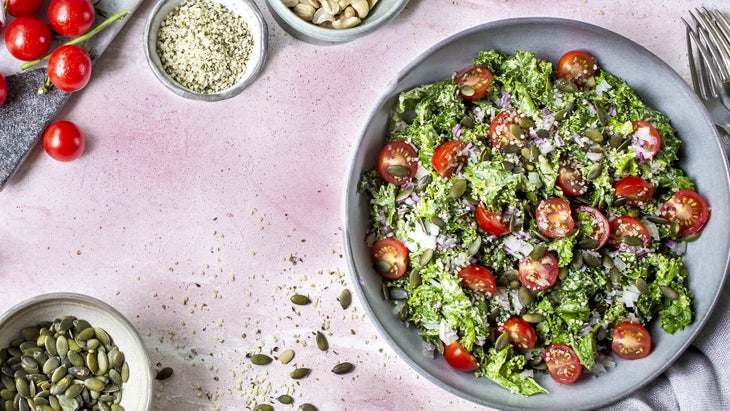 You've never seen Caesar salad like this. That's why we're calling it our "Caesar-ish" salad. Instead of lettuce, we use a more nutritious base of thoroughly massaged kale. We top with hemp and pumpkin seeds, plus juicy bites of tomatoes and shallots. Most impressive, however, is our silky, vegan Caesar dressing made with raw cashews and nutritional yeast.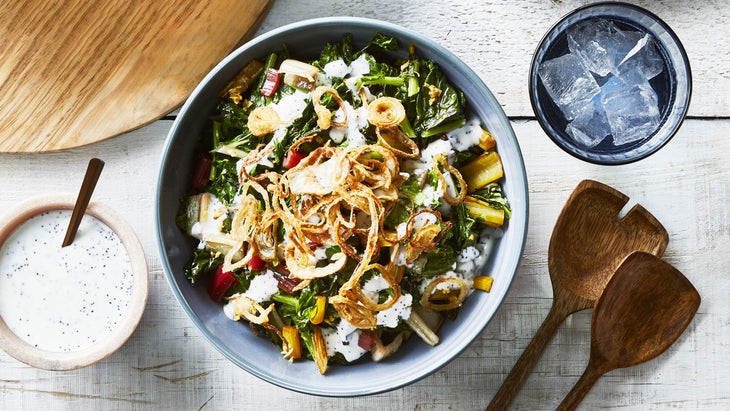 Retire the beans this year and breathe new life into your Thanksgiving greens. In our Buttermilk-Drizzled Greens, we combine two good-for-you leaves: Swiss chard and kale. The best part? A decadent, creamy, unforgettable dressing that your guests will rave about.
Mains
Now, we get to the 'meat' of the story — pun intended. The traditional Thanksgiving turkey is famously stuffed with a bread-based dressing, making this bird unsuitable for the gluten-free diet. So, we're offering two clever takes, one with stuffing and one without.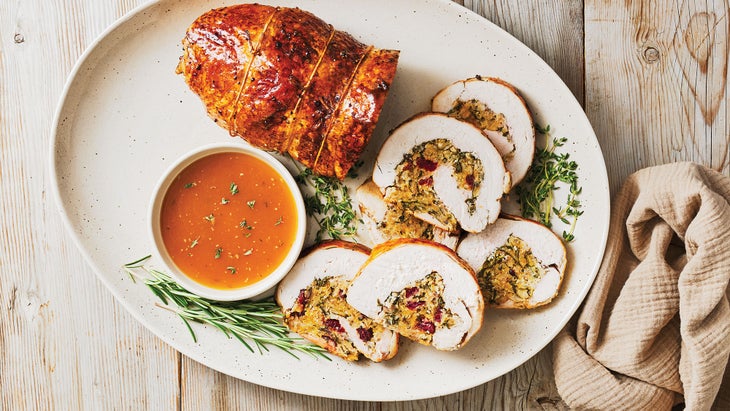 This recipe tastes just as luxurious as it sounds. Tender, deboned turkey is stuffed with a winning combination of rice, gluten-free breadcrumbs and complimentary veggies. We incorporate the classic Thanksgiving cranberry component in this recipe by using it as a glaze, and serve with a homemade gravy.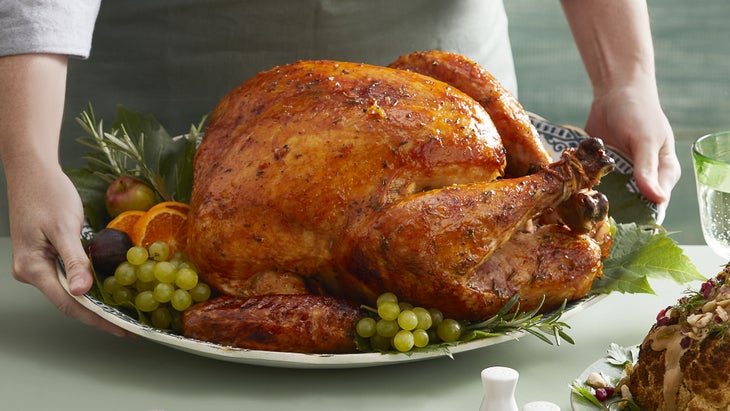 Let's face it – we often depend on a good stuffing to make a dry turkey more enjoyable. That's why we came up with a juicy recipe for this bird that'll ensure you don't need stuffing. A simple glaze made from orange marmalade and a jus made with arrowroot round out the dish without any wheat flour, which most gravies would use.
Sides
Move over, cornbread and dinner rolls. Our veggie-based sides are beautiful to behold, brimming with flavor and totally free of gluten.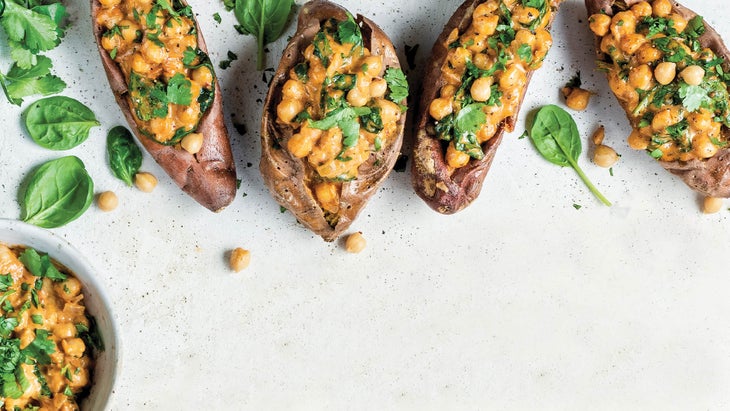 You won't believe how easy these Curry-Stuffed Sweet Potatoes are. The potatoes roast in the oven while our one-pot chickpea curry comes together in a single skillet. Make the sweet potatoes in advance, or you can bake them fresh right before serving for each day it's eaten on the plan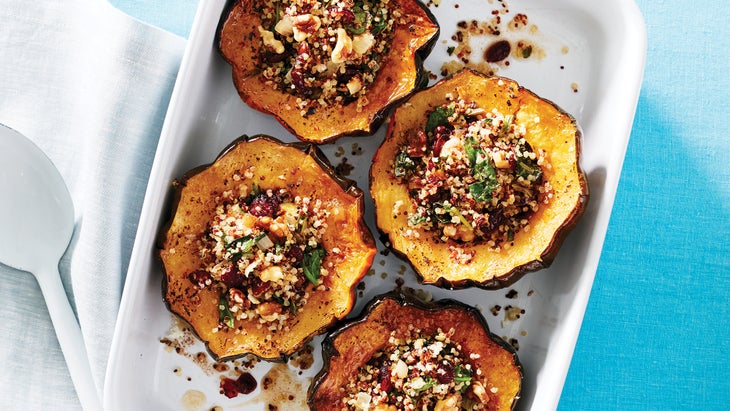 The subtle sweetness of acorn squash shines when brushed with a touch of honey and lime. Cranberries and walnuts add richness and tang, while quinoa provides enough protein to keep you full for hours.
Desserts
If you're used to hunting far and wide for celiac-friendly desserts, we feel your pain. From cakes to muffins to the quintessential holiday pie, sweet treats too often feature wheat flour. But you can rest easy this holiday, knowing that the following final courses are totally gluten-free.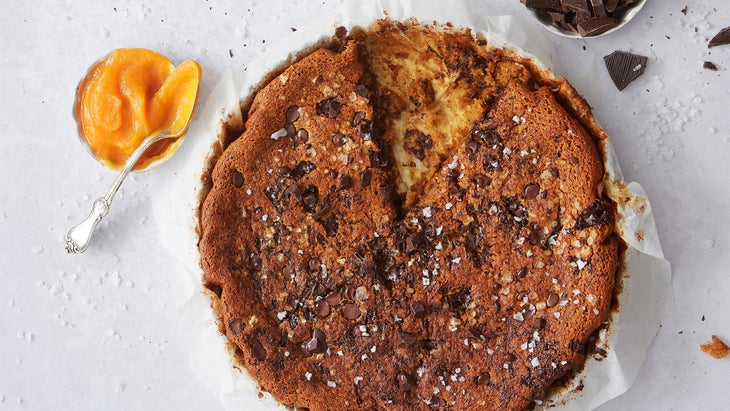 Pumpkin pie doesn't have to be off the menu this year. This recipe is like a pumpkin pie, a blondie and a chocolate chip cookie combined – and it's gluten-free, too.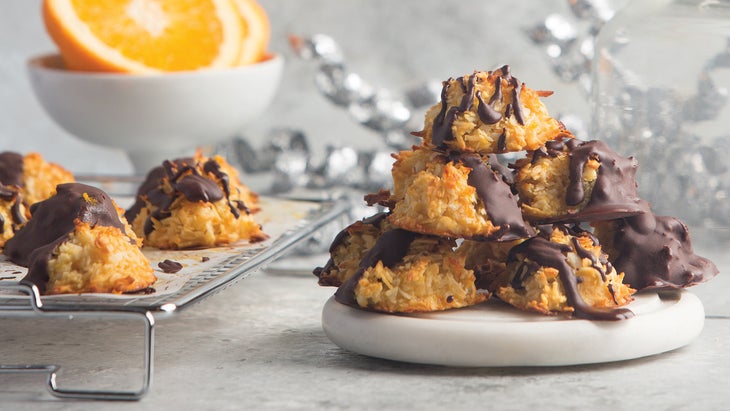 If your party is more of a grab-and-go crowd, these macaroons need to be on your radar. Made with zero gluten or grains, our coconut macaroons have a punchy, bright element courtesy of fresh-squeezed orange juice and the rind's zest.