Skip the Slump: Energizing, Brain-Boosting Lunches
A fiber- and nutrient-rich lunch can keep you focused and full of energy until dinner. Plus, each of these meals was designed to include superfoods that specifically help nourish your noggin.
Heading out the door? Read this article on the new Outside+ app available now on iOS devices for members! Download the app.
5 Nutrition Hacks for Increased Energy and Laser Focus
Add these science-backed boosters to your day and take your afternoon productivity to the next level.
1. Turmeric
Research suggests that chronic inflammation can contribute to both fatigue and brain fog, so managing it is key. "The main component in turmeric, curcumin, is among the most effective anti-inflammatory compounds in the world," says Josh Axe, DNM, CNS, DC, co-founder of Ancient Nutrition and founder of draxe.com. "Its ability to reduce inflammation and oxidative stress makes it a brain-boosting, memory-enhancing herb."
Use It: Add it to cauliflower rice, blend into a smoothie or whisk into salad dressing or eggs.
2. Cinnamon
This familiar spice flavors some of our favorite foods – and studies are investigating it as a potent health booster. For example, cinnamon may help regulate blood sugar. Spikes in blood sugar can lead to crashes that sap your energy, so it's important to keep levels normal. A 2016 study found that when mice were fed cinnamon, their bodies metabolized it into sodium benzoate – a chemical used as a drug treatment for brain damage – which changed significant protein levels, leading to improved memory and learning. (And who couldn't use that after eating lunch?)
Use It: Add to baked goods like muffins or quick breads, add to coffee grounds before brewing or sprinkle on top of yogurt.
Related: Get Energized & Stress-Free with B Vitamins
3. Ginseng
Ginseng has been used in traditional Chinese medicine for a variety of ailments for thousands of years. It's an adaptogen, a natural substance identified in herbal medicine thought to enhance the body's ability to adapt to stressors. Some studies have found that ginseng has anti-inflammatory properties. Helping the body cope with stress and reducing inflammation both help fight off fatigue and may boost energy. Research also suggests that regular use of ginseng may help with alertness.
Use It: Take as a supplement or sip on ginseng tea.
4. Rhodiola
Rhodiola rosea, more commonly known as rhodiola, is a flowering plant that's been used for centuries in Europe and Asia. It is "an adaptogenic herb that has energy-enhancing and brain-boosting powers," Axe says. "It helps the body deal with stress by reducing cortisol levels and improves both physical and mental energy."
Use It: Take as a supplement (in capsule or liquid form) or blend the powder into a smoothie.
5. Schisandra Berry
"Schisandra is an ancient herb that's known for its ability to improve focus and concentration, while boosting mental energy," Axe says. "The berries exhibit strong antioxidant activities, allowing them to support mental performance while raising the body's resistance to mental fatigue, environmental stress and even emotional trauma." Several companies sell schisandra berry tea as a good pick-me-up for after lunch or to stave off the afternoon slump.
Use It: Make tea from whole dried berries, blend powder into smoothies or take as a supplement (in capsules or liquid form).
Kung Pao Shrimp & Vegetables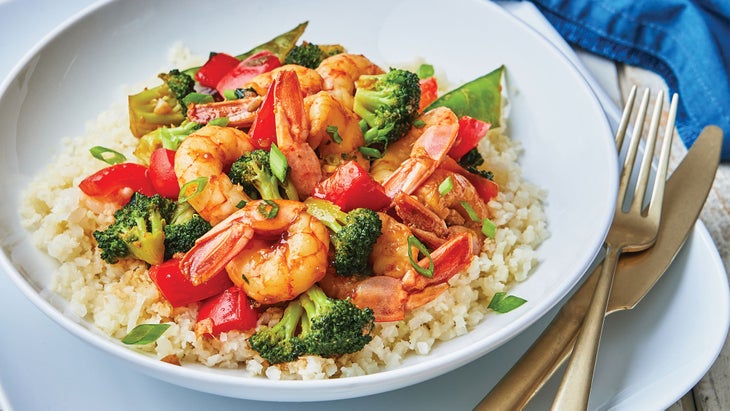 Get the recipe here.
Creamed Spinach-Stuffed Sweet Potatoes with Bacon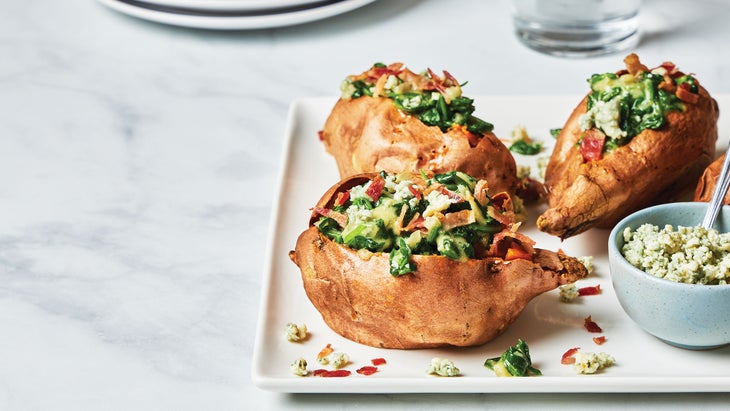 Get the recipe here.
Sweet & Sour Chicken Lettuce Wraps with Almond Ginger Sauce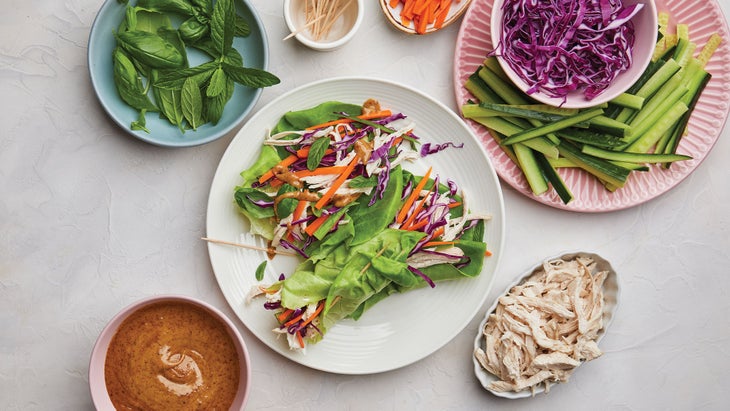 Get the recipe here.
Curried Salmon Bowl with Kale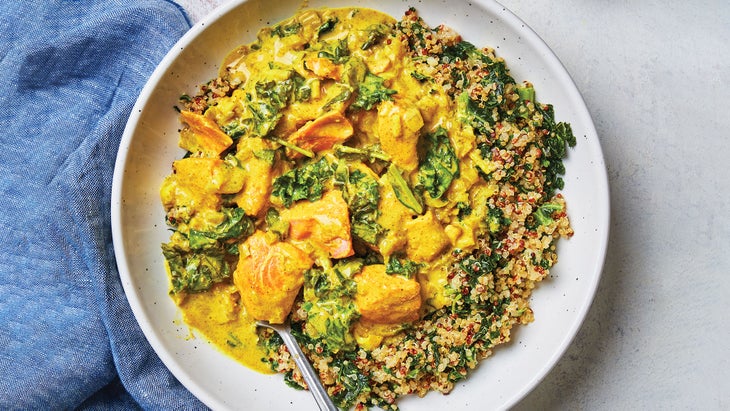 Get the recipe here.