3 Healthy Vegan Recipes for Fall
Eating more plants is great for your health and the environment. Culinary nutritionist Marni Wasserman shares her favorite fall vegan recipes.
Heading out the door? Read this article on the new Outside+ app available now on iOS devices for members! Download the app.
Marni Wasserman, culinary nutritionist, health strategist and owner of Toronto's first plant-based cooking studio Marni Wasserman's Food Studio and Lifestyle Shop, uses passion and experience to educate people on how to adopt a realistic vegan diet that is both simple and delicious. In layman's terms, her life is rooted in health. But don't worry if you can't make it out to one of her hands-on classes, because we are sharing a few of her favorite fall recipes. Try one of these plant-based recipes next Meatless Monday and beyond.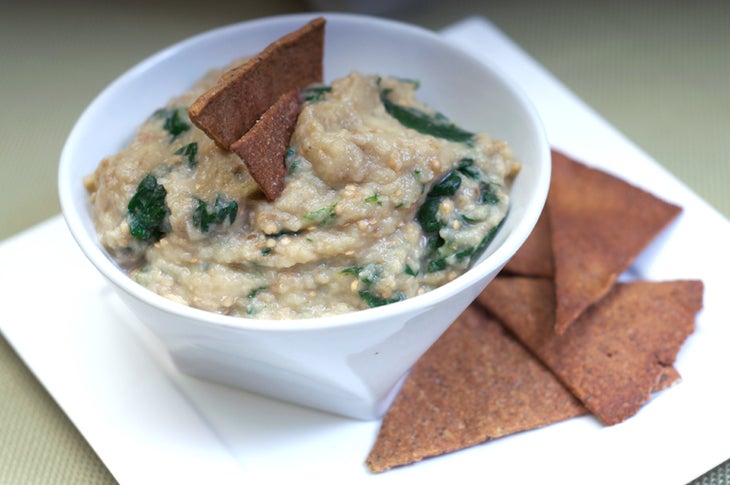 Roasted Eggplant Dip with Wilted Spinach
This dip is so versatile and can be used with a variety of vegetables. Roasting the eggplants brings out a smoky flavor.
INGREDIENTS:
2 large eggplants
1 head of garlic, roasted and mashed
2 tablespoons of lemon juice
1 teaspoon cumin
1 teaspoon salt
1 tablespoon tahini
1 tablepsoon olive oil
1 cup of steamed spinach
INSTRUCTIONS:
Preheat oven to 350F. Slice off the tip of a head of garlic and place in a piece of foil, brush with olive oil and sprinkle sea salt. Wrap up and bake for 1 hour.
Cut the eggplant into rounds and roast the eggplant in an oven until the flesh feels very soft (approximately 20-30 minutes).
Remove tray from oven to allow eggplant to cool. Peel the skin away from the flesh and place into a food processor
Steam spinach lightly until just wilted.
In the food processor, add the roasted garlic, lemon juice, cumin, salt, tahini, and olive oil. Process until combined.
Transfer eggplant dip into a bowl, stir in spinach and add more salt to taste. Serve with pita or flatbread and enjoy.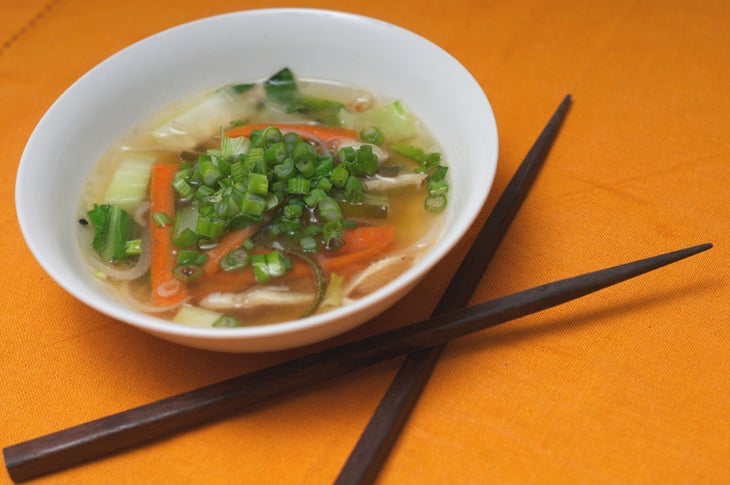 Country Miso Soup
Miso, is a paste made out of fermented soybeans, is an antioxidant-rich superfood that aids digestion.
INGREDIENTS:
10 cups water
4 dried shiitake mushrooms
1 block organic tofu, cut into chunks
1 sheet of kombu
1/2 cup wakame soaked for 5 minutes and cut into bite sized pieces
4 pieces of kale (stems removed) and cut into bite sized pieces
2-4 stalks of celery, cut crosswise into small pieces
2 large carrots, peeled, halved and cut into small pieces
1 small onion, halves and cut into slices
1 cup miso paste
3 green onions
1 package of King Soba brown rice noodles or kelp noodles
INSTRUCTIONS:
Boil the 10 cups of water in a pot, lower heat and add the strip of kombu and half the shiitake mushrooms (this adds extra nutrients to the soup broth).
Let the water come to a simmer for 30 minutes with the onion, carrots and celery.
At the end of the 30 minutes, add the rest of the shiitake mushrooms and tofu cubes and simmer for another 10 minutes. Cook noodle according to package.
Add the steamed kale. Let the soup simmer for 10 – 15 minutes.
Remove 1-2 cups of liquid and stir in the miso paste in a separate bowl*. Once dissolved, add the noodles, wakame and mixture back into the pot. Turn off the heat and stir, garnish with chopped green onions.
Always add miso paste at the end. Miso is very delicate and should never be boiled; it destroys the natural enzymes.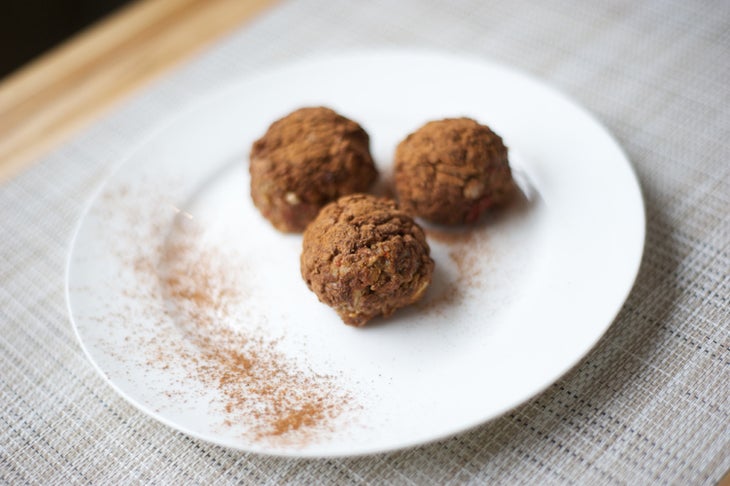 Cocoa Bliss Balls
These blissful chocolate balls are loaded with calcium and iron and provide long lasting energy. Just two balls and you're good to go for hours!
INGREDIENTS:
3/4 cup almond butter
1/4 cup tahini
1/2 cup maple syrup
1/2 cup sesame seeds
1/4 cup cocoa powder
1 cup oat bran
1/2 cup quinoa flakes
1/2 cup unsweetened coconut
 INSTRUCTIONS:
Add nut butter, tahini, and maple syrup to a bowl or food processor and blend until smooth.
Add sesame seeds, cocoa powder, oat bran, and quinoa flakes and blend until mixture becomes like dough.
Scrape down sides of food processor as needed. Spread coconut on a plate.
Roll mixture into 1-inch balls and roll in shredded coconut.
Cover and store in refrigerator for up to 2 weeks.