One of Your Thanksgiving Guests is Veg – Now What? We're Coming in Clutch With These Plant-Based Platters
The holidays can be a hard time for plant-based eaters, when family dinners often feature meaty mains like gigantic roasted birds. But with our recipes below, you can be sure your veggie-based friends will go home satisfied.
Heading out the door? Read this article on the new Outside+ app available now on iOS devices for members! Download the app.
Feeding your plant-based guests this holiday doesn't have to be hard! Sprinkle some of the following vegetarian clean eats throughout your Thanksgiving dinner for a menu that serves everyone. We're not just sharing a couple veggie options for starters and salads — our menu includes satisfying meat-free mains, satisfying sides and even a totally vegan dessert.
Appetizers
Cut your teeth on these easy yet impressive apps to start your Thanksgiving menu on a classy note.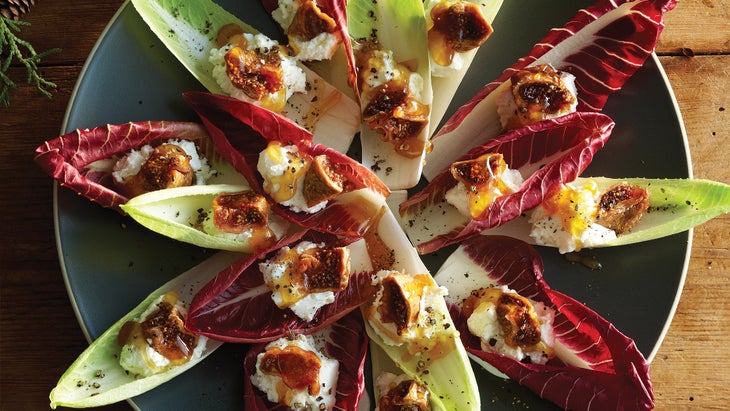 These fresh, crisp bites are the perfect Thanksgiving app for the busy chef. With no cooking involved, delectable endive leaves are loaded with creamy goat cheese and sweet honey. We chose to plate ours in a simple yet striking floral arrangement.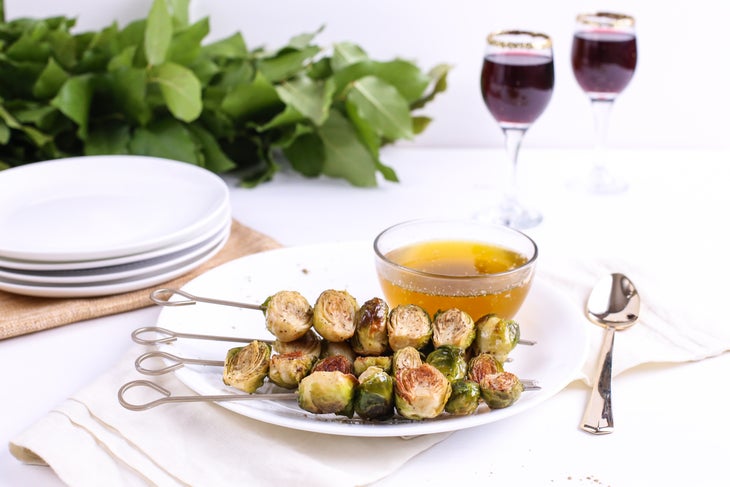 This incredibly easy appetizer comes together in just 3 steps: First, oven-roast some oiled and seasoned sprouts. In the meantime, melt some butter in a saucepan and flavor with herbs and aromatics. Lastly, skewer your finished sprouts and serve with your butter sauce.
Meat-Free Mains
Plant-based starters and sides are all well and good. But a truly veg-friendly dinner calls for at least one hearty meat-free main. Treat your veg-head guests to the following filling recipes for an overflowing platter that fits their dietary needs.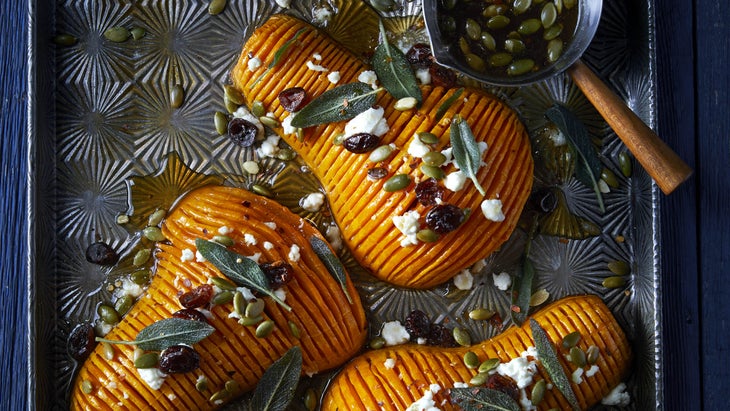 This recipe is so vibrant and gorgeous, expect to see your guests whip out their phones and Instagram away. We've taken your basic butternut squash, given it some heat and topped it with sweet honey, creamy goat cheese and extras like crunchy pepitas and sweet dried cranberries.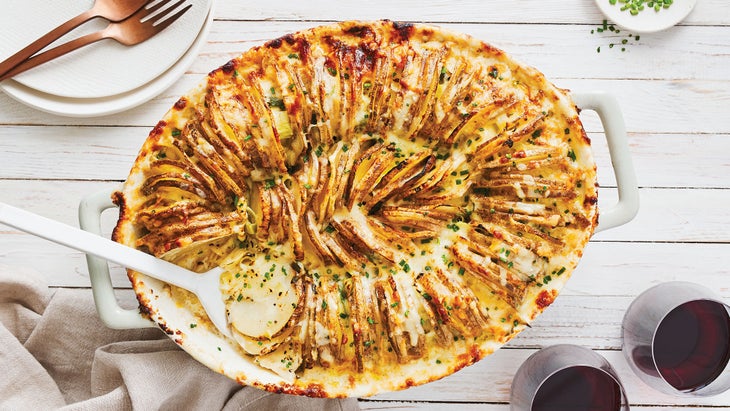 Thanksgiving cooking is exhausting as it is. That's why this gratin is perfect – it'll be loved by meat-eaters and vegetarians alike. Normally, gratin is layered horizontally so the sliced vegetables lie flat in the dish. But we're turning this dish on its side, literally! The ingredients stand on their edges, for a fancy finish that looks as good as it tastes.
Sides
Let's be honest, veg-based sides aren't much of a challenge on Thanksgiving. We've all passed around the platter of green beans. But what we're doing here is changing things up a little. Keep your veggie sides interesting for all your guests – not just your plant-based pals – with these unconventional recipes.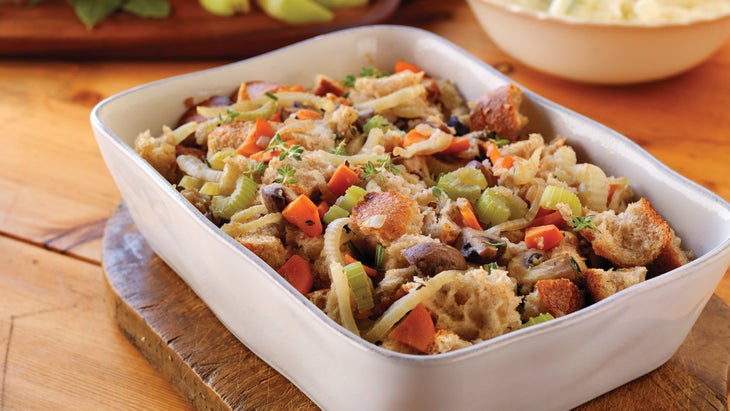 For many, the best part of the Thanksgiving bird is the stuffing. Unfortunately for our plant-based loved ones, tearing apart the turkey just to get at the stuffing isn't exactly smiled upon. That's why we crafted this Classic Dressing, Heavy on the Veggies. Enjoy our version with celery, carrots, fennel, onion and mushroom, or switch up the veg to your liking.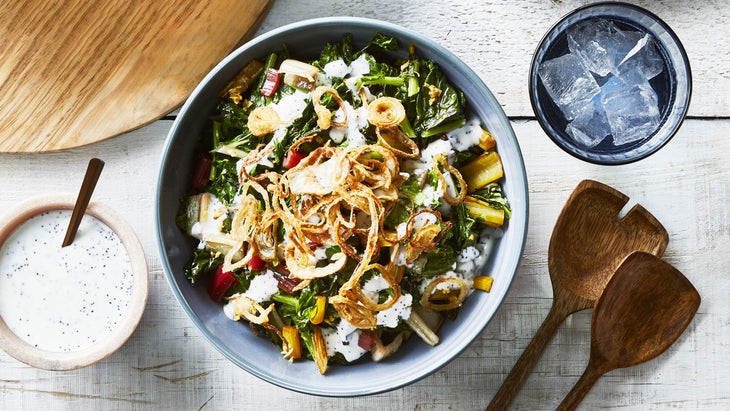 When it comes to greens, you don't have to settle for basic or bland. These Buttermilk-Drizzled Greens with Crispy Shallots are the perfect example. This side dish features two incredibly good-for-you leafy greens: Swiss chard and kale. Paired with perfectly-fried shallots and topped in decadent dressing, this will have you enjoying veggies in an entirely new way. 
Salads
Whether it's a starter or a side, no formal meal is complete without a stunning salad. These holiday salads are plant-based perfection, loaded with nutritional goodness. (Plus, they're super Instagrammable.)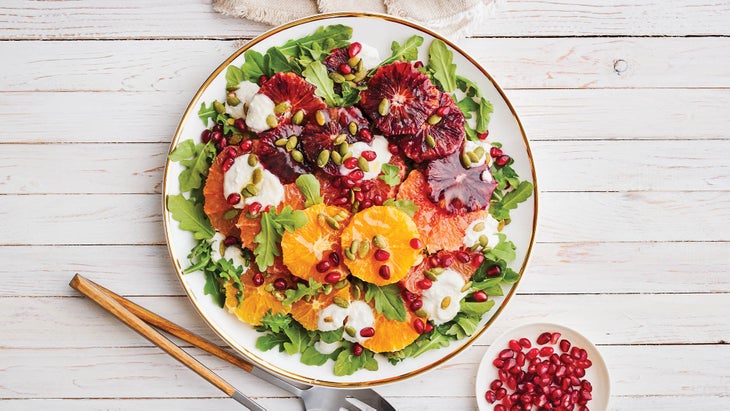 Have you ever seen a platter so pretty? This citrus-based salad was originally developed for our 2020 winter holidays menu. But featuring Fall favorites like pumpkin seeds and arugula, it's perfect for the Thanksgiving atmosphere.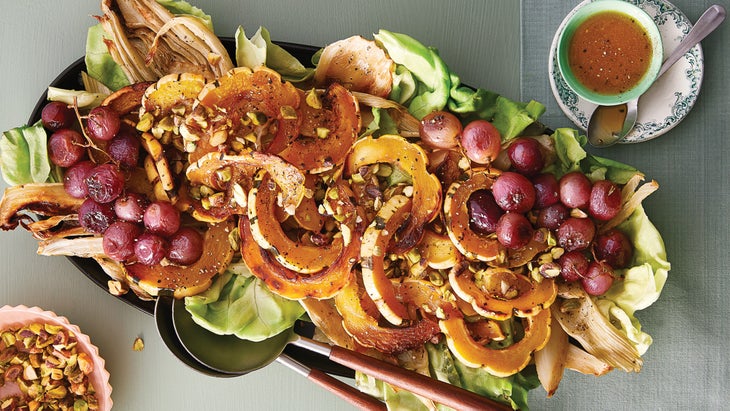 You read that right: roasted grapes. Oven-roasting these juicy fruits intensifies their flavor, adding big bursts of sweetness against the savory veggies and lemon vinaigrette. We garnish this fruit-and-veg dish with chopped pistachios for additional texture.
Sweets
The holidays are a time for indulgence. That's why we craft so many clean treats designed to satisfy your sweet tooth. Check out the below recipes – one, vegetarian, and the second, vegan!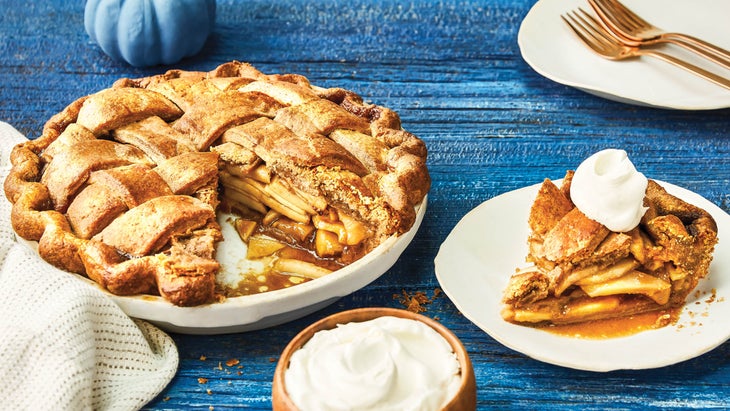 It really doesn't get more seasonal than a classic apple pie. We strongly recommend baking this dish using freshly picked apples. We infuse tender apple slices with warm cinnamon. Check out the full recipe, which includes instructions on putting together a stunning lattice crust.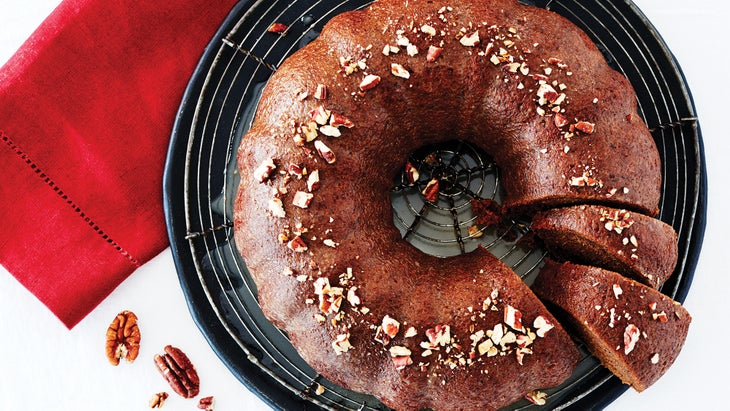 After a filling Thanksgiving dinner, it's common to reach for a hot mug of coffee. Not only does it help with digestion, but it also reinvigorates the crowd for post-dinner merriments. Accompany this routine with our decadent, vegan-friendly coffee cake. This sweet treat gets a nutritious boost from whole-grain flour, flaxseeds and squash.