Garlic & Horseradish Beef Tenderloin
Basically filet mignon before it's cut into steaks, beef tenderloin is naturally lean. Here, we add a crust of garlic and horseradish, which mellows to become amazingly flavorful without being overpowering.
Heading out the door? Read this article on the new Outside+ app available now on iOS devices for members! Download the app.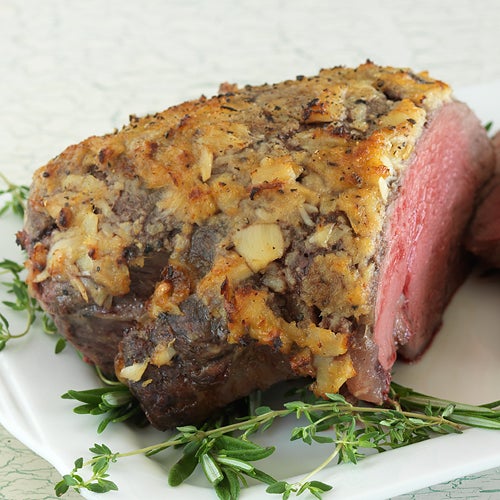 Serves: 10
Hands-on time: 15 minutes
Total time: 2 hours
INGREDIENTS:
20 cloves garlic, whole
1 tsp olive oil
2 tbsp prepared horseradish
1 tsp fine sea salt
1 tsp fresh ground black pepper
3 lb center-cut beef tenderloin roast, trimmed of visible fat
Fresh thyme and rosemary for garnish, optional
INSTRUCTIONS:
Preheat oven to 375°F. On an 8-inch square piece of foil, add garlic and drizzle with oil. Fold up edges of foil to create a sealed pouch. Transfer directly to oven rack and roast garlic until soft but not browned, about 30 minutes. Carefully open packet and set aside until cool enough to handle, about 5 minutes. Increase oven temperature to 475°F.
In a small bowl, mash garlic, horseradish, salt and pepper with a fork to form a rough paste. Arrange beef on a rimmed baking sheet and spread garlic mixture over top and along sides. Transfer to oven and roast for 10 minutes. Reduce temperature to 425°F and roast for 35 to 45 minutes, or until an instant-read thermometer registers 140°F when inserted in center. (TIP: If garlic mixture browns quickly, cover beef loosely with foil.) Remove from oven, loosely cover with foil and set aside for 15 minutes.
Cut beef into 1/4-inch slices and divide among serving plates. Drizzle with any accumulated pan juices.
Nutrients per 4-oz serving: Calories: 217, Total Fat: 9 g, Sat. Fat: 3 g, Monounsaturated Fat: 4 g, Polyunsaturated Fat: 0.4 g, Carbs: 2 g, Fiber: 0 g, Sugars: 0 g, Protein: 30 g, Sodium: 277 mg, Cholesterol: 83 mg
Nutritional Bonus: Naturally, this recipe is an excellent source of protein. But it's also loaded with minerals, including iron, phosphorus, selenium and zinc. Zinc is an essential mineral that performs a variety of jobs in the body. In some trials, zinc lozenges have been shown to reduce the duration of colds in adults, possibly because it acts as an antiviral in the throat. Good to know with cold season upon us!