Chef Bai is a Plant-Based Powerhouse Who's Helping Others Heal Through Food
Chef, food blogger, holistic nutritionist, podcast host – Chef Bai is doing it all, and she's living proof that plant-based eating can come with powerful benefits.
Heading out the door? Read this article on the new Outside+ app available now on iOS devices for members! Download the app.
We're big believers in using food to heal at Clean Eating. Whether you're hoping to achieve better overall health, working towards your personal wellness or combatting the symptoms and source of a chronic health issue, what you eat can nourish you in so many ways. And when I came across Chef Bai, author of the cookbook Cook, Heal, Go Vegan!, I knew I'd found someone who embodied the CE mindset. 
Chef Bai – whose full name is Bailey Ruskus – is a plant-based chef who wasn't always all about living a vegan lifestyle. As a professional chef classically trained at Le Cordon Bleu in San Francisco, Ruskus grew her expertise and went fully plant-based after experiencing chronic health issues. And she hasn't looked back since, turning her lifestyle into an entire empire as a holistic nutritionist, health coach and podcast host. Now, Ruskus is now helping others heal through food (and plants!).
I spoke with Chef Bai to learn how going plant-based improved her health, shifted her career and cooking, and ultimately changed her life for the better.
Chef Bai discovered the healing potential of plant-based eating firsthand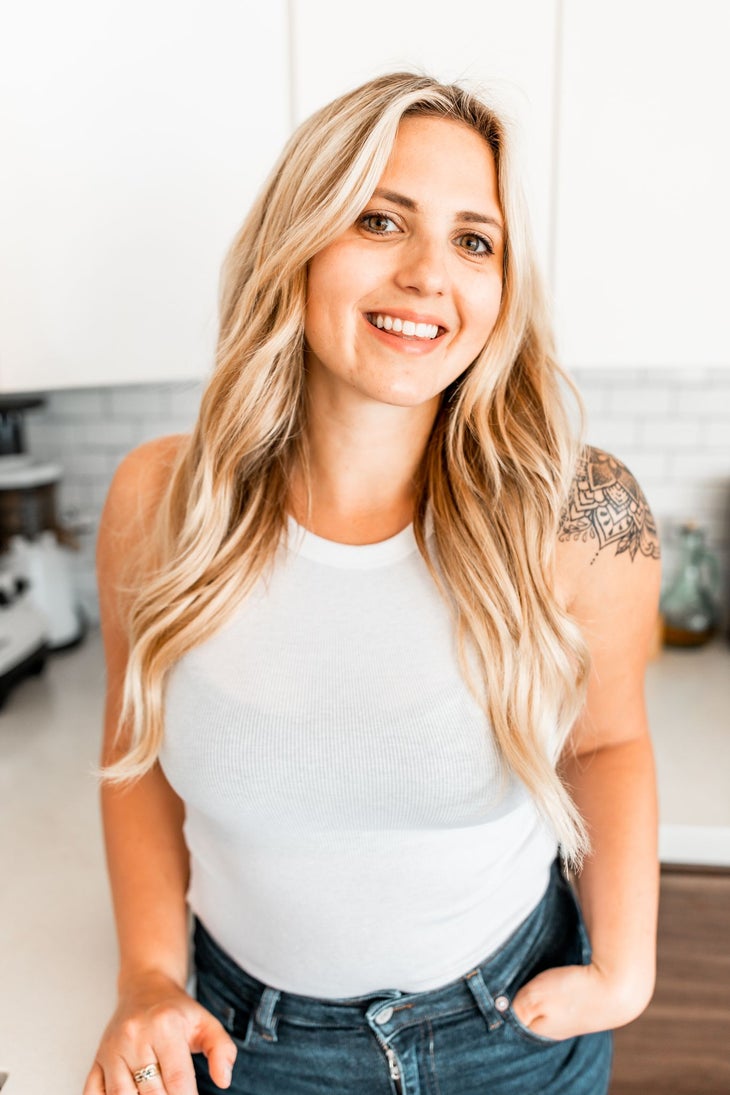 Food has always been a passion for Ruskus – in fact, she dove into cooking as a kid. "I actually started working in kitchens when I was 11," she says. "I chose to work in a pastry kitchen instead of [attending] summer camp. All throughout high school I managed a bakery, and then I went straight to Le Cordon Bleu."
After completing her culinary education, Ruskus began working in restaurants and as a private chef in San Francisco. But in the midst of all of her success, she was facing the painful symptoms of a chronic illness. 
""Endometriosis was a huge struggle. Specialists weren't giving me the answers that I needed," Ruskus says. So, she decided to take her health into her own hands. "After having crazy debilitating pain, I went back to school for nutrition."
As Ruskus began learning more about how – and what – she was feeding her body while she earned her certification in plant-based nutrition from the T Colin Campbell Center for Nutrition Studies, she realized there was a close connection between food and health. And it opened her eyes to how changing her diet just might change the symptoms she was living with daily. So, Ruskus decided to make a dramatic change.
"I went fully plant-based four years ago," she says. "I honestly had tried everything else."
Putting meat aside and going all-in on a vegan diet made a difference quickly. "Little symptoms that I didn't realize were related to what I was eating – when I went plant-based, it was like the whole world opened up," she says. 
After discovering the power of plant-based eating firsthand, Ruskus decided that she wanted to help others do the same. It wasn't enough to simply feel better herself; she began bringing her newfound vegan approach to her clients and, ultimately, others with chronic health woes.
"I transitioned from cooking for professional athletes and CEOs to regular, everyday people who are dealing with health issues," Ruskus explains. "I just kind of was like, 'There's got to be something else to this industry.' I decided that restaurants didn't resonate with me any longer.  So, I started my blog and used it as a way to learn more and share what I learned with other people."
While Ruskus shared her own plant-based recipes, nutrition advice and cooking expertise online, she also became a certified Health Coach through the Institute for Integrative Nutrition. As her reach grew, she began seeing just how significant plant-based eating could be for the health of individuals everywhere.
A passion for helping others achieve better health
In addition to her own transformative plant-based journey, Ruskus is dedicated to helping others discover how a plant-based approach may lead to better health and improved quality of life. 
"While I was healing myself, I was helping others heal themselves too," she says. And the results have been pretty significant. "When I look at the clients I work with one-on-one, I've helped people reverse type 2 diabetes, get off blood pressure medications – all of these little miracles," she explains. 
While there are plenty of misconceptions about going vegan (and plenty of pushback!), Ruskus wants people to know that plant-based eating just might show you that there's a better future ahead. And it all starts with what you're fueling your body with. 
"[You] have more control over [your] health than [you] realize," she says. "People don't know how truly good they can feel. The average American is running at a 4 out of 10 – they don't even know what an 8 feels like!"
Part of this, Ruskus believes, is because too often we simply assume that our aches, pains and health problems are natural. "We're led to believe that we're not supposed to feel good," she remarks. 
That's something we already see the power of in our clean eating principles. Limiting additives and unnatural ingredients, from gums to added sugars to preservatives, can benefit your health in noticeable ways. And eating more plants – or simply going plant-based for a few meals every week – can positively shape your health from head to toe.
Going plant-based can be challenging – but it can also be fun and inspiring
The thought of giving up meat and all other animal products is daunting for absolutely everyone. And when I asked Ruskus what challenges she faced when she decided to go all-in on plant-based eating, she didn't shy away from sharing the hardest parts of this big change.
"My husband went plant-based with me, and it changed everything for us," she says. "The hardest thing [about going plant-based] was the social aspect. I think people just don't take it seriously, especially when we're in this hardcore 'real people eat meat' culture. My husband and I had a really hard time with our friends; we couldn't go anywhere without people clowning us at first."
Ruskus also notes that the initial transition to a vegan diet made her… well, something of an angry vegan! As her mindset about food – and animal-based foods – shifted, so too did her feelings about not making the change sooner "Everything that you're used to doing, you look at completely differently," she explains. "When you first go vegan, you get angry. You're angry with yourself, like 'How did I not make these connections before?'"
And, naturally, Ruskus did find it tough to give up some of the foods she'd loved for years. "For me, the hardest thing I ever gave up was dairy," she says. "I felt like I had this connection to different types of cheeses, the way that you use dairy. There's a huge side of nutrition that centers around dairy."
Of course, these initial challenges wore off, plant-based eating became easier and Ruskus saw far more benefits than drawbacks to sticking with a vegan diet. One of the most surprising? Being vegan actually inspires her in the kitchen.
"It's actually made me a much better chef," Ruskus says. "I don't rely on meat proteins to create a dish. I can now rely on thousands of plants and so many different concepts."
And all of that inspiration is exactly what led to her gorgeous, plant-based cookbook.
Chef Bai's cookbook will introduce you to the power of a plant-based eating approach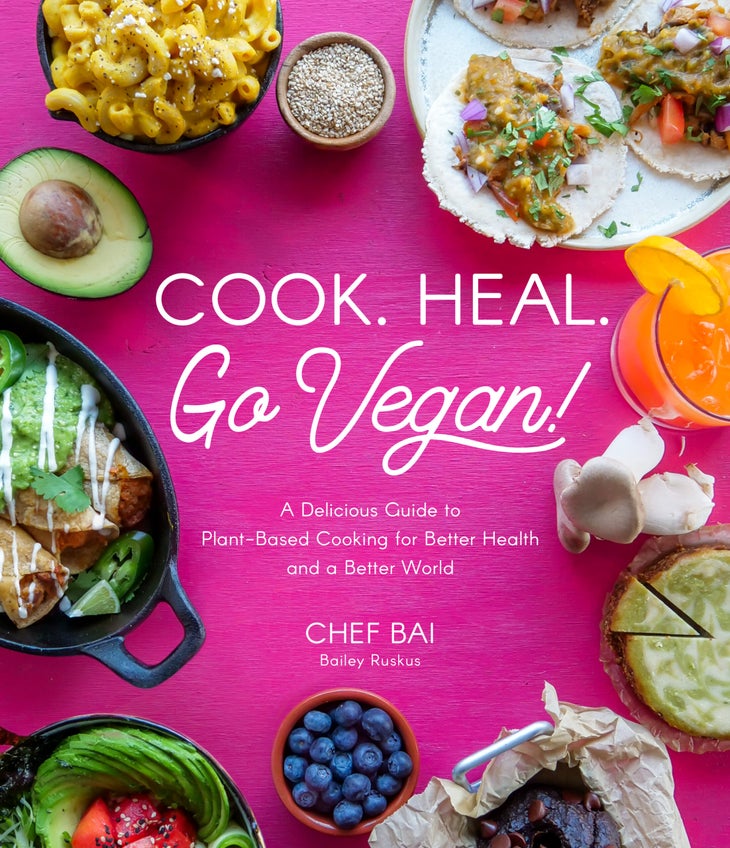 Chef Bai isn't here to tell you that plant-based or vegan eating is the only way to go. "All these [foods] have their place, but we've relied so heavily on unnatural things that we've forgotten how powerful nature is."
And, truth be told, plants make some seriously delicious food. All it takes is rethinking the way you approach cooking and opting for plant-based ingredients. Just take a spin through Cook. Heal. Go Vegan!, which features over 70 recipes Ruskus enjoys all the time, and you'll find everything from comfort food classics like Spaghetti Alfredo and Flaky, Buttery Biscuits and Mushroom Gravy to totally new ideas like Breakfast Tacos with Ranchero Sauce or Chai-Spiced Almond Chocolate Bars. And, of course, you can't overlook decadent recipes like Blender Dark Chocolate Donuts (my mouth is watering just thinking about those treats!). 
Ruskus came up with her cookbook's recipes over time. "Since it's my first cookbook, it was definitely a lot of stuff I had in my back pocket," she says. "It's things I eat all the time that I was excited to make my own."
The ultimate goal, Ruskus explains, was to make plant-based eating approachable and relatable. "I wanted to create a book that was practical; I wanted people to be really proud of what they're cooking, and to [have] the opportunity to learn about spices, different cultures, maybe even their own culture. [The book shows] you can respect your culture, your body and the environment."
In addition to developing and testing all of her recipes right at home (and in the middle of the COVID-19 pandemic!), Ruskus and her husband also handled all of the photography. It was, from beginning to end, a grassroots-like process.
"From writing to editing to promoting, it was all so new to me," Ruskus says. But it paid off in just the way she'd hoped: Her cookbook has been able to introduce others to plant-based eating for  better health and a happier life.
"When my cookbook launched, I was getting thousands of messages from women with endometriosis because there aren't a lot of answers out there," Ruskus says. "[It] was such a great way to reach other people from all over the world and make an impact."
Ready to give some of the delicious recipes in Chef Bai's cookbook a try? She suggests the Chicago-Style Classic Deep-Dish Pizza or the New York-Style Matcha Cheesecake. "The pizza is one of my absolute favorites between the spelt crust and mozzarella cheese – it's so delicious but so healthy," Ruskus recommends. "I also love the matcha cheesecake, I make it every other week."
One of her go-to recipes at home is the Seared Sweet Potato Flautas and Avocado Salsa Verde – a dish that Ruskus shared with Clean Eating readers. You can make the flautas for yourself right here.
And don't forget to pick up a copy of Cook. Heal. Go Vegan! to keep in your own kitchen. You can get the cookbook and all of its recipes at Amazon or at Chef Bai's website.
To learn more about the healing power of plants and plant-based eating, keep reading: