10 Functional Mushroom Drinks That Will Offer Bigger Benefits Than Your Morning Cup of Coffee
Functional mushrooms are having a moment. We rounded up 10 adaptogenic coffees, teas, hot chocolates, and ready-to-drink beverages that should be on your radar.
Heading out the door? Read this article on the new Outside+ app available now on iOS devices for members! Download the app.
Have you noticed how functional mushrooms are popping up like, well, mushrooms all over grocery stores and health food store aisles lately? They seem to have infiltrated almost every food product, from coffee to snacks — and for good reason.
"Functional mushrooms are profoundly beneficial," says Rachelle Robinett, RH(AHG), a Registered Clinical Herbalist, holistic health practitioner, and founder of Pharmakon Supernatural. "They're a food, and a medicine, and work in a variety of ways, which is part of what fuels the well-deserved hype."
She explains that mushrooms contain beta-glucans, which are a soluble fiber that has shown antimicrobial (stops the growth of microorganisms), anticancer, anti-diabetic, and anti-hypercholesterolemic (controls cholesterol levels) properties in clinical trials. Additionally, mushrooms are beneficial for the immune system, brain health, gut health, cellular health, and more. 
"From helping to normalize immune-system function and being used in cancer treatment protocols in China, primarily, to certain mushrooms supporting collagen production in topical skincare products, their uses are practically countless and endlessly impressive," says Robinett.
There are more than 10,000 known types of mushrooms on this planet, but you'll likely find the same handful of varieties used over and over again in most food products when you inspect the ingredients labels. Robinett shares some of the most popular types and explains why they are so desirable:
Poria:

This immune-system balancer

has been used in China

as part of cancer protocols.

Reishi:

This variety has powerful

anti-inflammatory activity

that can be used for asthma, COPD, irritable bowel syndrome, and more. 

Turkey Tail:

Looking for an immunity boost? This type contains some of the highest levels of beta-glucans, which are immune-system modulating polysaccharides that promote an active, balanced immune response. 

Chaga:

Used in Russia and Scandinavia for

treating a variety of cancers

, Chaga

enhances immune function

and is excellent for gut health. 

Cordyceps:

This parasitic fungus is actually a calming adaptogen used to nourish the endocrine, immune, kidney, reproductive, and nervous systems. They have even been shown to

improve aerobic performance

.
"Variety matters if you want the fullest spectrum of benefits," says Robinett. "Or you can choose to work with a single mushroom for its specific effects."
10 Ways to Drink Your Mushrooms
Not keen on the taste or texture of mushrooms? You're in luck — your palate won't even be able to detect these fungal ingredients in your drinks, yet you'll reap all the health benefits.
1. MUD\WTR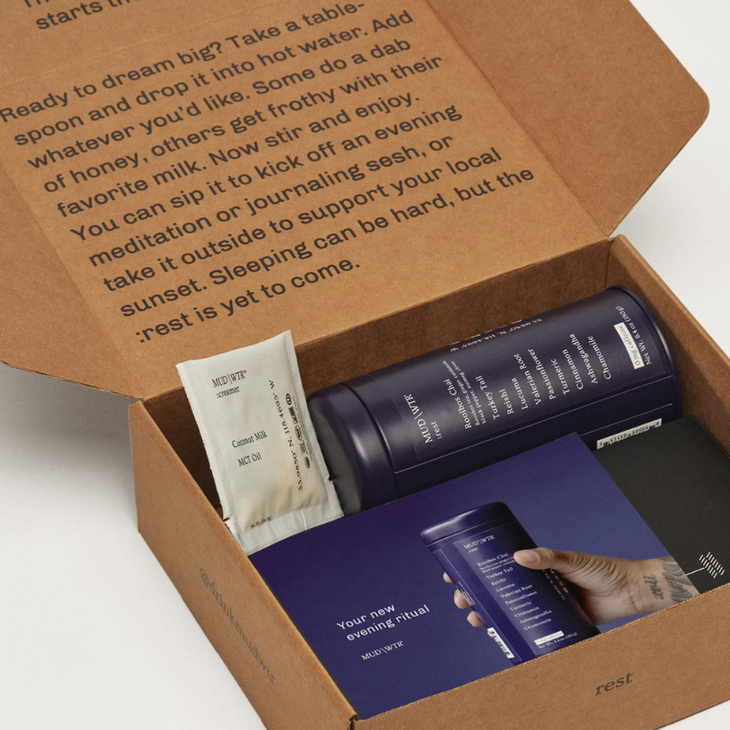 Have you joined the "ditch the coffee" bandwagon? Bring some coziness back to your mornings with MUD\WTR, a coffee alternative made with one-seventh the caffeine as a cup of coffee and a blend of mushrooms including lion's mane, Chaga, reishi, and cordyceps. For evenings, they offer an Evening Ritual blend that'll chill you out thanks to valerian root, turkey tail, and reishi mushrooms. MUD\WTR, $40 for 30 days
2. The Tea Spot Ashwagandha Chai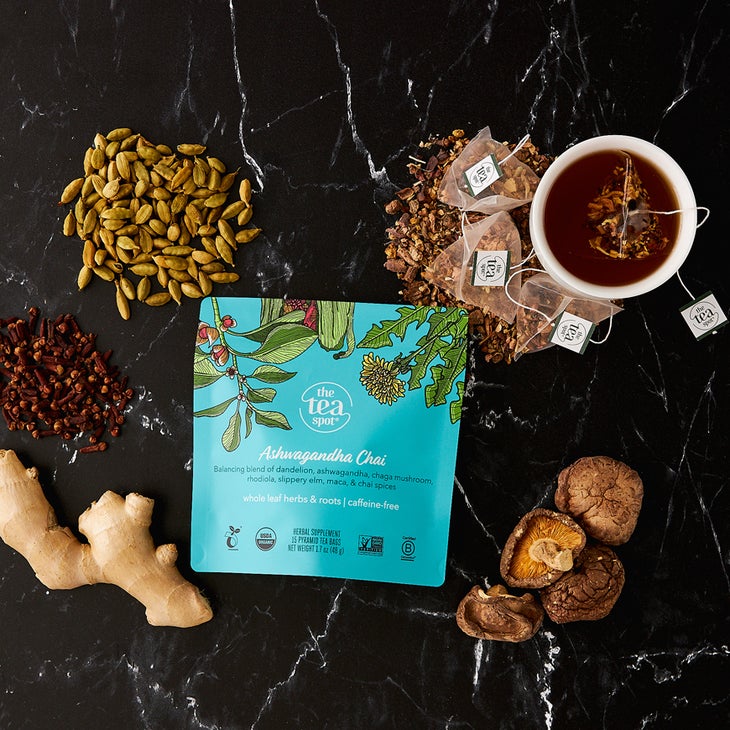 There's just something so comforting about a cup of tea, especially when it's brimming with a blend of 12 adaptogenic herbs and roots, including Chaga mushrooms. Bring balance back to your life with this cozy concoction that's naturally caffeine-free, vegan, and encased in a plant-based sachet that's biodegradable and compostable. The Tea Spot, $16
3. Leaf People La Republica 7 Mushroom Coffee Blend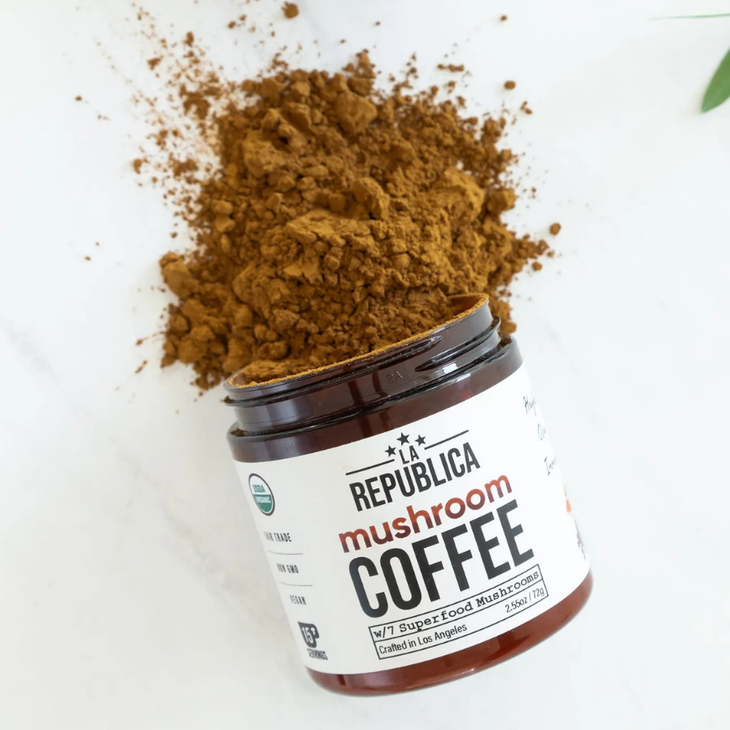 Consider this your wake-up call to wake up with a different type of coffee in your mug — one filled with seven (yes, seven!) mushroom extracts. La Republica 7 Mushroom Coffee Blend contains freeze-dried arabica coffee and a blend of Chaga, lion's mane, red reishi, maitake, shitake, cordyceps, and turkey tail. Just mix a teaspoon with hot water and enjoy. Leaf People, $23
4. Mindright Brain Boost Coffee Enhancer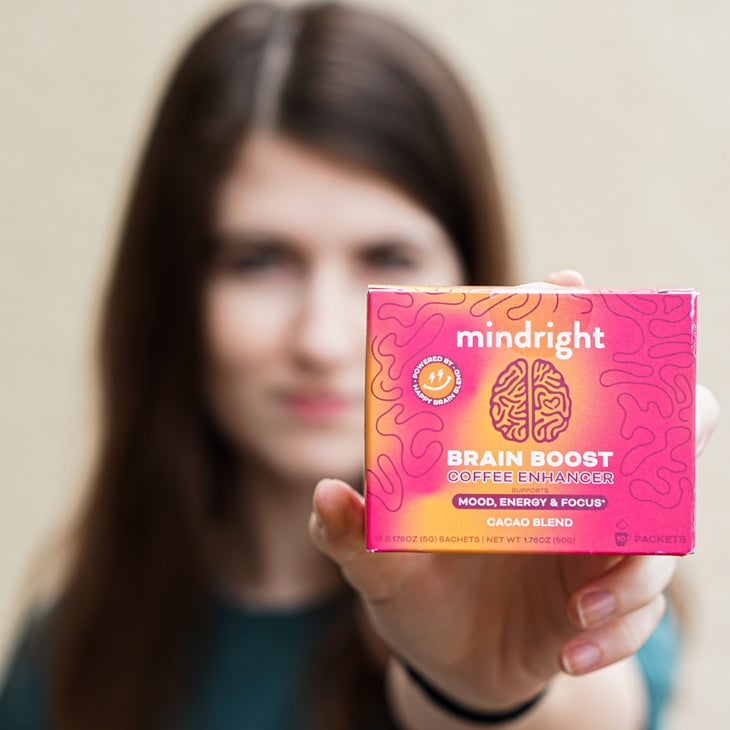 Give your brain a little boost with Mindright's Brain Boost Coffee Enhancer, which contains cordyceps and lion's mane for improved energy, focus, memory, and immune support. Simply add it to your morning cup of coffee (or smoothie) and you'll get all its mood-boosting benefits. Mindright, $18
5. Organifi Gold Chocolate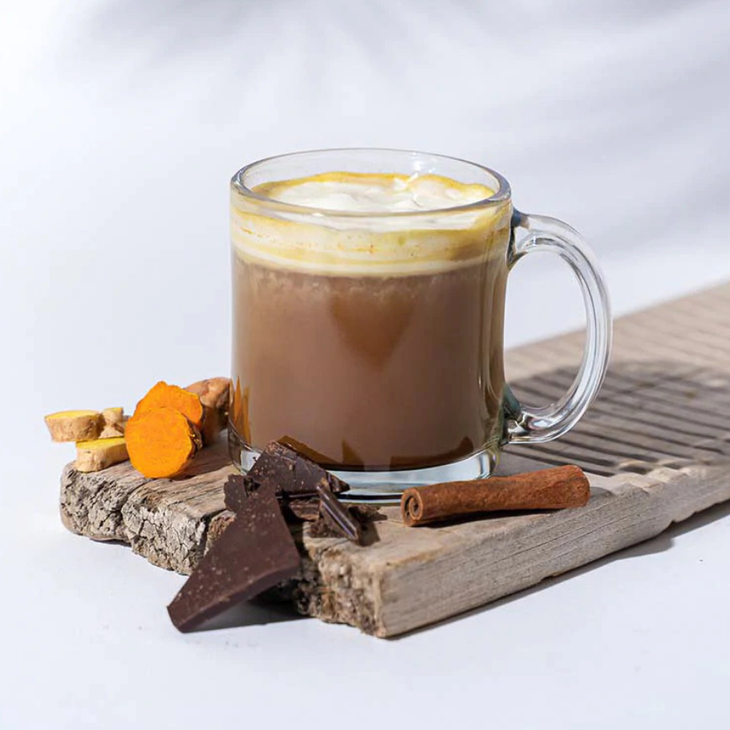 Mushrooms can also be a great supplement to your bedtime routine. Organifi's Gold Chocolate deftly pairs cocoa with mushrooms and other adaptogens to promote a restful night's sleep. There's no sugar and they chose reishi for their mushroom variety because it's known as the "grounding" mushroom. Organifi, $70
6. Kroma Ultimate Vitality Latte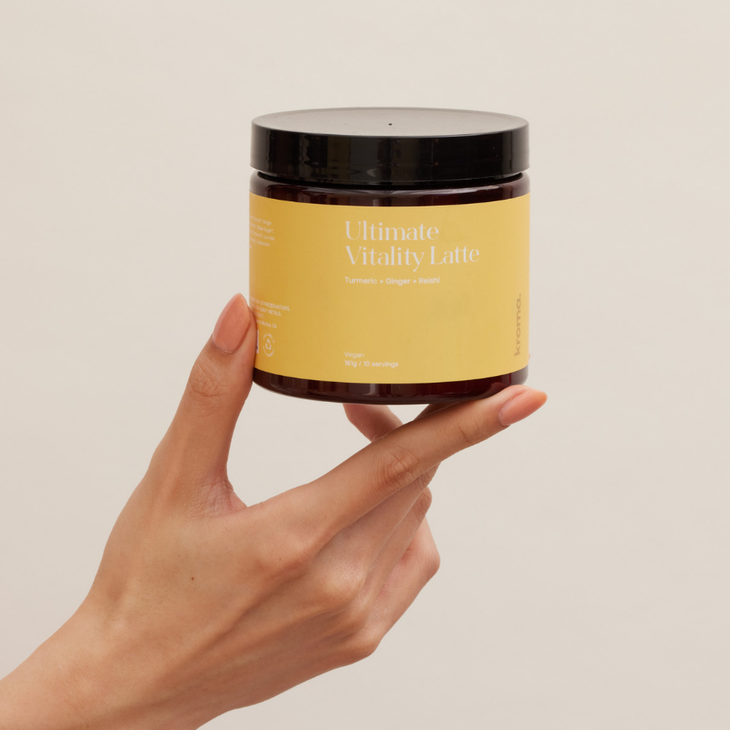 What happens when you combine the anti-inflammatory power of turmeric and the immune-boosting power of adaptogenic reishi mushrooms? You get Kroma's Ultimate Vitality Latte, which is sure to help you find your inner "ahhhhh." It's free of dairy, gluten, soy and GMOs, vegan-friendly and the ginger may also help support your digestion. Kroma, $35
7. Garden of Flavor Pear Reishi Energy Elixir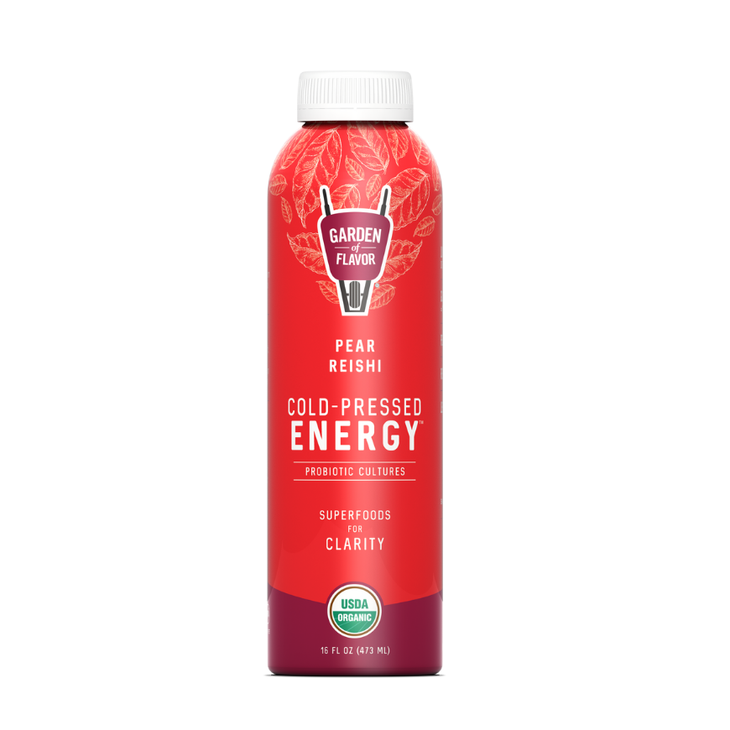 If you love how energy drinks make you feel and the convenience of ready-to-drink beverages, just wait until you've tried one that contains lion's mane and Chaga. Garden of Flavor's Pear Reishi Energy Elixir delivers these liquified mushrooms to help support brain health and reduce anxiety, while also including probiotic cultures for gut health. Garden of Flavor, $59
8. Rasa Magnificent Mushrooms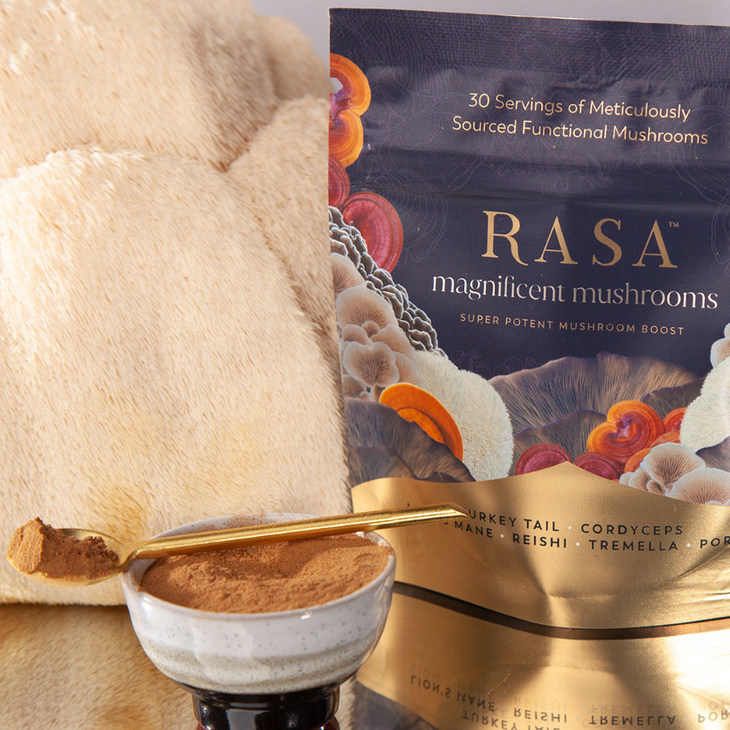 Searching for that full spectrum of mushroom varieties Robinett mentioned earlier? Rasa's Magnificent Mushrooms powder has you covered with turkey tail, reishi, cordyceps, lion's mane, tremella, and poria. This well-rounded blend helps everything from immunity and mental agility to a balanced mood and sexual energy. Rasa, $30
9. Elements of Balance Focus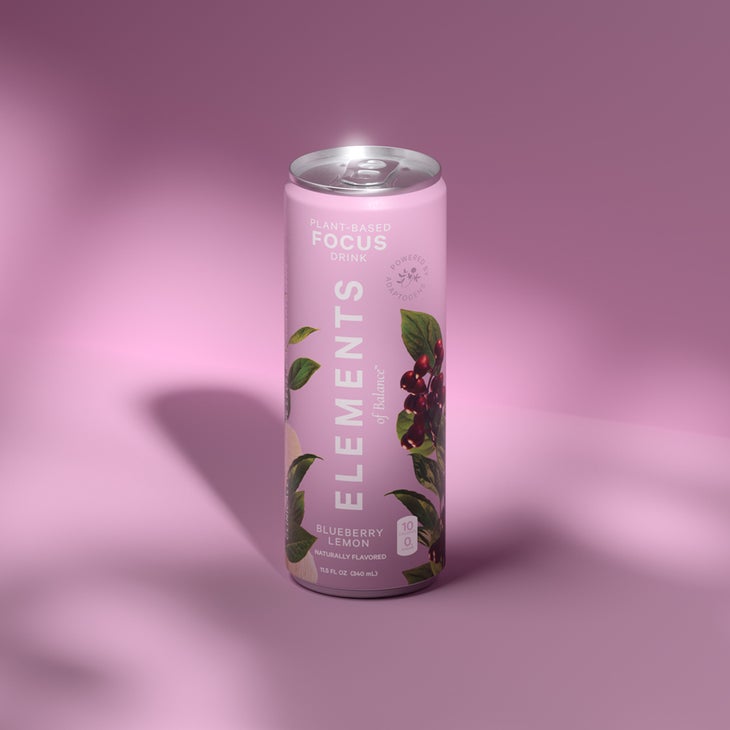 Another grab-and-go option for getting your dose of adaptogens is Elements of Balance Focus, a plant-based drink featuring 100 mg of lion's mane mushrooms for extra concentration. There's no sugar, it's only 10 calories, and the blueberry lemon flavor is awfully refreshing for your afternoon pick-me-up. Elements of Balance, $36
10. Real Mushrooms Mushroom Hot Chocolate Mix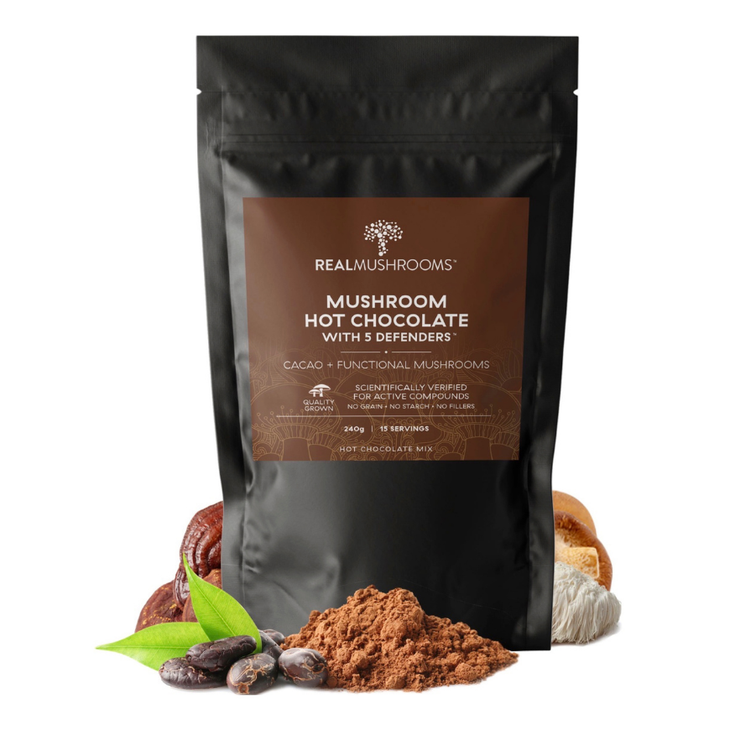 While the thought of mixing chocolate and mushrooms might not sound super appealing, you're likely to change your tune upon trying Real Mushrooms' Mushroom Hot Chocolate Mix (spoiler: you can't taste the mushrooms). We're talking about sustainably sourced heirloom cacao paired with a blend of reishi, shitake, maitake, turkey tail, and Chaga, for a certified organic, gluten-free, and non-GMO mix that actually tastes good. Real Mushrooms, $25
Read more about the powerful benefits of mushrooms: