Your 1-Week Eco-Minded Meal Plan
This easy eating plan will fill your plate with plenty of veggies and other plant-based ingredients over the course of seven days.
Heading out the door? Read this article on the new Outside+ app available now on iOS devices for members! Download the app.
Would you believe me if I told you that this meal plan contains 20 different veggies?! If you're looking to add more variety and more veggies into your diet, then this week-long meal plan is for you. But this meal plan is about more than merely veggies – it's also a great way to tweak your diet so you're eating meals that are more eco-minded. 
Putting more plants on your plate is a fantastic way to make your meals more sustainable. You don't have to completely give up meat; instead, by upping the number of vegetables, fruits, beans, nuts and other plant-based ingredients you're eating, you'll enjoy more sustainable foods and reduce your overall environmental footprint.
In addition to helping you work more plant-based ingredients into your daily diet, this 1-week eco-minded meal plan is also veggie-heavy and nutrient-rich. Each one of the recipes is packed with colorful veggies and a wide variety of phytonutrients. Phytonutrients protect plants from harmful viruses and bacteria and provide us with antioxidant and anti-inflammatory support. Plus, you can't overlook the perks of the added fiber each meal in this 1-week meal plan delivers. You'll be better equipped to meet your daily fiber needs, keep your gut happy and satiate your hunger all day long.
Section divider
The recipes
Egg Sandwiches with Red Peppers and Tahini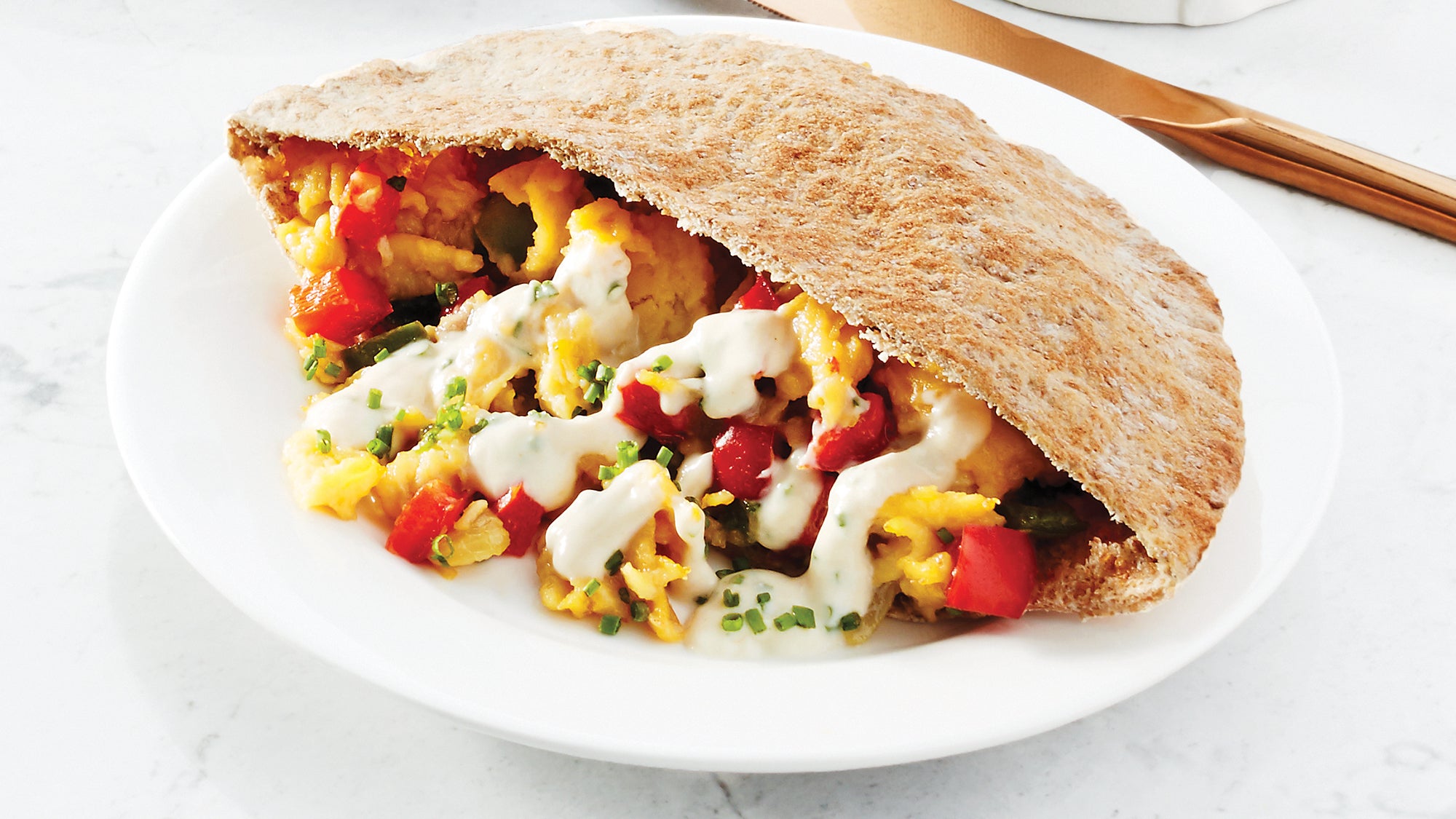 Make your microbiome happy first thing in the morning – these sandwiches are brimming with probiotics from kefir and prebiotics from yellow onion and chives. Get the recipe here.
The California Salad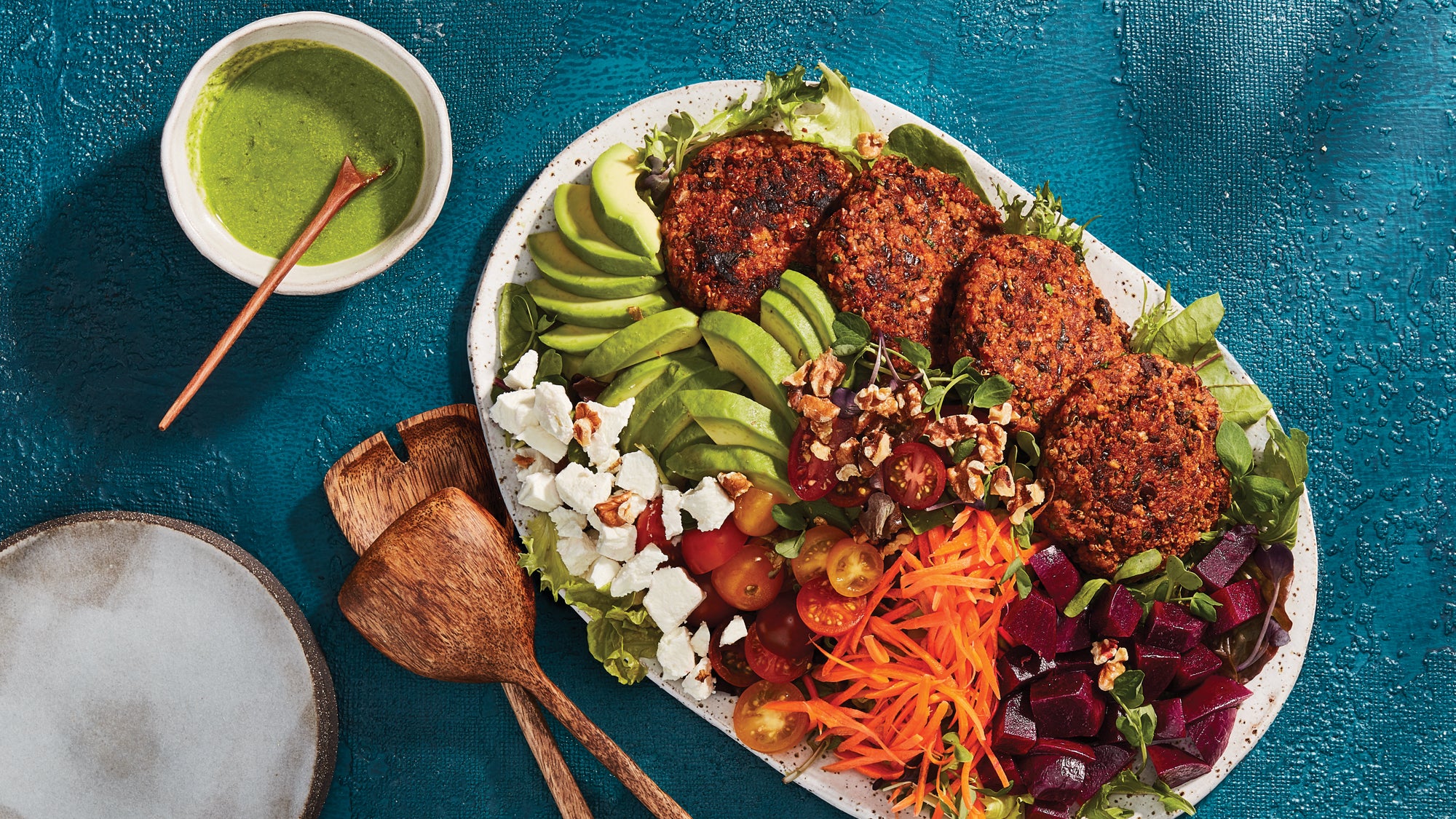 Eat like a Californian with this vibrant smorgasbord of healthy, Cali-classic gems: creamy avocado, veggie patties, microgreens and more. Get the recipe here.
Roasted Pork Tenderloin & Ratatouille with Cannellini Beans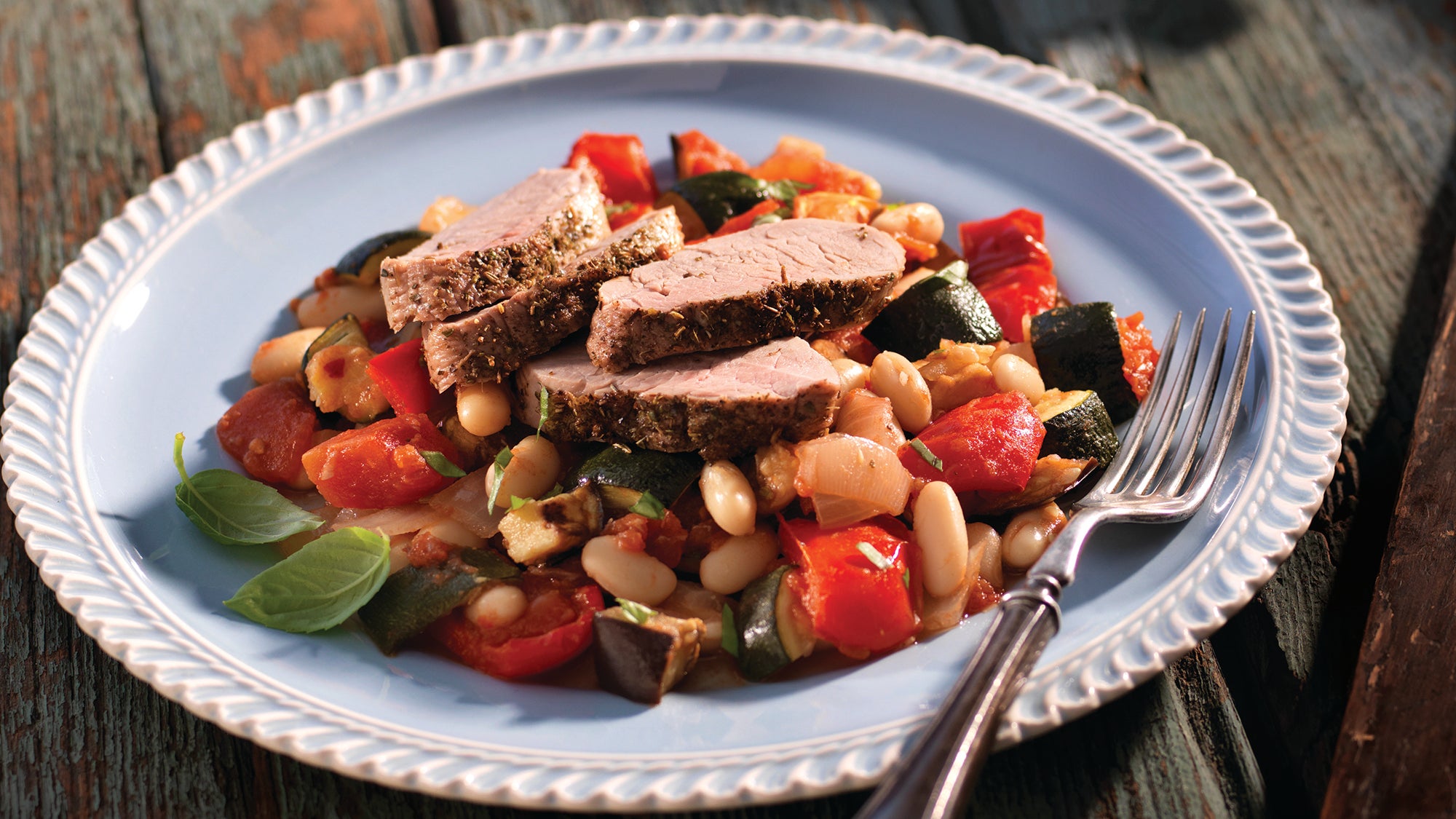 Roasting bell peppers, zucchini and eggplant in the oven brings out the full depth of their sweetness in this Mediterranean dish. Get the recipe here.
Strawberry Coconut Ice Cream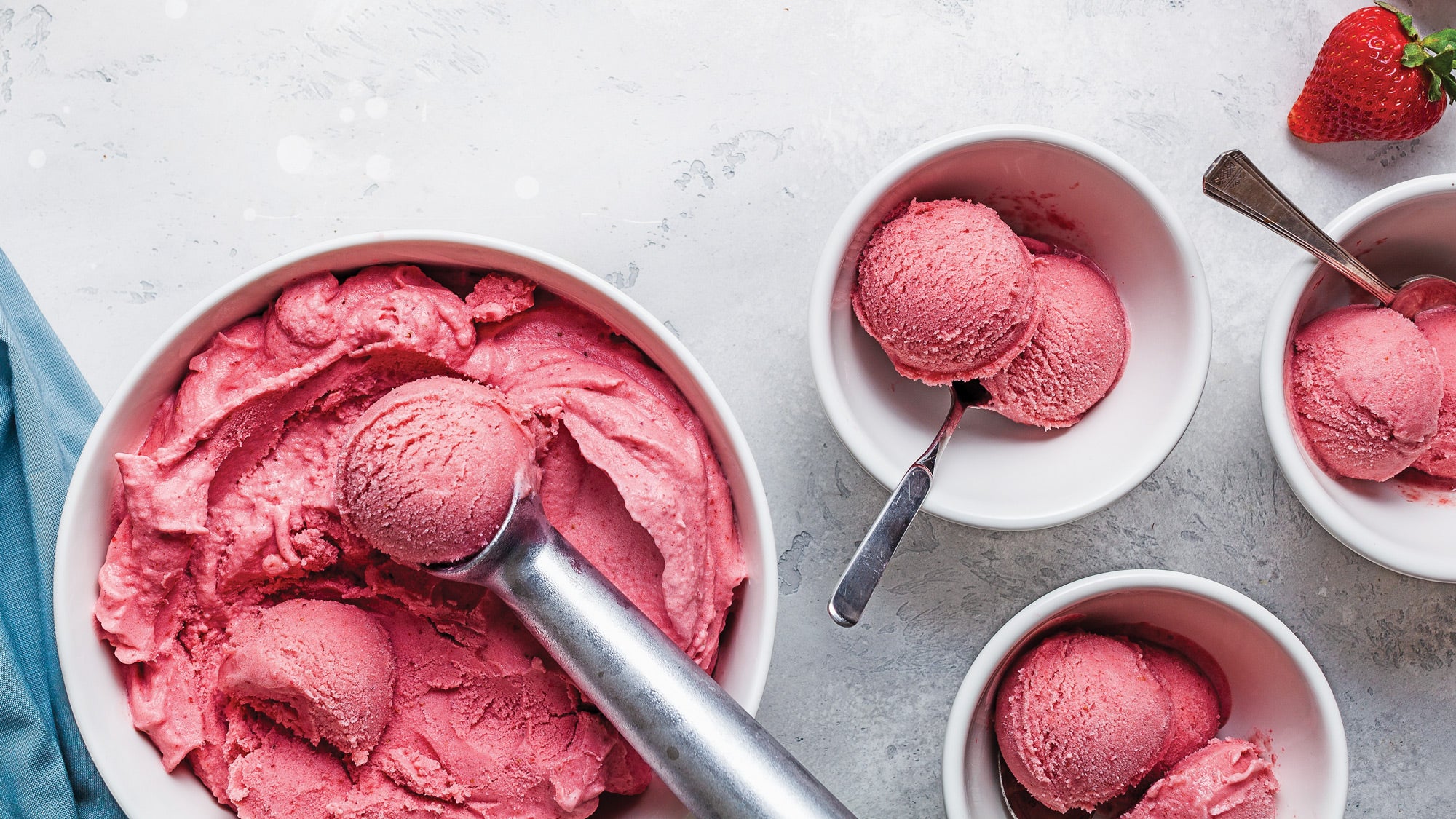 No need for an ice-cream maker to create this luscious dessert. We do it all in the food processor with just a handful of ingredients that you likely already have on hand. Get the recipe here.
Savory Yogurt Bowl with Roasted Chickpeas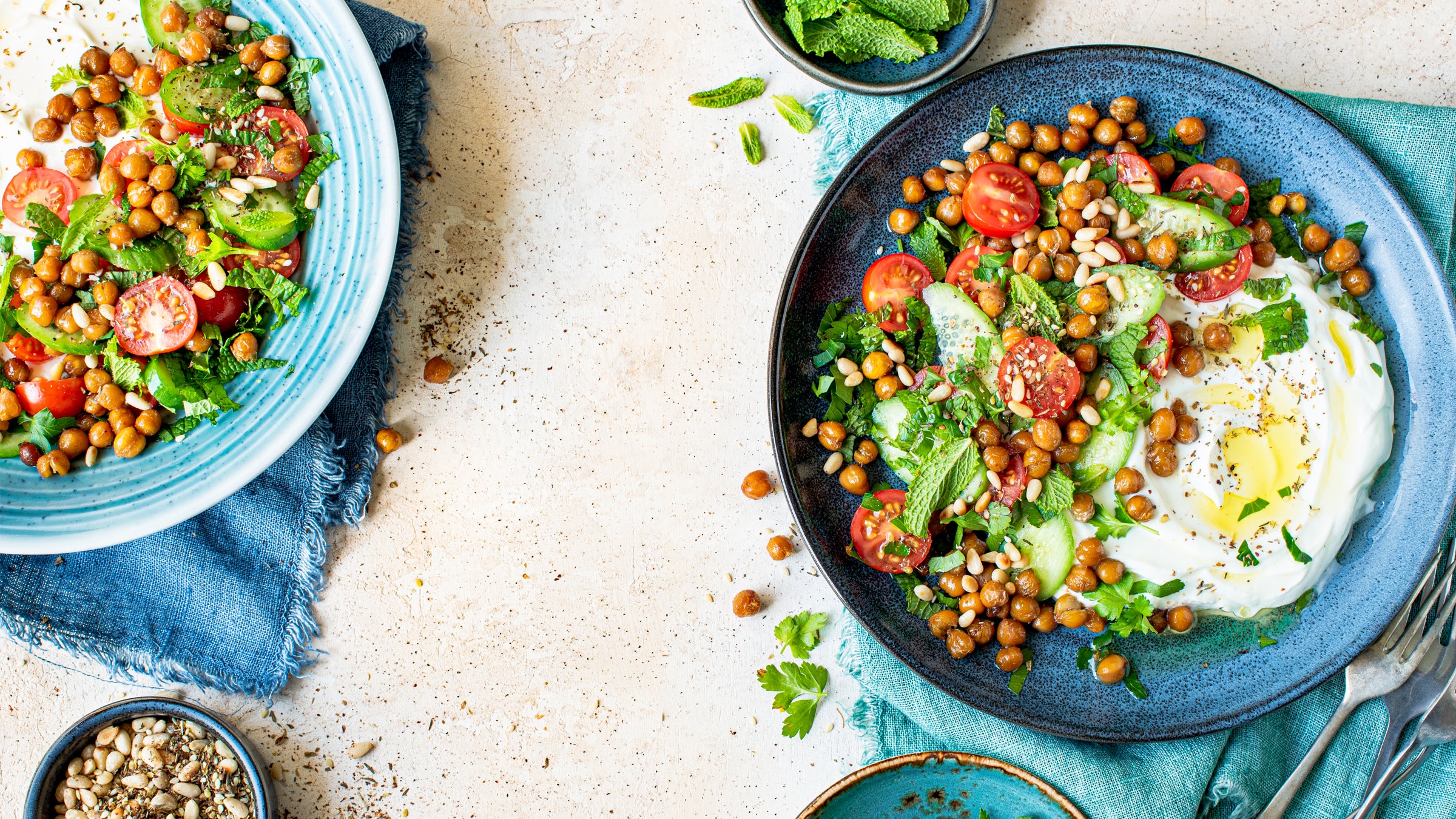 Mixed with plain yogurt, vegetables and the Middle Eastern spice mixture known as za'atar, roasted chickpeas add flavor-filled crunch to this unique savory breakfast. Get the recipe here.
Spicy Tuna Melt Zucchini Boats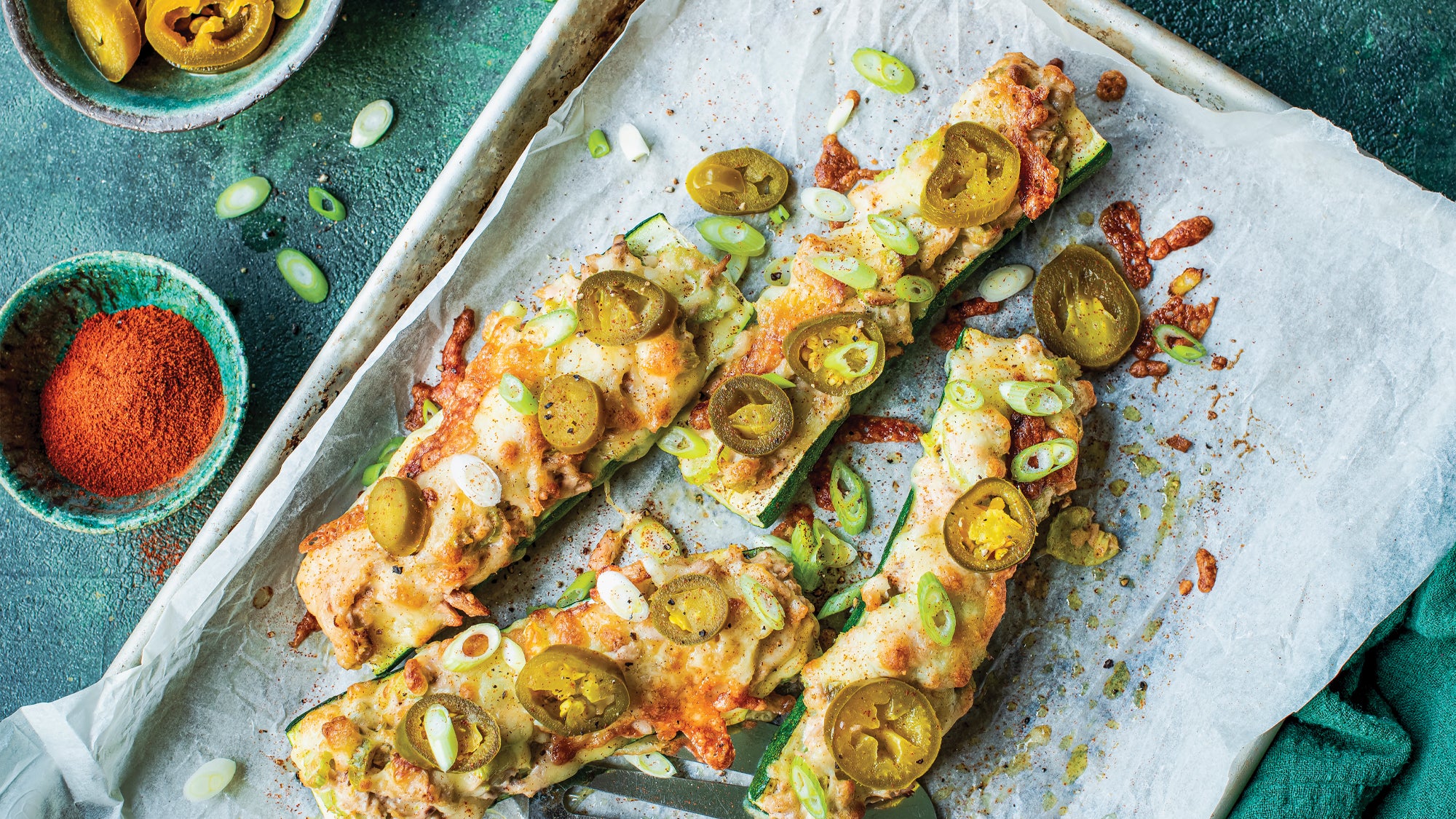 Gluten-free doesn't equate flavor-free, as this spicy and filling favorite clearly demonstrates. Get the recipe here.
Herbed Chicken Meatball Marinara with Zoodles & Pesto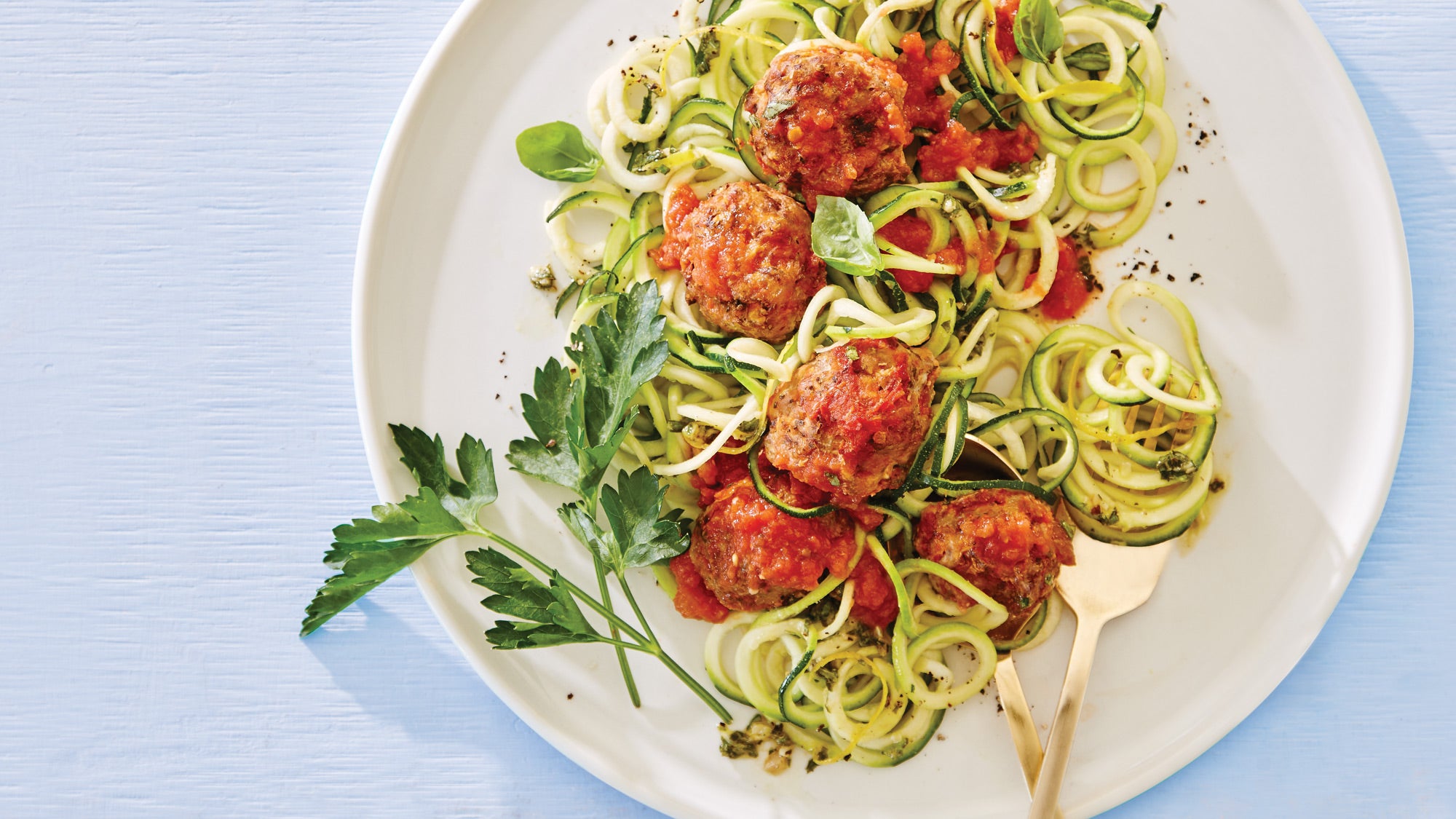 These oven-baked, flavor-packed chicken meatballs are the perfect pairing with zoodles and our homemade pesto. Get the recipe here.
Section divider
The 1-week meal plan
| | | | | |
| --- | --- | --- | --- | --- |
| | Breakfast | Lunch | Dinner | Total Nutrients |
| Monday | 2 serving Egg Sandwiches with Red Peppers and Tahini | 1 serving The California (save leftovers) | 1 serving Roasted Pork Tenderloin & Ratatouille with Cannellini Beans (save leftovers; freeze 2 servings); 1 serving Strawberry Coconut Ice Cream (save leftovers) | Calories: 1,717 Fat: 90 g Sat. Fat: 36 g Carbs: 135 g Fiber: 43 g Sugars: 42 g Protein: 103 g Sodium: 2,403 mg Cholesterol: 651 mg |
| Tuesday | 1 serving Savory Yogurt Bowl with Roasted Chickpeas (save leftovers) | 1 serving Roasted Pork Tenderloin & Ratatouille with Cannellini Beans (leftovers) | 1 serving The California (leftovers); 1 serving Strawberry Coconut Ice Cream (leftovers) | Calories: 1,611 Fat: 88 g Sat. Fat: 36 g Carbs: 131 g Fiber: 46 g Sugars: 48 g Protein: 85 g Sodium: 1,896 mg Cholesterol: 113 mg |
| Wednesday | 1 serving Savory Yogurt Bowl with Roasted Chickpeas (leftovers) | 1 serving The California (leftovers) | 1 serving Spicy Tuna Melt Zucchini Boats (save leftovers) ; 1 serving Strawberry Coconut Ice Cream (leftovers) | Calories: 1,702 Fat: 108 g Sat. Fat: 38 g Carbs: 102 g Fiber: 37 g Sugars: 38 g Protein: 89 g Sodium: 2,411 mg Cholesterol: 100 mg |
| Thursday | 2 serving Egg Sandwiches with Red Peppers and Tahini | 1 serving The California (leftovers) | 1 serving Herbed Chicken Meatball Marinara with Zoodles & Pesto (save leftovers) | Calories: 1,428 Fat: 82 g Sat. Fat: 15 g Carbs: 95 g Fiber: 27 g Sugars: 30 g Protein: 87 g Sodium: 2,283 mg Cholesterol: 706 mg |
| Friday | 1 serving Savory Yogurt Bowl with Roasted Chickpeas (leftovers) | 1 serving Spicy Tuna Melt Zucchini Boats (leftovers) | 1 serving Herbed Chicken Meatball Marinara with Zoodles & Pesto (leftovers) | Calories: 1,426 Fat: 85 g Sat. Fat: 15 g Carbs: 79 g Fiber: 21 g Sugars: 34 g Protein: 94 g Sodium: 2,015 mg Cholesterol: 244 mg |
| Saturday | 1 serving Savory Yogurt Bowl with Roasted Chickpeas (leftovers) | 1 serving Herbed Chicken Meatball Marinara with Zoodles & Pesto (leftovers) | 1 serving Roasted Pork Tenderloin & Ratatouille with Cannellini Beans (leftovers, from frozen); 1 serving Strawberry Coconut Ice Cream (leftovers) | Calories: 1,677 Fat: 92 g Sat. Fat: 37 g Carbs: 132 g Fiber: 40 g Sugars: 54 g Protein: 94 g Sodium: 1,545 mg Cholesterol: 257 mg |
| Sunday | 2 serving Egg Sandwiches with Red Peppers and Tahini | 1 serving Roasted Pork Tenderloin & Ratatouille with Cannellini Beans (leftovers, from frozen) | 1 serving Herbed Chicken Meatball Marinara with Zoodles & Pesto (leftovers) | Calories: 1,441 Fat: 67 g Sat. Fat: 13 g Carbs: 112 g Fiber: 27 g Sugars: 38 g Protein: 108 g Sodium: 2,007 mg Cholesterol: 795 mg |
Section divider
Shopping list
Proteins and dairy
2 15-oz can chickpeas

1 15-oz BPA-free can cannellini beans

2 oz goat cheese

1 oz grated cheese

24 oz container whole-milk plain yogurt

6 oz container plain whole-milk kefir

4 veggie patties of choice (TRY: Our homemade

veggie patties

, ingredient not included)

1 lb ground chicken

1.5 lb pork tenderloin

2 5-oz cans solid white tuna

10 large eggs 

12 egg whites
Veggies and fruits
1 head garlic

1 sweet or yellow onion

1 white onion

1.5 pints cherry tomatoes

7.5 oz mixed greens

1 cup microgreens or sprouts

1 bundle fresh parsley

1 bundle fresh basil

1 bundle fresh mint

1 bundle green onions

1 bundle chives

1 avocado

4 oz cremini mushrooms

2 lemons

9 zucchinis

1 large Italian eggplant

4 Lebanese cucumbers

3 red bell peppers

1 green pepper

1 head of celery

1 10-oz bag frozen strawberries

1 banana

24 oz  bottle marinara sauce

1 14.5oz BPA-free can unsalted diced tomatoes

1 bottle pickled jalapeños
Whole grains
3 6-inch whole-grain pocket-style pita
Nuts, seeds and oils
1 bag walnuts 

1 bag ground flax seed 

1 container tahini

1 can heavy coconut cream

1 bottle extra-virgin olive oil

1 bottle avocado oil
Pantry staples
1 bottle pure vanilla extract

1 bag nutritional yeast

1 jar avocado mayonnaise

1 bottle apple cider vinegar

1 bottle red wine vinegar

1 bottle maple syrup

1 bottle Dijon mustard

1 bottle sea salt

1 bottle ground black pepper

1 bottle Italian seasoning

1 bottle herbes to Province

1 bottle dried fennel seeds

1 bottle red pepper flakes

1 bottle chipotle chile powder

1 bottle ground cumin

1 bottle dried thyme