Mozzarella-Stuffed Turkey Burgs 
with Mango Salsa, Cajun Onions & Spinach
Mango is rich in vision-supportive vitamin A and the antioxidant vitamin C while spinach provides iron, manganese and folate, the latter of which is necessary to produce healthy red blood cells.
Heading out the door? Read this article on the new Outside+ app available now on iOS devices for members! Download the app.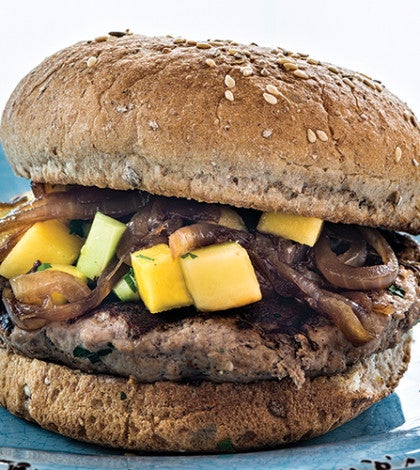 Ingredients
1 large sweet onion
1 tbsp olive oil
Sea salt
1/8 tsp each chile powder
1/8 
cayenne pepper
1/8 paprika
1/8 garlic powder
1/8 onion powder
1 tbsp balsamic vinegar
1 diced mango
1 peeled and diced cucumber
3 tbsp diced red onion
3 tsp fresh lime juice
2 tbsp finely chopped fresh cilantro
salt and ground black pepper, to taste
1 lb lean ground turkey
3 tbsp minced chives
2 tsp minced garlic
1 tsp Worcestershire sauce
1/8 tsp chile powder
1/3 cup shredded 
mozzarella cheese
3 tsp finely chopped fresh basil
4 whole-grain buns
caramelized Cajun onions
mango salsa
Preparation
Prepare Cajun onions: Thinly slice 1 large sweet onion. In a skillet on medium, heat 1 tbsp olive oil. Add onions and pinch sea salt; cook, stirring occasionally, until onions start to turn golden. Add 1/8 tsp each chile powder, cayenne pepper, paprika, garlic powder and onion powder and cook for 30 minutes more, or until sticky and caramelized. (If needed, keep onions from drying out by adding water, 1 tbsp at a time.) Add balsamic vinegar; mix well and remove from heat.
Meanwhile, prepare mango salsa: Combine mango, cucumber, red onion, lime juice, cilantro, salt and ground black pepper, to taste.
Prepare burgers: Combine ground turkey, chives, garlic, Worcestershire sauce, chile powder, salt and pepper, to taste. Form into 8 patties.
In a separate bowl, combine shredded mozzarella cheese and basil. Divide cheese mixture on top of 4 of the patties then stack remaining 4 patties on top of cheese and use your hands to press patties together on the edges, sealing the cheese inside. Heat a grill to medium and lightly oil grate. Grill burgers for 12 to 14 minutes, turning halfway. Serve on 4 whole-grain buns with caramelized Cajun onions and mango salsa.
Nutrition Information
Calories

0

Carbohydrate Content

0 g

Cholesterol Content

0 mg

Fat Content

0 g

Fiber Content

0 g

Protein Content

0 g

Saturated Fat Content

0 g

Sodium Content

0 mg

Sugar Content

0 g

Monounsaturated Fat Content

0 g

Polyunsaturated Fat Content

0 g