5 Steps to Perfect Your Protein Intake
In nutritional circles, protein is the hot potato of the day. Everyone's tossing it around, telling us we need extra protein to build strength and stave off hunger. But how much of the stuff do you really need? And where are the best and worst places to find protein? These steps should get you headed 
in the right direction.
Heading out the door? Read this article on the new Outside+ app available now on iOS devices for members! Download the app.
1. Determine your daily needs.
Take it from the brains behind Scientific American's Nutrition Diva: Roughly 10% of your calories each day should come from protein. That's about 50 grams. If you're building muscle, the benefits of protein max out at about 20% of your calories. For an even more scientific solution, visit the Interactive DRI page of the United States Department of Agriculture's Food and Nutrition Information Center for a detailed report of exactly how much of the macronutrient your body needs each day.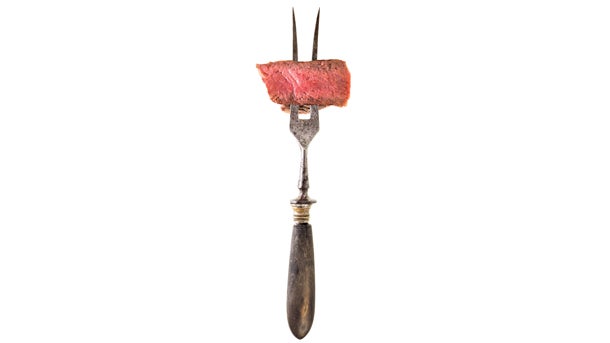 2. Re-think red meat.
Do the bison roam in your home? If not, they should. Bison is one of the best sources of lean protein, with a greater concentration of iron along with essential fatty acids. A 100 gram (3.5-ounce) serving of bison has about 28 grams of protein and 2.5 grams of fat, versus 27 grams of protein and 18.5 grams of fat in the same-size serving of choice beef. Bison also has fewer calories, less cholesterol, more iron and more vitamin B12 than beef. Find it in your grocer's meat fridge, or order from a reputable source such as northstarbison.com.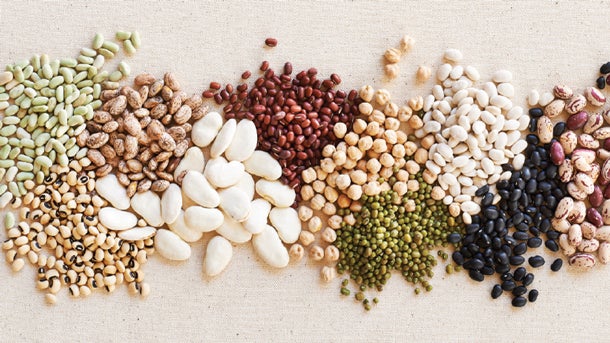 3. Sneak in more protein.
As a recent Wall Street Journal report revealed, more than 7 million Americans are vegetarian. According to Columbia University's David Seres, MD, the director of medical nutrition at the school's Institute of Human Nutrition, the best sources of protein for non-meat-eaters are legumes (such as lentils) and whole grains (such as brown rice). There's no need to turn to synthetic sources, he says, concluding in the report: "Go for the bean and the grain, and you should be fine." Whether or not you're a vegetarian, innovative nut butters such as Buff Bake are packed with extra protein (not to mention lip-smacking flavors).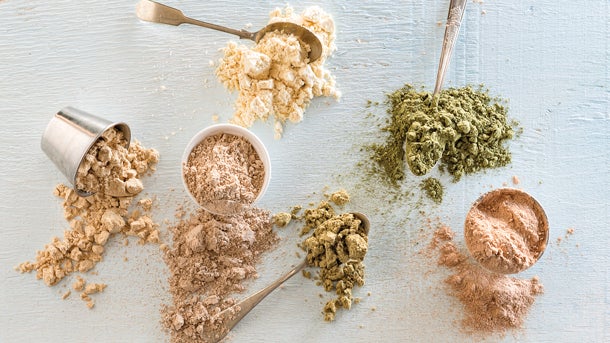 4. Drink your amino acids.
As the building blocks of protein in your body, explains Richard Kreider, PhD, in Sportscience, amino acids help regulate hormones and brain health along with other critical physiological functions when you exercise. So for people who work out, certain supplements can be helpful in restoration and recovery. As the Journal of the International Society of Sports Nutrition reports, amino acids are among the five most popular sports supplements. The most effective, researchers in that publication and in Nutrition & Metabolism have found, are those found in whey protein consumed alone or with carbs before or after resistance exercise.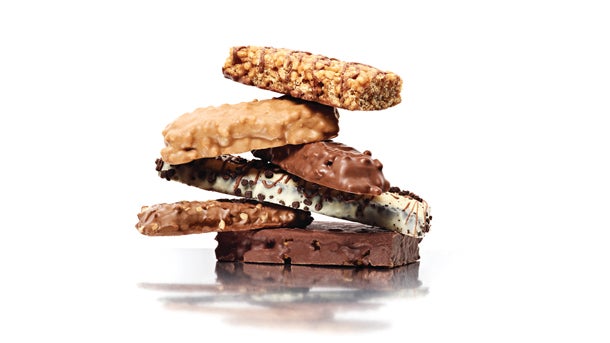 5. Pass the bar.
The protein bar, that is. For all those who snicker at Snickers and choose a protein-packed energy bar instead, here's some news to chew on: Some protein bars contain more sugar than the candy bars at the local convenience store. A ConsumerLab.com test report reveals that one "super cookie crunch"-flavored bar boasts 32 grams of protein – but it also has 26 grams of sugar. Go for whole-food sources of protein instead, and when you're in a pinch, look for protein bars that have around 10 grams of protein and low amounts of sugar. Or, better yet, pack a couple of hard-boiled eggs in your bag: Two naturally sugar-free devils contain a total of 12 grams of protein and 154 calories.