"Buttermilk" Almond Waffles with Warm-Berry Sauce
The batter for these dairy-free, almond-flavored waffles can also be used for pancakes. Feel free to garnish with lightly toasted slivered almonds. Before juicing, zest the lemons.
Heading out the door? Read this article on the new Outside+ app available now on iOS devices for members! Download the app.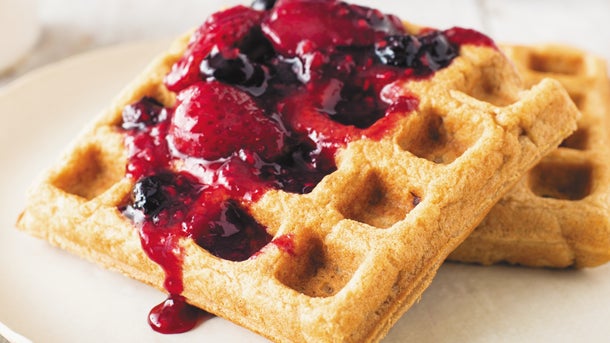 Serves: 4 (makes 4 large waffles and 1 cup sauce)
INGREDIENTS:
1¾ cups plain unsweetened almond milk
Scant 2 tablespoons fresh, strained lemon juice
2 tablespoons safflower oil or coconut oil, melted
1 teaspoon pure almond extract
1 teaspoon pure vanilla extract
1½ cups white whole-wheat flour
1/2 cup almond flour or meal
2 tablespoons coconut sugar
2½ teaspoons baking powder
1/2 teaspoon baking soda
1/2 teaspoon kosher salt
1/2 teaspoon freshly grated lemon zest
Cooking spray
FOR THE SAUCE
2 cups frozen mixed berries (strawberries, blueberries, raspberries)
1/2 cup maple syrup
1 teaspoon fresh, strained lemon juice
1/4 teaspoon kosher salt
INSTRUCTIONS:
In a large bowl, whisk together the milk and juice, and let sit for 5 minutes. Whisk in the melted butter and the almond and vanilla extracts.
In a medium bowl, whisk together the two flours, coconut sugar, baking powder, baking soda, salt, and zest. Pour the dry mix into the wet mix, and stir just until combined. Let sit for 15 minutes.
Heat a waffle iron. When ready, spray with cooking spray, and prepare 4 waffles, according to your waffle maker's instructions. Spray the interior of the iron between waffles.
Add the sauce ingredients to a small to medium saucepan and bring to a boil over medium-high heat. Boil for 1 minute, and reduce the heat to low. Simmer until thickened and reduced to 1 cup, about 10 minutes. Serve the waffles with the sauce.
Dina Cheney is a regular contributor to Clean Eating and the author of The New Milks. Featuring 113 cooking and baking recipes, the book explores dairy-free alternatives to milk. Find it here.